After Gillespie Loss, Corey Stewart to Put Trump at Center of Senate Run in Virginia
He faults GOP gubernatorial nominee for not fully embracing president's approach to politics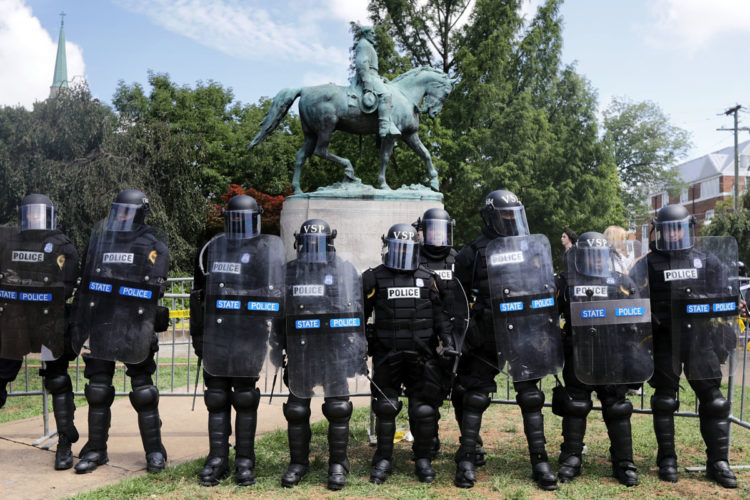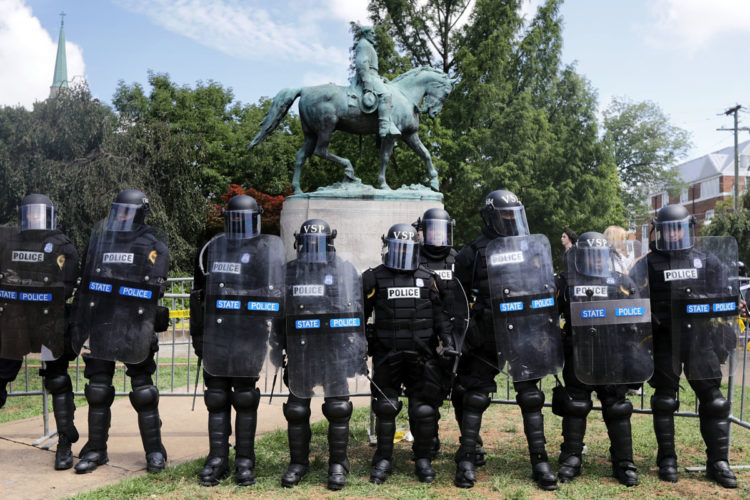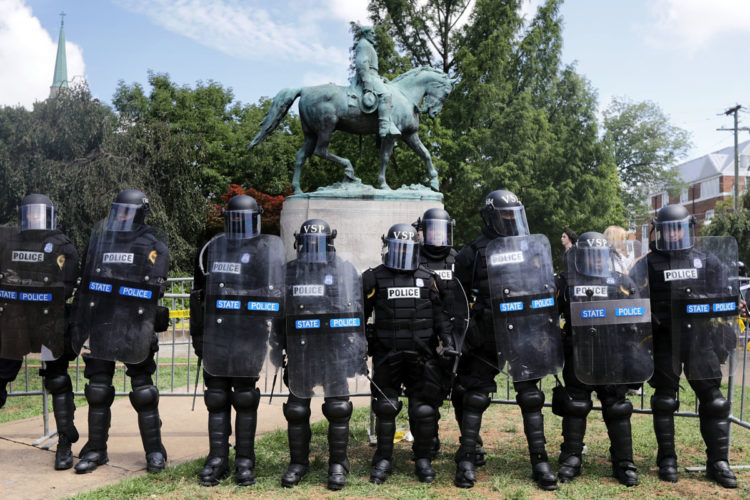 Stewart, Prince William County Board of Supervisors chairman, said he is "fully on board with the president."

Trump blames Gillespie's loss on his reluctance to associate with the president's positions.
The Trump-era law-and-order message that Virginia Republican gubernatorial nominee Ed Gillespie embraced near the end of his campaign did not bring him over the finish line in his race against Democrat Ralph Northam, but Republican Senate candidate Corey Stewart said it will be back with full force in next year's Senate race.
The Associated Press called Tuesday's contest between Gillespie, the former chairman of the Republican National Committee, and Northam, the state's lieutenant governor, with 60 percent of precincts reporting. At the time, Northam led Gillespie, 52 percent to 47 percent.
As Stewart, chairman of the Prince William County Board of Supervisors, prepares for the 2018 campaign for the Republican nomination to challenge Democratic Sen. Tim Kaine, he is vowing to fully embrace President Donald Trump and his agenda in Virginia, even though the president has declined in popularity in the Old Dominion state since taking office, Morning Consult polling shows.
In a Tuesday afternoon interview, before polls were set to close, Stewart – who nearly beat Gillespie in the GOP's June 13 gubernatorial primary – said he is "fully on board with the president," whose support in the state "will be a very strong asset to my campaign."
Stewart said Gillespie, a former adviser to then-President George W. Bush, failed to embrace Trump. The GOP gubernatorial nominee never campaigned with Trump, though Democrats criticized Gillespie for airing ads focusing on issues Trump has highlighted, such as the international gang MS-13, sanctuary cities for undocumented immigrants and the removal of Confederate statues.
"His ads have been a little harder-edged, and they have touched on MS-13, and a little on historic monuments," Stewart said. But "he's never embraced Trump and he kept him at a distance."
Kaine, separately, agreed.
He's never embraced Trump and he kept him at a distance.
Corey Stewart, chairman of the Prince William County Board of Supervisors and Republican Senate candidate in Virginia
"I think Gillespie decided that while he did not want to be seen with President Trump, that he was going to campaign like President Trump. That was how he attempted to deal with President Trump's low popularity in Virginia," Kaine said in a brief interview at the Capitol on Tuesday afternoon.
Gillespie's campaign did not respond to a request for comment after the polls closed.
Chris Hayden, a spokesman for the pro-Democrat Senate Majority PAC, said he thinks the election results mean Republicans will have to distance themselves from Trump in next year's competitive races.
"No matter what state they are running in, every Republican up in '18 will have to answer the question, how and when can I separate myself from President Trump," he said in an email after the polls closed.
Trump appeared to rebut the line of attack that he was somehow a drag on Gillespie, pointing to the GOP's special election victories earlier this year. In a post on Twitter after the Associated Press called the election for Northam, he said Gillespie, whom he had endorsed, "worked hard but did not embrace me or what I stand for."
Ed Gillespie worked hard but did not embrace me or what I stand for. Don't forget, Republicans won 4 out of 4 House seats, and with the economy doing record numbers, we will continue to win, even bigger than before!

— Donald J. Trump (@realDonaldTrump) November 8, 2017
Trump's approval rating in Virginia has dropped since taking office in January, according to Morning Consult polling. At the time of his inauguration, Trump had the support of 49 percent of Virginia voters, while 41 percent disapproved. By the end of September, his net approval rating had fallen 11 points underwater in the commonwealth (42 percent approve vs. 53 percent disapprove), which Democratic nominee Hillary Clinton won by 5.3 points in the 2016 presidential election.
Kaine's own popularity among Virginians was dented going into 2017 after joining Clinton's ticket as the vice presidential nominee. His disapproval rating rose 10 points — from 26 percent from early May through early September of last year — to 36 percent during the first quarter of 2017. That metric has remained relatively stable since then, while his approval rating has continued to hover around 50 percent.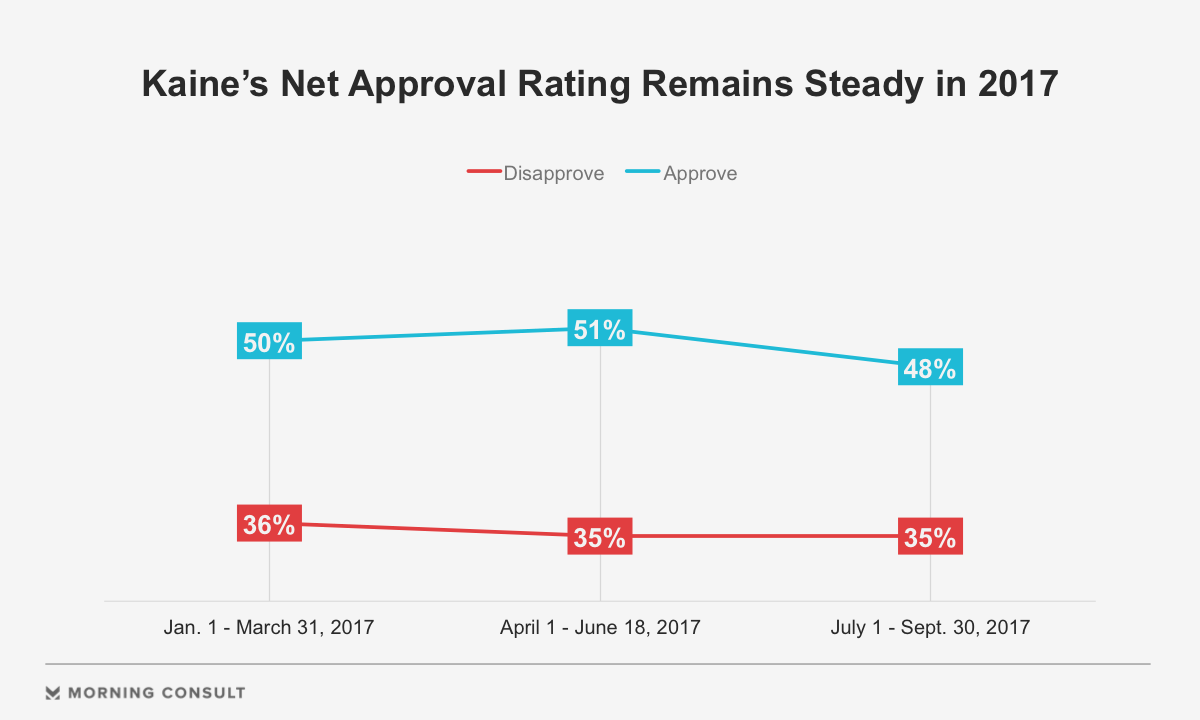 Asked Tuesday about the implications of a Northam victory for his campaign, Stewart said he still expects to gain support from the "new-right," pointing to the likes of former Trump chief strategist Steve Bannon and talk show host Laura Ingraham, who opted not to seek the seat herself and endorse him instead.
Previewing his line of attack, Stewart said, "Kaine has been trying to undermine the president's agenda of bringing back economic growth, enforcing immigration laws and his 'America First' foreign policy.
"Instead of trying to work with the president, he's trying to stop him," he said.
Kaine shrugged off the critique during the Tuesday interview. Kaine argued that his track record going back to his days in Richmond, Va., through his service as lieutenant governor and then governor, speaks for itself.
"Look, I'm a mayor and governor who has a strong record on the economy, education and health care, and I'm going to run on that and on what I'm doing in the Senate on those issues, and I think those are the things that matter to Virginians," he said.
Correction: A previous version of this story misstated Clinton's margin of victory over Trump in Virginia last year. The article also mischaracterized the decline of Trump's approval rating in the state since taking office.