Majority of Voters Think Trump Would Benefit Personally From Tax Overhaul
Though the White House says tax code changes would benefit the middle class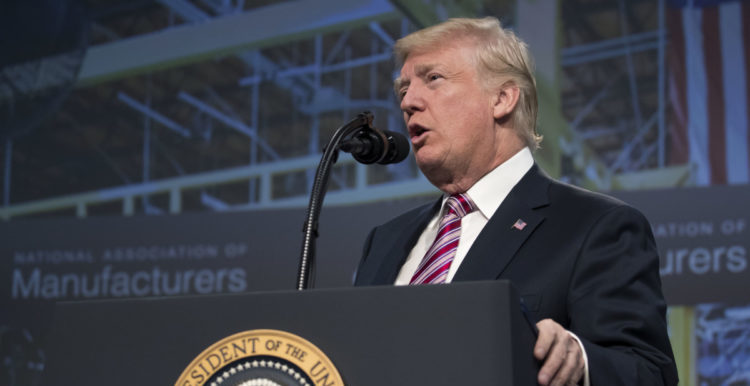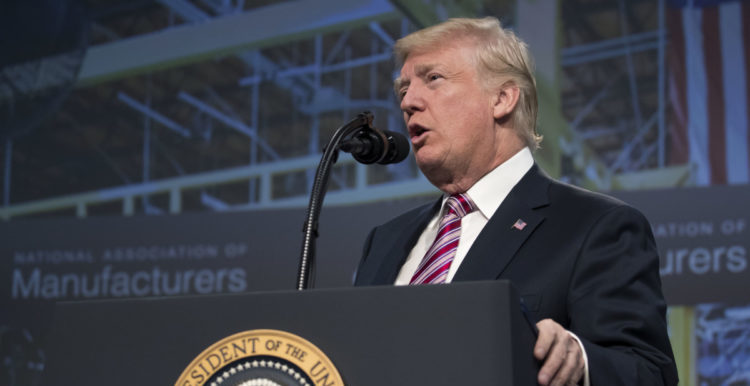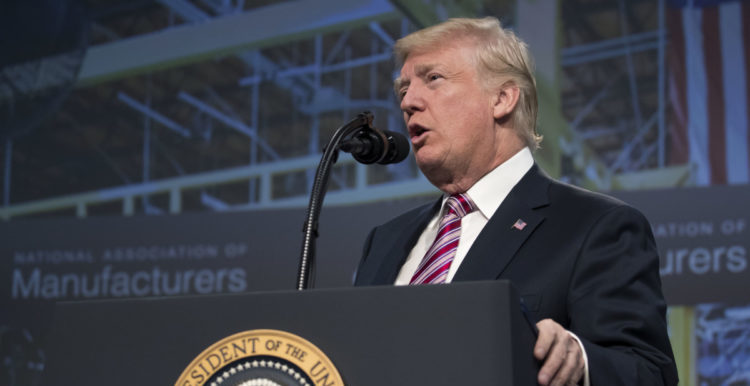 President Donald Trump has shot down criticisms he'll personally stand to gain much from the proposals.

Trump's statements that he'll be hurt by the tax legislation are hard to take seriously, said Bill Hoagland, senior vice president for Bipartisan Policy Center.
As Congress inches closer to making sweeping changes to the federal tax code, a majority of registered voters believe President Donald Trump and his international conglomerate will be the winners if Republicans pass a tax bill, while fewer voters think American families will get a break.
In a Morning Consult/Politico poll of 1,993 registered voters conducted Nov. 9-11, 56 percent said they believe Trump himself will benefit from proposed changes to the tax code and 57 percent said they think The Trump Organization will.
Twenty-nine percent said they believe they and their families will benefit from the tax plan, as opposed to 46 percent who said they will not. One quarter said they did not know or did not have an opinion.
The White House and Republican leaders have promoted tax reform legislation as a windfall for the middle class through a simpler filing system, a doubled standard deduction and larger child tax credit.
"The President's top priorities are delivering tax cuts for the middle class and making our businesses competitive again, both of which will jumpstart our economy," White House deputy press secretary Raj Shah said in an email Tuesday. "Everyone will benefit when our economy is performing at its best."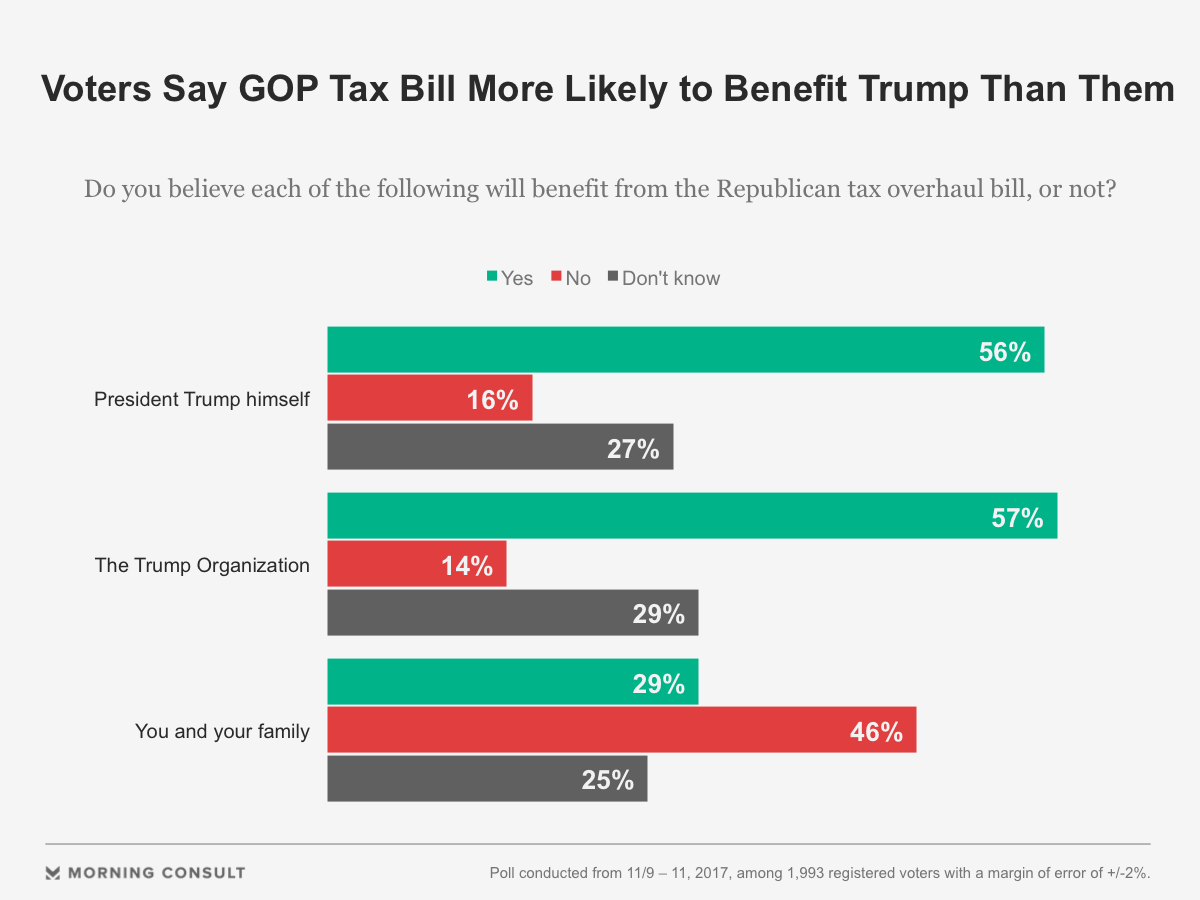 Trump has shot down criticisms that he'll personally stand to gain much from the proposals, telling an Indiana crowd on Sept. 27, "It's not good for me, believe me." On Nov. 7, he assured a group of Democratic senators that his accountant said he'll "get killed" financially by the GOP legislation, according to NBC News.
Trump's statements that he'll be hurt by the tax legislation are hard to take seriously, said Bill Hoagland, senior vice president for Bipartisan Policy Center, in a phone interview Tuesday.
Hoagland said "anyone looking at the tax bill" could conclude at the very least that Trump will benefit from the 25 percent pass-through rate for some business owners and the Trump clan will profit from a provision in the House bill to eliminate the estate or inheritance tax.
"It's not just whether or not he will benefit, it's whether or not that benefit is major or minor," said Hoagland, formerly a longtime Senate Budget Committee staffer. "And I have to believe it is major."
But just how major that benefit might be is unclear unless Trump releases his tax returns, a longstanding issue early in Trump's term that has been all but overshadowed by the U.S. Department of Justice investigation into alleged Russian collusion in the 2016 campaign and the GOP's tenuous grips on party control in Congress.
Hoagland said it's likely the debate will ramp up on the House and Senate floors in coming weeks, especially with a Senate vote expected to be close. The House could debate the tax reform bill as early as Thursday and McConnell said he plans for the full Senate to take up the proposal the week following Thanksgiving.
Fifty-four percent of those surveyed said Trump should release his tax returns before any tax legislation moves forward. Twenty-five percent said he should not have to and 21 percent said they did not know or have an opinion.
Releasing Trump's returns would be an easy way to disprove the primary argument Democrats have launched against the bills, said Scott E. Sundby, a University of Miami law professor who specializes in criminal and constitutional law.
"The key is not to demand that Trump release his returns because it is the right thing to do as a general matter," Sundby said in an email Tuesday. "But because the returns will show whether Trump's claim is true that his tax proposal is the savior of the middle class or whether that claim is just a smokescreen behind which the rich will simply become richer."
Sundby said the Morning Consult/Politico poll indicates a critical percentage of Americans who could be persuaded one way or the other on tax reform and could constitute a "tipping point" for its success or failure.
"If you add that segment to the almost half of Americans who already think the plan will unfairly treat them, you start to approach opposition numbers rivaling those that ultimately killed the repeal of Obamacare," he said.
Cameron Easley contributed.
Clarification: A previous version of this story said Trump discussed the Senate GOP tax measure with Senate Democrats. It's not clear whether Trump was referencing the House or Senate bill during the conversation.