Voters Take Hard Line on Sexual Misconduct as Allegations Mount
Not much sympathy for accused lawmakers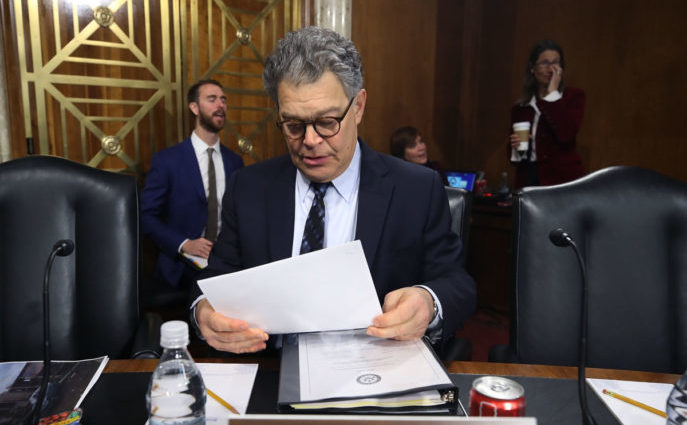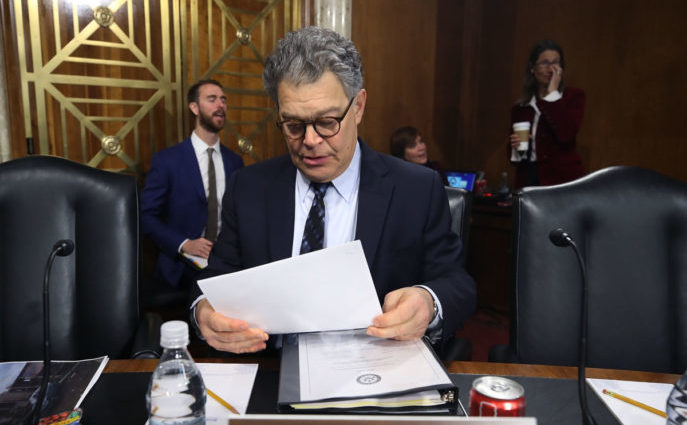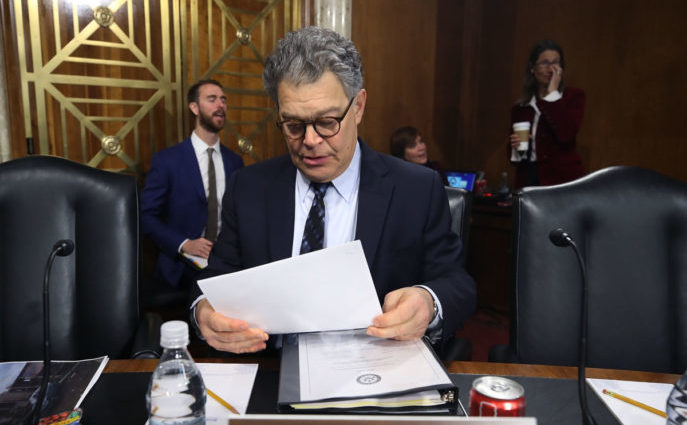 Alabama Republican Senate nominee Roy Moore draws voter scorn.

But so does Sen. Al Franken (D-Minn.).
As allegations of sexual misconduct against both sitting and aspiring members of Congress increase almost daily, a new Morning Consult/Politico survey shows many registered voters are taking a hawkish stance against those accused of wrongdoing.
In the case of Roy Moore, the GOP's Senate nominee in Alabama who has been accused of molesting a 14-year-old girl in 1979 and pursuing other romantic relationships with teen girls while in his early 30s, 57 percent of the 2,586 registered voters polled Nov. 16-19 said the Senate should expel Moore from the chamber if he defeats Democratic nominee Doug Jones in the Dec. 12 special election. That sentiment was shared by 73 percent of Democrats, 51 percent of independents and a 46 percent plurality of Republicans.
Moore has denied the charges.
Sen. Al Franken (D-Minn.) has also come under fire in the past week, with Leeann Tweeden, a radio news anchor for KABC in Los Angeles, accusing the former "Saturday Night Live" star of forcibly kissing her during a USO Tour to the Middle East in 2006, before Franken was elected to the Senate. Tweeden also provided a photograph that showed Franken appearing to grope her as she slept aboard a C-17 cargo plane.
Franken acknowledged the authenticity of the photo but said he remembers the alleged forcible kissing incident differently.
While Senate Majority Leader Mitch McConnell (R-Ky.) — along with Senate Democratic leaders and senators on both sides of the aisle — have called for an ethics investigation into Franken's behavior, the recent nationwide poll showed 50 percent of respondents said Franken should resign outright, a view shared by 49 percent of Democrats, 56 percent of Republicans and 44 percent plurality of independents.
A 46 percent plurality of respondents said the Senate should expel Franken over the allegations against him. The survey was conducted before accusations from a second woman, who said Franken groped her while they posed for a photo at the Minnesota State Fair in 2010, about a year after he took office.
In terms of broader perceptions of sexual harassment and misconduct in various U.S. industries, the federal government was a ripe target for the American public, with 43 percent of respondents saying the issue is a big problem in Washington. The government trailed only Hollywood and the entertainment industry — which has been rocked by an avalanche of allegations and admissions of wrongdoing by high-profile directors, producers, writers and actors — as the type of workplace environment beset by harassment.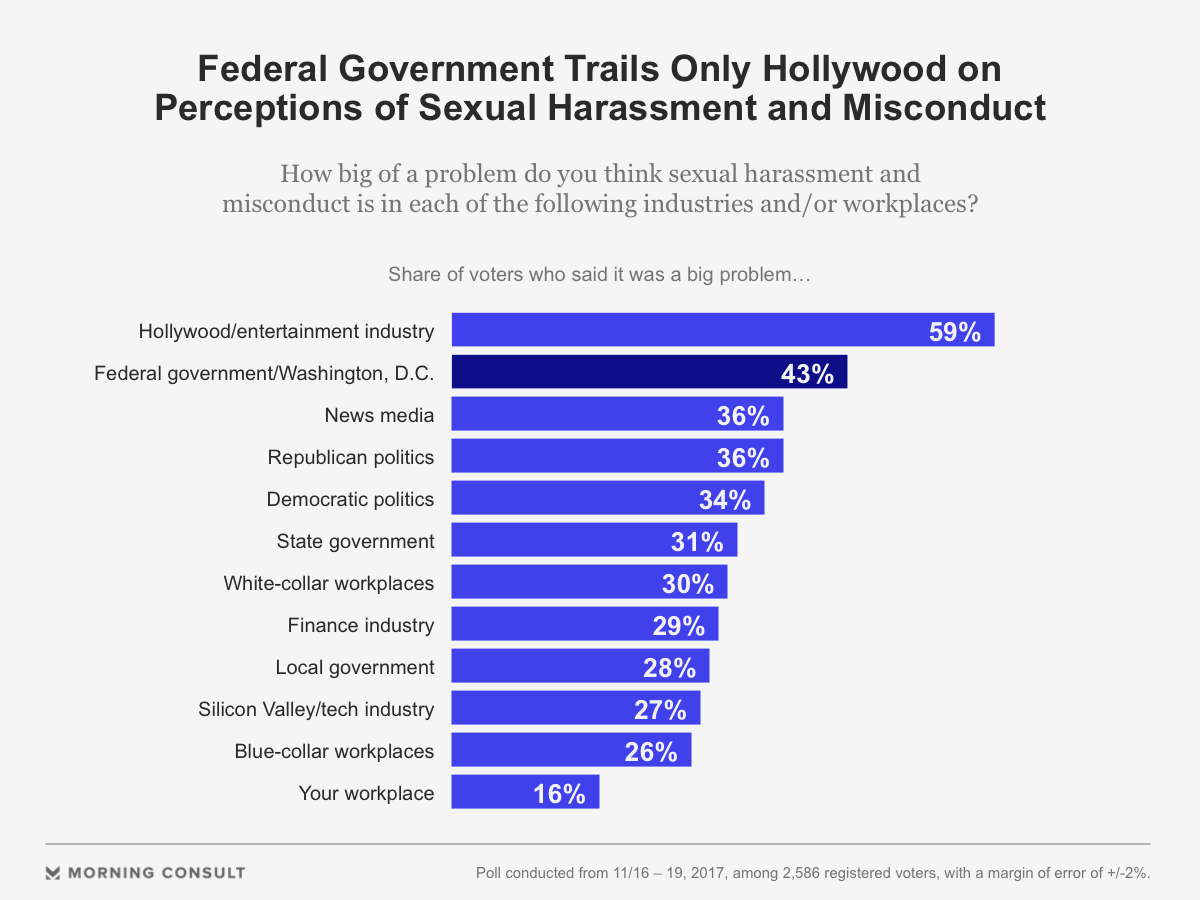 On Monday, another news story — this time from BuzzFeed News — contained documented allegations of sexual misconduct against Rep. John Conyers (D-Mich.), a civil rights icon and the longest-serving House member. The House Ethics Committee said it has initiated an investigation into the accusations.
Conyers has denied any wrongdoing.
Doug Heye, a former top aide to former Majority Leader Eric Cantor (R-Va.), said Tuesday that the mounting allegations should serve as a wake-up call to lawmakers on both sides of the aisle.
"Every congressional office needs to ask themselves serious questions here," Heye, who previously served as the Republican National Committee's spokesman and is now a political commentator, said via email. "For those offices where there might be any possible issue, they need to prepare for the inevitable question of what happened, what corrective actions have been taken and why the problem wasn't avoided in the first place."
A 42 percent plurality of voters in the online survey said they thought sexual harassment and misconduct was similarly prevalent on both the political right and left. Fifty-one percent said elected officials should resign from office when faced with credible allegations of sexual misconduct, while 29 percent said officials should let the voters decide their fate during the next election cycle.
Democrats, at 59 percent, were more likely than independents (47 percent) and Republicans (46 percent) to say elected officials should resign in the face of credible allegations of misconduct. Thirty-eight percent of GOP voters were most likely to side with letting the electorate decide a public official's political fate.
When it comes to the credibility of an accuser's claims with regard to President Donald Trump, who was accused of inappropriate sexual conduct by more than a dozen women following last year's release of a 2005 "Access Hollywood" tape, the survey found Republicans were more likely to cast doubt on the allegations.
Roughly the same share of Democrats, 65 percent and 64 percent, respectively, said they found the claims against Trump and former President Bill Clinton (D) credible. Among Republican respondents, 37 percent said they found the allegations against Trump credible, compared with 69 percent of GOP voters who said they believed the allegations against Clinton.
The survey has a margin of error of plus or minus 2 percentage points.