When it comes to re-electing their member of Congress, support for the Republican tax bill elicits stronger negative feelings from voters than positive ones. And many voters believe certain provisions benefiting corporations and the wealthy should not be included in the measure.
According to a Dec. 14-18 Morning Consult/Politico poll of 1,991 registered voters, 21 percent said their member of Congress' vote in support of the tax legislation would make them much less likely to vote to re-elect that member. That compares to 15 percent who said it would make them much more likely to re-elect their lawmaker, and 14 percent who said it would not make much difference either way. The poll has a margin of error of plus or minus 2 percentage points.
Michael Steel, a strategist for the Middle Class Growth Initiative, a project of the American Action Network, said Republicans will need a "relentless, disciplined effort" to "make sure people are aware and know who is responsible" for the tax cut. He said Republicans should highlight for voters provisions that lower rates, increase the standard deduction and expand the child tax credit if the bill passes Congress and is signed into law.
"I think that Republicans have done an exceptional job focusing on those provisions. I think that the media coverage has not been fair in terms of highlighting those issues," said Steel, former press secretary for then-House Speaker John Boehner (R-Ohio), in a Monday phone interview.
A 40-percent plurality of survey respondents said the bill's proposed corporate tax rate cut, from 35 percent to 21 percent, should not be included in the legislation. And a 44-percent plurality said the bill should not include a provision to cut the tax rate for married couples earning more than $1 million per year from 39.6 percent to 37 percent.
Sixty-seven percent of voters said they believe the legislation will help corporations. Voters were split, 35 percent to 33 percent, when asked if they believe the bill would help or hurt "people like you," and split 36 percent to 35 percent when asked if they believe it would help or hurt low-income Americans. Four in 10 registered voters said they believe the measure would help middle-income families, while 33 percent said they believe it would hurt them.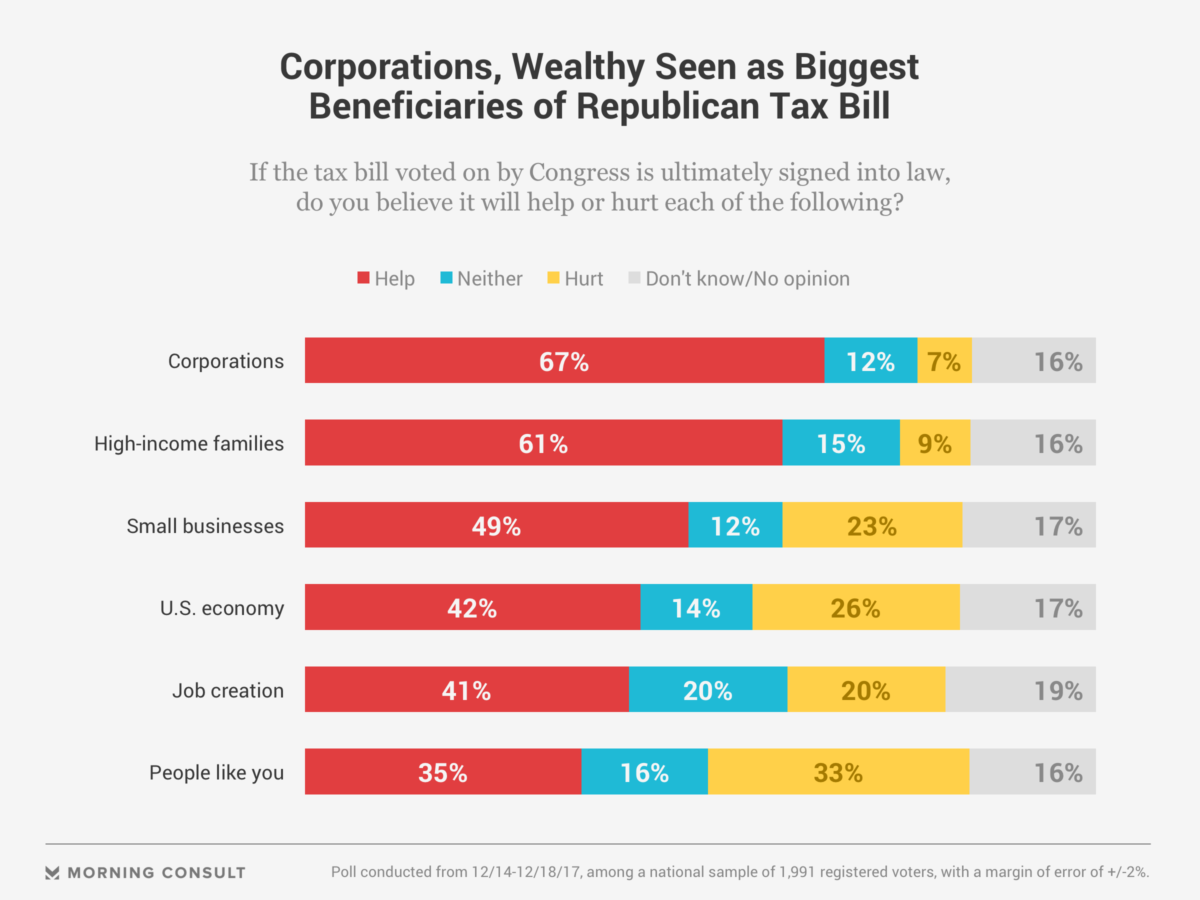 Democratic consultant Jesse Ferguson said in a Monday phone interview that his party's messaging against the bill should focus on how "it fundamentally comes down to the choice to cut taxes for the wealthy at the expense of the middle class."
"It's no surprise when people don't think what they're doing in D.C. helps the middle class, but it's politically toxic when people think Washington is harming the middle class," said Ferguson, a former executive director of the Democratic Congressional Campaign Committee's independent expenditure arm who is now working against the tax bill for groups such as Not One Penny.
Ferguson said Republicans may get a political victory in D.C., but he expects electoral pain for Republicans in Congress who vote for the tax bill and candidates who say they would have supported it.
"This bill will be a winner with folks on K Street, the press inside the Beltway and the Republican caucus who feels like they got something done, but it's an unmitigated loser with voters in most competitive districts," he said.
Steel said Republicans could get the advantage if they get credit for a tax cut next year.
"If the president's right and we can get this done by Christmas, you're going to start seeing more money in your paycheck starting in February," he said.
The House is scheduled to vote on the tax package Tuesday, with the Senate expected to clear the bill shortly thereafter and send it to President Donald Trump for his signature.
Sei Chong contributed.