Shifting Opinion on GOP Leaders Signals Risks Ahead of Midterm Elections
Net favorability for Senate majority leader and House speaker dipped this year, presaging trouble for year ahead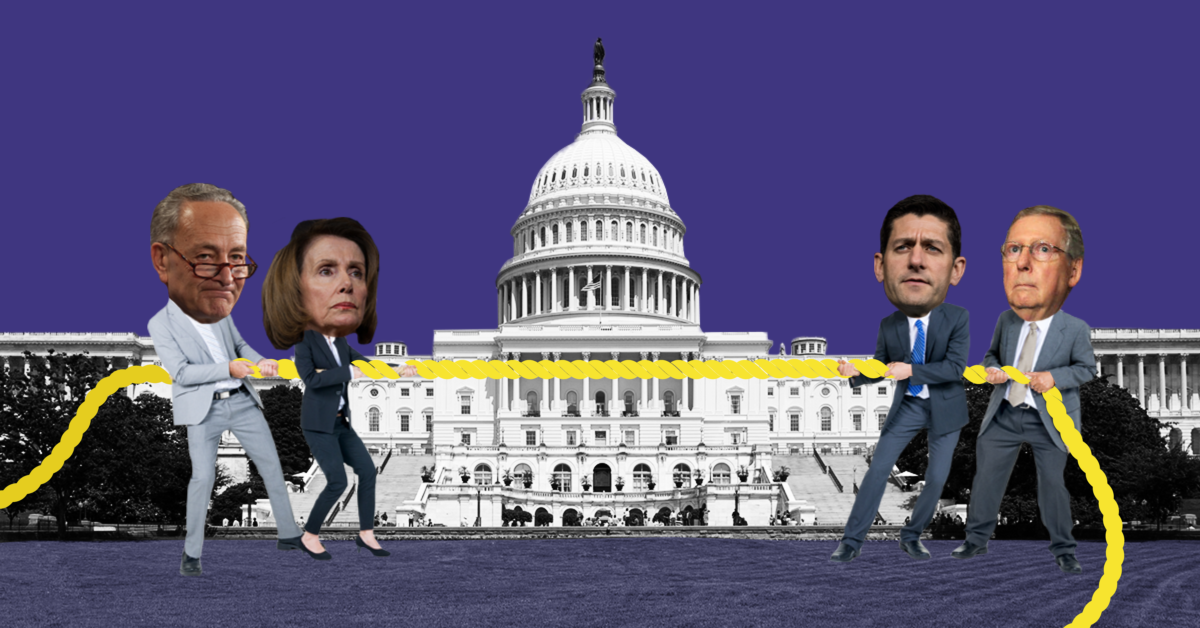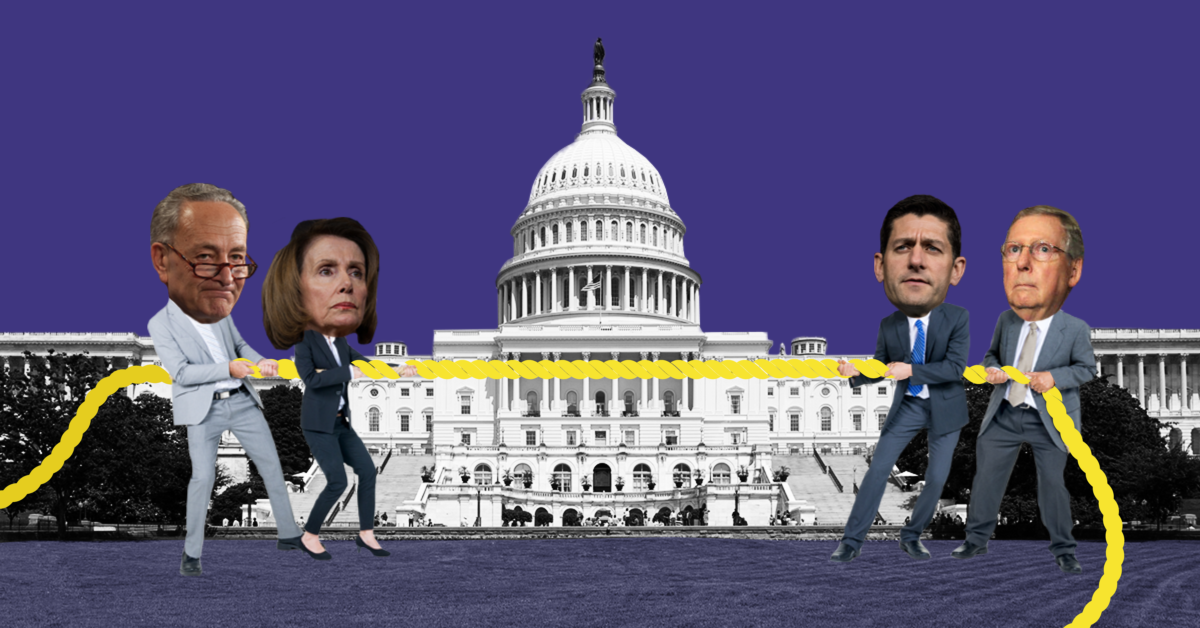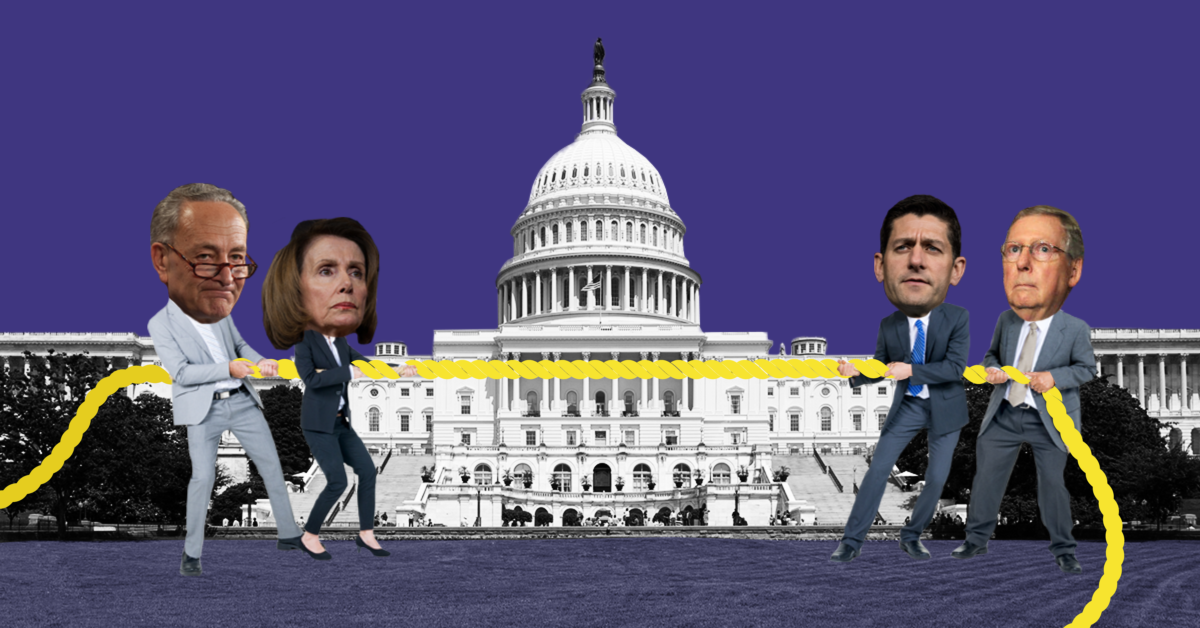 Ryan's net favorability has fallen 16 percentage points since January, while McConnell's dropped 14 points.

The GOP has lost voters' trust on key issues, with 18-point swings on both the economy and health care.
Top congressional Republicans' declining fortunes with voters this year have coincided with a growing trust gap among the electorate on key issues, underlining the problems facing the GOP ahead of the 2018 midterm elections.
Data drawing from 49 Morning Consult/Politico tracking polls show House Speaker Paul Ryan (R-Wis.) and Senate Majority Leader Mitch McConnell (R-Ky.) experienced 16-point and 14-point drops, respectively, in net favorability — larger dips than their Democratic counterparts. Each weekly survey polled about 2,000 registered voters across the country, from Jan. 20 to Dec. 18.
When President Donald Trump was sworn in, Ryan was viewed favorably by 41 percent of voters, with 39 percent taking the opposing view. But by the time congressional Republicans scored their first major legislative victory of 2017 with this week's passage of tax reform legislation — Ryan was 14 points underwater, with 45 percent of voters viewing him negatively, according to the latest poll, conducted Dec. 14-18.
For McConnell, the Trump administration began with a negative net favorability of 11 points for the Kentucky senator, but the most recent survey showed his unfavorable rating had climbed to 46 percent, with 21 percent viewing him favorably.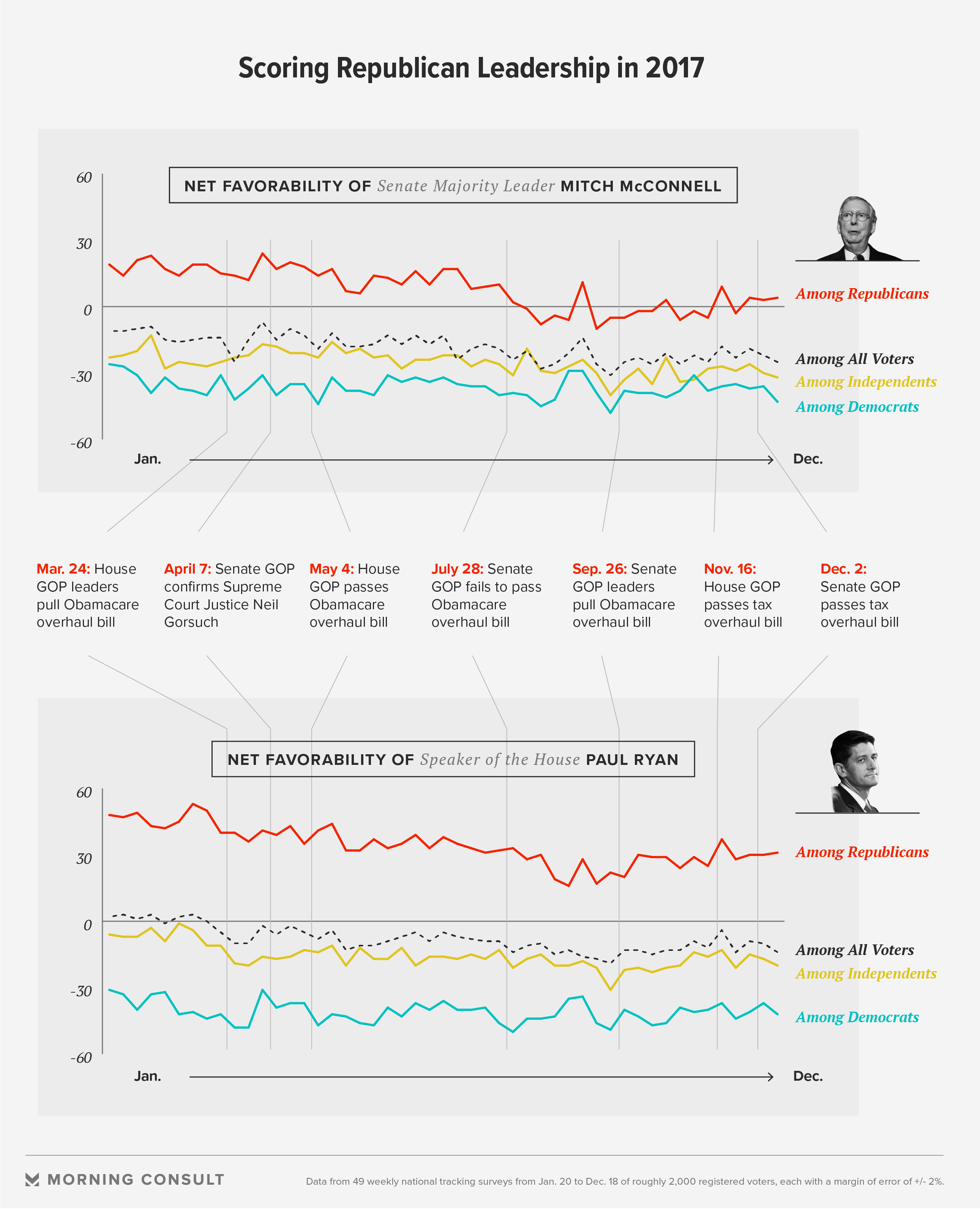 Those ebbs in popularity come as voters have grown less trusting of congressional Republicans to handle the challenges facing the country.
In March, when Morning Consult began tracking voter trust on a range of policy issues, the GOP led Democrats when it came to the economy (17 percentage points), jobs (18 points), immigration (15 points) and health care (4 points).
Those leads have since eroded. Democrats are now within the 2-percentage point margin of error on the economy, jobs and immigration, and they enjoy a 14-point edge on health care — issues that are consistently a high priority for voters.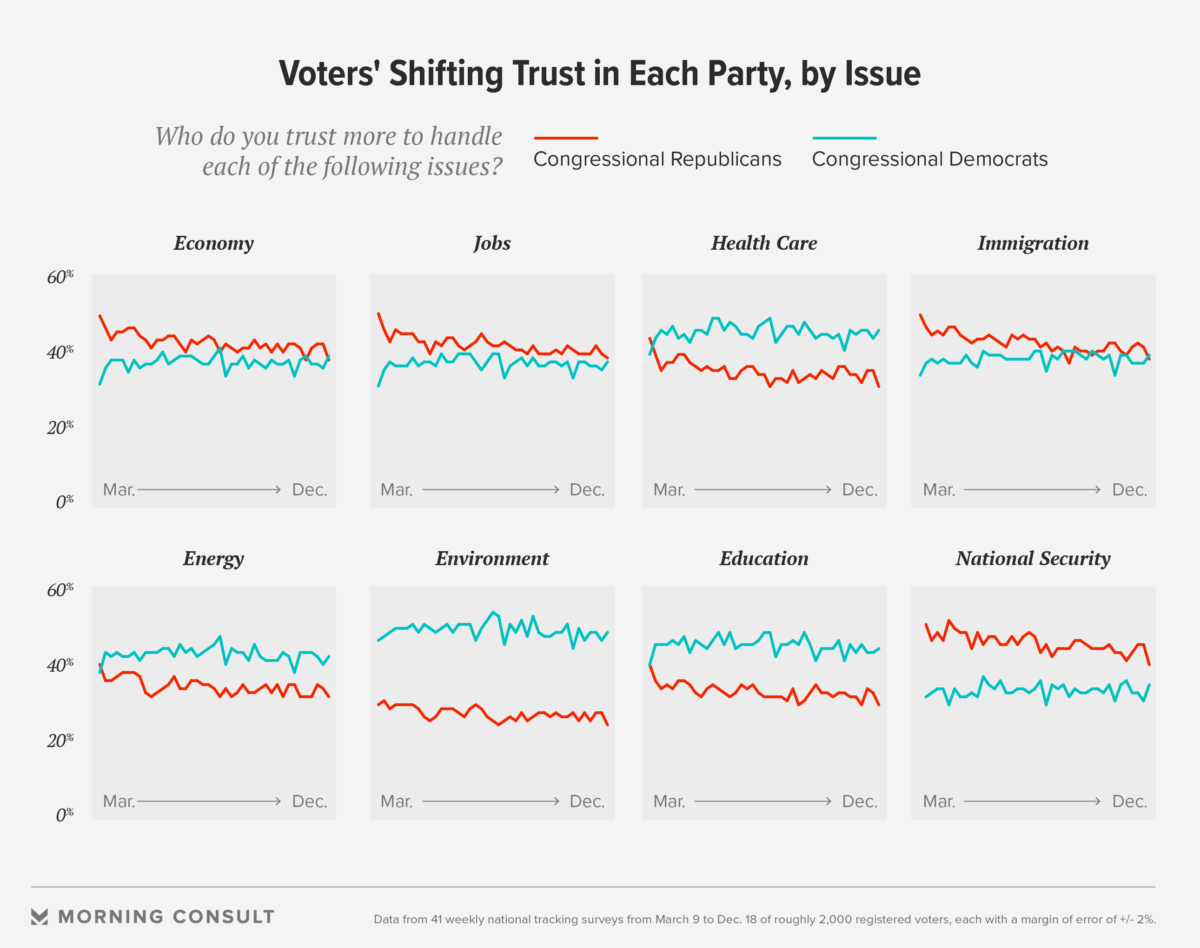 That decline in trust is a reflection of the GOP's handling of their two key agenda items this year — overhauling the health system and rewriting the tax code — according to University of Maine political science department chair Amy Fried.
"The two biggest policy efforts Republicans have worked on have been very unpopular; health care and the tax bill are both really unpopular," Fried said in an interview Monday.
Democratic candidates also hold a 10-point edge — the biggest margin of the year — over Republican candidates if House races were held today.
Elections in the middle of a presidential term tend to heavily favor the party that doesn't occupy the Oval Office. In 18 of the past 20 midterm elections, the president's party has lost more House seats than it's won, losing around 30 seats in each race.
Trump's approval rating among U.S. adults is 32 percent, the lowest level since President Ronald Reagan's in 1981 among presidents nearing the end of their first year in office, according to a Pew Research Center survey published Dec. 7.
At the same time, the mounting pessimism against Ryan and McConnell has come from different factions of voters, both posing disparate potential electoral pitfalls.
A steady decline in McConnell's net favorability among Republicans that resulted in his lowest rating followed the Senate's failure to make good on the GOP's promise to repeal and replace former President Barack Obama's signature domestic policy achievement from 2010: the Affordable Care Act.
Forty-two percent of GOP voters viewed McConnell favorably on Jan. 20, but after the July 28 health care vote that failed in the Senate, his popularity among Republicans slipped into negative territory, bottoming out at 10 points underwater in mid-September.
McConnell's numbers have since stabilized — 37 percent of Republicans view him favorably, compared with 33 percent who don't. But experts say lackluster support from the GOP base for a key party leader is likely to presage competitive Senate primaries next year, when Republicans will be defending eight seats. Their 52-48 majority in the chamber will become a 51-49 advantage when Alabama's Doug Jones (D) is sworn in.
McConnell's office declined to comment on the polling numbers.
In the 2014 midterms, when McConnell was already the top Republican in the Senate, the GOP picked up nine seats to regain control of the chamber.
This time around, insurgent GOP Senate candidates Danny Tarkanian of Nevada and Kelli Ward of Arizona have already made attacks on McConnell a key part of their pitches to Republican primary voters.
There is also the threat of Chris McDaniel in Mississippi, who is mulling a run against Sen. Roger Wicker (R). McDaniel lost to Sen. Thad Cochran (R-Miss.) by 2 percentage points in the 2014 GOP primary.
"There are very few signs thus far that these anti-establishment Republican forces are going to go quietly into the night," Eric Ostermeier, a research fellow at the University of Minnesota's Humphrey School of Public Affairs and founder of the political news site Smart Politics, said in a Dec. 13 phone interview.
At the same time, those types of challengers may have trouble winning the general election, with Democrats likely to benefit from surging enthusiasm, as seen in state and congressional races this year in places like Alabama, Georgia, New Jersey, Oklahoma and Virginia. By one proxy for voter enthusiasm, Virginia saw a 4-point jump in turnout this year compared to the previous gubernatorial race. Democratic nominee Ralph Northam defeated Republican Ed Gillespie in November by around 233,000 votes, more than quadruple the margin of victory for Gov. Terry McAuliffe (D) four years earlier.
On the other side of the U.S. Capitol, Ryan has seen his numbers decline among GOP voters, from 66 percent favorable in January to 56 percent in December. The Wisconsin Republican also has a growing problem with independents.
In January, he was 6 points underwater with independents, but he's now 20 points in the red, with a 45 percent plurality of independent voters viewing him unfavorably. Ryan's office did not respond to a request for comment on the polling numbers.
House Democrats will have to rely in part on independents if they hope to pick up the 24 seats needed to take back control of the chamber. In 2006 — the most recent election where Democrats regained the majority — Democrats netted 31 seats, and they did so with 57 percent of independents voting in their favor, according to a CNN exit poll.
In the latest Morning Consult/Politico survey, 28 percent of independents said they'd vote for the Democratic candidate, 23 percent opted for the Republican candidate and 49 percent were undecided.
The Democratic Congressional Campaign Committee and its super PAC — House Majority PAC — have been running anti-Ryan ads in districts across the country since October in an effort to swing public opinion. It's a page taken from the playbook of the National Republican Congressional Committee, which has sought to capitalize on widespread dislike for House Democratic Leader Nancy Pelosi (Calif.) since 2010 — when the House GOP took the majority by picking up 63 seats — to maintain a strong majority in the chamber, as evidenced by victories in five special elections this year. Republicans ran anti-Pelosi ads to help secure a 6-point win for GOP Rep. Ron Estes in April in a reliably red Kansas district that Trump carried by 27 points last year.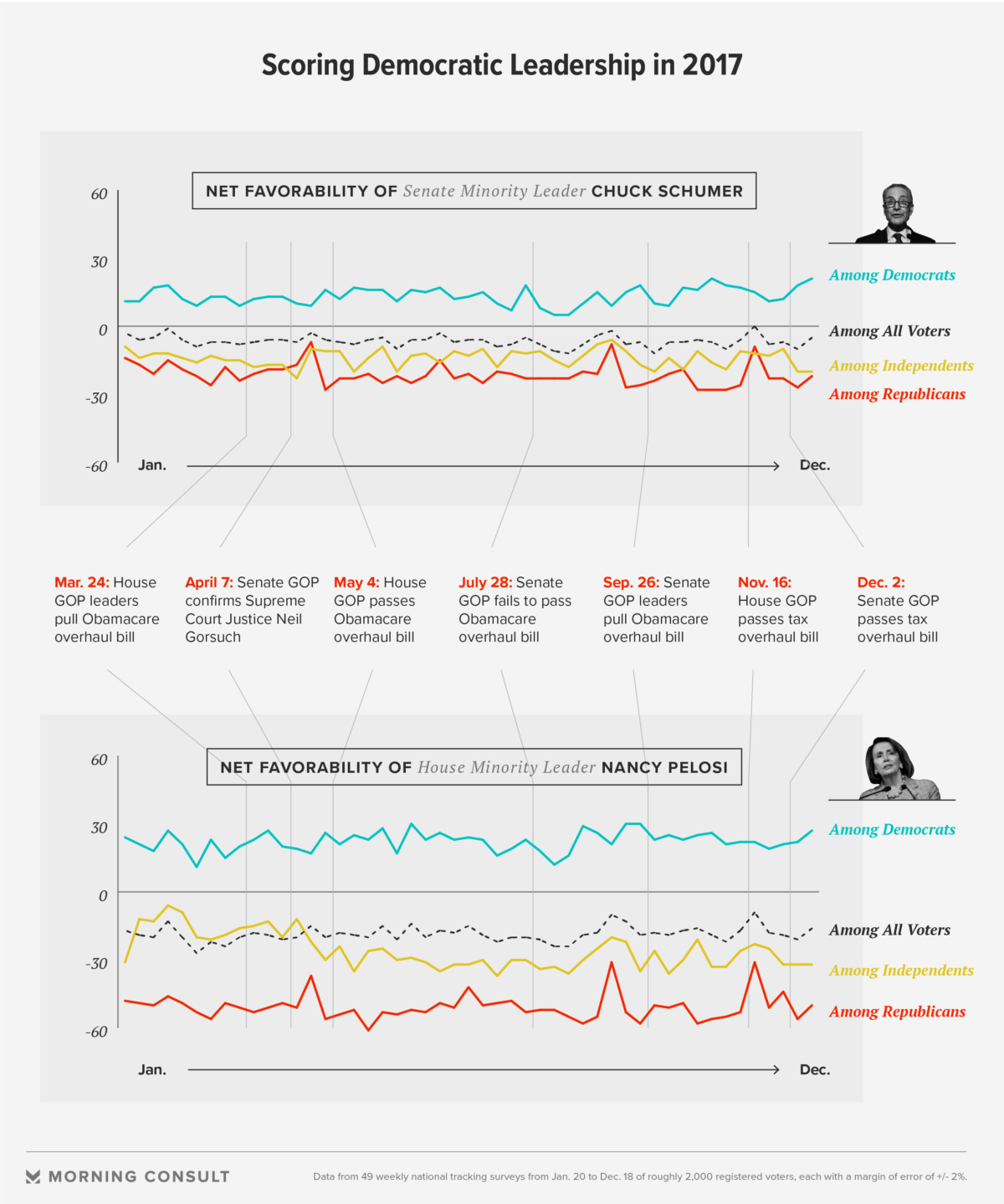 Pelosi's 30 percent favorability from January was little changed at 31 percent in the most recent weekly survey, and 47 percent of voters viewed her unfavorably in both January and December. Fifty-two percent of independents and 68 percent of Republicans had an unfavorable view of her, as of Dec. 18.
"The proof is in the pudding," NRCC Press Secretary Jesse Hunt said in a Dec. 13 email. "Nancy Pelosi is one of the best things to ever happen to the Republican Party and the fact that this year we won 5 special elections where she was featured heavily is a testament to people's severe distaste for her liberal agenda."
Drew Hammill, Pelosi's deputy chief of staff, sees things differently.
"Republicans, given the perilous state of their majority and lack of congressional accomplishments thus far, are going to attack whoever is the top Democrat in the House," Hammill said in a Dec. 14 interview. "And you can't sustain a majority on desperation."
On the Senate side, Republicans have lost a somewhat-valuable punching bag — former Democratic Leader Harry Reid of Nevada, who they vilified on their way to a strong showing in the 2014 midterm elections.
Reid's successor, Senate Minority Leader Chuck Schumer (D-N.Y.), has seen his net popularity decline by 2 points this year, but he remains the most unknown of the four congressional leaders, with 39 percent of respondents in the latest poll saying they either hadn't heard of him or had no opinion.
Schumer's office did not respond to a request for comment on the polling numbers.