Riders Remain Loyal to Amtrak Despite Washington State Derailment
Government-run company has 70% favorability rating among riders, and 59% say accident was an isolated incident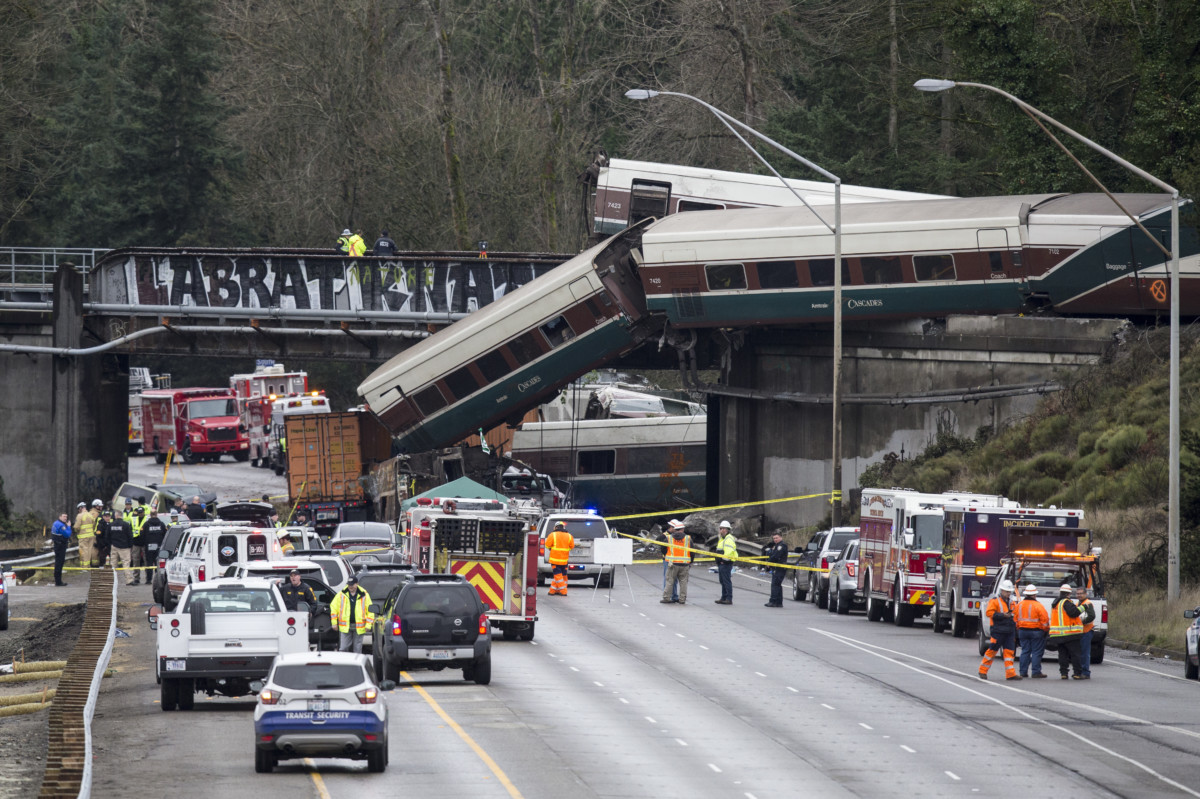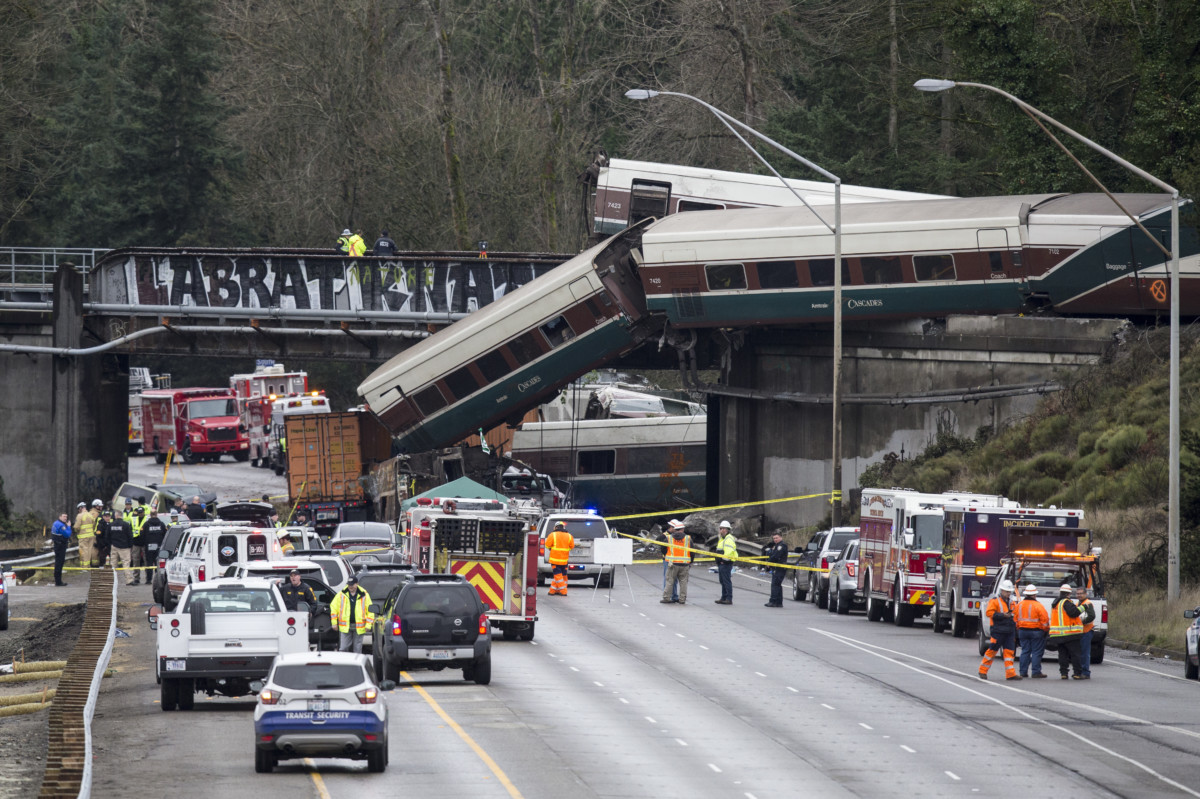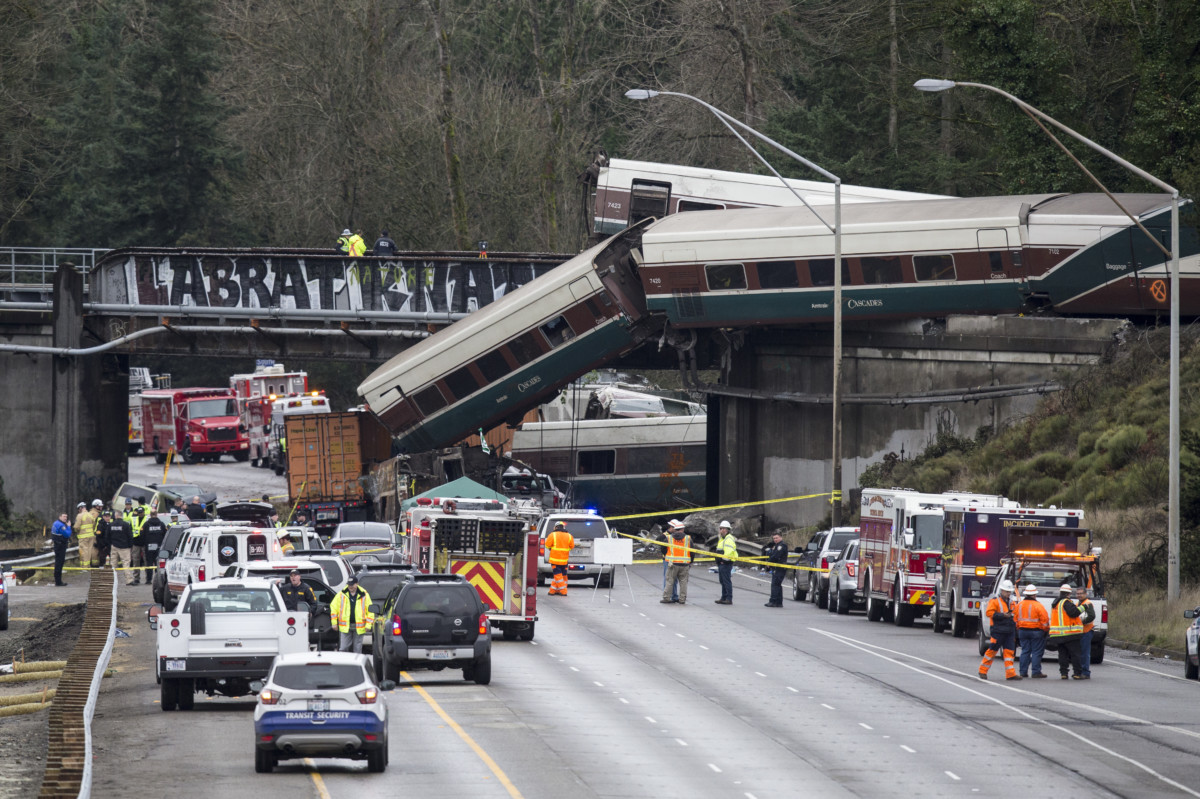 After an Amtrak train jumped the tracks in DuPont, Washington state on Dec. 18, killing three people and injuring dozens of others, the government-funded rail company's riders don't appear to be ready to abandon the service any time soon.
Among 2,249 U.S. adults in a Morning Consult survey conducted Dec. 19-21, Amtrak's 51 percent favorability ranked below other transportation companies like Southwest Airlines (64 percent), Delta Air Lines (59 percent), American Airlines (58 percent), Greyhound (57 percent) and United Airlines (57 percent). The poll's margin of error was plus or minus 2 percentage points.
But among the 842 respondents who said they have been an Amtrak passenger, the rail service had a 70 percent favorability rating, second only to Southwest's 74 percent. The subsample's margin of error was plus or minus 3 percentage points.
Fifty-nine percent of Amtrak riders said the derailment was an isolated incident, while 26 percent said it was indicative of a widespread problem.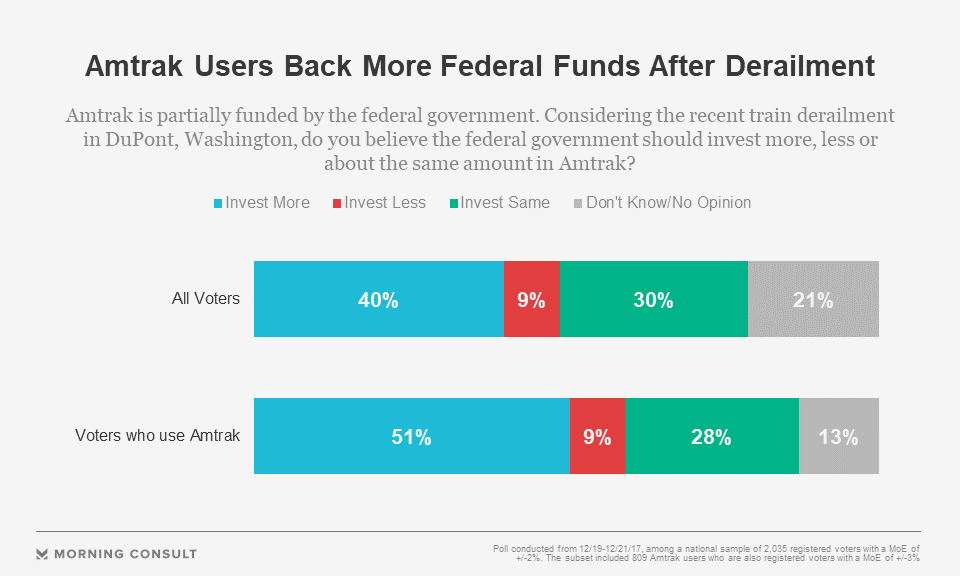 While riders appear to be loyal to the government-owned company, which finances 94 percent of its operations via ticket sales and other revenue, the accident could deal a blow to a service that faces federal threats to funding and lags in technology updates, said Rep. Pramila Jayapal (D-Wash.), a first-term lawmaker whose district is near a portion of the route where the derailment occurred.
"I think this hurts Amtrak," Jayapal said in a brief interview on Capitol Hill. "I think it hurts the reputation of a very important infrastructure piece that was already struggling."
The National Transportation Safety Board is looking into the causes of the derailment, including why the train was traveling 78 mph in a 30-mph zone during its inaugural run.
Jayapal said Congress must insist on faster implementation of positive train control, or PTC, a technology that allows railroad equipment like signals and switches to communicate with trains in motion and to stop a train if it exceeds track speed limits. PTC equipment was scheduled to be operational in spring 2018 for the corridor where the derailed train was traversing, Jayapal said.
The tracks in that corridor had been undergoing upgrades for a new route, dating back to 2009. The previous year, Congress mandated PTC installations for regularly scheduled intercity and commuter rail passenger service. Implementation was supposed to be completed by 2015, but railroad companies said they couldn't meet that deadline because of time-intensive installations and costs. In 2015, Congress extended the deadline to Dec. 31, 2018.
Abe Zumwalt, director of policy research at the advocacy group Rail Passengers Association, said the United States spends about $1 billion each year on Amtrak, compared to more than $40 billion spent on roads.
"This funding imbalance critical to understanding why Amtrak is but a shadow of what you'll find in any other nation," he said in a phone interview Thursday.
In fiscal year 2017, the Federal Highway Administration spent almost $42 billion on the program that funds road construction and maintenance, according to the FHWA 2018 budget request.
A 41 percent plurality of Amtrak riders said the recent accident would not influence their decision to use the rail service again, while 31 percent said they'd be less likely to ride and 24 percent said they were more likely to travel via Amtrak.
Amtrak did not respond to requests for comment.
Trump said in a tweet that the accident in Washington proves the need for massive infrastructure investment that he aims to tackle next year, though it isn't clear whether the White House plan will include increased funding or oversight for Amtrak, which reported revenues of $3.2 billion and record ridership of 31.7 million passenger trips in fiscal year 2017, along with an operating loss of $194 million.
The White House did not respond to an inquiry about whether the infrastructure plan will include money for Amtrak.
The White House requested $774 million for Amtrak in fiscal 2018. House lawmakers passed an appropriations bill that would provide $1.43 billion for Amtrak, $67 million less than it received the previous year. The Senate has not passed similar legislation.
Among the 809 Amtrak users who are also registered voters, 51 percent said the federal government should invest more in the company, with 9 percent saying it should invest less and 28 percent chose the same amount. The subsample's margin of error is plus or minus 3 percentage points.
Forty percent of overall voters polled — not just those who use Amtrak — said they've used the rail service before, and the same percentage said the government should put more money into Amtrak. Nine percent of overall respondents said the government should invest less, and 30 percent said it should invest the same amount. The margin of error for the voter sample was plus or minus 2 percentage points.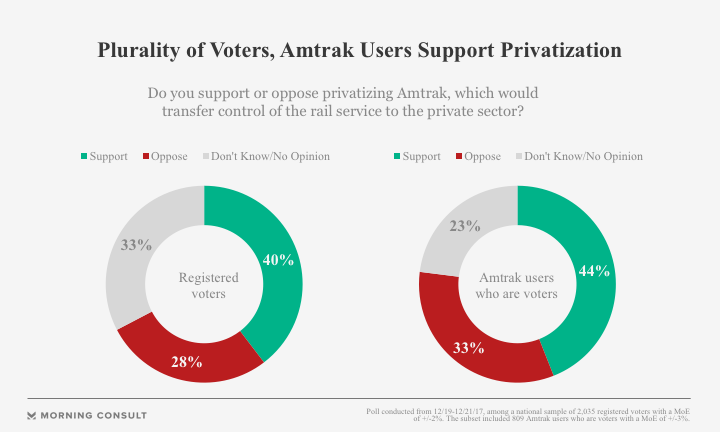 But when it comes to privatizing Amtrak, an idea that's been discussed by GOP lawmakers since the 1980s, Amtrak users who are also registered voters were more likely to say they support that idea — 44 percent compared to 40 percent of all registered voters. Opposition was stronger among Amtrak users — 33 percent versus 28 percent of all voters — but 33 percent of all voters had no opinion, compared to 23 percent of Amtrak passengers.
Forty-nine percent of all registered voters said the federal government should increase funding for passenger rails, while 9 percent said it should invest less and 24 percent said funding should stay the same.
Voters were more interested in increasing funding for infrastructure such as roads (69 percent), bridges (66 percent) and interstate highways (64 percent).
But voters were mixed on who should be the main investor in the country's transportation infrastructure, with 35 percent saying the federal government should be primarily responsible and 36 percent saying that the government should instead provide incentives for private companies to invest. Ten percent said private companies should be primarily responsible, with the federal government having little or no role.