Many Americans are concerned about potential cyber risks to self-driving cars, though the public is more comfortable with the industry's overall safety than in the past, Morning Consult polling shows.
A survey conducted Jan. 11-16 found that 67 percent of Americans were somewhat or very concerned about cyber threats to driverless cars, with 18 percent saying they were not too concerned or not at all concerned about the potential cyber vulnerabilities of self-driving vehicles. Fifteen percent did not know or had no opinion. The poll of 2,201 U.S. adults has a margin of error of plus or minus 2 percentage points.
Self-driving cars don't necessarily include some of the components mandated in the National Highway Traffic Safety Administration's current safety standards for testing and development, such as steering wheels and brake pedals. Legislation in both chambers of Congress would support autonomous vehicle development by allowing auto manufacturers to produce limited numbers of approved vehicles that do not meet the NHTSA's standards.
The House passed its autonomous vehicle legislation — H.R. 3388 — on Sept. 6; similar legislation in the Senate — S. 1885 — was unanimously passed by the Senate Commerce Committee on Oct. 4.
Like other wirelessly connected devices, the internal programs used in driverless vehicles could be vulnerable to outside hacking and cyberattacks. Sen. Ed Markey (D-Mass.), a member of the Senate Commerce Committee, currently has a hold on S.1885 due to cybersecurity concerns.
"If we are to imagine a world where massive 18-wheelers carrying hazardous materials and minivans full of children can drive themselves, it shouldn't be a stretch of the imagination to envision that these vehicles may be targets of cyberattacks and safety vulnerabilities," Markey said in a Tuesday email.
But even though approximately two-thirds of Morning Consult poll respondents cited these potential cyber threats as a concern, the survey found that Americans were almost evenly split on the safety of driverless cars when the vehicles were compared with the average human driver.
Thirty-three percent of adults surveyed said autonomous vehicles are somewhat or much safer than the average human driver, while 36 percent said they were somewhat or much less safe. Eight percent said driverless cars were at about the same level of safety as the average human driver, while 24 percent did not know or had no opinion.
Engin Kirda, a professor of computer science at Northeastern University, said there are two distinctive ways to look at driverless vehicles — from perspectives of safety and cybersecurity. Growing familiarity with driverless cars is likely being balanced with recent high-profile cyber incidents, Kirda added, noting Russian-sponsored hacking efforts during the 2016 presidential election and the September disclosure of Equifax Inc.'s data breach.
"I think people have started realizing that, 'Yeah, technology is great, but we don't really know how these things are connected,'" Kirda said in a Wednesday phone interview.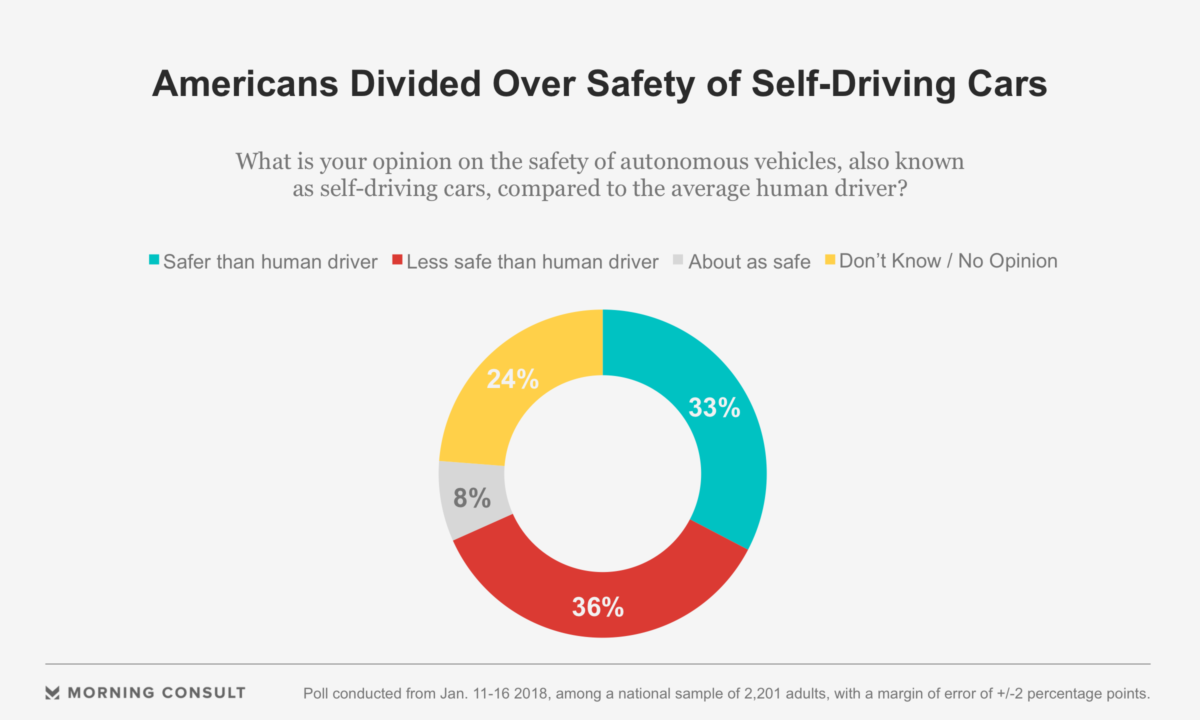 Public perceptions of self-driving vehicles have fluctuated over the past two years. Morning Consult/Politico polling conducted Sept. 7-11, just after the House passed its autonomous vehicle legislation, found that 22 percent of registered voters said self-driving cars were safer than the average human driver, while 35 percent of respondents said that driverless cars were less safe than human operators. In a January 2017 Morning Consult poll, 33 percent of U.S. adults surveyed said autonomous vehicles were safer than human drivers, while 41 percent said they were less safe. In February 2016, 43 percent of registered voters surveyed said autonomous cars were not safe, while 32 percent said they were safe.
Justin Cappos, a systems and security professor at the New York University Tandon School of Engineering, said the inherent vulnerabilities in most connected devices — including autonomous vehicle technology — shouldn't necessarily influence consumers' opinions about the safety of driverless cars.
"I think people should probably be as concerned about their fancy new infotainment unit or some of those other types of features," Cappos, who specializes in automotive cybersecurity, said in a Wednesday phone interview.