Most GOP Voters Say Justice Department Hasn't Been Fair in Handling Russia Probe
51% of Republicans say DOJ is handling the Russia investigation unfairly
Among voters overall, a 39% plurality say the investigation has been fair.

35% of voters say the probe has been unfair.
A majority of Republican voters say the Justice Department has not been fair in its investigation into Russian interference in the 2016 presidential election, according to a new nationwide poll.
Fifty-one percent of GOP voters said the Russia probe has not been handled fairly, while 25 percent said it has, according to a Morning Consult/Politico survey conducted Feb. 1-4. Among voters overall, a 39 percent plurality said the DOJ has been fair, while 35 percent said it has not. Twenty-six percent of the 1,985 poll respondents said they did not know or had no opinion. The survey has a margin of error of plus or minus 2 percentage points.
The poll also found that a 41 percent plurality of GOP voters expressed an unfavorable view of Special Counsel Robert Mueller — up 14 percentage points from a poll conducted July 27-29 and matching a high reached last month. In May, the Justice Department appointed Mueller, a former Federal Bureau of Investigation director, to oversee the Russia probe.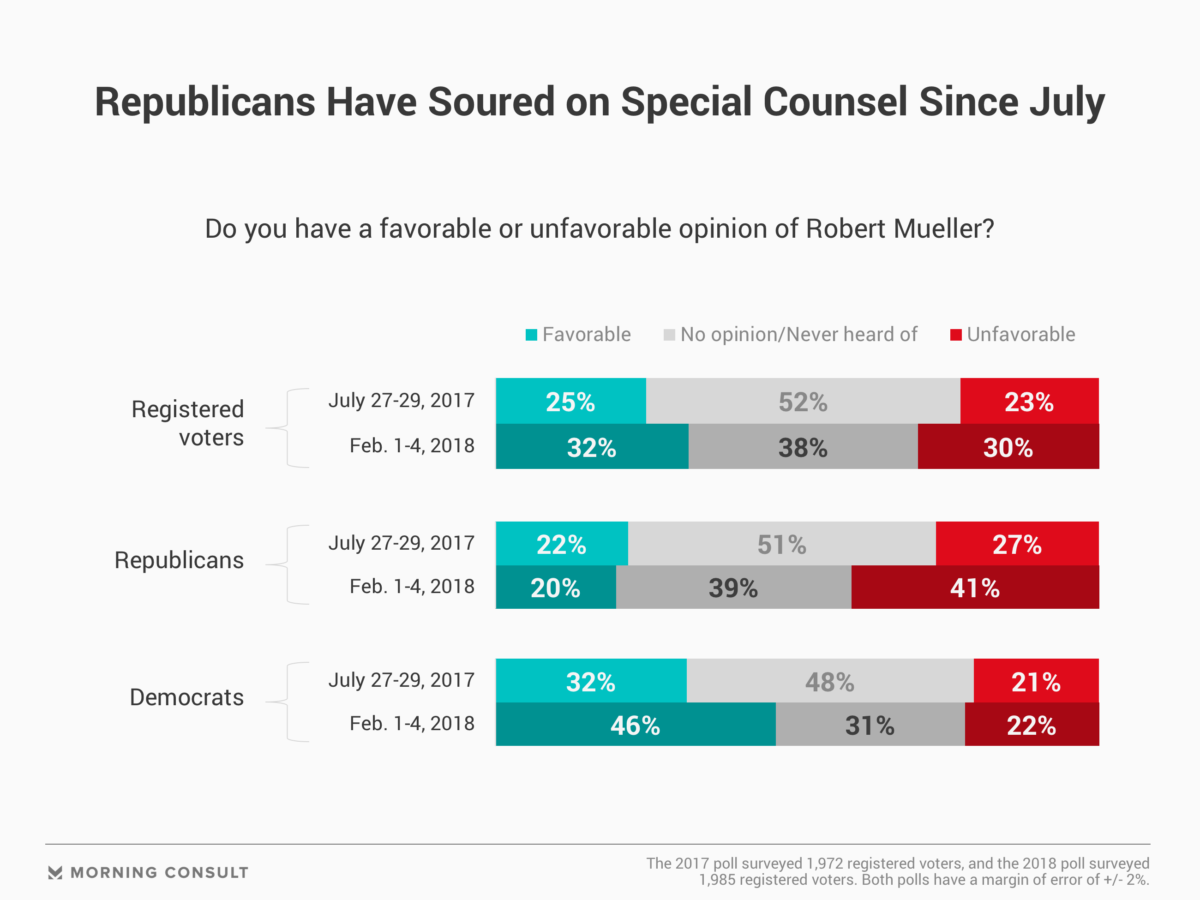 Spokesmen for the special counsel and the Justice Department declined to comment on the poll's findings.
Solomon L. Wisenberg, a partner at Nelson Mullins Riley & Scarborough and a former deputy independent counsel in the Whitewater investigation into then-President Bill Clinton, said by phone Jan. 30 that prosecutors won't allow public criticism to influence their investigations.
But "at a human level," he said, it's natural that prosecutors would be affected by public distrust and by pointed attacks by the president or his defenders.
Cameron Easley contributed.
This story has been updated to include the margin of error for February's poll.
Correction: A previous version of this story understated the percentage of voters who said the Russia investigation has been fair, as well as those who said it has been unfair.