Trade tensions between China and the United States continue to escalate, with President Donald Trump on Monday threatening an additional $200 billion in tariffs on Chinese imports in response to Beijing's retaliatory measures against duties that the administration imposed earlier this month.
But according to a new Morning Consult/Politico poll, public attitudes on the merits of the administration's tariff push have barely changed since the administration ramped up tensions with China, the European Union and other major trading partners by levying duties on imports of steel and aluminum.
Voters are still split on whether the tariffs will hurt or help the U.S. economy, governed in part by their broader political leanings. The poll was conducted June 14-18, before Trump announced the latest escalation of a burgeoning trade war.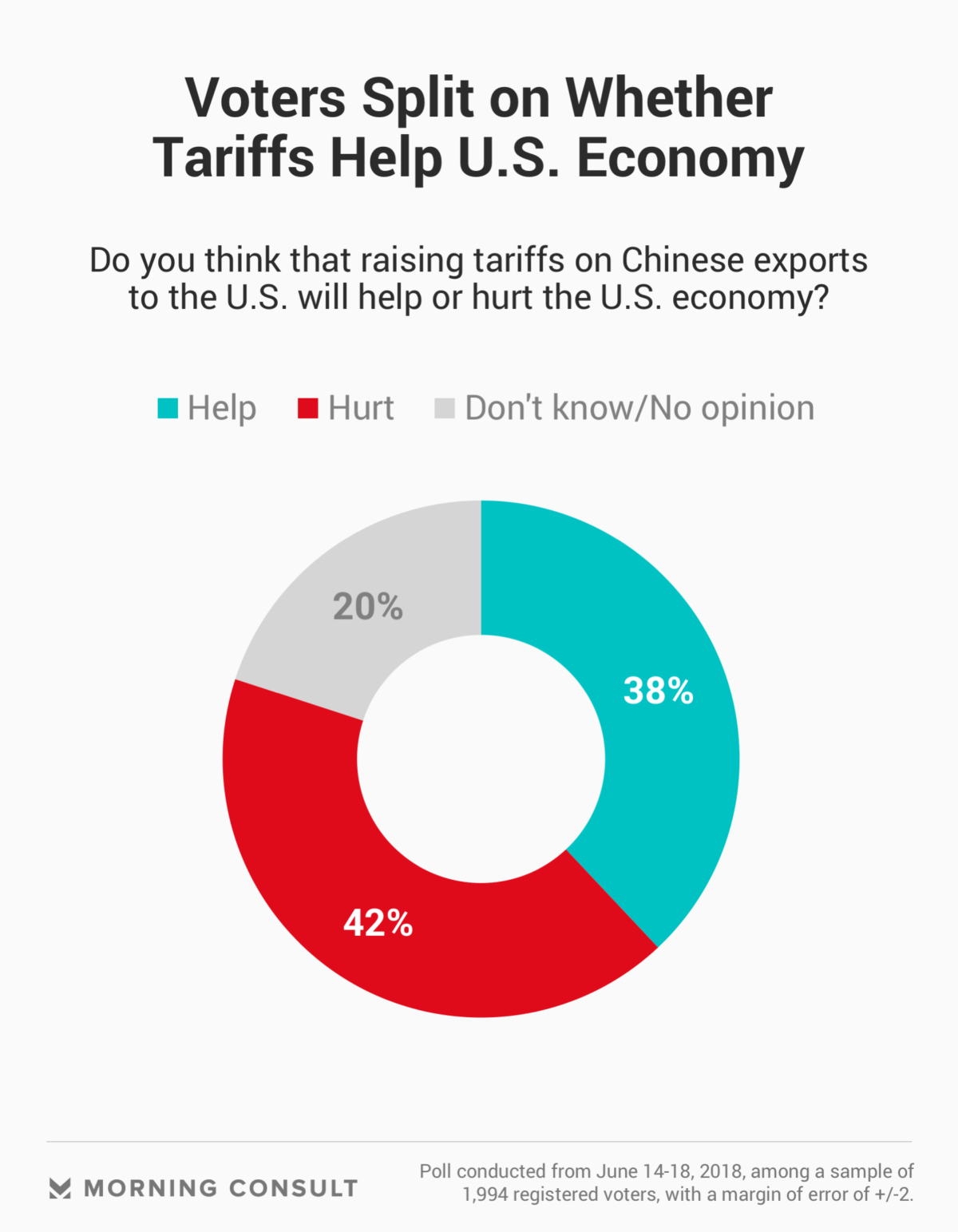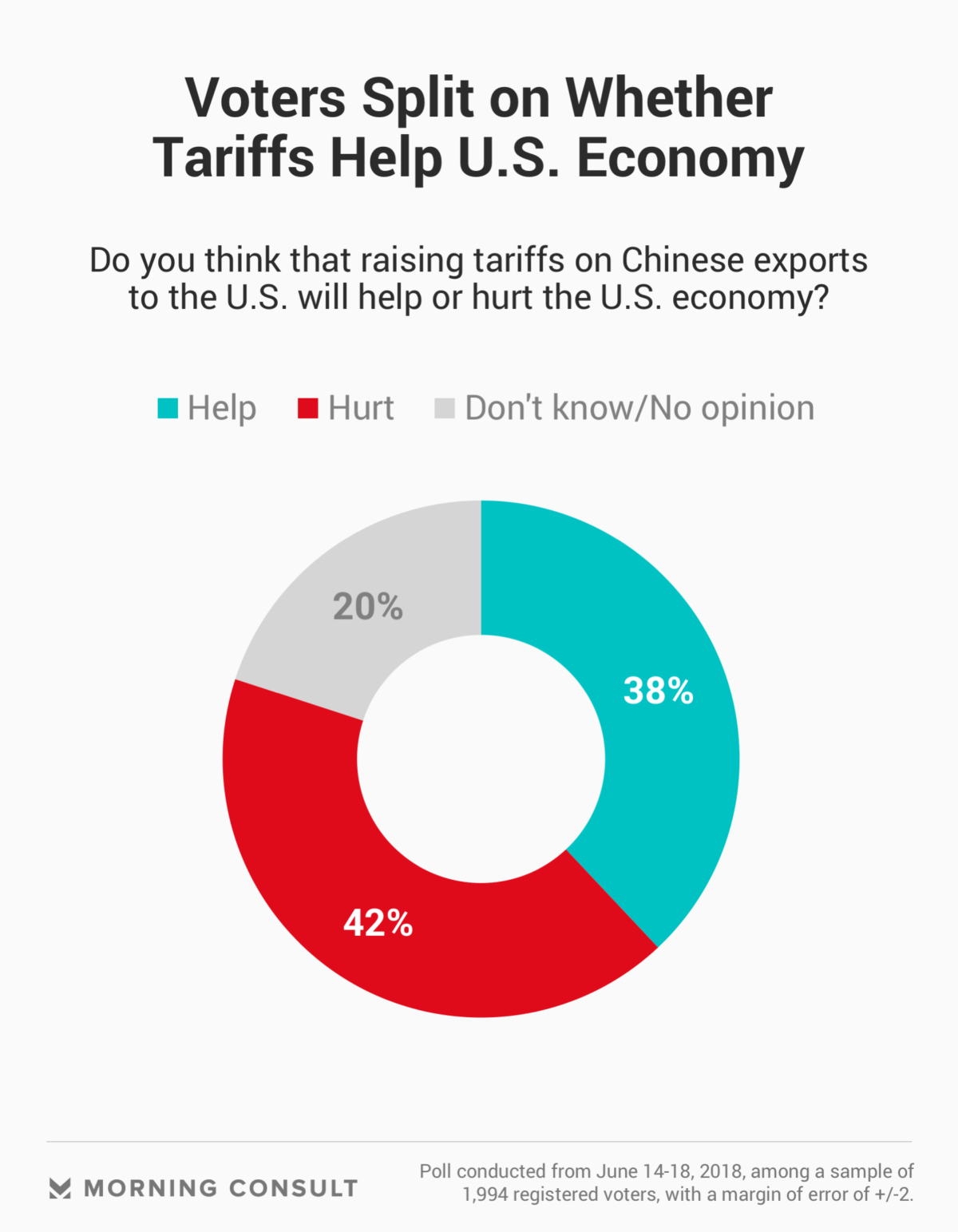 Experts say that could change in the future if Americans start to feel a personal impact from Chinese retaliatory duties — which are targeted largely at the agricultural sector and go into effect early next month — or the extra costs of the U.S. tariffs themselves.
Thirty-eight percent of registered voters surveyed in the poll said tariffs on Chinese imports will help the U.S. economy, compared to 42 percent who think they'll hurt the economy. The survey of 1,994 registered voters has a margin of error of plus or minus 2 percentage points.
Republican voters were more likely to say the tariffs are good for the economy, with 59 percent saying they think they help the United States compared to 36 percent of independents and 21 percent of Democrats.
That split is little changed from a poll in May, when 37 percent of voters believed the tariffs were a boon and 38 percent said they were detrimental. In an April survey, 39 percent of voters said the duties are good for the economy, compared to 43 percent who thought they would hurt the United States.
The figures suggest that, so far, retaliatory tariffs from U.S. trading partners haven't made a dent in voters' views of the Trump administration policy.
China's retaliation has focused on raising tariffs on farm goods such as pork and soybeans starting next month — which could leave one of the world's major export markets closed off to U.S. farmers, some of Trump's strongest supporters.
Jamian Ronca Spadavecchia, managing director at the consulting firm Oxbow Advisory and an adjunct professor at Middlebury College, said that the political risks for the administration are likely to be higher if U.S. tariffs contribute to widespread inflation of consumer prices.
"The strategy from the other side, whether it's China or another country, to focus on congressional districts or agricultural products — I don't know if that's going to be that effective," Spadavecchia said in an interview on Tuesday. "China is a big market, but it's not our only market."
But Matt McAlvanah, a spokesman for the bipartisan advocacy group Farmers for Free Trade, said Tuesday that although the full weight of the duties hasn't yet been felt, he's hearing from farmers in sectors targeted by retaliation "that they're not investing, that agricultural equipment has become more expensive, and that there's mass uncertainty."
"So while the political ramifications remain a question mark, we are seeing increased anger" about the trade tensions, said McAlvanah, who worked for the Office of the U.S. Trade Representative under former President Barack Obama. "July and August will reveal a lot about how effective the retaliatory strategy is from a political perspective."
Still, the belief that implementing tariffs on Chinese imports will help the U.S. economy is strongest in rural areas. Forty-two percent of rural voters said they think the duties will help the economy, compared to a 37 percent share of suburban voters and 34 percent of urban voters.
Thirty-seven percent of rural voters said they think the tariffs will hurt the economy, while 21 percent didn't know or had no opinion.