As President Donald Trump and his administration defended their zero-tolerance immigration policy and House Republicans were trying to build support for moderate-backed compromise immigration legislation, a 36 percent plurality of voters said the president is most responsible for the state of immigration policy.
In addition, according to a new Morning Consult/Politico poll, 15 percent of voters said Republicans in Congress were most responsible, while 25 percent blamed Democratic lawmakers in Congress, and 24 percent said they did not know or had no opinion.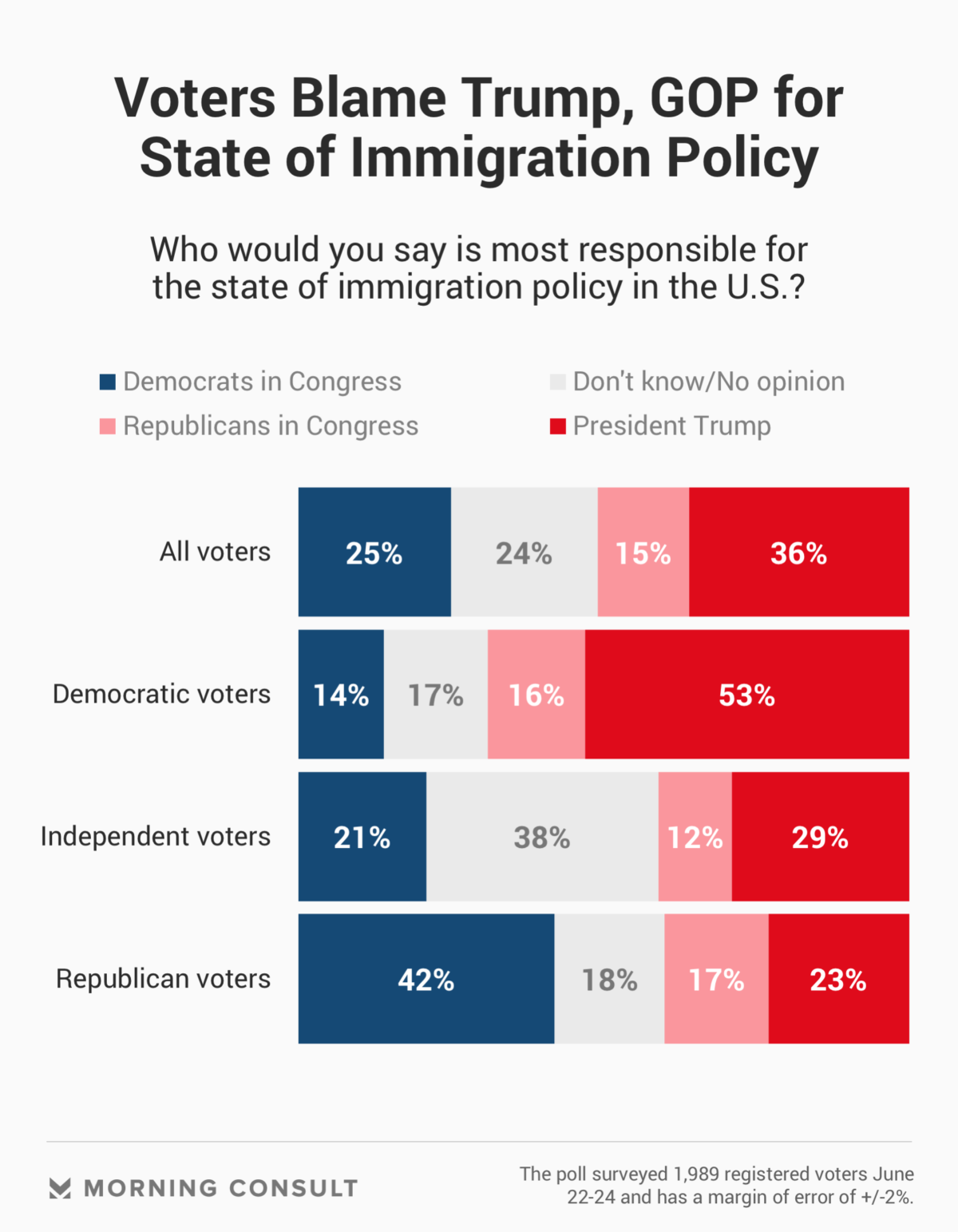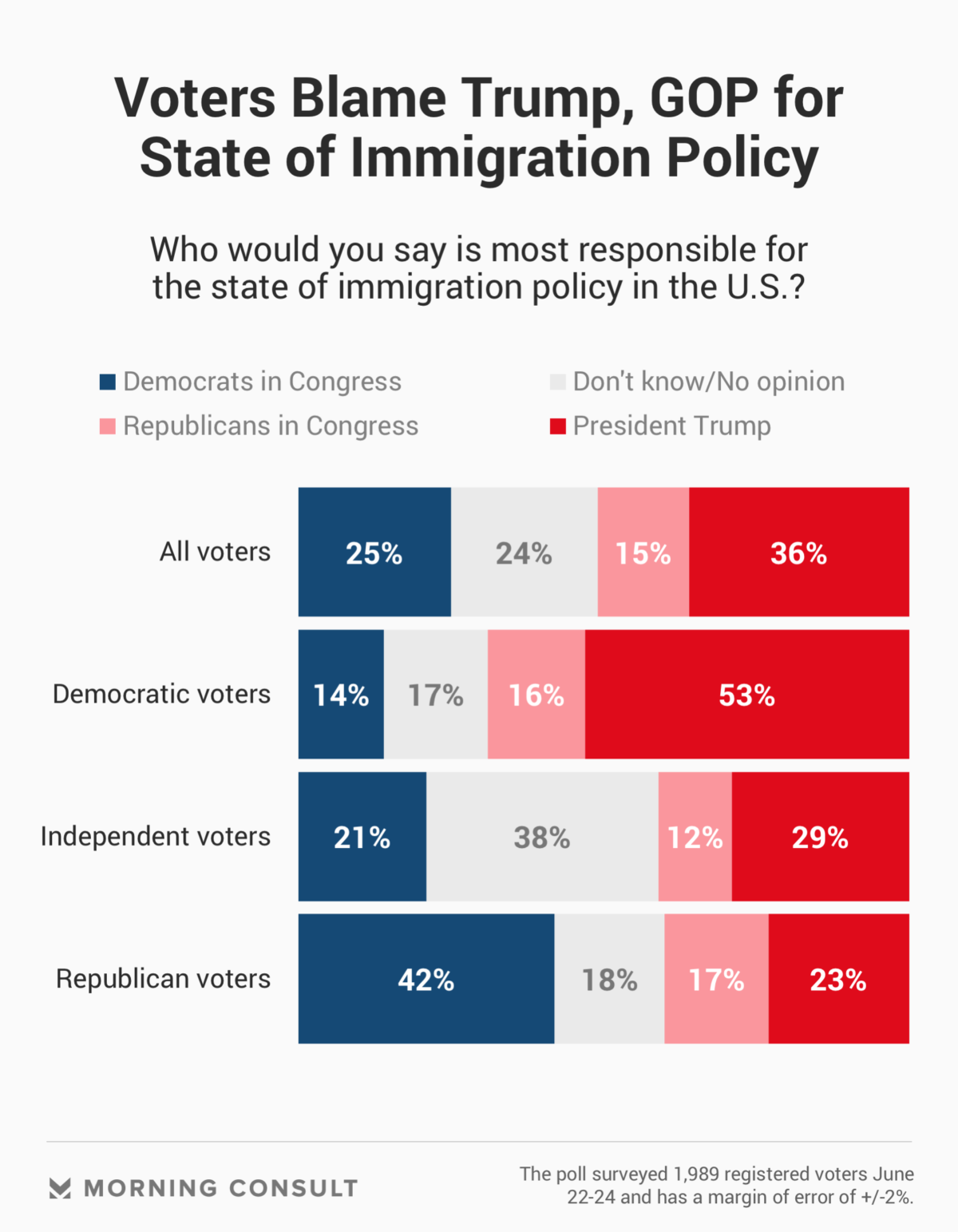 The national survey of 1,989 registered voters was conducted June 22-24, following several days of media coverage regarding the Trump administration's zero-tolerance policy for illegal crossings on the U.S.-Mexico border, public pressure on the White House over the separation of migrant children from their parents and ahead of a possible House vote on a compromise immigration bill.
"I'm surprised that isn't over 50 percent for Trump alone," said Michael Steel, who served as press secretary for former House Speaker John Boehner (R-Ohio), in an interview Tuesday, pointing to the public scrutiny over the administration's policy during the last week.
Seventy-four percent of voters said they support the Trump administration ending its policy of separating children from parents who are caught crossing illegally into the United States from Mexico, including 76 percent of Democrats and 75 percent of Republicans. In polling conducted last week, responses varied by how the child separation policy was described — but Democrats broadly opposed it while Republicans generally supported it.
The most recent survey found Democrats in Congress have a slim advantage on the issue of immigration: Forty-one percent of voters said they trust Democrats in Congress to handle the issue, while 37 percent said they trust Republicans — a figure that was tied, at 40 percent, in a June 14-18 Morning Consult/Politico poll. The surveys have a margin of error of plus or minus 2 percentage points.
"Most Americans view Washington as run by Trump and his Republican allies in Congress," said Jesse Ferguson, the former director of the Democratic Congressional Campaign Committee's independent expenditure arm. "People who live and breathe this stuff may see different actors with different motivations," he noted, "but what most Americans see is Trump controlling the Republican Party."
Steel said he thinks voters overall have different perceptions of Trump and congressional Republicans, "both in terms of goals and the tactics used to achieve those goals." And if Trump wanted to shift the blame to Congress in the eyes of voters — especially Republicans — Steel said he thinks the president could.
Overall, 49 percent of voters disapprove of Trump's immigration policy, while 43 percent approve of it. Sixty-six percent of Democrats say they strongly disapprove of Trump's immigration policy, while a 46 percent plurality of Republicans say they strongly support it.
A 44 percent plurality of voters said immigration policy has gotten worse since Trump took office, compared to 31 percent who said it has gotten better. A greater share of Democrats (73 percent) said things have gotten worse than the share of Republicans (62 percent) who said things have gotten better.  
Correction: A previous version of this story mischaracterized voters' views on who was responsible for the state of U.S. immigration policy.