Biden, Sanders Have Nearly Identical Lead Over Trump in Hypothetical Matchup
Stormy Daniels' lawyer Michael Avenatti would trail the president, with most voters undecided, according to polling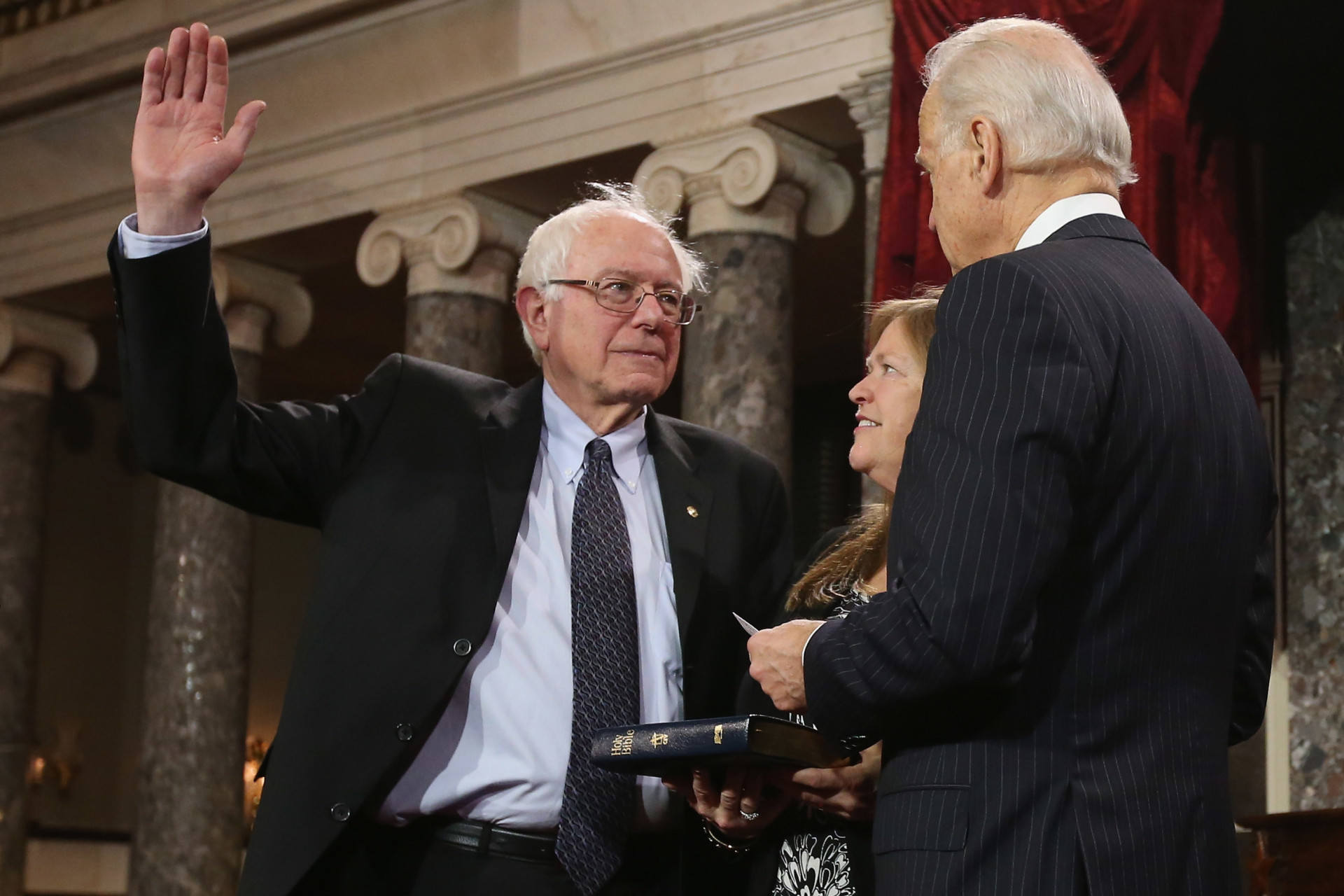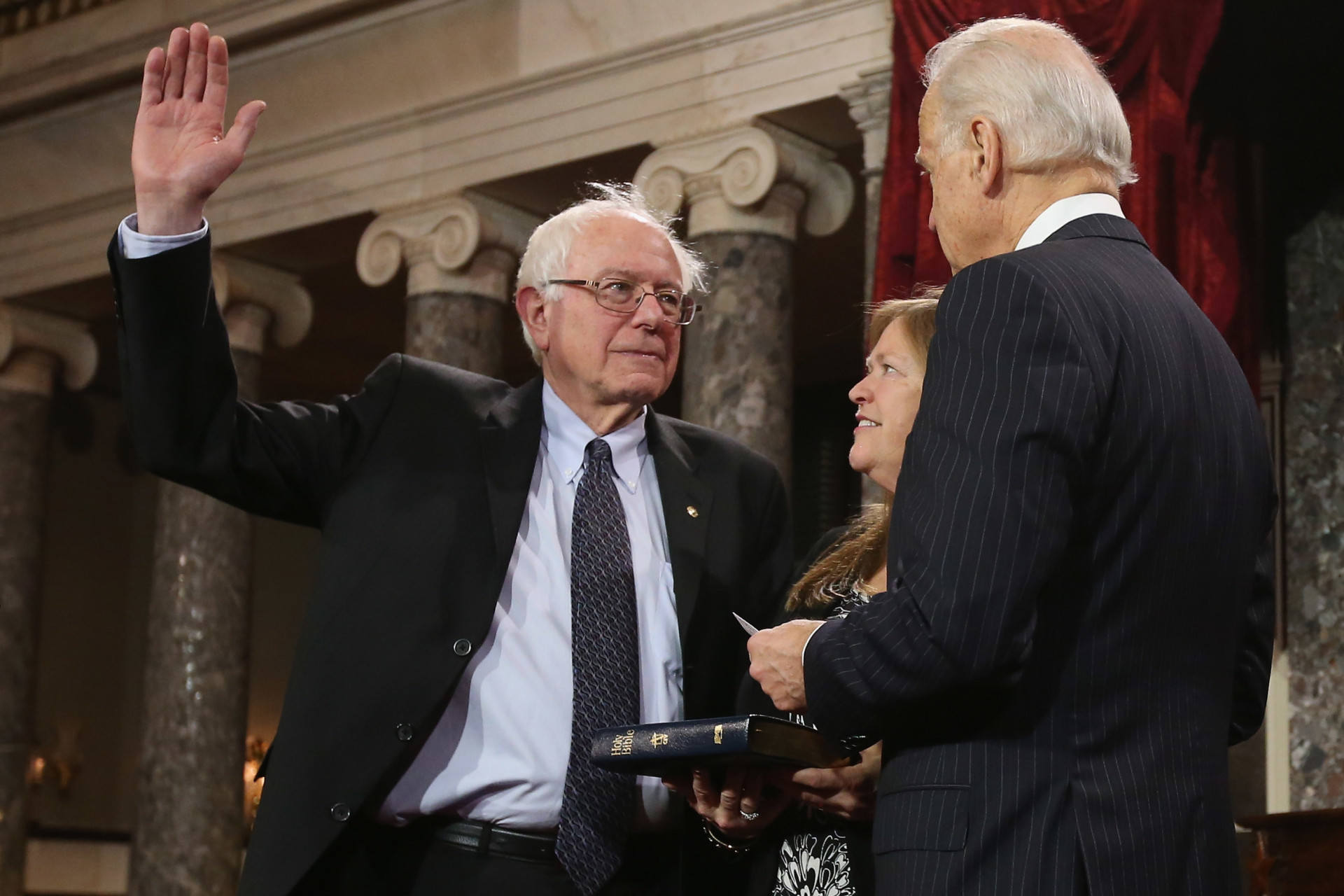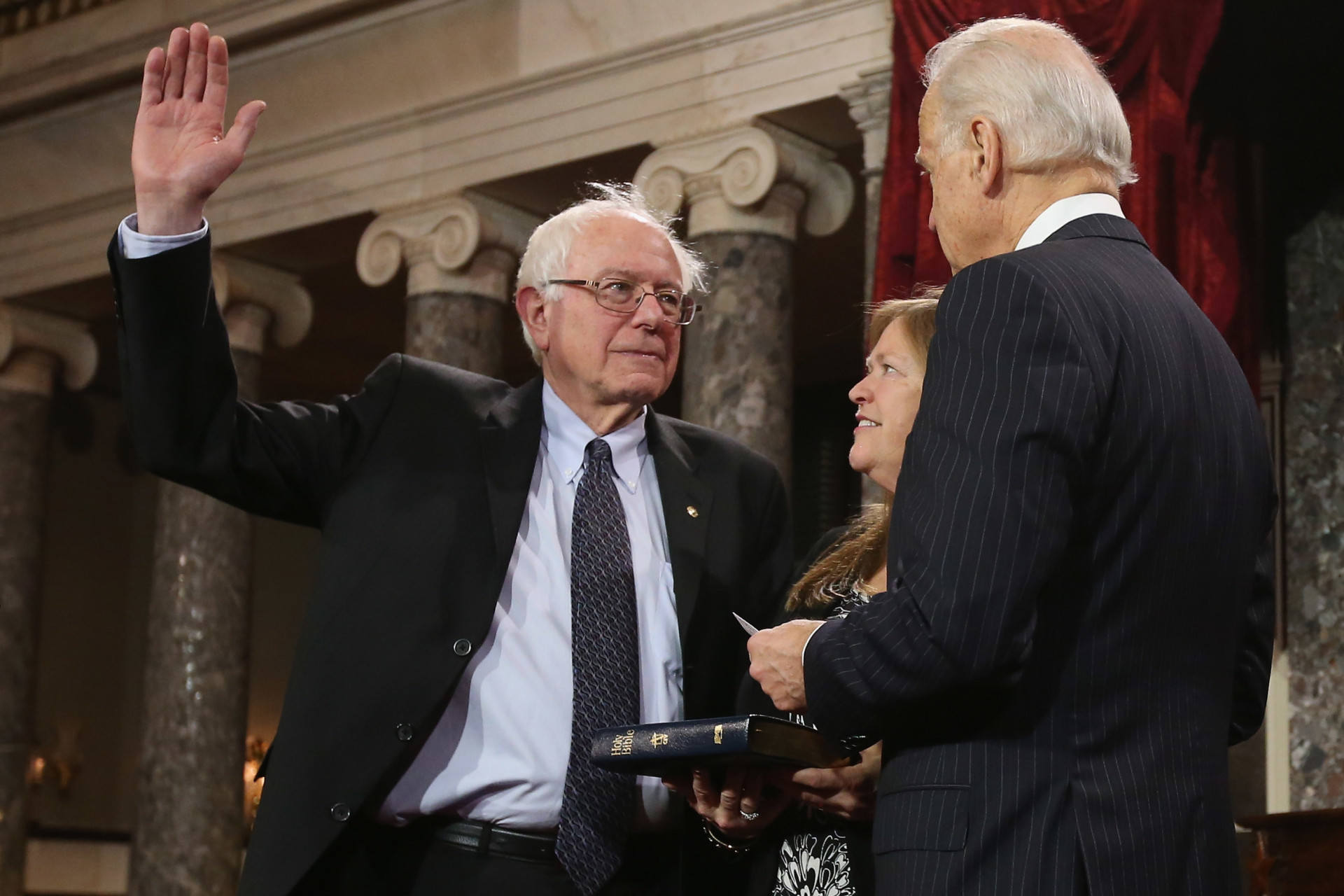 Biden and Sanders would both lead Donald Trump by 12 points if election were held today.

Trump leads Avenatti in a hypothetical election, 28% to 20%, with half of voters undecided.
Pluralities of voters said they would choose former Vice President Joe Biden and Vermont Sen. Bernie Sanders over President Donald Trump in a hypothetical presidential election.
But the two men – both in their mid-70s and both with unsuccessful runs for the Democratic nomination for president behind them – are just about the only possible 2020 contenders polled for whom voters currently have strong views, as candidates begin deciding whether to run more than two years out from the next presidential election.
A Morning Consult/Politico poll, conducted Aug. 16-18 among 1,974 registered voters, found many voters haven't developed opinions on a number of possible candidates.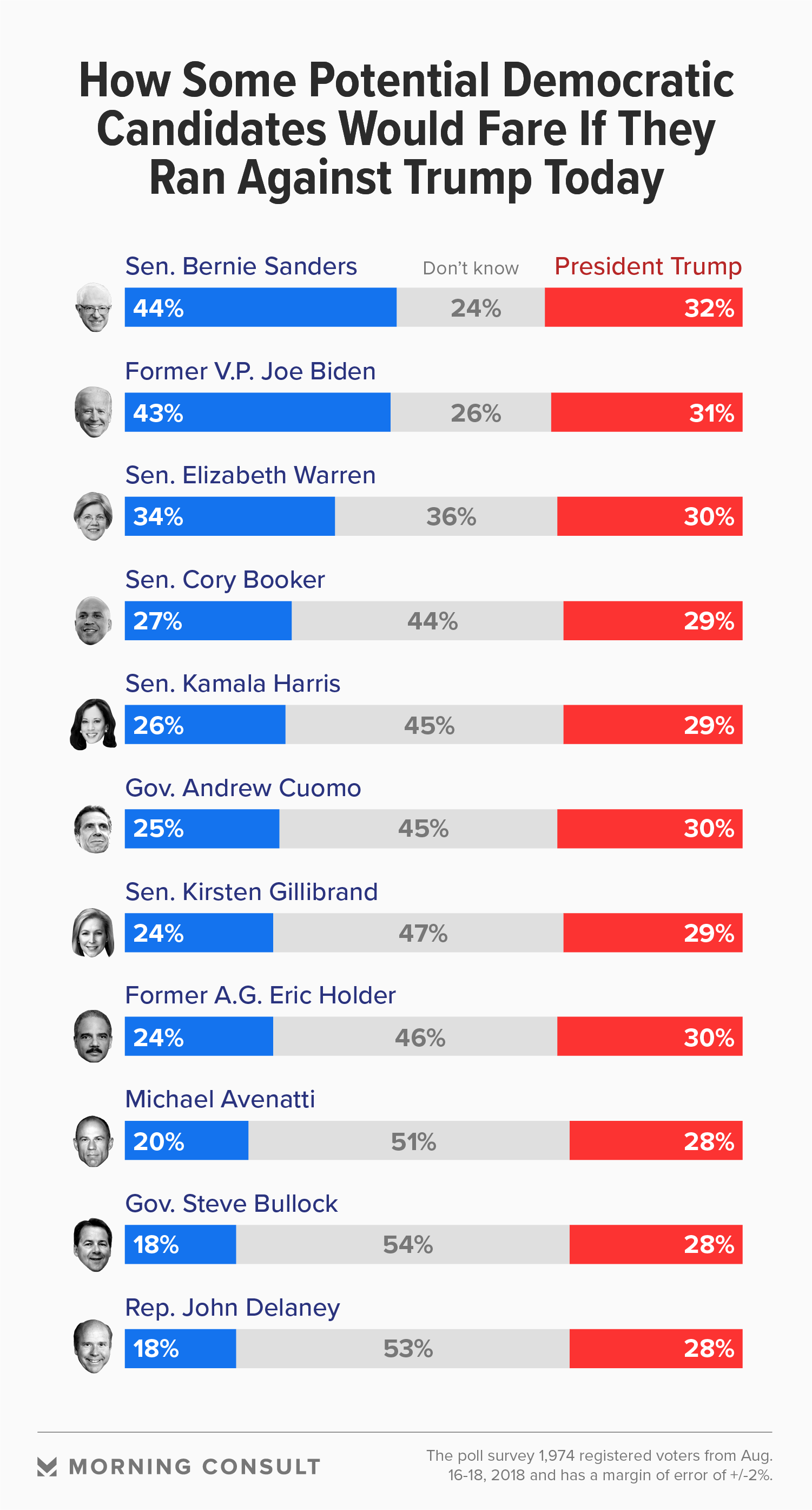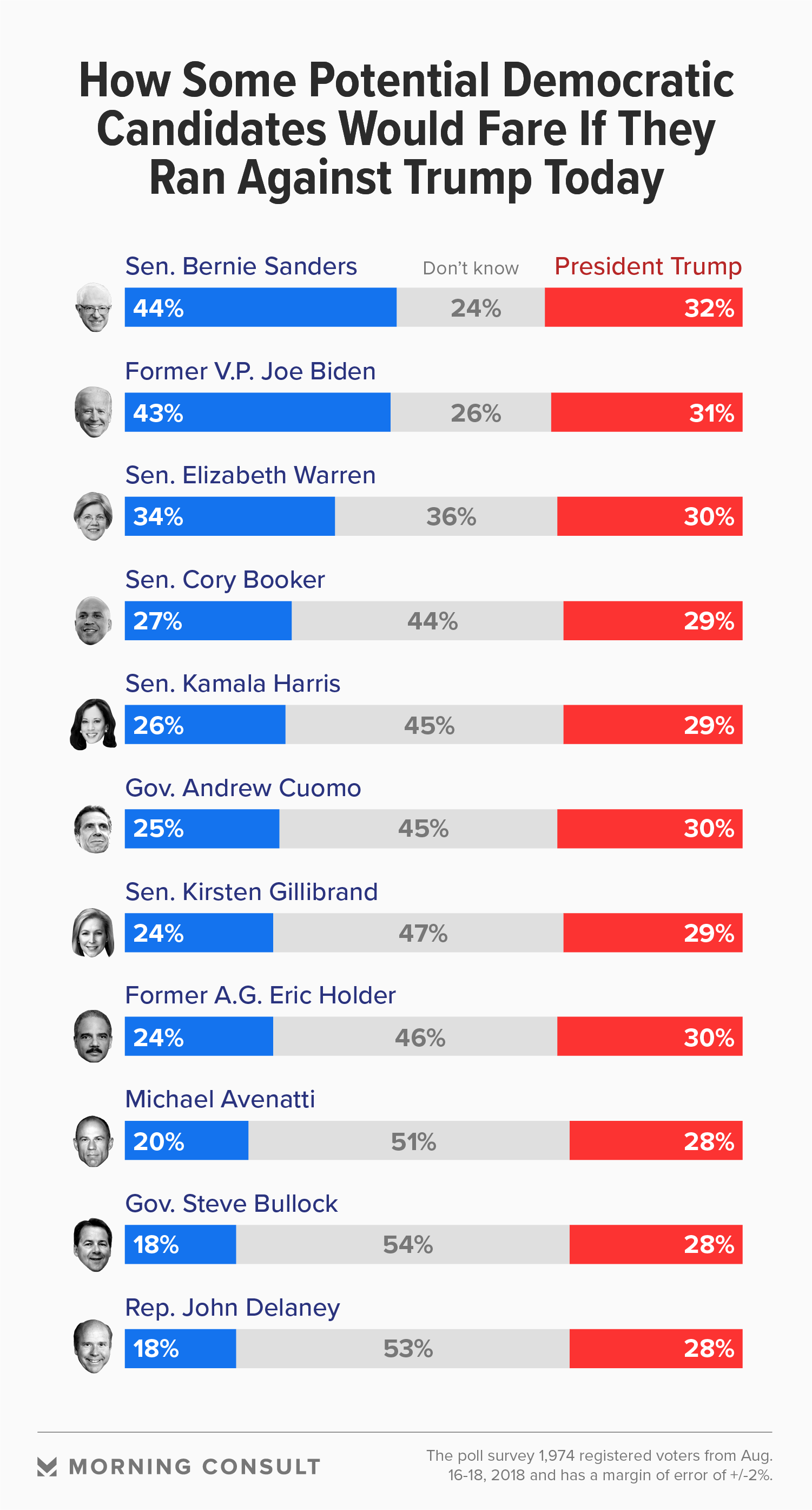 In the survey, 11 possible candidates were listed by just their names – no titles. Majorities said they did not know or had no opinion about Rep. John Delaney (D-Md.), the only announced Democratic candidate on the list, or Michael Avenatti, the lawyer for adult film star Stormy Daniels who became a fixture on cable news.
Avenatti – who recently spent time in Iowa, the first-in-the-nation caucus state whose votes can help propel a candidate during the nominating contests – said during an interview at the MTV Video Music Awards on Monday that he's "seriously looking at" a campaign, noting he's been "really surprised at how much enthusiasm there is out there for the potential."
"I think I have a real shot if I decide to do it," he said.
The poll suggests Avenatti would have some work to do: Trump leads him in a hypothetical election, 28 percent to 20 percent, with 51 percent of voters undecided. The numbers are similar to Trump's leads over Delaney – 28 percent to 18 percent, with 53 percent undecided – and Montana Gov. Steve Bullock (D), whose spread against Trump is identical to Delaney's.
As Democrats search for the right person to take on Trump, majorities of the party's voters are undecided about Avenatti, Bullock and Delaney, as well as New York Sen. Kirsten Gillibrand. Fifty percent did not know or had no opinion about former Attorney General Eric Holder and New York Gov. Andrew Cuomo.
Among all voters, more are undecided than supportive of Trump or the potential Democrats other than Biden or Sanders, leaving the contest wide open.
Forty-four percent of voters said they'd pick Sanders, compared to 32 percent who would vote for Trump – the president's largest share of the vote. Nearly a quarter (24 percent) of voters were undecided. The numbers were similar for Biden: Forty-three percent said they'd vote for Biden versus 31 percent who chose Trump and 26 percent who were undecided.
Trump's support against Biden has dropped 6 percentage points since voters were asked in late July. At the time, Biden led him, 44 percent to 37 percent, with 19 percent undecided.
The latest poll has a margin of error of 2 points.