Almost Half of Voters Don't Trust Trump Administration to Handle Disaster Relief
New poll finds Southern voters divided over trust in federal government to handle a disaster in their communities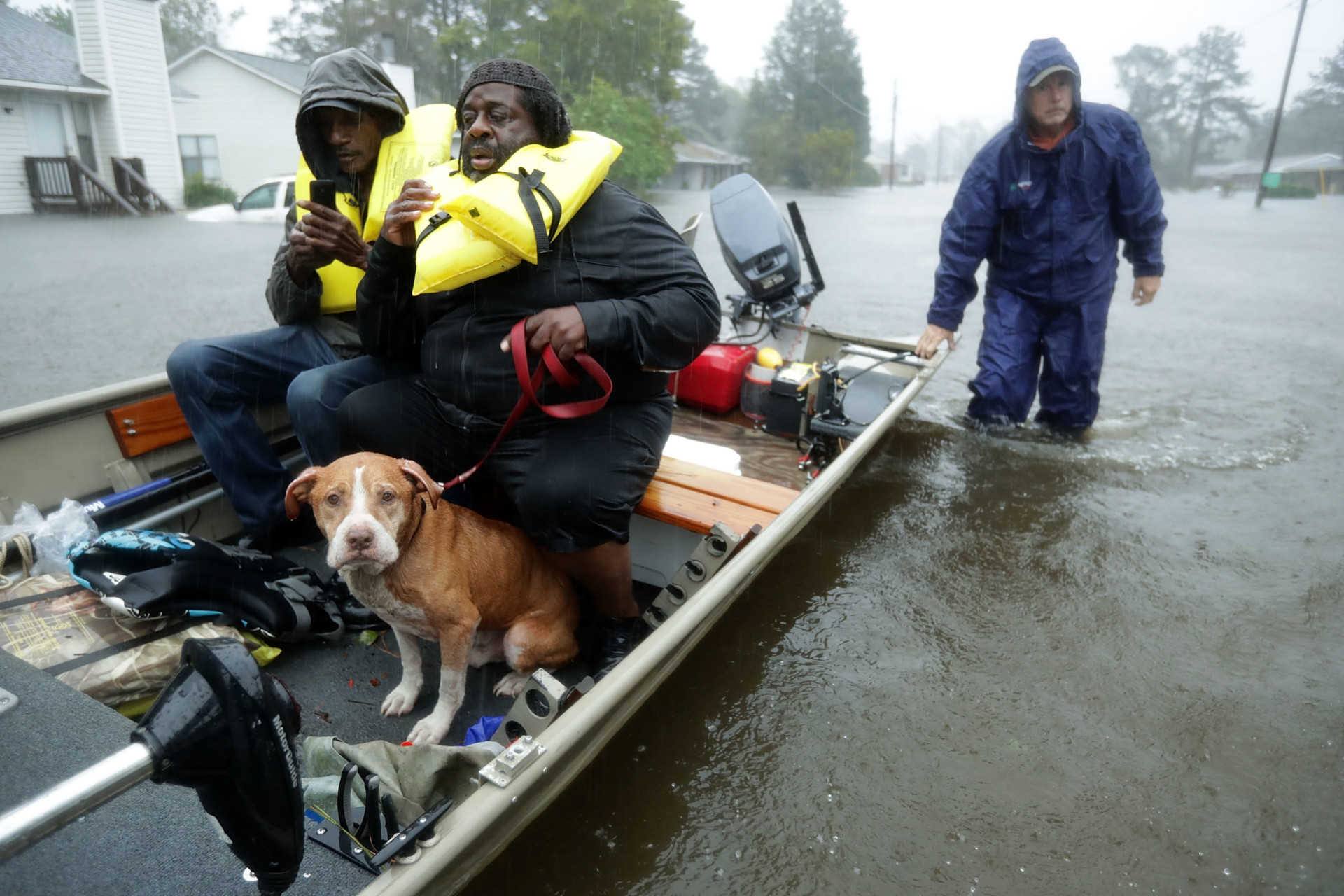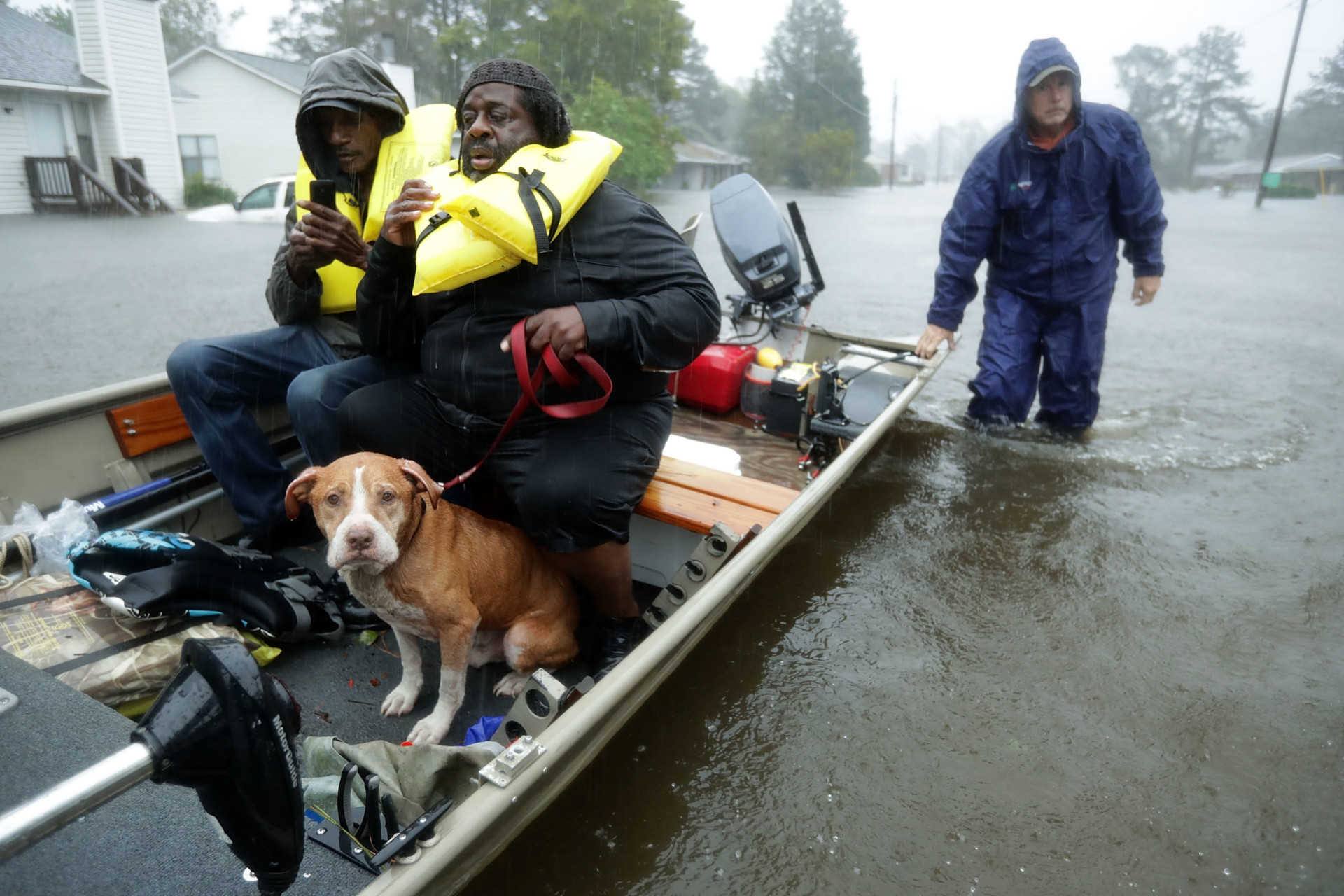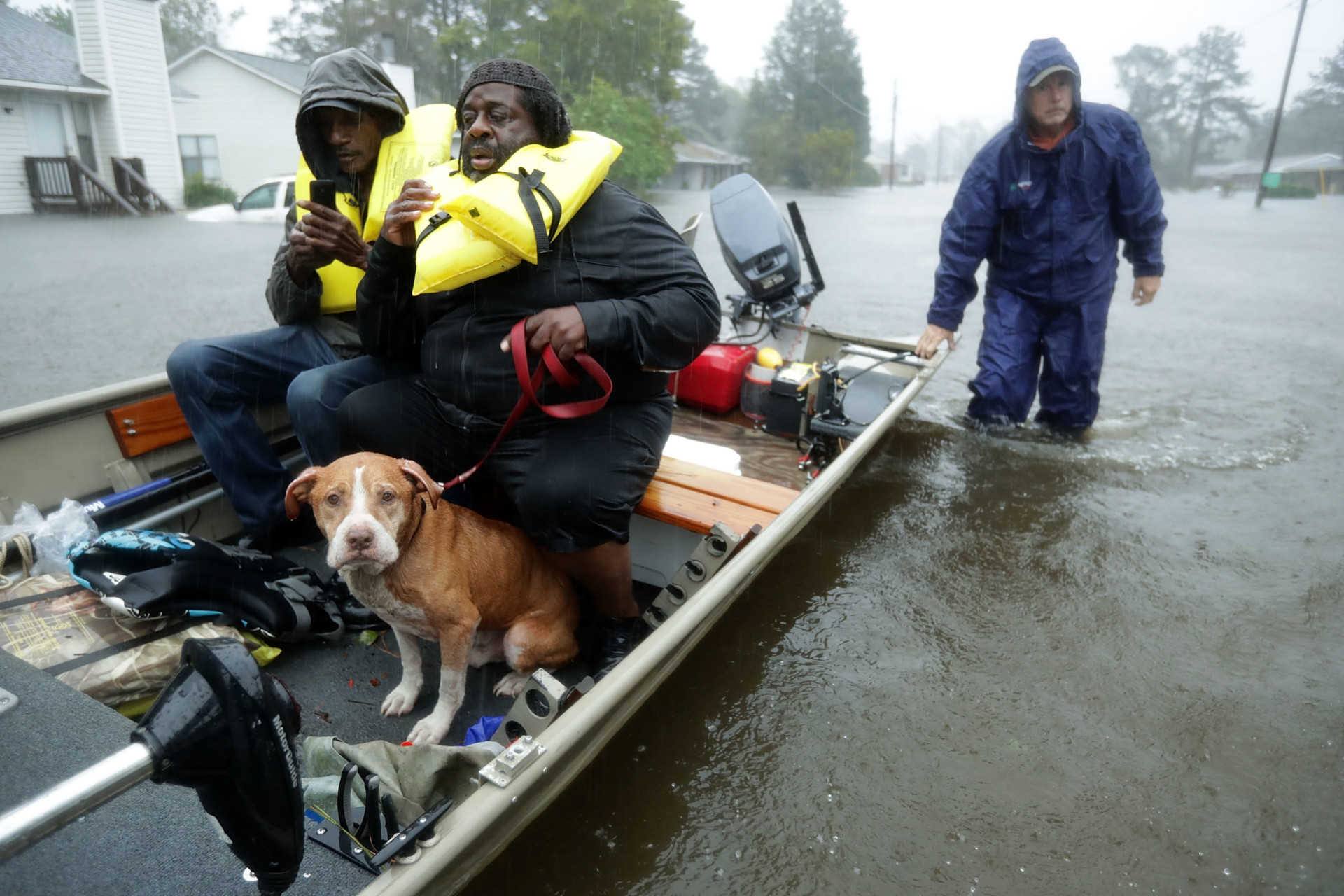 49% of voters don't trust administration on disaster relief, while 43% do.

News consumption about the storm dwarfed that of Judge Brett Kavanaugh's Supreme Court nomination.

Views of government's handling of Puerto Rico's hurricanes have improved among the president's base.
As the southeastern United States begins to clean up from Hurricane Florence, more Americans than not lack confidence in President Donald Trump's administration to deal with disasters.
According to a new Morning Consult/Politico poll, conducted Sept. 13-16 as the storm approached and made landfall in North and South Carolina, nearly half of registered voters (49 percent) said they don't trust the Trump administration much or at all to handle disaster relief in their community, while 43 percent do.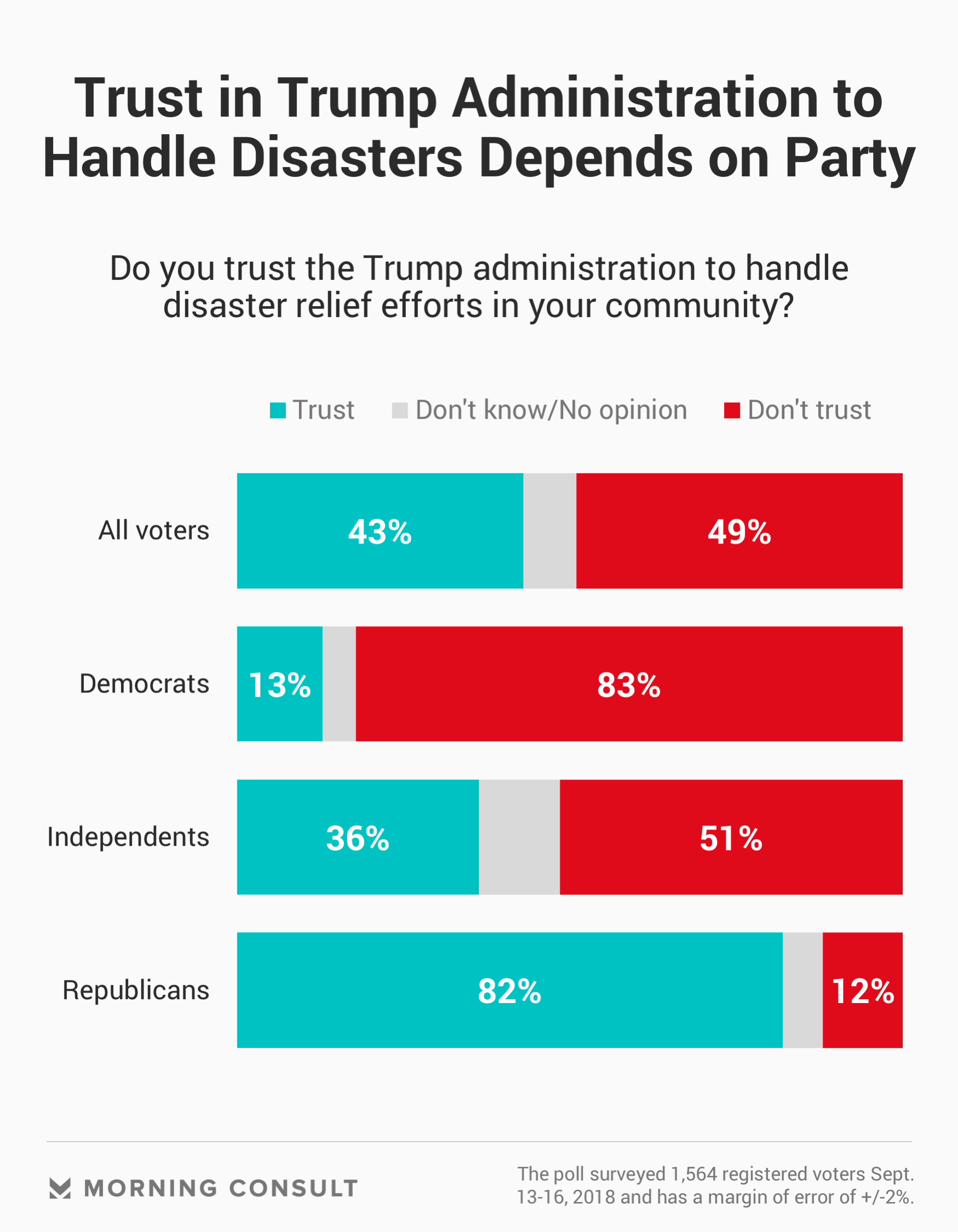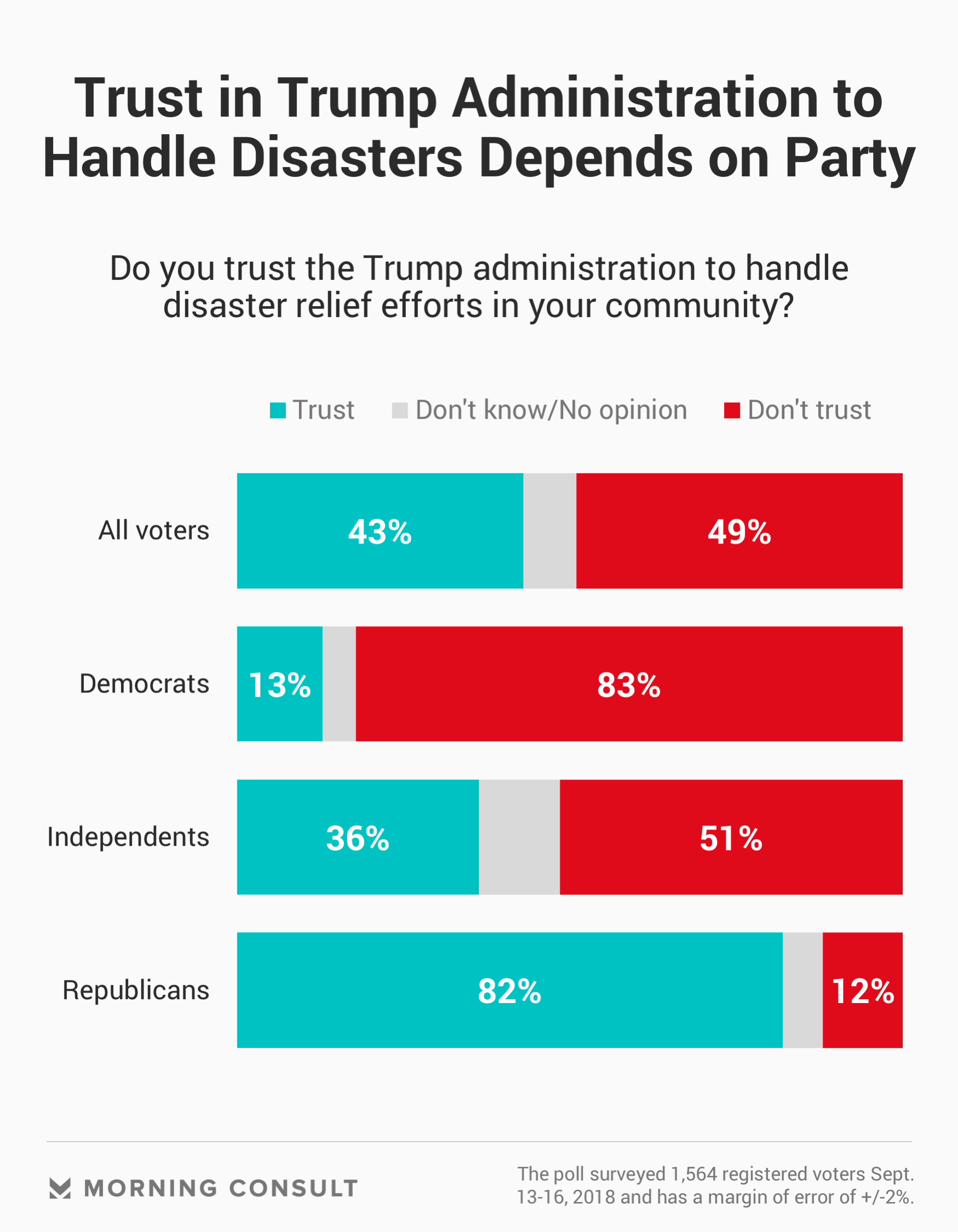 Voters in the South were split evenly, at 47 percent, over whether they trusted the government to handle disaster relief. Overall, perceptions of trust in the federal government's efforts split along typical partisan lines, with 82 percent of Republicans trusting the Trump administration and 83 percent of Democrats saying the opposite.
In recent days, Trump has used his Twitter account to highlight disaster relief and assistance efforts in the South, praising volunteers, first responders and himself.
"Right now, everybody is saying what a great job we are doing with Hurricane Florence – and they are 100% correct," he said in tweets Tuesday morning. "But don't be fooled, at some point in the near future the Democrats will start ranting … that FEMA, our Military, and our First Responders, who are all unbelievable, are a disaster and not doing a good job. This will be a total lie, but that's what they do, and everybody knows it!"
The news of Hurricane Florence last week reignited criticism about the administration's handling of last year's Hurricane Maria, which devastated the U.S. territory of Puerto Rico. In a study released late last month, researchers at George Washington University estimated that there were 2,975 excess deaths in Puerto Rico due to the storm – higher than the Puerto Rican government's earlier estimates of 64 deaths.
The president magnified the issue when he criticized the methods used by the researchers, saying in a tweet Friday morning: "FIFTY TIMES LAST ORIGINAL NUMBER – NO WAY!"
A majority of voters (55 percent) said the federal government has not done enough in terms of disaster relief for Puerto Rico, a 3 percentage point drop since a poll released in June. The share of voters who said the government has done enough for the island rose 4 points, to 26 percent, over the same time period. Both polls had a margin of error of 2 percentage points.
Among self-described Trump voters, the share who said the federal government had done enough for Puerto Rico rose to 49 percent, up 88 points since June.
Amid pervasive news coverage of the storm, the poll found a large share of voters – 91 percent – had seen, read or heard at least something about Hurricane Florence. That's 33 points higher than the percentage of voters who said they'd heard about Judge Brett Kavanaugh's Supreme Court nomination. Voters were surveyed even as details emerged about allegations of the judge's possible misconduct, culminating in a Sunday Washington Post story that named and quoted a woman who accused the judge of sexual assault while he was in high school in the early 1980s.