November 5, 2018 at 12:01 am ET
13% said they're thinking a lot about Pelosi.

27% of men said they're thinking a lot about Kavanaugh vs. 23% of women.
House Minority Leader Nancy Pelosi of California has been a starring figure in much of Republicans' campaign messaging as the party attempts to keep control of the chamber, but just days before the midterm elections, President Donald Trump — not Pelosi — is at the top of voters' minds, according to the final Morning Consult/Politico poll released before the midterm elections.
When asked how much they have been thinking about certain political figures when considering how to vote, 13 percent of voters said they were thinking "a lot" about Pelosi when considering their vote, and a 43 percent plurality said they were not thinking about her "at all" – including 53 percent of Republicans.
Republicans have used the California Democrat as a political punching bag ever since producing the "Fire Pelosi" slogan ahead of the 2010 midterm elections, and it's taken its toll on her popularity. Among the top congressional leaders of both parties, she's the most unpopular, with 52 percent of voters viewing her unfavorably.
A study by the Wesleyan Media Project published last month found that Pelosi's name was also mentioned in 7 percent of senatorial ads – and all 19,717 mentions of her were negative, even in pro-Democratic ads.  
But the latest Morning Consult/Politico survey shows that voters are much more likely to think about the GOP's standard bearer than they are the Democratic leader: 51 percent of voters said they're thinking "a lot" about Trump, who's barnstorming the country to defend the party's majorities in the House and Senate.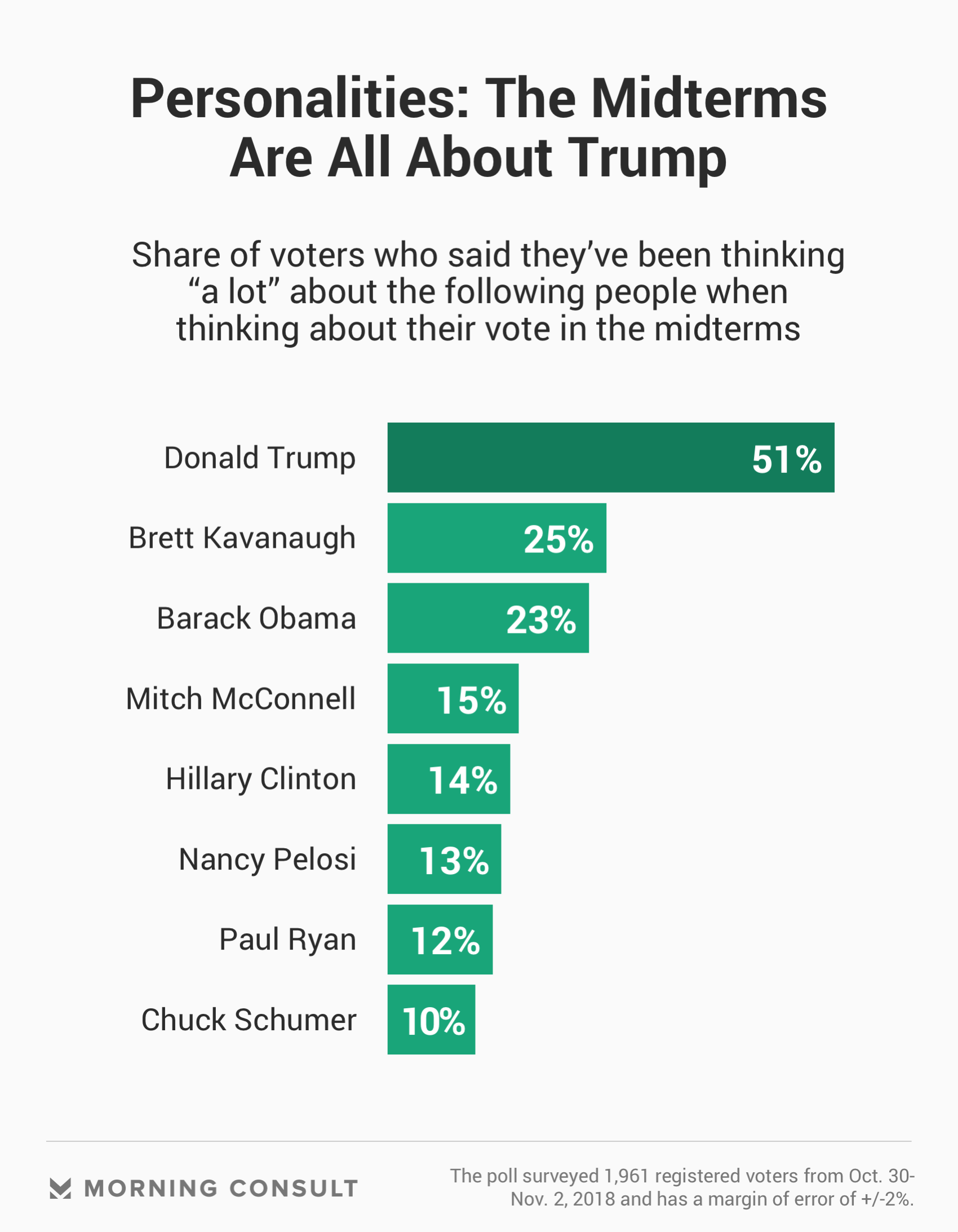 Republicans were most likely to say the president was top of mind when considering their vote, with 57 percent saying they have been thinking a lot about Trump. That sentiment was shared by half of Democrats and a 42 percent plurality of independents.
And if these midterms are a referendum on the president, who had a 51 percent disapproval rating and a 45 percent approval rating in the latest survey, it appears to be motivating Democrats more than Republicans: Three in four Democrats said they were "very motivated" to vote in the midterms, compared with 65 percent of Republicans — both figures about the same as they were about a month ago.
The online poll, which surveyed 1,961 registered voters from Oct. 30-Nov. 2, has a margin of error of 2 percentage points.
Trump has said in an Oct. 16 interview with The Associated Press that he will not be to blame if Republicans lose control of the House, but he has also said that he wants voters to consider the election to be about him. In an appeal last month for Rep. Marsha Blackburn, the Republican Senate candidate in Tennessee, he said, "A vote for Marsha is really a vote for me and everything that we stand for."
In Tennessee, where the latest Morning Consult polling has Trump's approval at 55 percent, such an association is expected to benefit the Republican candidate. His voice is featured prominently in a commercial airing in Tennessee from the Republican-backing Senate Leadership Fund, as it is in a spot cut by the group in the Senate race in Montana, where Trump's approval is 53 percent.   
On the other hand, in California's 45th District, which hosts a toss-up race in Orange County, the Democratic House Majority PAC has aired a commercial emphasizing Republican Rep. Mimi Walters' support of the president.
According to Morning Consult's Midterm Wave Watcher, Trump's approval is even or above water in most of the states that will decide control of the Senate. But in toss-up House districts, Trump's approval is 13 points in the red (41 percent approve; 54 percent disapprove), numbers that largely mirror nationwide figures.
Though Trump features prominently in several campaign advertisements, the Wesleyan Media Project study found Trump was mentioned in just under 1 in 10 campaign commercials from mid-September to mid-October, far less than then-President Barack Obama in 2010 and 2014, and then-President George W. Bush in 2002 and 2006.
After Trump, a quarter of voters in the latest Morning Consult/Politico poll said they were thinking "a lot" about Supreme Court Justice Brett Kavanaugh, whose confirmation process turned controversial after he was accused of sexual misconduct. While many political observers expected that process to make a lasting impact on women, the survey showed that men (27 percent) were more likely to say they were thinking a lot about Kavanaugh when it came to their vote, compared with 23 percent of women.
MC/Washington:

Subscribe

Get the latest political news and analysis delivered to your inbox every morning.