Nearly Half of Voters Say They're 'Definitely' Not Voting for Trump in 2020
Most are looking to back a different candidate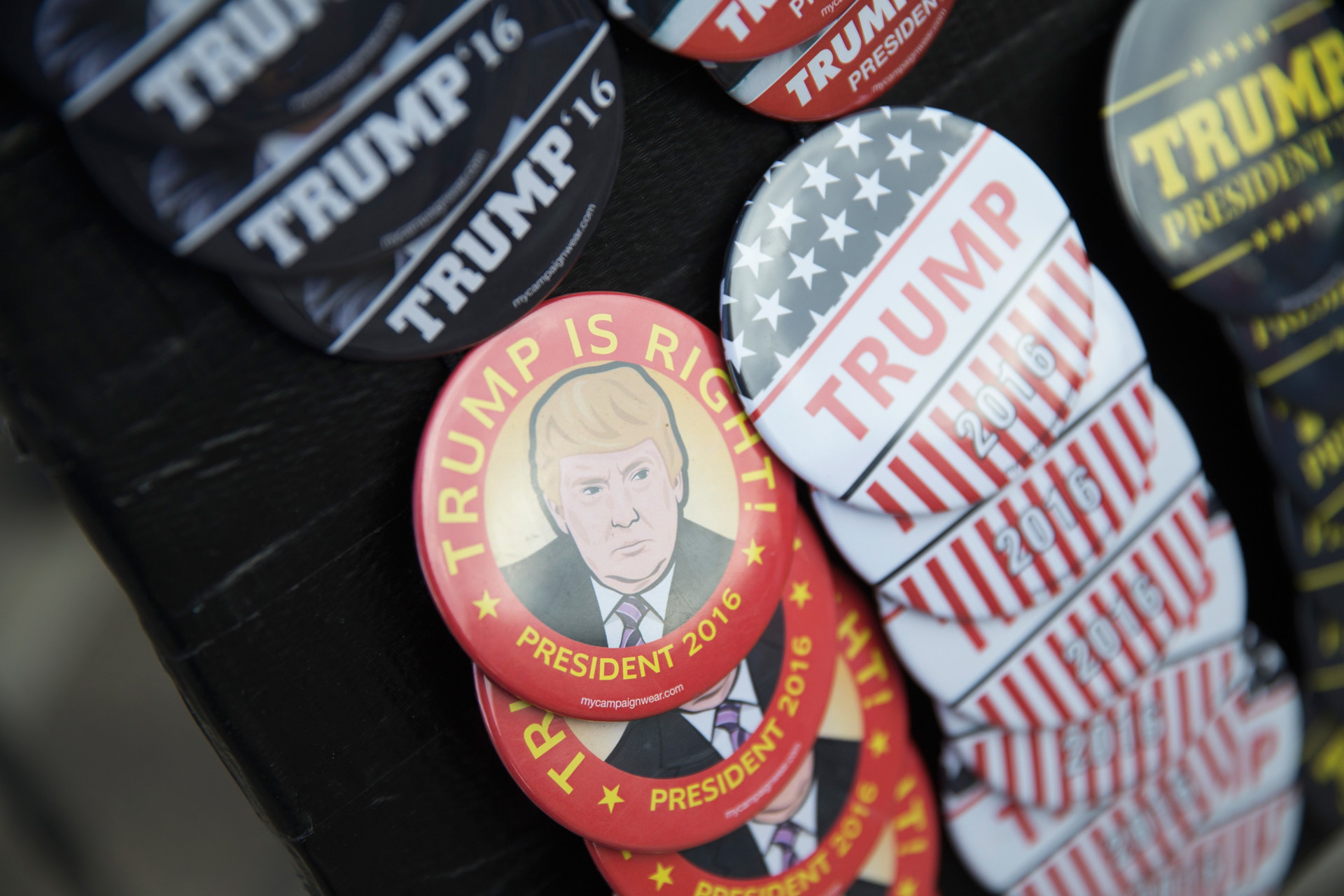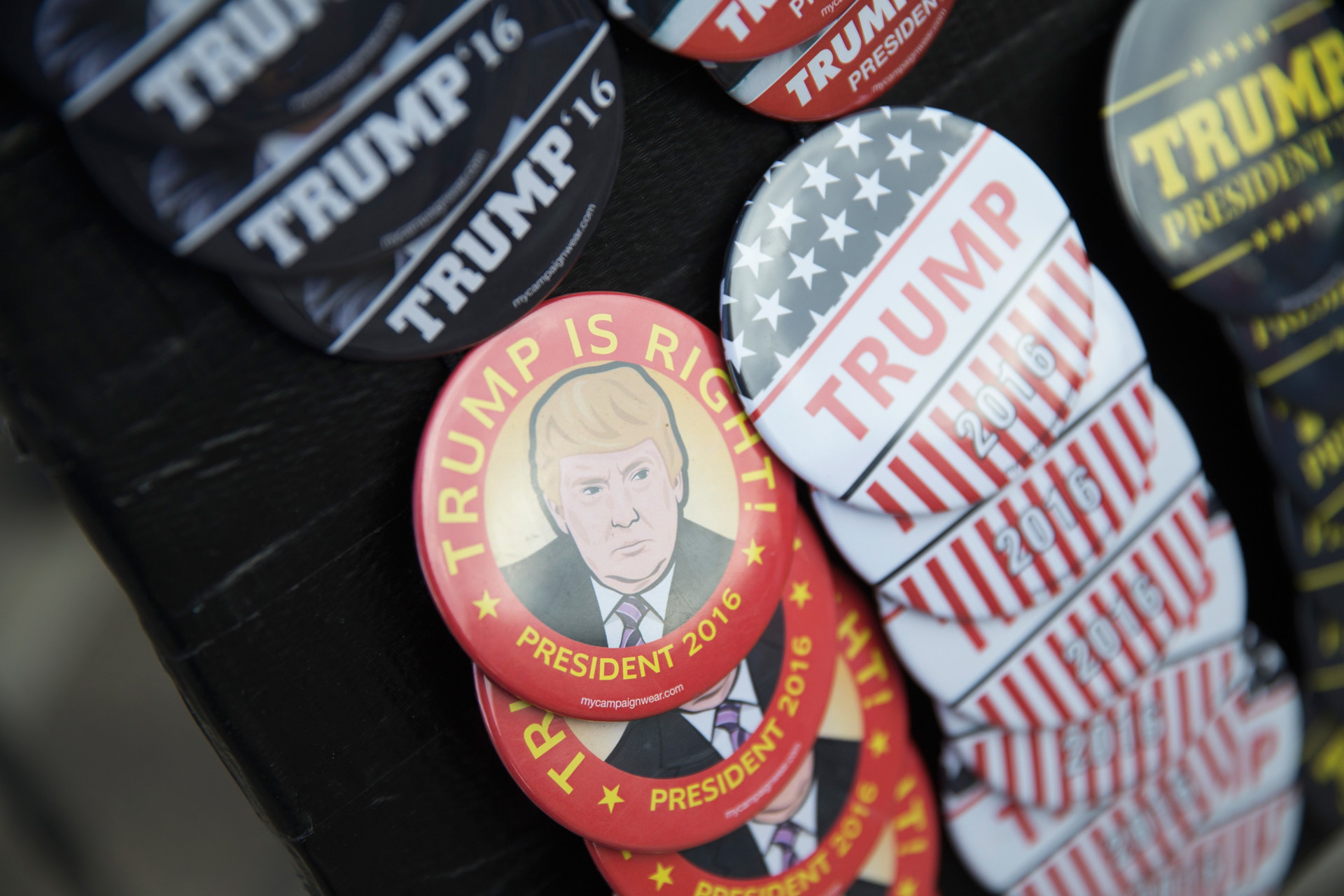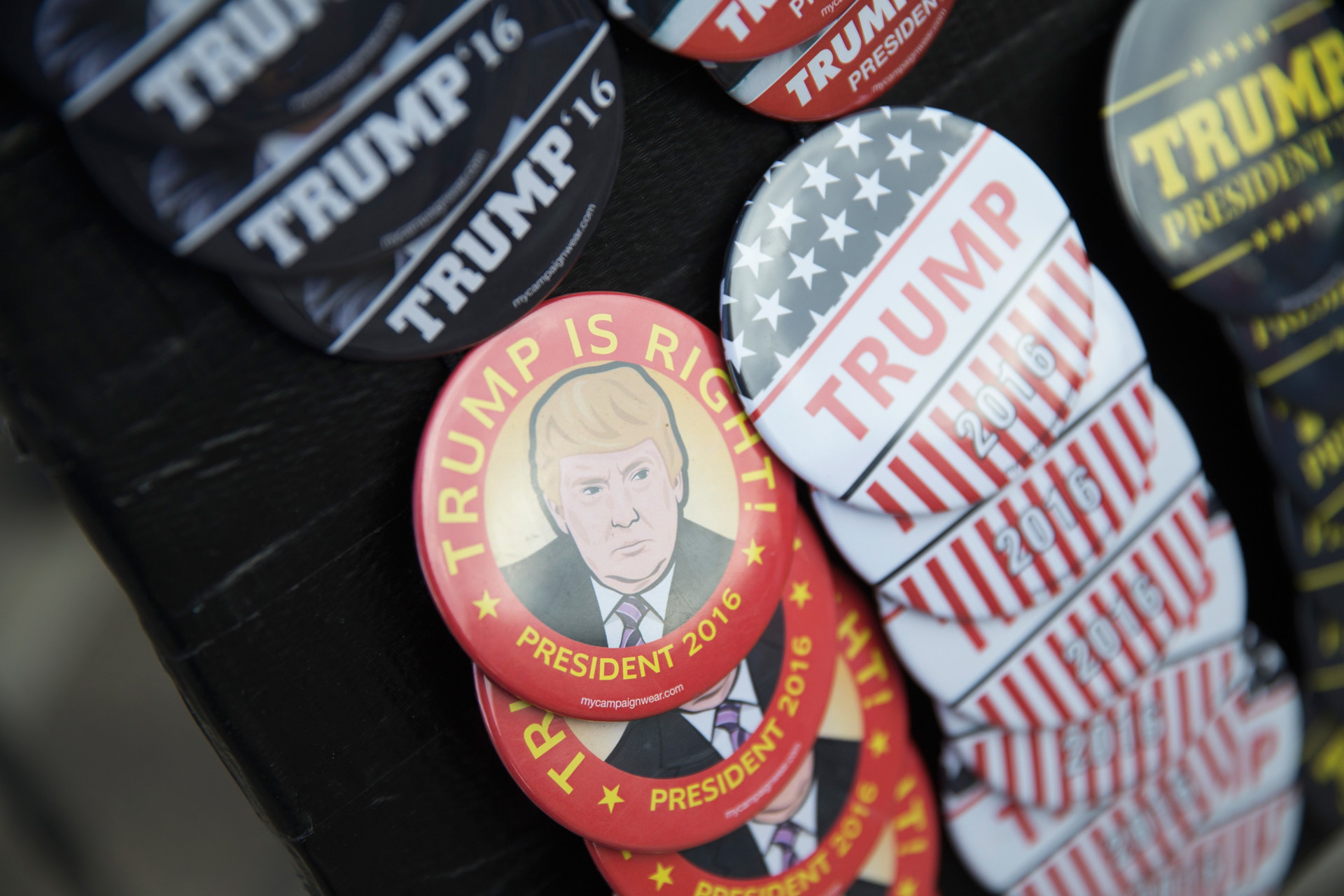 A 47% plurality of registered voters would "definitely" vote for someone else, along with 7% who said they "probably" would do the same.

54% of GOP voters say they'll definitely vote to re-elect Trump, while 48% of independents and 85% of Democrats said they definitely won't.
A little more than one year out from the Iowa caucuses, a new survey shows most voters are looking for a replacement for President Donald Trump.
According to the Morning Consult/Politico poll, a 47 percent plurality of registered voters said they would "definitely" vote for someone else if the 2020 presidential election were held today, along with 7 percent who said they "probably" would. Combined, the two make up a majority of voters who are looking for an alternative to Trump as Democratic candidates begin to line up for their party's nod to challenge the unpopular incumbent at the halfway point in Trump's term.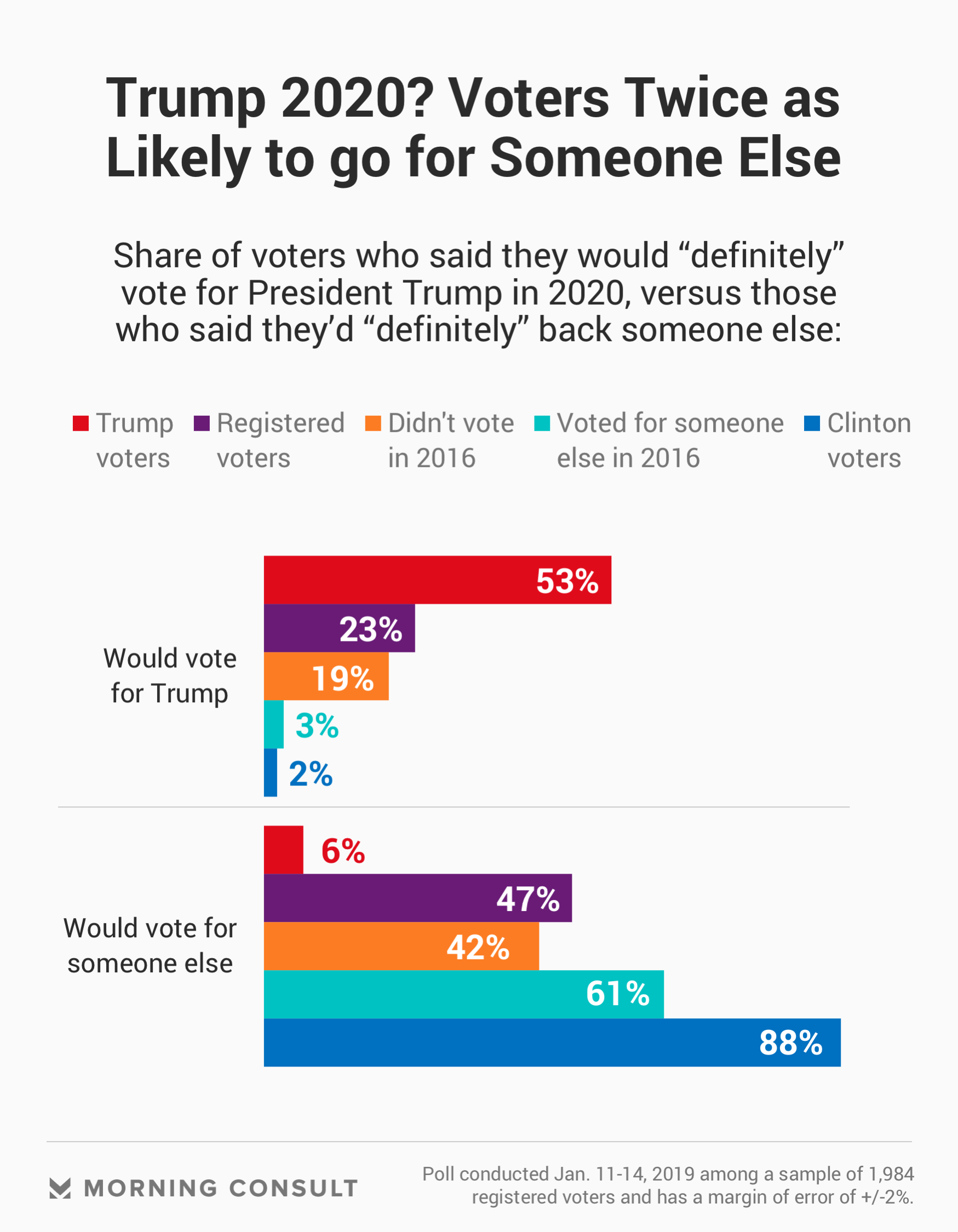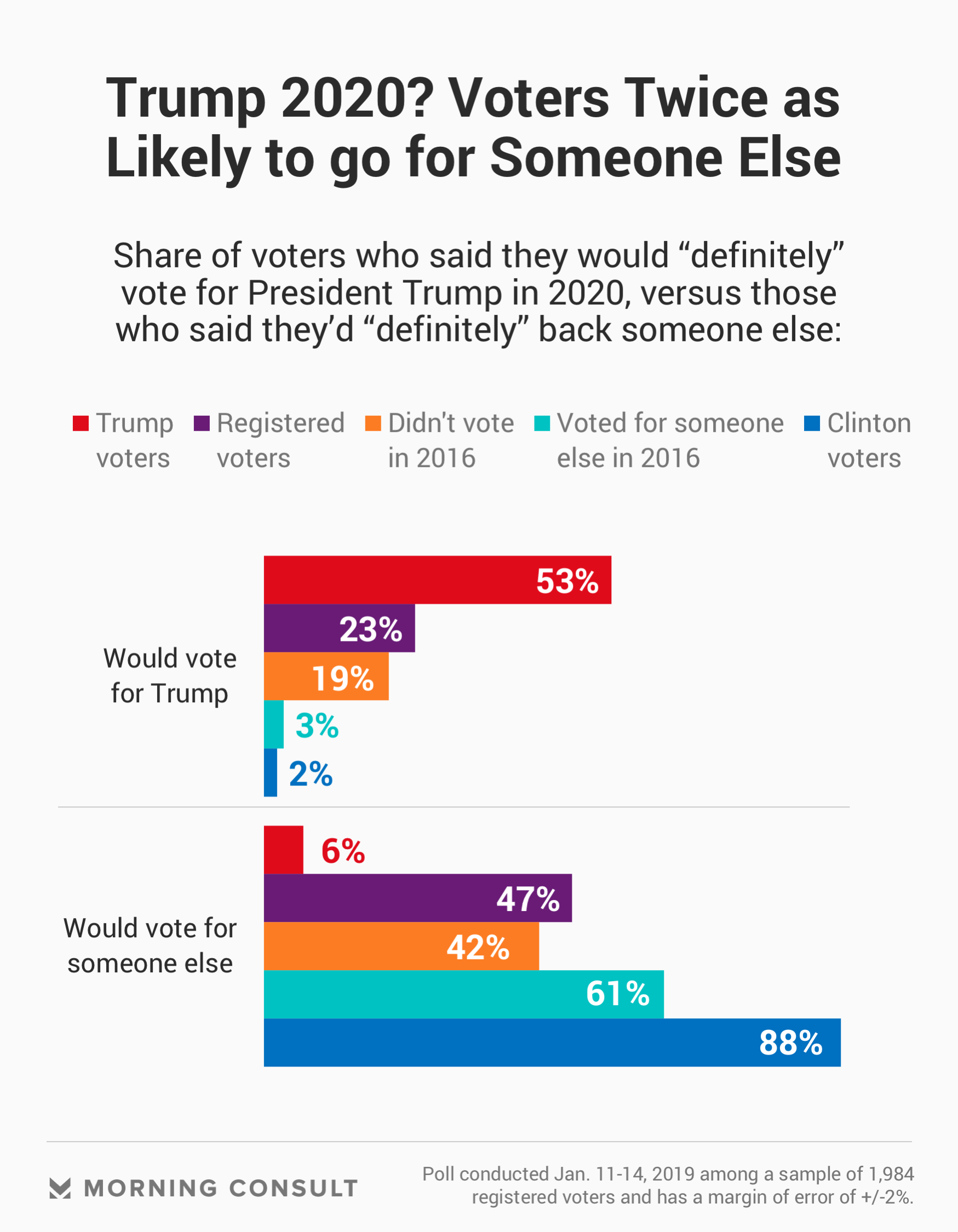 The survey, conducted Jan. 11-14, found the president's core support currently at 23 percent. That's the share of voters who said they'd definitely vote to keep him in office for another term. Twelve percent said they'd probably vote to re-elect the president.
The majority of Republicans (54 percent) – including most of those who voted for Trump in 2016, Republican candidates in the midterms and half of those who picked Republican presidential nominee Mitt Romney in 2012 – are still solidly behind the president.
Still, some cracks were apparent: Less than half (46 percent) of self-described conservatives, for example, said they'd definitely vote for Trump in 2020. What's more, 17 percent of those voters said they'd definitely vote for someone else.
Among registered voters who said they didn't vote in 2016, 42 percent would definitely back someone else, compared with 19 percent who would definitely back Trump.
To be sure, Trump has emerged victorious before when his ceiling with voters appeared even lower. In August 2016, Morning Consult asked a slightly different question about voting intentions: Instead of allowing respondents to say they would "probably" vote for Trump, voters could respond by saying they would "consider" voting for him.
In that poll, 50 percent of voters said they definitely wouldn't vote for Trump, compared with 29 percent who said they definitely would. Trump won 46 percent of the popular vote in 2016, compared to 48 percent for Democratic nominee Hillary Clinton.
Even so, compared to 2016, Democrats have only solidified their opposition to Trump, as have independents. And among Republicans, the share who said they would definitely vote for Trump in 2020 is down 13 points from the 67 percent who said they would definitely vote for him in 2016.
The poll comes as voter optimism about the country's direction during the Trump presidency has neared a record low amid the partial government shutdown over Trump's proposed U.S.-Mexico border wall. In the two polls conducted so far this month, 37 percent said the country is headed in the right direction, compared with 63 percent who said it's gotten off on the wrong track, marking the third-worst monthly average since Trump took office two years ago.