Audiences Want Disney Remakes to Stay Close to the Original
Even if it means keeping culturally insensitive parts in the films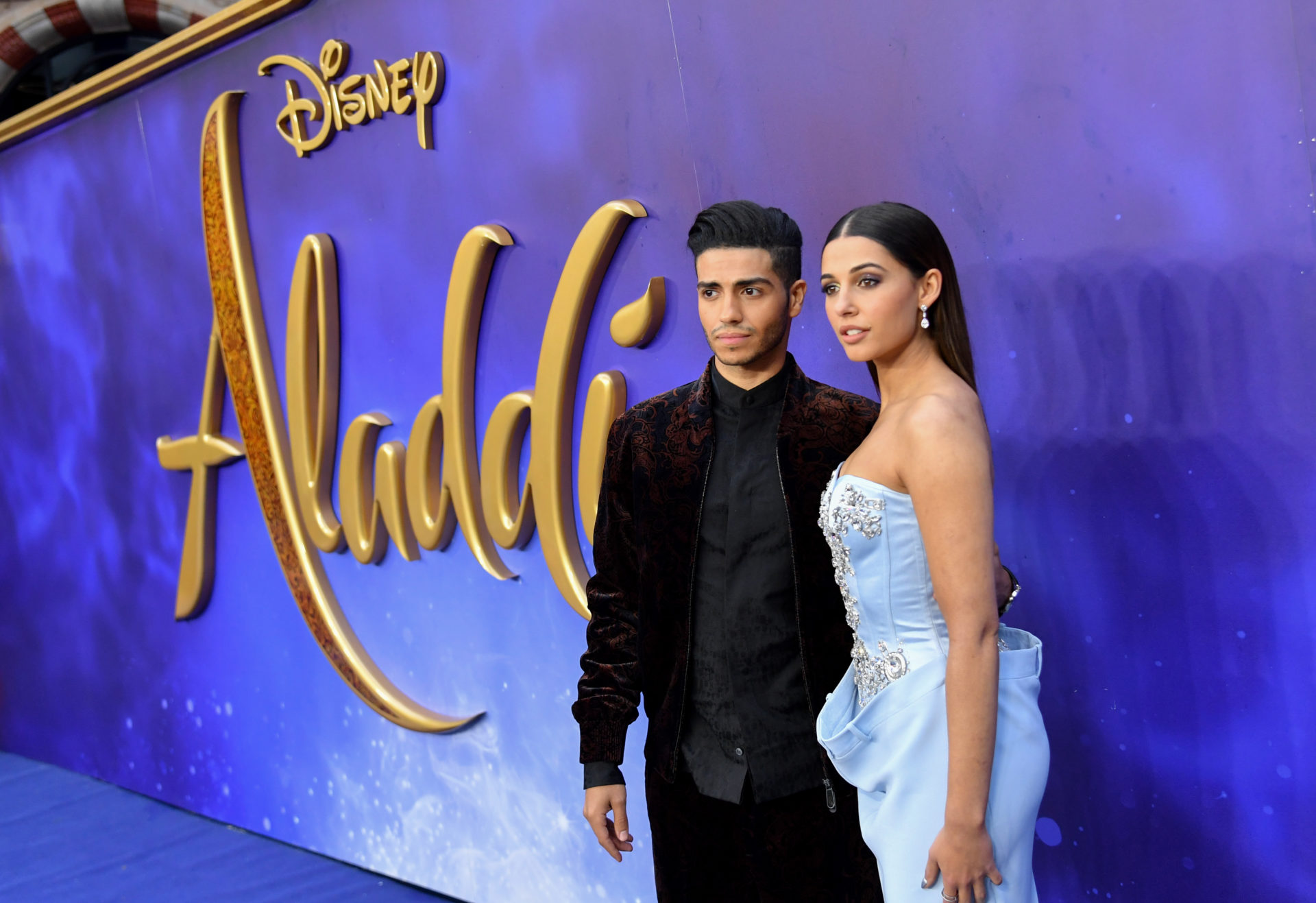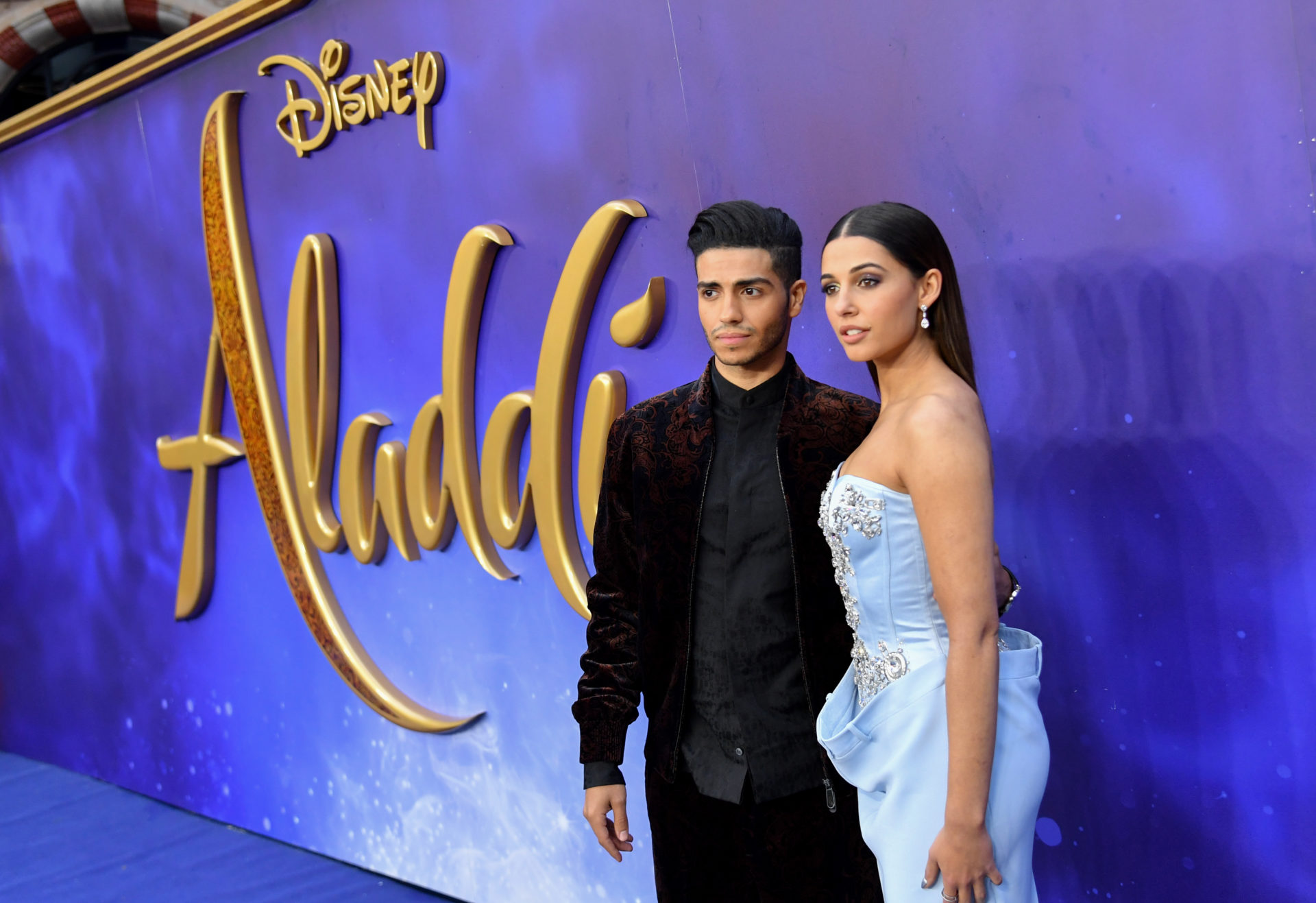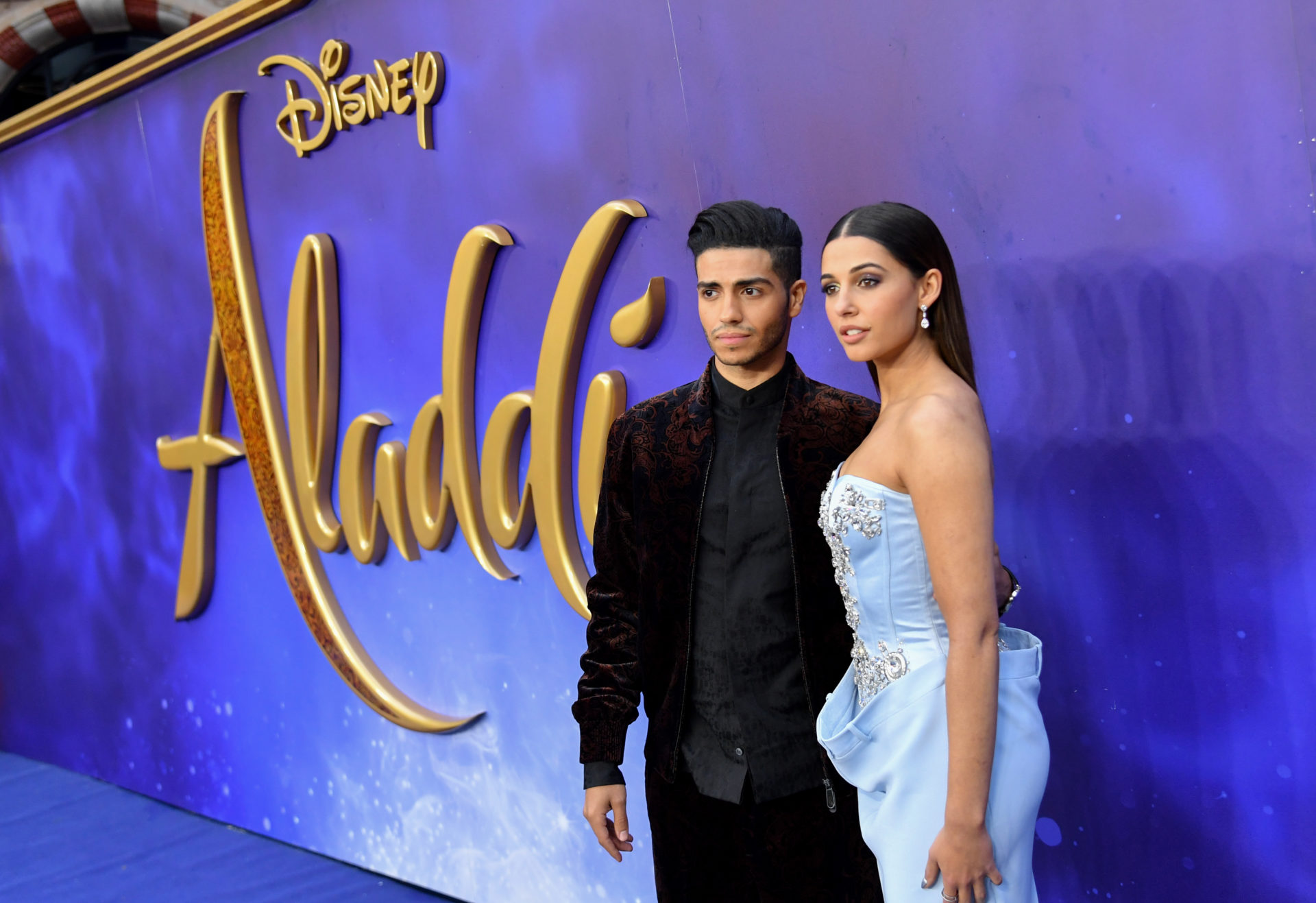 Over half (55%) of adults said that live-action re-imaginings of classic cartoons should stay close to the original — even if the original includes culturally insensitive stereotypes.

A third of Democrats said these remakes should change with the times, compared to 11% of Republicans who share that opinion.
Walt Disney Co.'s latest live-action adaptation, "Aladdin," which premieres Friday, has already sparked concerns about culturally insensitive elements from the original cartoon, as well as criticism over some of its casting choices. However, new data shows that consumers are willing to overlook potentially controversial elements if the live-action version stays true to the original.
Disney has made an effort to make its live-action remakes more culturally sensitive than the originals amid changing social norms. For example, Tim Burton's live-action reimagining of "Dumbo" that was released in March does not feature the scene where Dumbo meets a group of crows — led by a bird named Jim Crow — who embody 1940s-era racial tropes. And Variety reported that the Disney+ streaming service's live-action version of "Lady and the Tramp" will nix the controversial Siamese cats of the original, often criticized as an Asian stereotype, and instead include a reimagined version of "The Siamese Cat Song" courtesy of Janelle Monae and her artist collective Wondaland.
The May 9-11 Morning Consult/The Hollywood Reporter poll found that 55 percent of adults said that when films are remade, they should be remade as close to their original as possible, even if they contain stereotypes or plotlines that might offend people. Twenty-one percent said the films should change to reflect the time period and remove potentially offensive content.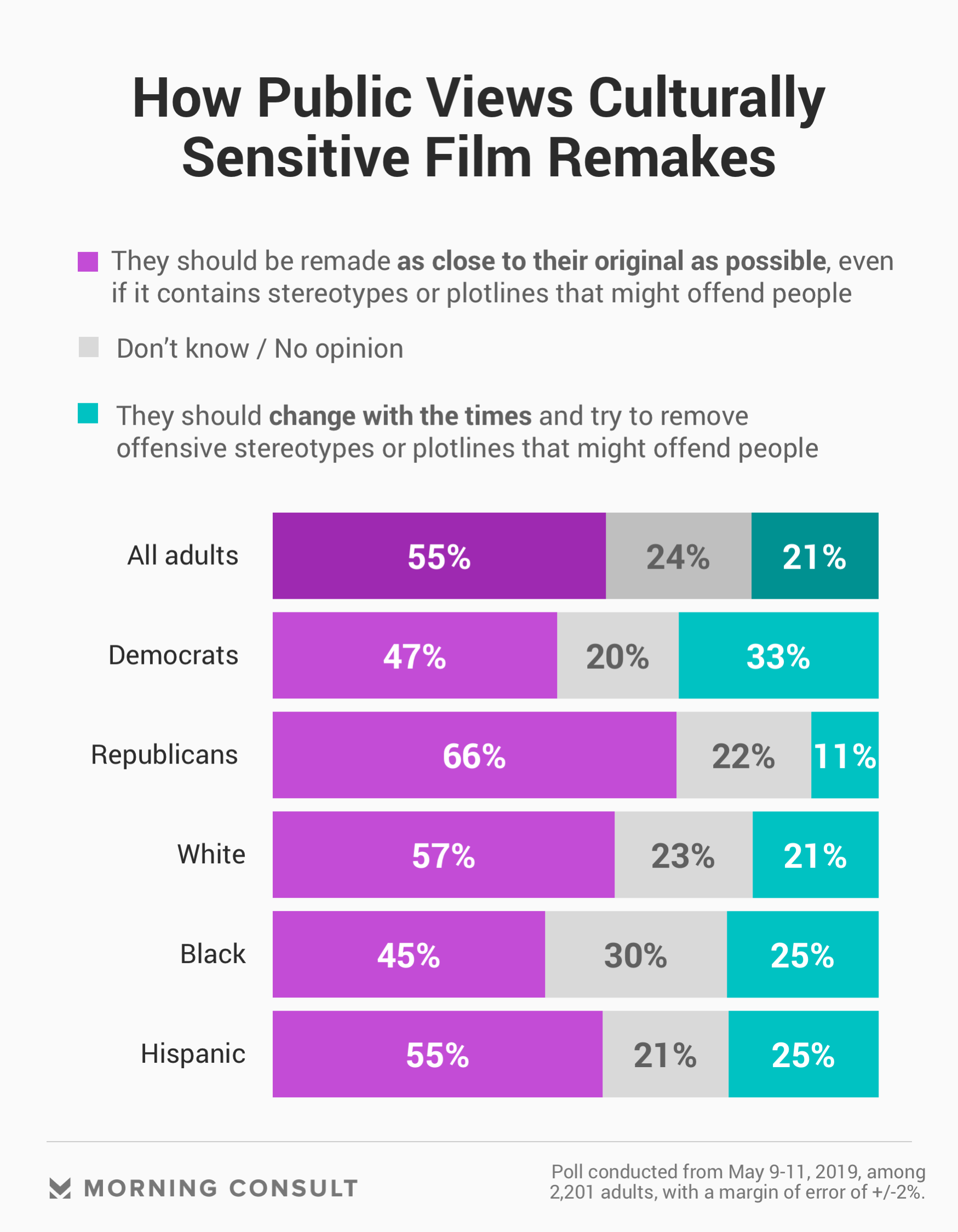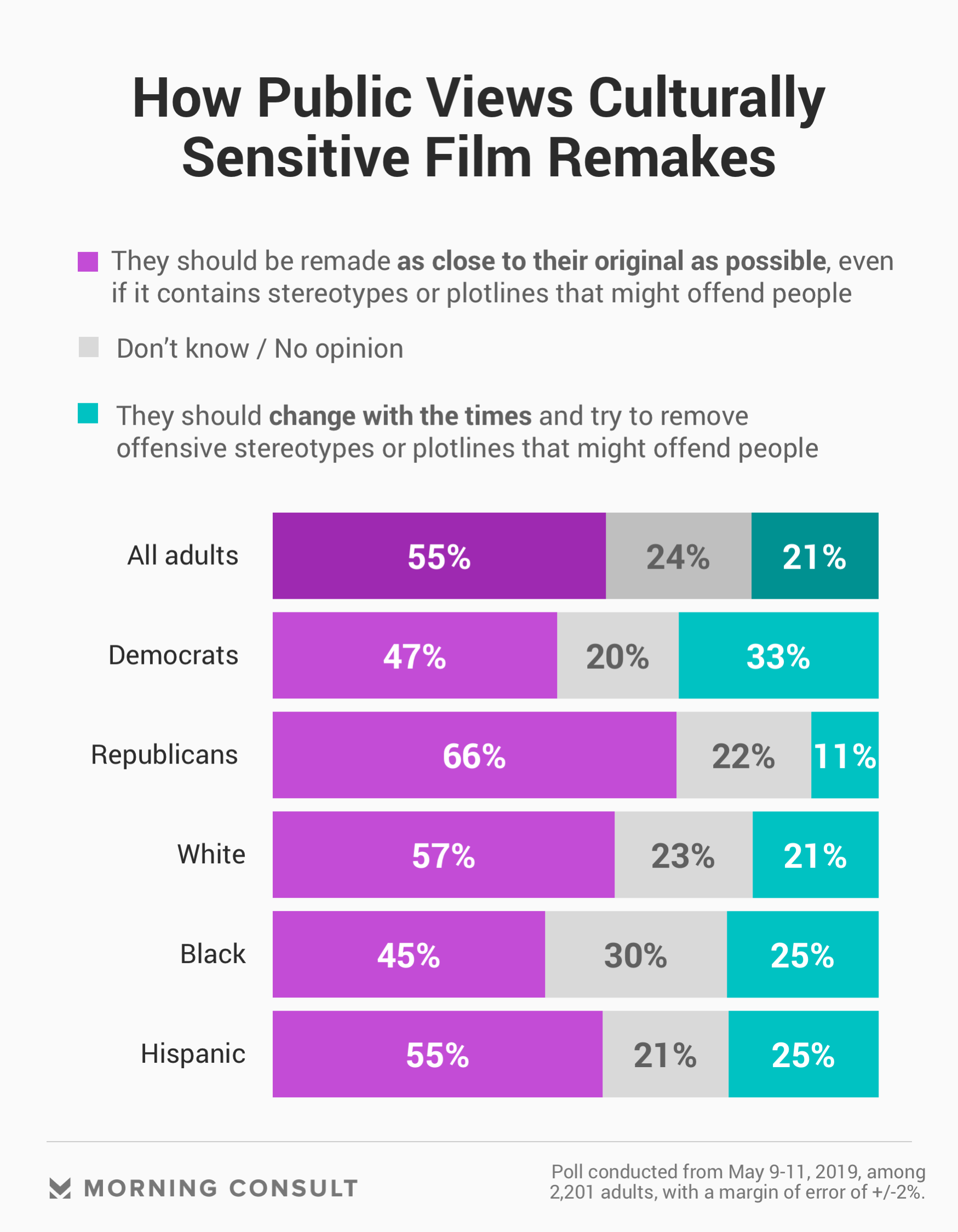 Different demographics were in consensus on this issue, but the largest divide was between Democrats and Republicans. Though majorities of both groups agreed that the films should be remade close to the original, 33 percent of Democrats thought that the new versions of the films should change with the times, compared to 11 percent of Republicans.
The poll's margin of error is 2 percentage points.
Disney has made it clear that it intends to prioritize casting diversity for "Aladdin" and other live-action remakes, including next year's "Mulan." Though the production has faced allegations of whitewashing following its choice to cast Billy Magnussen in a new role, "Aladdin" producer Dan Lin told Collider in 2017 that he planned to make a diverse version of the film, noting that "we want to make a movie that's authentic to that world." And a source close to "Mulan" told Vulture that "Mulan is and will always be the lead character in the story, and all primary roles, including the love interest, are Chinese," following the release of a spec script for the movie featuring a white love interest.  
Those surveyed were also asked whether or not they saw accurate representation of their gender, race or ethnicity, sexuality and religion in films, cartoons and television shows. Respondents were more likely to say films better represented their personal identities across all categories than cartoons.
For example, 43 percent of African Americans and 42 percent of Hispanics said they saw accurate depictions of their racial or ethnic identity in movies, compared to 44 percent and 37 percent, respectively, who did not. However, when asked the same question about animated films, the share of African Americans who saw accurate depictions of their racial or ethnic identity dropped to 33 percent, and the share of Hispanics dropped to 37 percent. Among all adults, 48 percent agreed they saw accurate racial or ethnic representation in movies, and 34 percent said the same of animated films.
The original animated version of "Aladdin," released in 1992, was ranked by Entertainment Weekly as one of the most controversial films ever made after complaints from the American-Arab Anti-Discrimination Committee prompted the studio to change a racially insensitive lyric in the opening sequence for subsequent releases.