May 22, 2019 at 5:00 pm ET
On average, viewers gave the final episode of "Game of Thrones" a rating of 6.43 on a scale of 1-10.

63% of people who watched said they liked the finale "some" or "a lot."

17% of HBO subscribers who are fans of the show said they are not sure if they will cancel their HBO subscription after the show has ended
HBO's "Game of Thrones" aired its final — and hotly debated — episode on Sunday, with Nielsen reporting that a record 19.3 million people watched the finale, 13.6 million of them live. However, after a season that had many fans criticizing plot points and character development (and creating a petition to remake the final season), new polling finds that despite the online chatter, the finale left most viewers somewhat satisfied.
MC/Entertainment:

Subscribe

Get the latest entertainment industry news and analysis delivered to your inbox every morning.
The May 20-22 Morning Consult/The Hollywood Reporter poll of 2,201 adults found that over 14 percent had watched the final episode of "Game of Thrones." Of the 314 people who watched, over half (63 percent) said they liked the finale "some" or "a lot," while just over one-third (34 percent) said they didn't like it. The margin of error for this subsample is 6 percentage points, while the overall poll's margin of error is 2 points.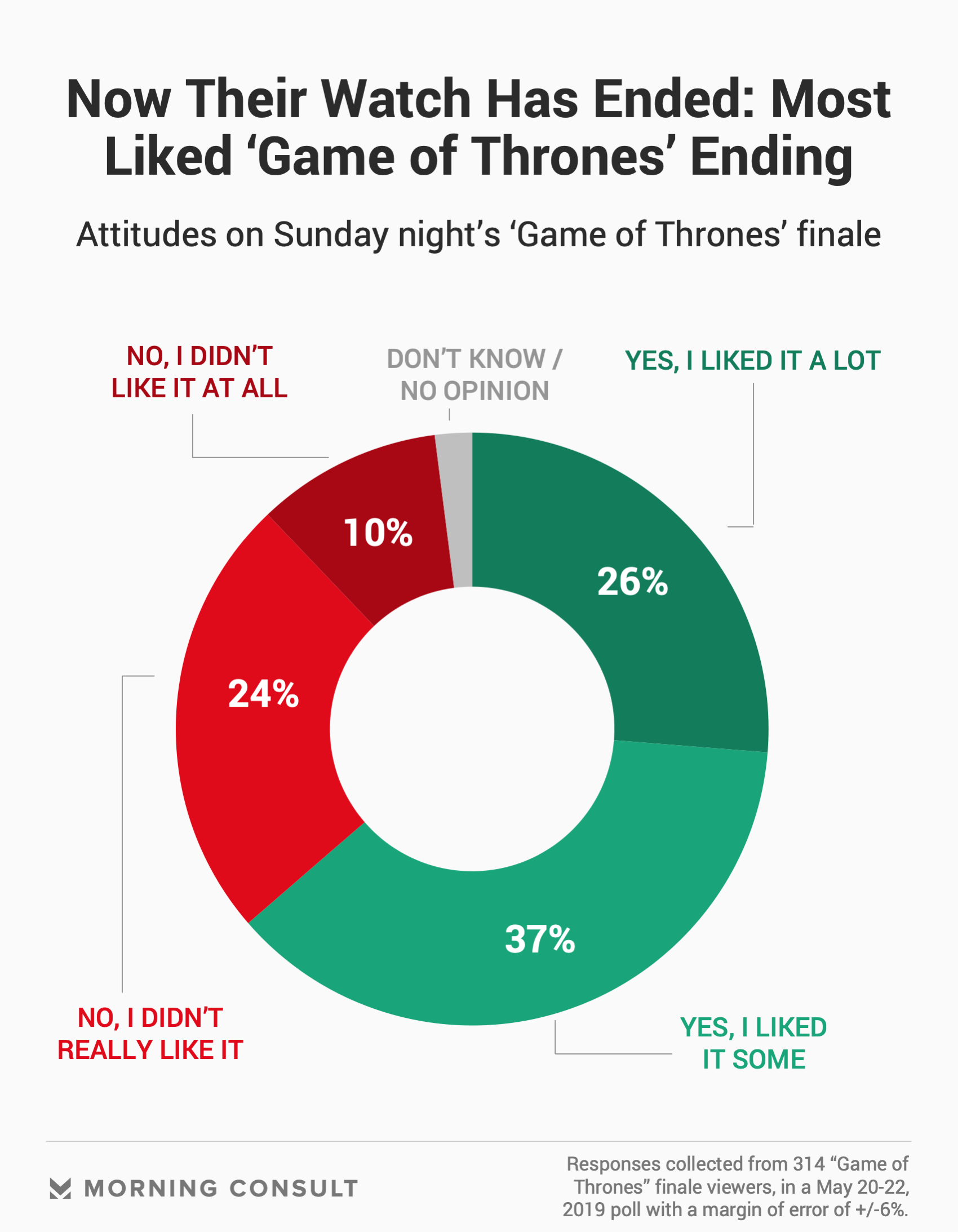 Additionally, those who watched the series finale were asked to rate it on a scale of 1 to 10, with 1 being "very poor" and 10 being "very good." On average, the fans gave the episode a rating of 6.43.
The final season of "Game of Thrones" drew lots of attention, not only for gaffes involving modern drinkware being left on screen, but also for what some fans deemed as poor writing and disappointing resolutions to beloved characters' storylines. Some viewers even went as far as to create a Change.org petition calling for the entire final season to be remade after "Game of Thrones" creators David Benioff and D.B. Weiss, according to the petition, proved "themselves to be woefully incompetent writers when they have no source material (i.e. the books) to fall back on." As of 4 p.m. Wednesday, the petition had over 1.4 million signatures.
Sophie Turner, who played the role of Sansa Stark, told The New York Times that she wasn't surprised by the backlash.
"People always have an idea in their heads of how they want a show to finish, and so when it doesn't go to their liking, they start to speak up about it and rebel," she said, adding that the online petition was "disrespectful to the crew, and the writers, and the filmmakers who have worked tirelessly over 10 years, and for 11 months shooting the last season."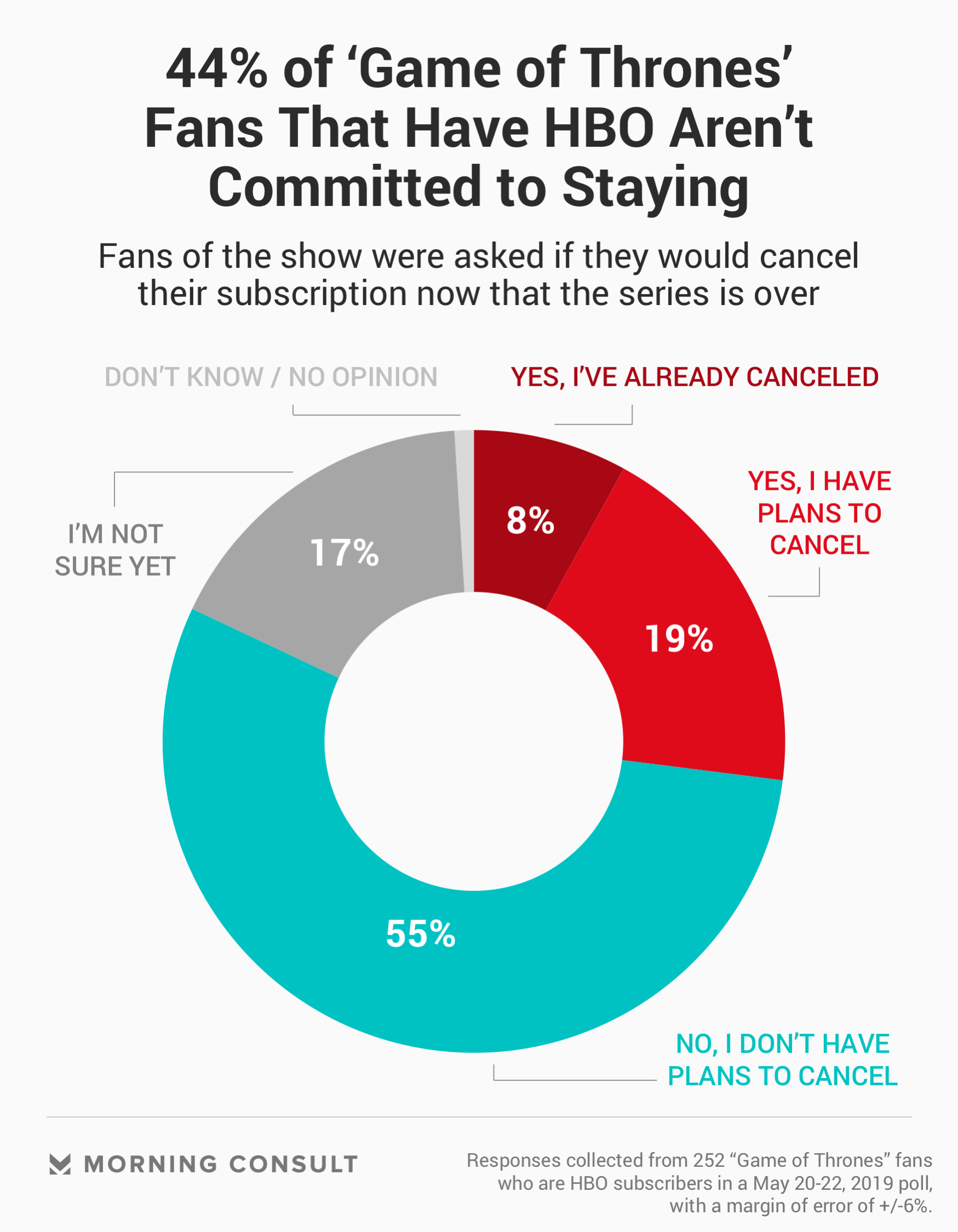 Now that HBO's hit show is over, the question for the network is how many of the "Game of Thrones" fans plan to stick around. The poll finds that 55 percent of "Game of Thrones" fans who currently subscribe to HBO, HBO Go or HBO Now said that they don't have plans to cancel their HBO subscription after the conclusion of the series.
Eight percent said they had already canceled it, 19 percent said they have plans to cancel their subscription, and 17 percent they weren't sure yet.
Subscribers who stay with the service will have plenty of post-"Game of Thrones" content to choose from. Bloomberg reported last week that HBO is increasing original programming by 50 percent and will unveil new programs, including "His Dark Materials" and "Watchmen," alongside returning shows "Big Little Lies," Westworld" and "Silicon Valley" over the next two years.