Republican voters are sticking to their belief that President Donald Trump can negotiate a better trade deal for the United States with China, even as the trade war between the two countries escalates.
Trade talks fell apart earlier this month when the United States increased tariffs to 25 percent from 10 percent on $200 billion of Chinese imports after the Trump administration accused China of reneging on a number of promises made to the United States. In return, China has announced plans to impose tariffs on $60 billion in American goods, and Trump, who has in the past dubbed himself a "tariff man," has threatened to slap a 25 percent levy on the remaining two-thirds of untaxed Chinese imports.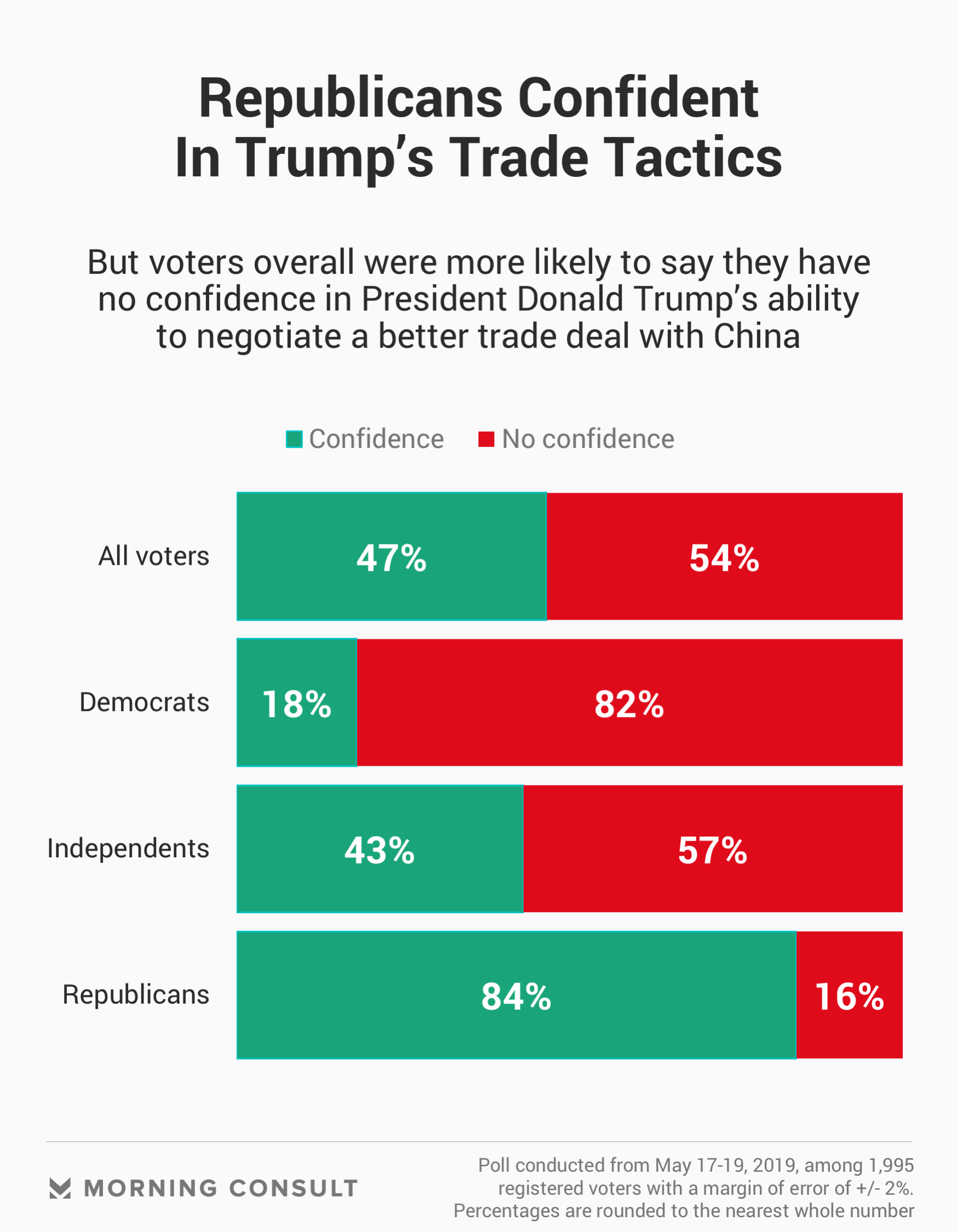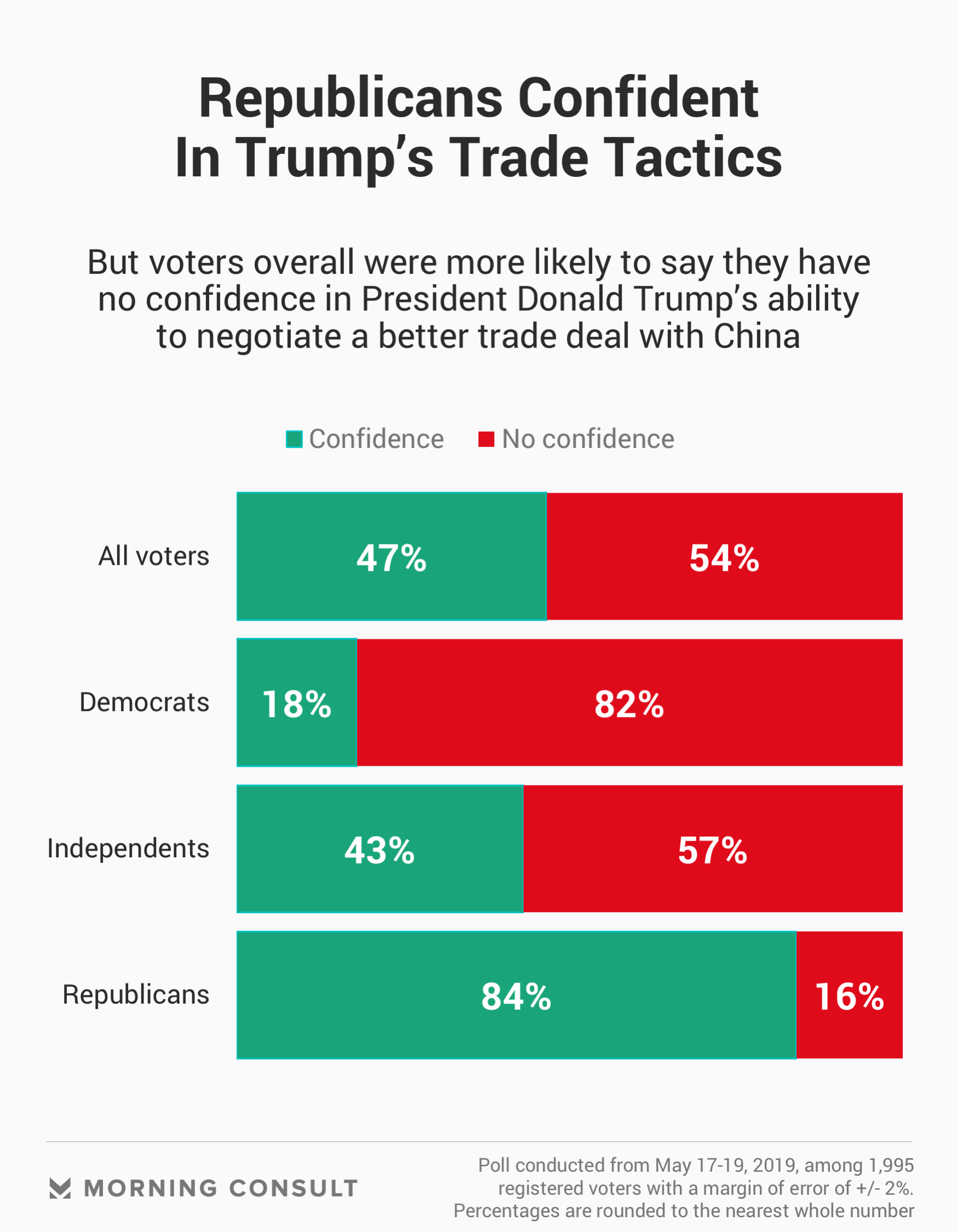 Economists widely predict economic pain, lost jobs and higher prices in stores as a result of the tit-for-tat tariffs between the United States and China. Even Larry Kudlow, White House chief economic adviser, said after the latest escalation that "both sides will suffer" from the tariffs.
But instead of being a political liability, trade still doesn't seem to be putting a dent in Trump's popularity among key farm state and Rust Belt state voters, and Republican voters firmly believe in the president's ability to win a trade war.
According to a recent Morning Consult/Politico poll, 84 percent of Republicans said they have confidence in Trump's ability to negotiate a better trade deal for the United States with China, while 16 percent said they have little or no confidence in the president. The survey polled 1,995 registered voters from May 17-19 and carries a margin of error of 2percentage points.
Republicans' optimism is not mirrored by the wider electorate, with 54 percent of all voters saying they have not much or no confidence in Trump on China trade negotiations, while 47 percent said they do have confidence in him.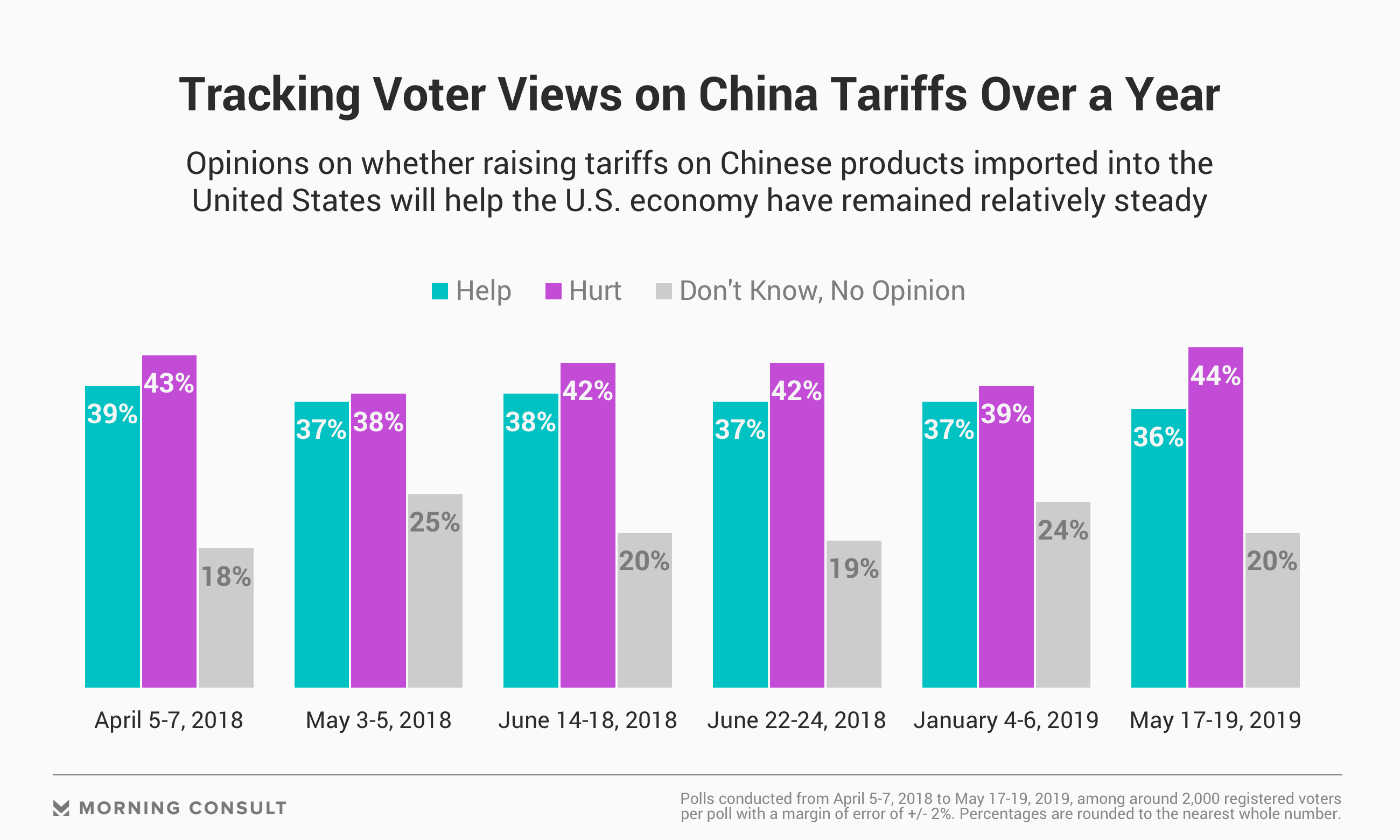 Meanwhile, 82 percent of Democrats said they don't have any or little confidence in Trump on trade, compared to 18 percent who said they do. Independents were more split, with 43 percent saying they have confidence in Trump and 57 percent saying they don't.Trump has repeatedly said that China will end up paying for the tariffs and that the trade war will help U.S. consumers. Democrats and some economists contend that won't necessarily be the case, and several U.S. companies, including the world's largest retailer, Walmart Inc., have said that Americans can expect shelf prices to increase as a result of the tariffs.
The share of American voters who believe that raising tariffs on Chinese products would help the U.S. economy, meanwhile, has been relatively steady.
Morning Consult/Politico polls started asking voters if tariffs on Chinese goods imported to the United States would help or hurt the U.S. economy beginning in April 2018, after Trump announced plans for 25 percent tariffs on about $50 billion of Chinese imports and China responded with retaliatory tariffs on about $50 billion of U.S. imports.
In the most recent poll, 44 percent said raising tariffs on Chinese goods would hurt the U.S. economy, while 36 percent said it would help.