Bachelor Nation has been buzzing after Bachelorette Hannah Brown defended her decision to now-ousted contestant Luke Parker to be intimate with at least one other contestant during fantasy suite dates. After Colton Underwood's stint as the "Virgin Bachelor" earlier this year, this season has brought up different questions regarding sexuality and the way the actions of men and women on these shows are perceived. 
But a new poll found that the dating franchise likely has little to worry about in terms of alienating viewers with steamy episodes of "The Bachelorette," as respondents proved to be more accepting of female sexual activity than male sexual activity.
The July 11-12 Morning Consult/The Hollywood Reporter survey looked at 2,201 U.S. adults' comfort level with male and female stars of reality dating shows having multiple sexual partners, with half being asked questions about the male star and half being asked about the female star. 
Among all audiences, 30 percent of adults said they would be less likely to watch a reality dating show if its female star had multiple sexual partners, with 58 percent saying it would have no impact on their viewership. For a male star, 40 percent said they would be less likely to watch, while less than half (48 percent) said it would have no impact.
The margin of error is 3 percentage points.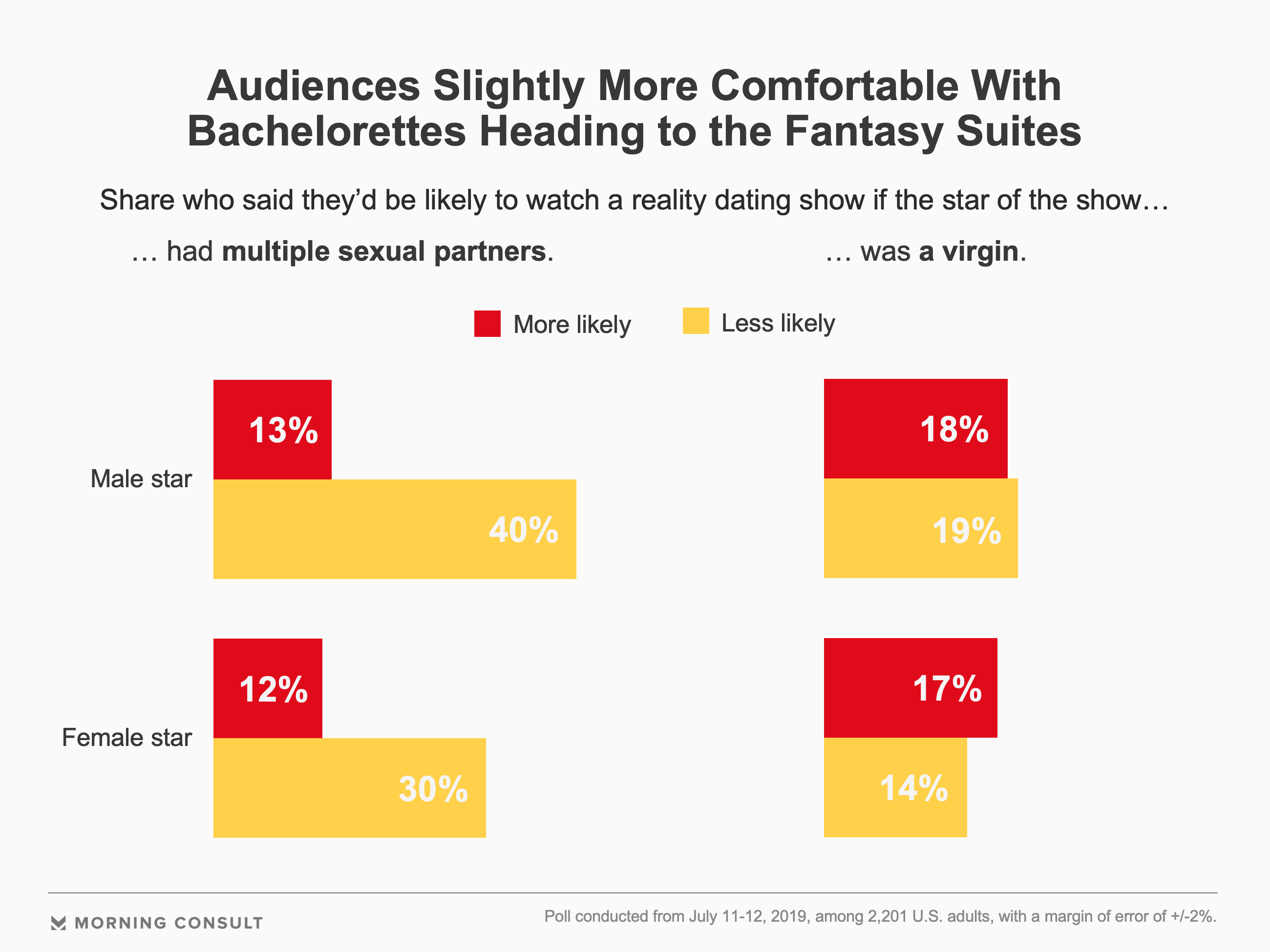 Thirty-one percent of Republican women were fans of reality dating shows, compared to 20 percent of all adults. But GOP women were also some of the strongest opponents of the genre's tropes. 
Fifty-eight percent of GOP women said they would be less likely to watch a reality dating show if its male star had multiple sexual partners, and half said the same about a female star with multiple sexual partners. The margin of error for Republican women overall is 5 points, while the margin of error for those subsamples is 7 points. 
While the most recent season of "The Bachelor" touted Underwood's virginity in advertisements, 60 percent of GOP women and 64 percent of all adults said it would have no impact on their viewing habits if the male star of a reality dating show was a virgin. Underwood's fantasy suite episode in March brought in 7.28 million viewers, per Nielsen figures. 
In contrast, the current season of "The Bachelorette" has highlighted discussions surrounding sexuality. The franchise, with a few exceptions, has been suggestive but not explicit about what happens in the fantasy suites. These episodes often feature exaggerated shots of contestants closing the door before an evening of off-camera — and apparently amorous — activity, then cutting to the couple the morning after. 
Over the course of the season, it had been teased Brown would get into a heated argument with Parker, a contestant who is a born-again virgin and has committed to abstaining from sex before marriage. On their date, Parker told Brown that if she had been intimate with any of the remaining men, he would consider removing himself from the show. Brown not only admitted to having sex with at least one of the remaining contestants, but defended her decision to do so, telling him: "I have had sex and Jesus still loves me." Her response to Parker's opinions drew support from the other contestants on the season and garnered praise online, with outlets such as Vanity Fair and The Washington Post applauding the show for its move in a "sex positive" direction. Brown's fantasy suite episode drew in 6.46 million viewers, per Nielsen figures. 
But while most viewers are not bothered by the embrace of female sexuality on these programs, they may not be ready for shows that feature same-sex couples. Almost three-quarters (73 percent) of Republican women said they would not be comfortable watching a sex scene involving two men, while roughly two-thirds (67 percent) said the same about sex scenes featuring two women.

The general public was more likely to tolerate scenes between women than those between men, with 57 percent saying they would not be comfortable watching a scene with two men compared to 41 percent who said the same about women.
MTV's "Are You the One?" — a reality dating show in which contestants live in a house and are tasked with discovering who their statistically approved match is — recently made history with an announcement for its currently airing eighth season. The show is the first to feature a sexually fluid cast where contestants are able to strike up a romance with whoever they choose, regardless of gender.