As cable companies and traditional TV providers work to retain subscribers, streaming services like ESPN+ are providing consumers with new ways to access live sports content. New polling finds that nearly 3 in 10 adults and 51 percent of frequent sports viewers — those who watch sports at least several times a week — would be ready to cut cable if they could access live sporting events through Walt Disney Co.'s upcoming streaming bundle. 
On Aug. 6, during a call with investors, Disney announced that it would offer consumers the option to bundle its three streaming services — Hulu, ESPN+ and the soon-to-be launched Disney+ — for $12.99 a month. The bundle would allow customers to watch all Hulu and Disney library content, as well as select — mostly non-marquee — live sporting events through ESPN+.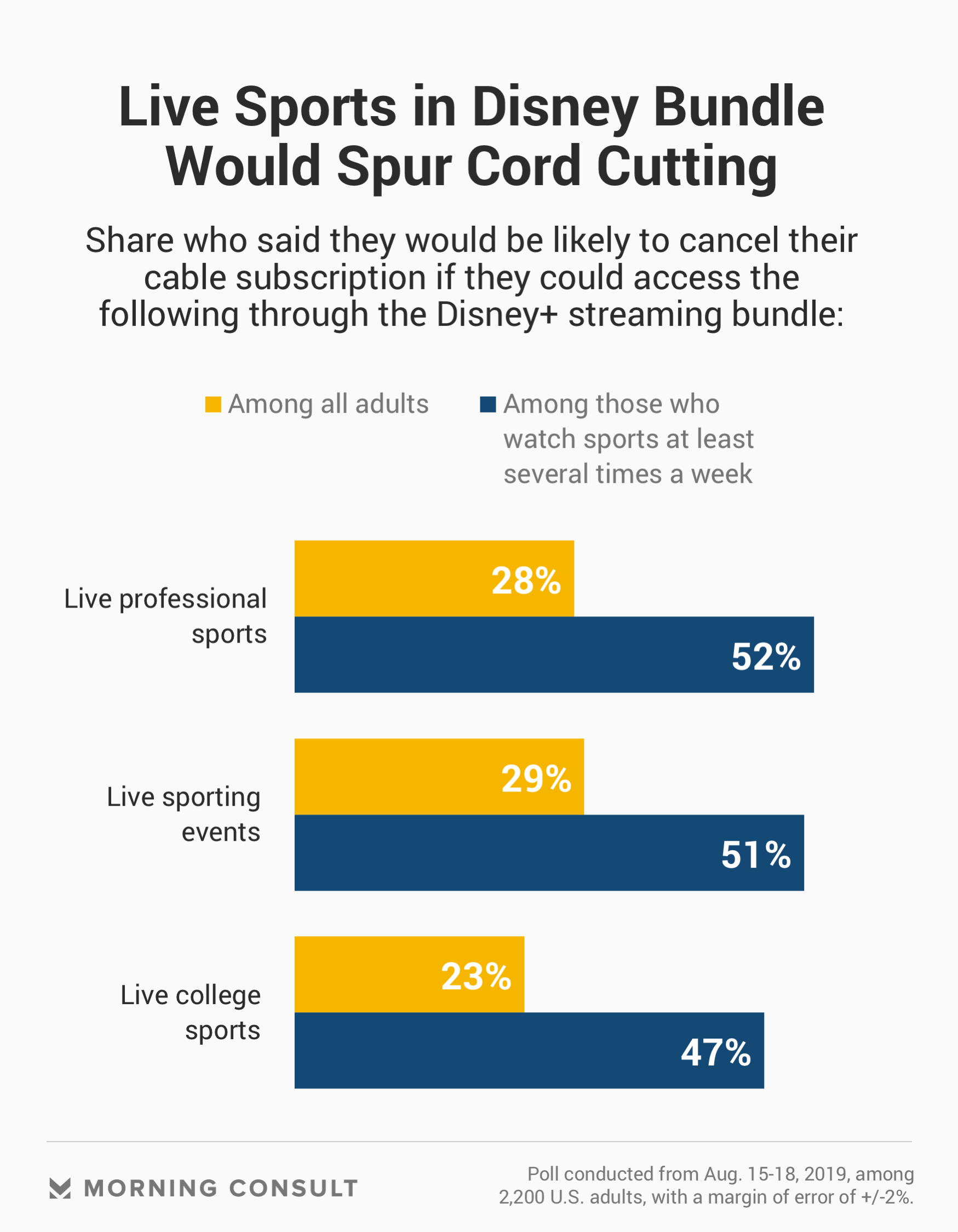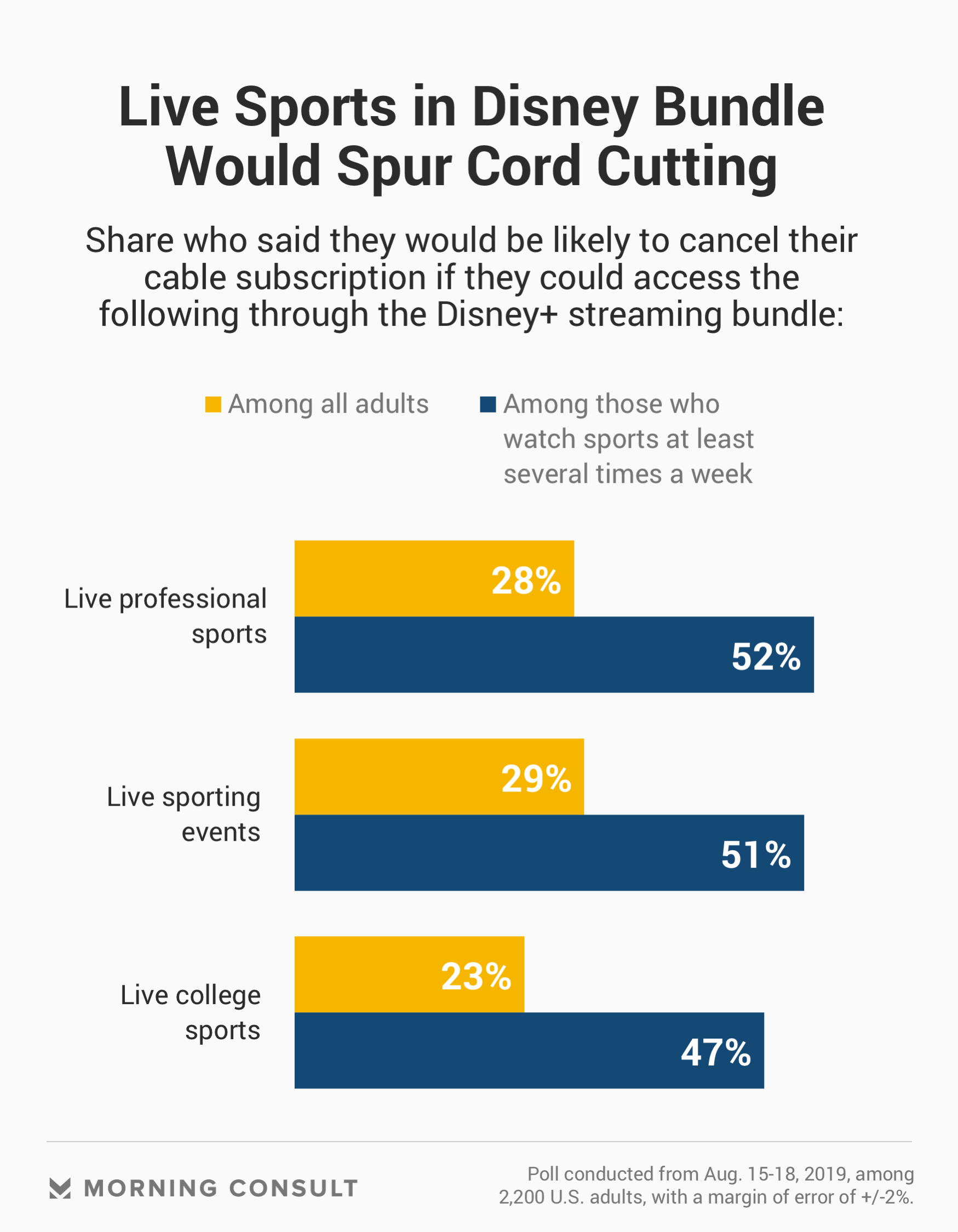 An Aug. 15-18 Morning Consult/The Hollywood Reporter poll found that 29 percent of all adults would be more likely to cancel their cable subscription if they could watch live sports events through the Disney+ bundle. That share jumped to 51 percent among those who watched sports at least several times a week. 
The overall poll's margin of error is 2 percentage points. The margin of error for the frequent sports viewers sample is 5.9 percent.
Daniel Cohen, senior vice president of global media rights consulting for the sports and entertainment agency Octagon, said that while live sports and news are "the glue that holds the cable bundle together," these numbers reflect "how quickly sports consumption habits are changing" in the United States and throughout the world. Sports broadcasters, Cohen added, have been preparing for the change. 
"I don't think there's a major sports broadcaster that doesn't have an OTT offering at this point, and is not contemplating how they're going to go to market with an even greater bundle offering," he said.
A separate Aug. 8-9 Morning Consult/The Hollywood Reporter poll found that 27 percent of all adults said they were likely to subscribe to Disney+ and 28 percent said they were likely to subscribe to the three-service bundle. However, a higher share of frequent sports viewers were drawn to the bundle — which includes ESPN+ —  than to Disney+ on its own: Forty-one percent said they would be likely to subscribe to the bundle, 10 points higher than the share that said they would subscribe to Disney+. 
However, those hoping ESPN+ will fulfill all of their sports viewing needs may need to think again. The streaming service only features one NHL and MLB game per day during the season, and college sports from a select number of non-Power 5 conferences. It also includes every out-of-market MLS game. The service leaves NFL and NBA fans out in the cold. 
Cohen said he believes there could be a time in the future when major sporting events are broadcast exclusively on streaming services — it just depends on the reach and the revenue associated with the move. While traditional broadcast still has greater reach than some streaming platforms, Cohen said, the revenue advantage is moving toward streaming. He cited DAZN's $365 million contract to stream 11 Canelo Alvarez fights as an example.
The transition to exclusivity on streaming is similar to the move to pay TV, according to Cohen. 
"People said, 'It's crazy! You're going to move off of free to air and you're going to go behind this paywall and make people pay to watch you on cable television? That's a crazy idea!'" he noted. "It's just the next iteration of that transition from free to air to pay TV. It's natural."
The Aug. 8-9 poll found that 51 percent of adults who subscribe to cable said they pay more than $100 a month for the service. That share rose to 58 percent among frequent sports watchers.