Gun Policy Is Democratic Voters' Top Issue Ahead of Houston Debate
After mass shootings in August, guns overtake climate change and migrant children as top debate topic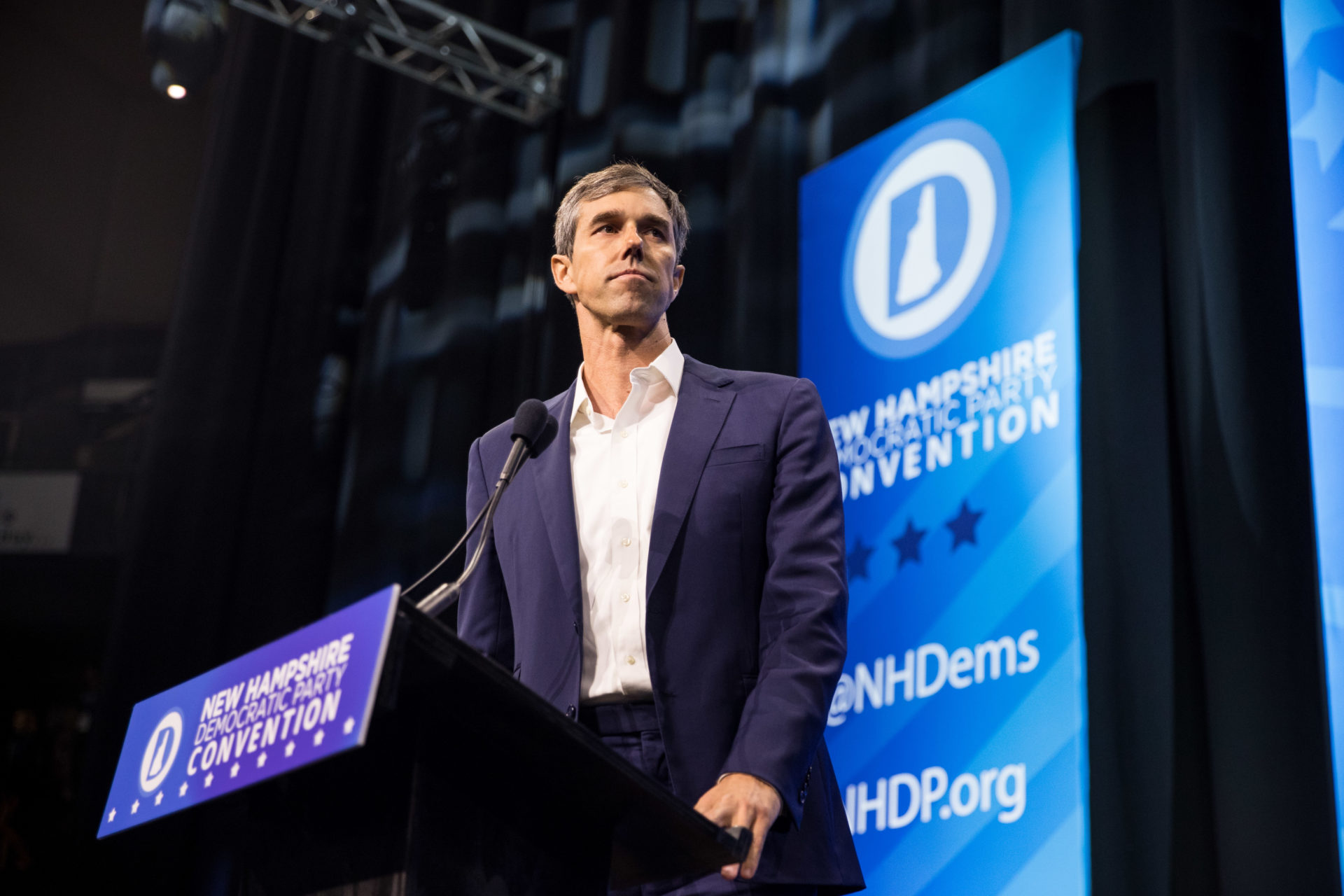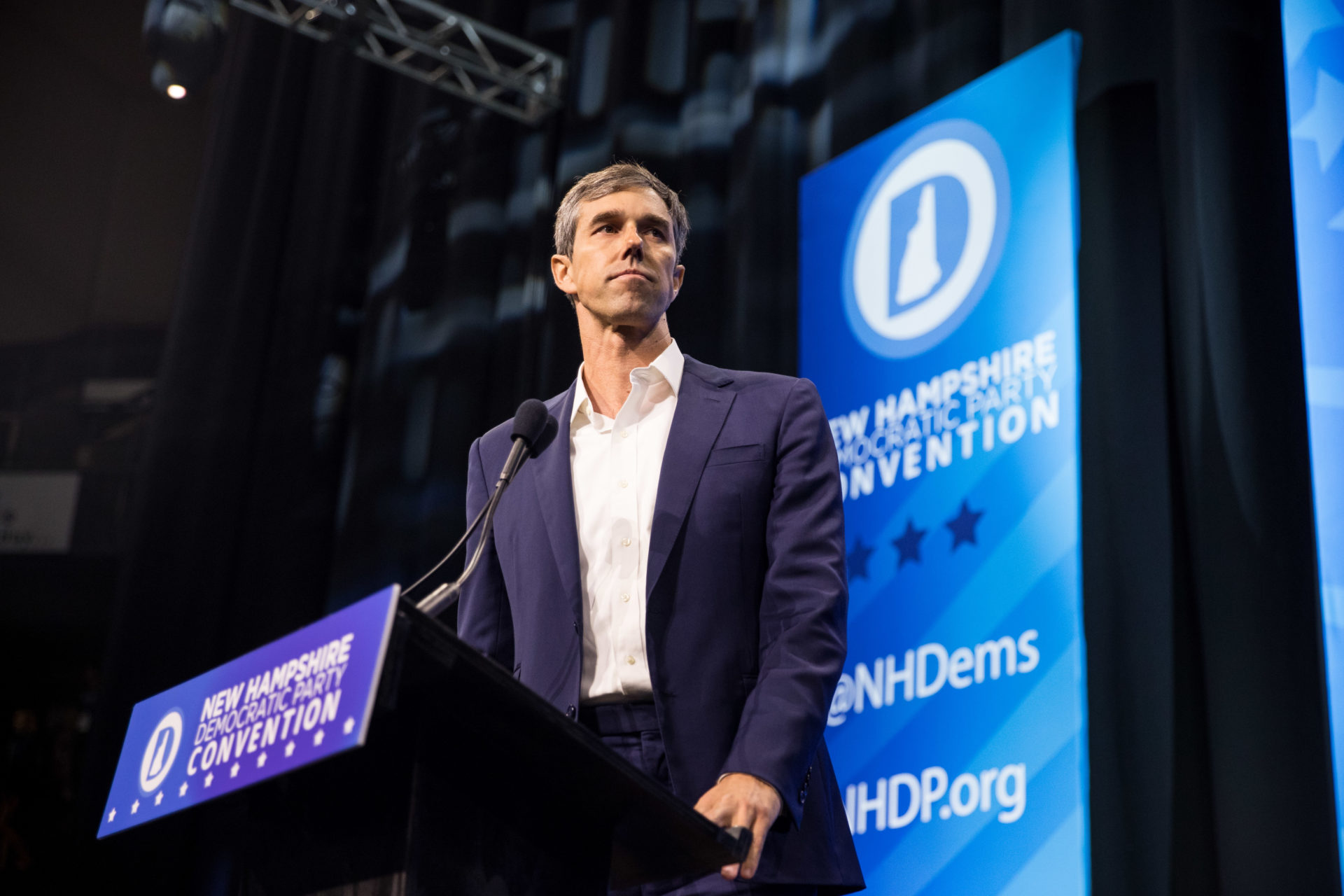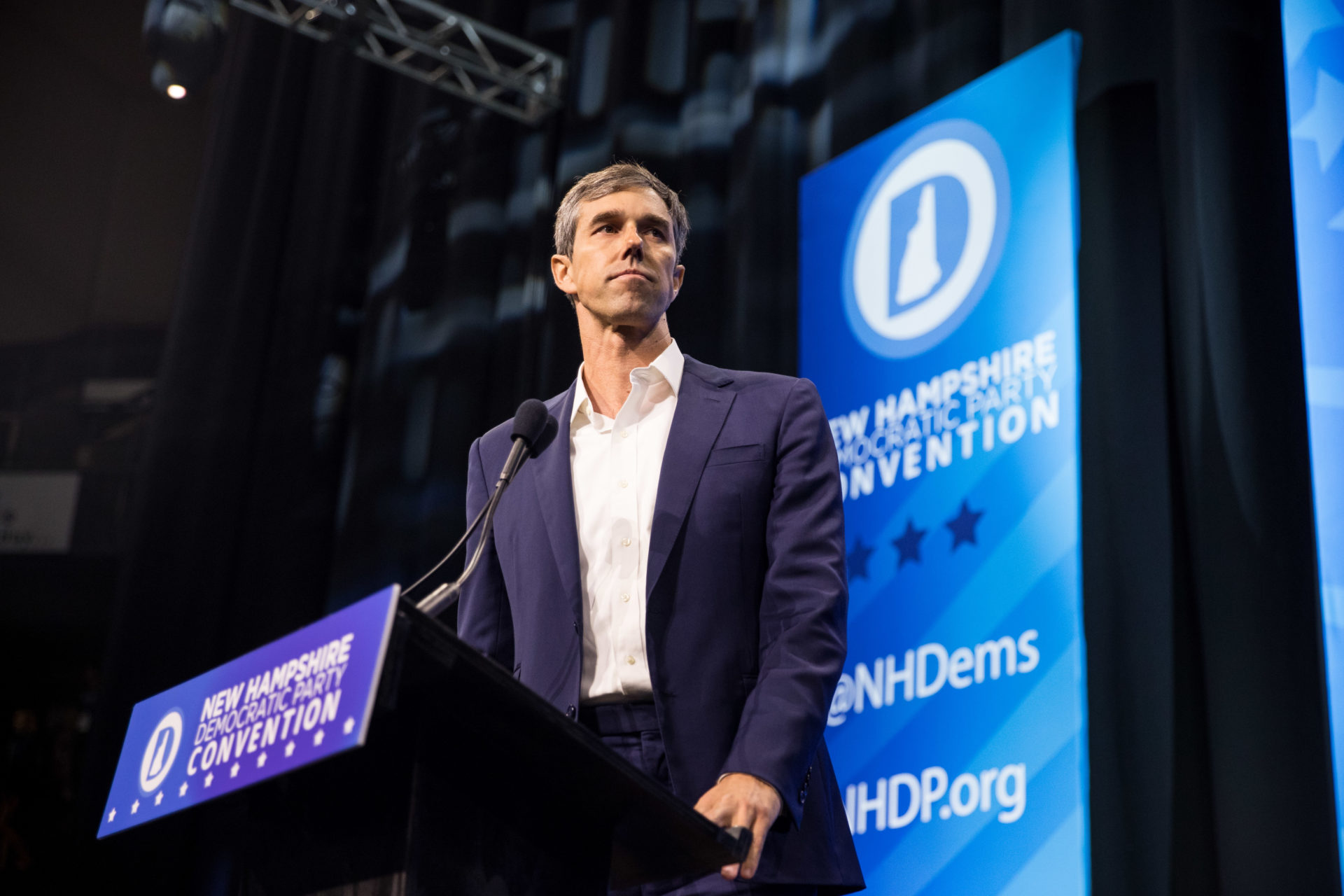 73% of Democratic voters said it's "very important" for candidates to discuss gun policy, up 11 points since a survey conducted ahead of the Miami debates in June.

The treatment of migrant children detained at the border (65%) and climate change (63%) also scored high among Democrats.

26% said they expect Joe Biden to perform best Thursday, followed by 19% who said Elizabeth Warren.
As 10 Democratic presidential candidates prepare to face off at Thursday's debate in Houston, the issue of gun policy has risen to the top of the priority list for the party's voters. 
According to a new Morning Consult/Politico poll, 73 percent of Democratic voters said it was "very important" for the candidates to discuss the issue in the September 12 debate, up 11 percentage points since voters were first asked before the June 26-27 debates.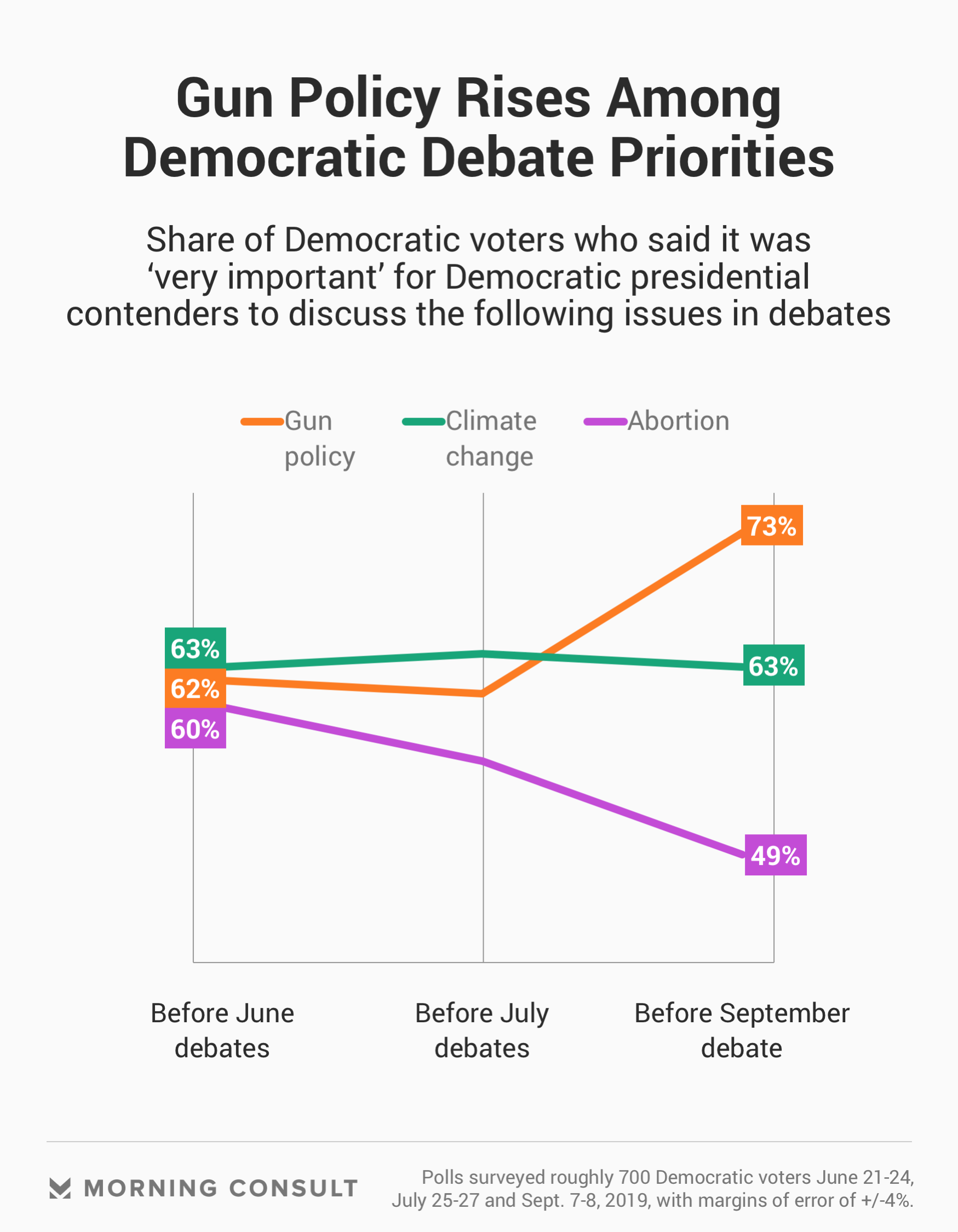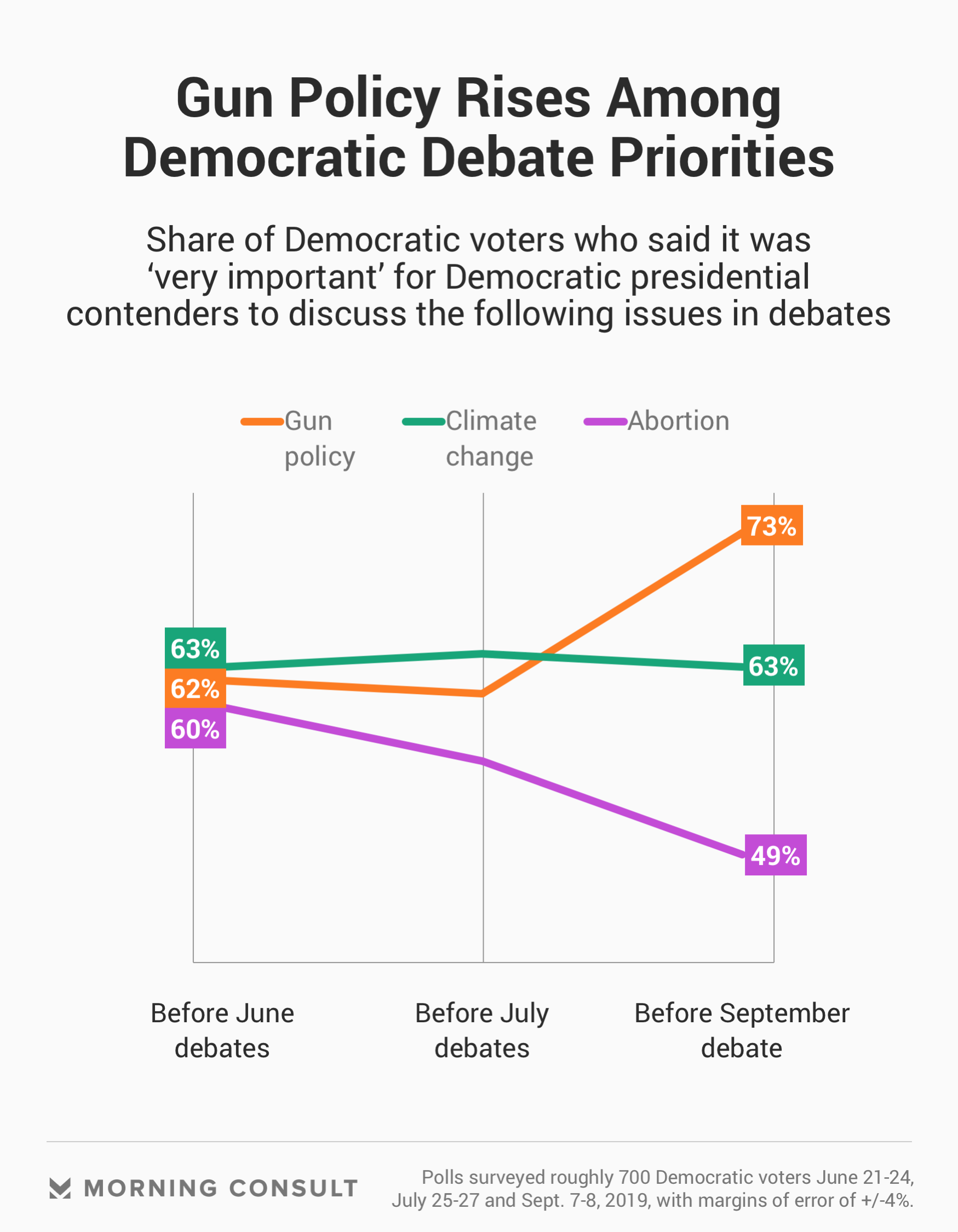 As they have before previous debates, the treatment of migrant children detained at the U.S.-Mexico border and climate change also scored high as priorities for discussion among Democrats. But gun policy has taken on more prominence following three deadly mass shootings throughout August in Texas and Ohio. The share of independents who said it's very important Democratic candidates talk about gun policy was also up 8 points since polling before the July 30-31 debates. (The survey measured an 11-point drop among Republican voters who said the same.)
The shooting in El Paso preceded a relaunch of sorts for the presidential campaign of the city's former congressman, Democrat Beto O'Rourke, who seized the gun control mantle that had been carried by Rep. Eric Swalwell (D-Calif.) until he ended his own presidential campaign in early July.
Speaking over the weekend at the New Hampshire Democratic Party Convention, O'Rourke reiterated calls for stricter gun control, pledging his support for measures with a diverse political backing such as universal background checks and "red flag" laws, while also highlighting his endorsement of a mandatory buyback program for assault-style rifles such as AR-15s and AK-47s.
A poll released Monday by Monmouth University found the majority of Americans (53 percent) oppose a mandatory buyback program, although 69 percent of Democrats support it. 
O'Rourke is not alone in backing mandatory buybacks, with California Sen. Kamala Harris and New Jersey Sen. Cory Booker both expressing support. But the Democratic race's top candidates — former Vice President Joe Biden and Sens. Elizabeth Warren of Massachusetts and Bernie Sanders of Vermont — have stopped short of endorsing compulsory confiscation, instead favoring voluntary buybacks.
It's the latter trio who are facing the highest expectations ahead of Thursday. A 26 percent plurality of Democratic voters said they expect Biden to perform best, followed by 19 percent for Warren and 16 percent for Sanders. 
Warren, whose share of first-choice support among Democratic primary voters has risen in Morning Consult tracking this summer, has seen expectations for her performance grow since before the first debates in June, when 12 percent of Democratic voters said they thought she'd perform best. Expectations for Sanders' performance were up 3 points over that time frame, while Democrats became 7 points less bullish on Biden's expected showing.
The latest poll was conducted Sept. 7-8 among 1,998 registered voters, with a 2-point margin of error.