A Likable Host Could Be Key to Drawing In Awards Show Viewers
Viewership for this year's hostless Primetime Emmys was at a record low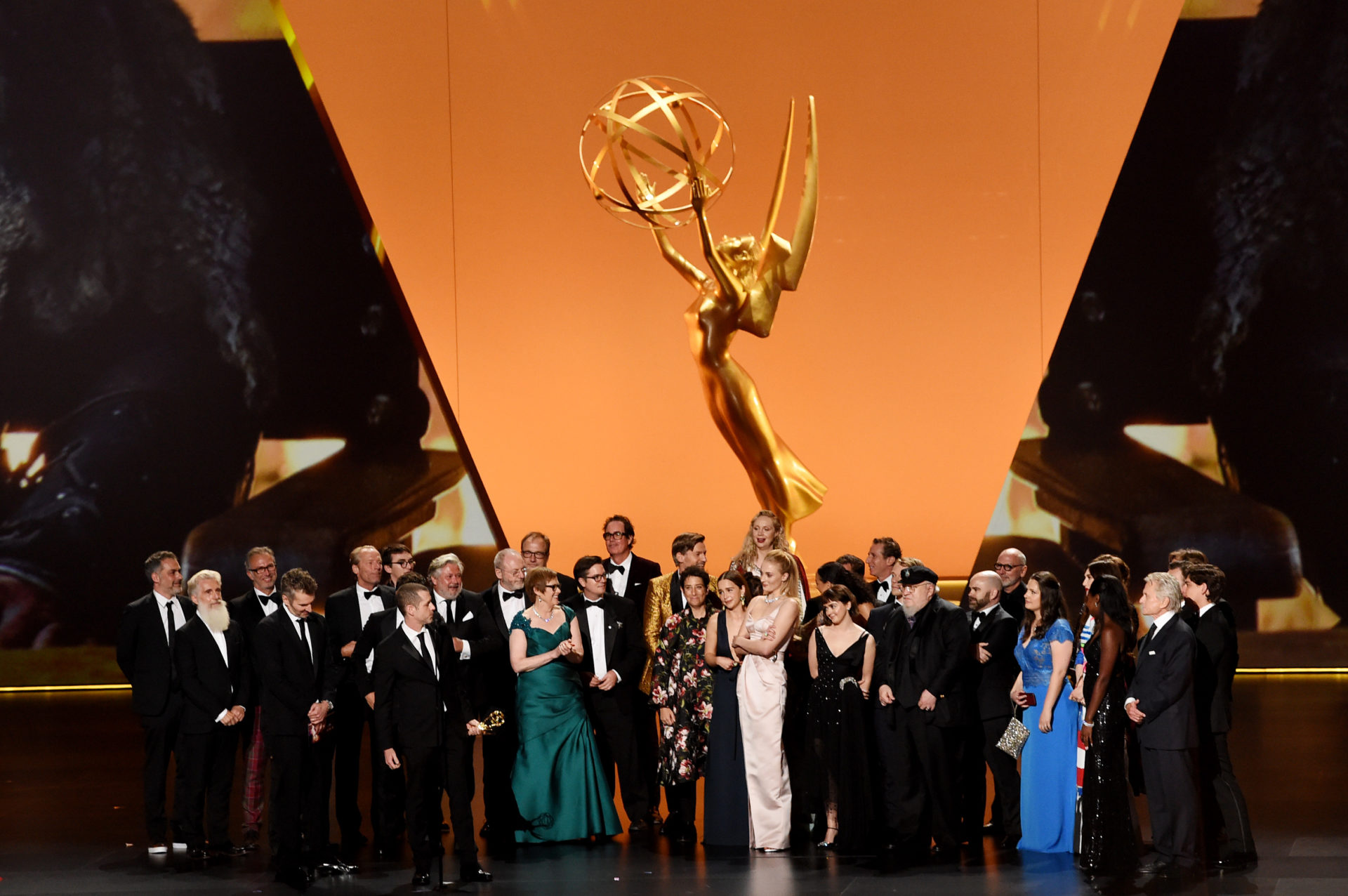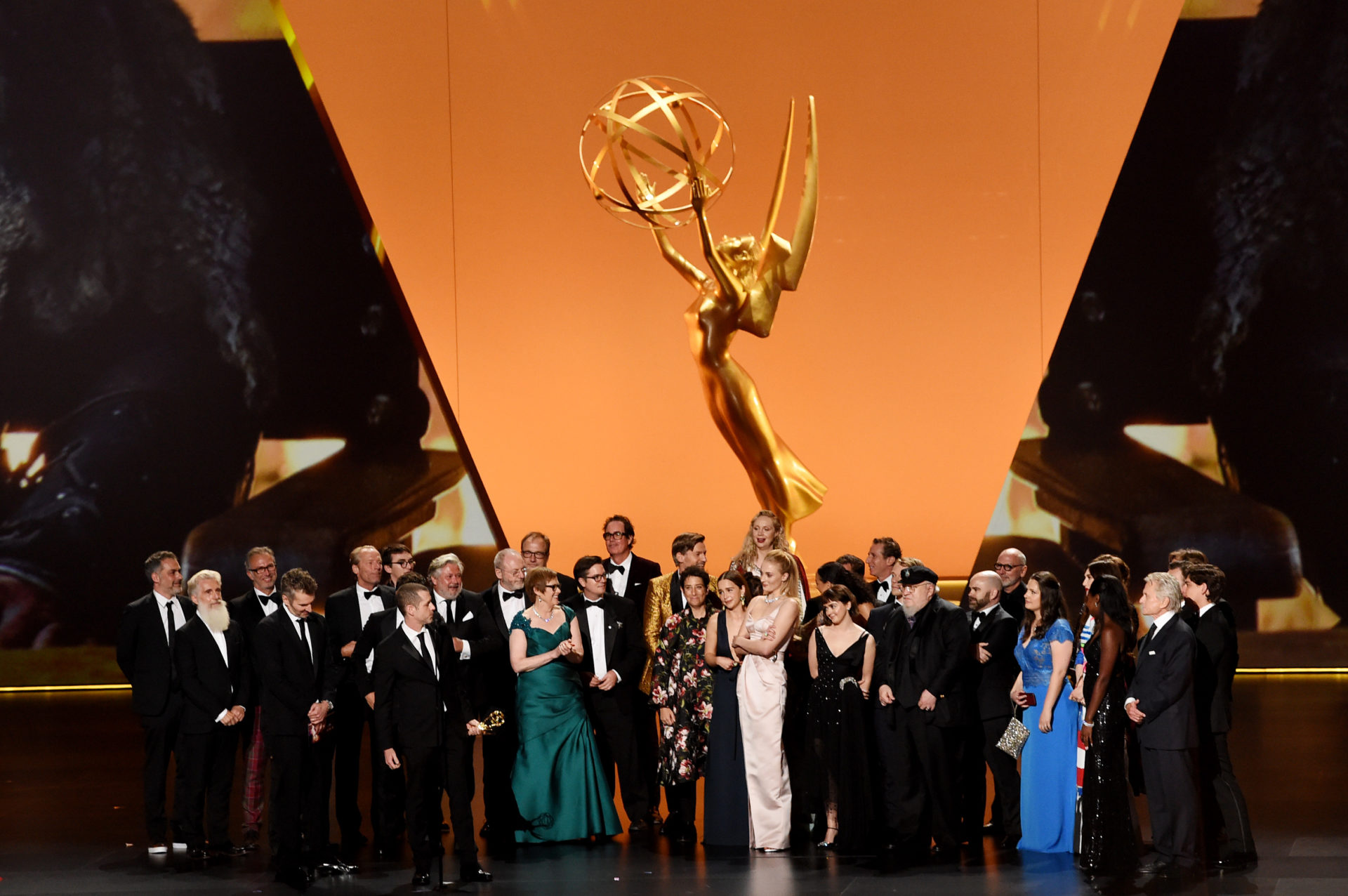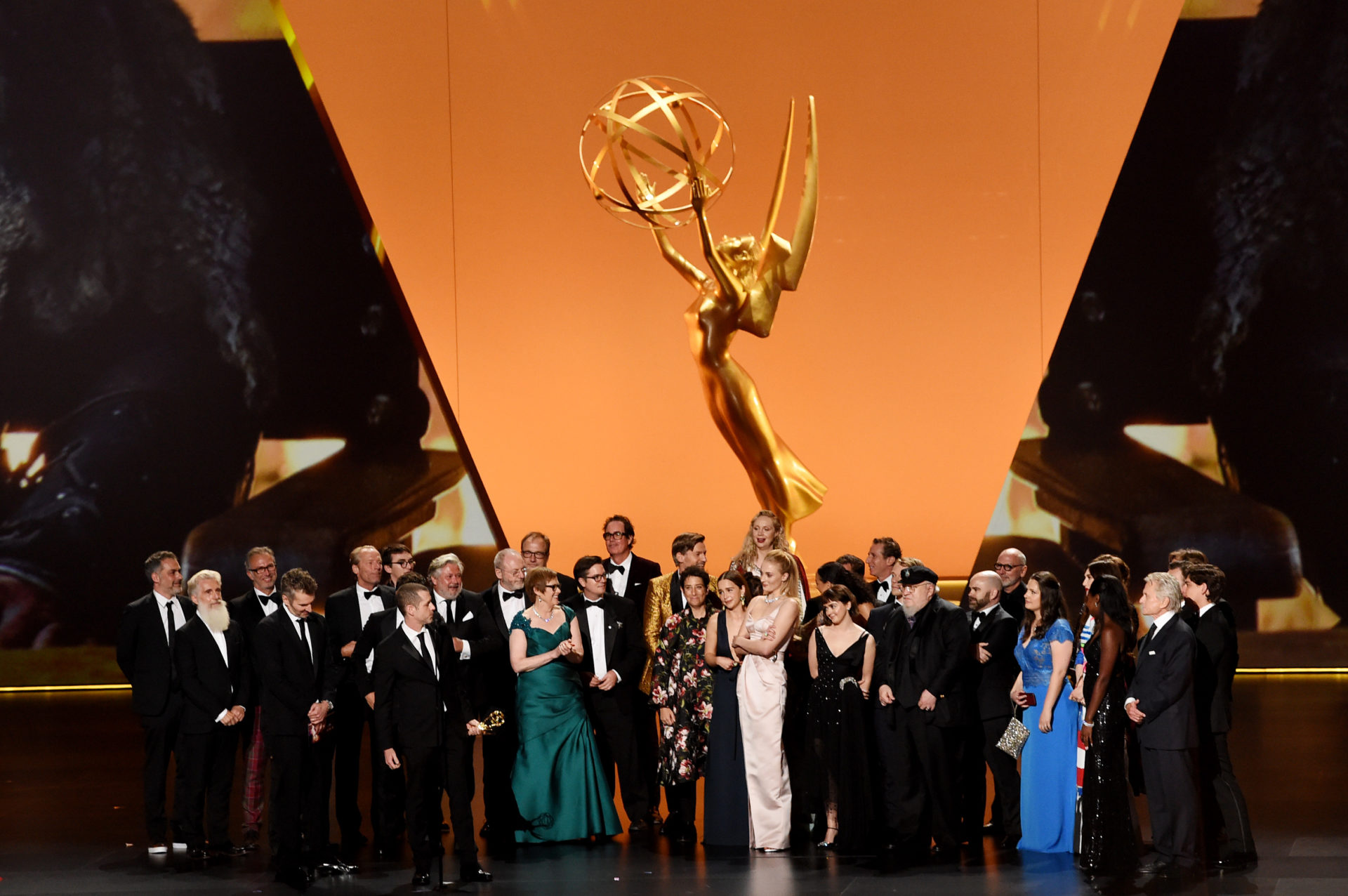 39% of adults said they would be more likely to watch an awards show if they liked the host.

Having celebrities that refrain from expressing political opinions would make 32% of adults more likely to watch an awards show.
This year's Primetime Emmys saw record-low viewership and lost nearly a third of viewers from 2018. While there has been much speculation as to why the yearly telecast saw such a drastic decrease in viewership, new polling finds that the key to bringing viewers back in could be a popular host or an apolitical broadcast. 
Fox's Primetime Emmy telecast last month brought in an unprecedentedly low 6.9 million viewers. According to Nielsen data, viewership for the Emmys telecast has been declining since 2013, with NBC's 2018 telecast watched by just over 10.2 million people and ABC and CBS each drawing nearly 11.4 million viewers when they broadcast the show in 2016 and 2017, respectively.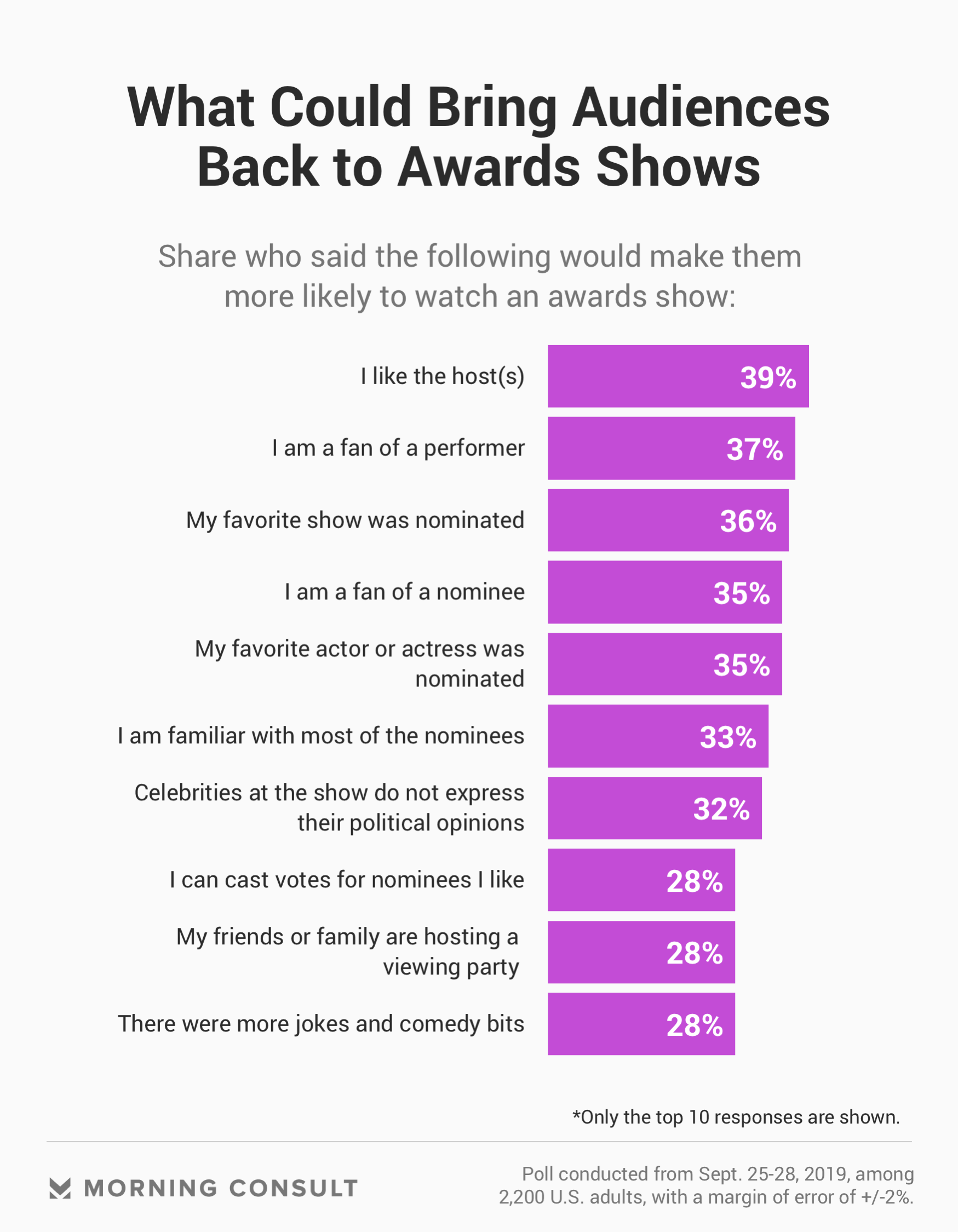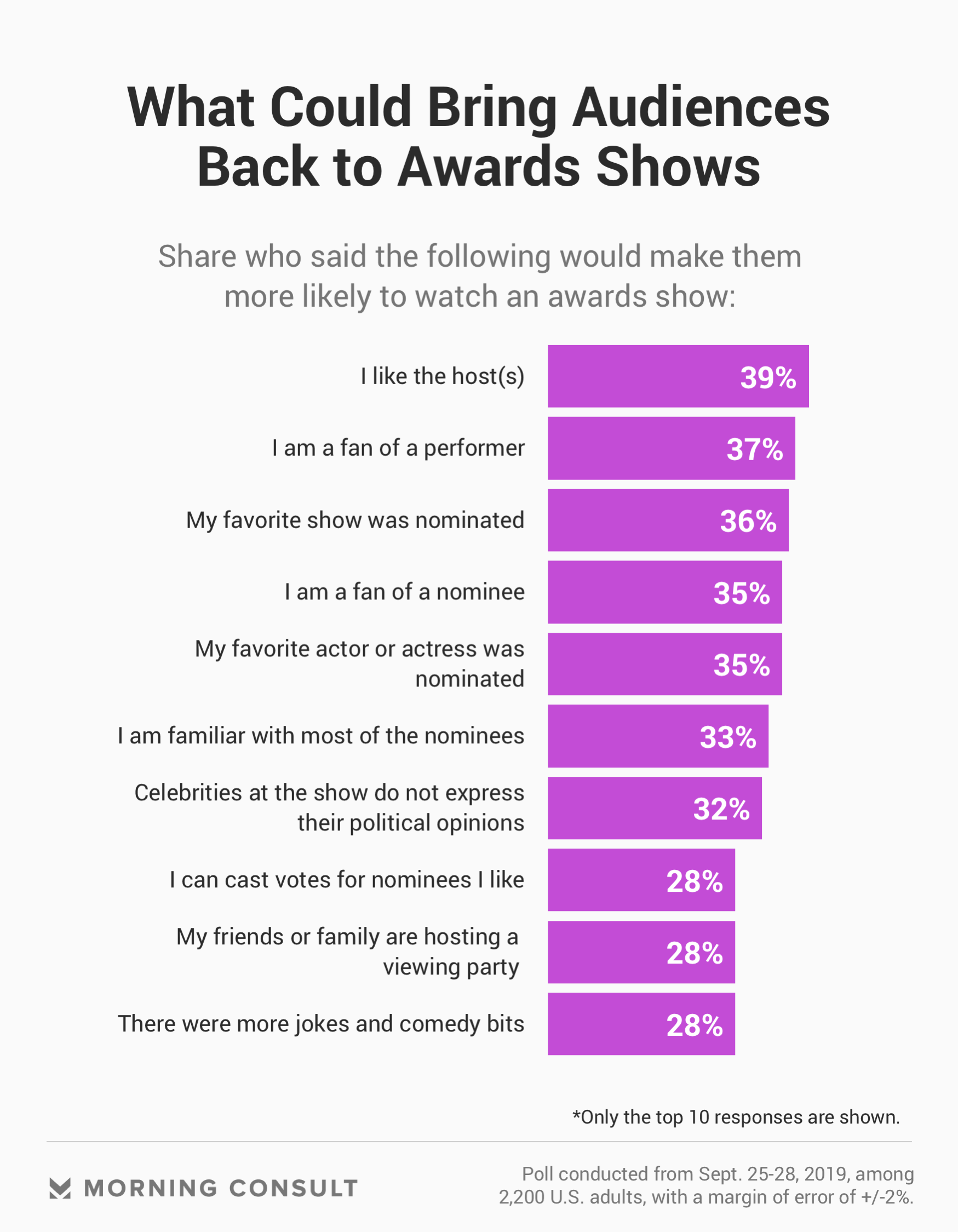 A Sept. 25-28 Morning Consult/The Hollywood Reporter poll found that 77 percent of adults did not watch the Emmys telecast at all, with 174 people — roughly 8 percent of the 2,200 U.S. adults who were surveyed — saying they watched in 2017 or 2018 but not this year. Of that group, 38 percent said that a major reason they skipped the show was that they were busy, and just under one-third (32 percent) said they weren't interested. The margin of error for that subsample is 7 percentage points, while the margin of error for the overall poll is 2 points.
When looking at what would draw viewership for awards telecasts, 39 percent of respondents overall said they would be more likely to watch an awards show if they like the host, while 37 percent said a favored performer would encourage them to watch. 
The Emmys followed the Academy Awards in having a hostless telecast for 2019, the first time the show has lacked a host since 2003. Fox Entertainment CEO Charlie Collier told Variety that no opening monologue gave the broadcast more time to say farewell to iconic shows that had ended in 2019, such as "Game of Thrones" and "Veep."
While previous Emmys telecasts have featured outspoken hosts — with Jimmy Kimmel, Stephen Colbert, Colin Jost and Michael Che all getting political during their stints — the absence of a host did not mean that these topics were completely avoided. Emmy winners Patricia Arquette and Michelle Williams both used their acceptance speeches to call attention to social and political issues, with Arquette mentioning trans rights and Williams calling for pay equality. Nearly one-third (32 percent) of poll respondents said they would be more likely to tune in to an awards show if celebrities refrained from expressing their political opinions. 
The 72nd Primetime Emmys will be broadcast on ABC.