As studios look to find audiences for their latest films, new polling finds that films starring two specific actors — both veterans of blockbuster franchises — would likely be a selling point for all sorts of fans.
An Oct. 17-20 Morning Consult/The Hollywood Reporter survey asked 2,200 U.S. adults if they would be more or less likely to see a film if one of 20 actors and actresses were in it. The Hollywood Reporter's film team compiled the list, which features emerging and established names, as well as performers with films coming out soon.
The poll, which has a margin of error of 2 percentage points, found that Samuel L. Jackson and Will Smith generated the most interest among the general population, with 59 percent of respondents saying they would be more likely to see a film if either actor were in it.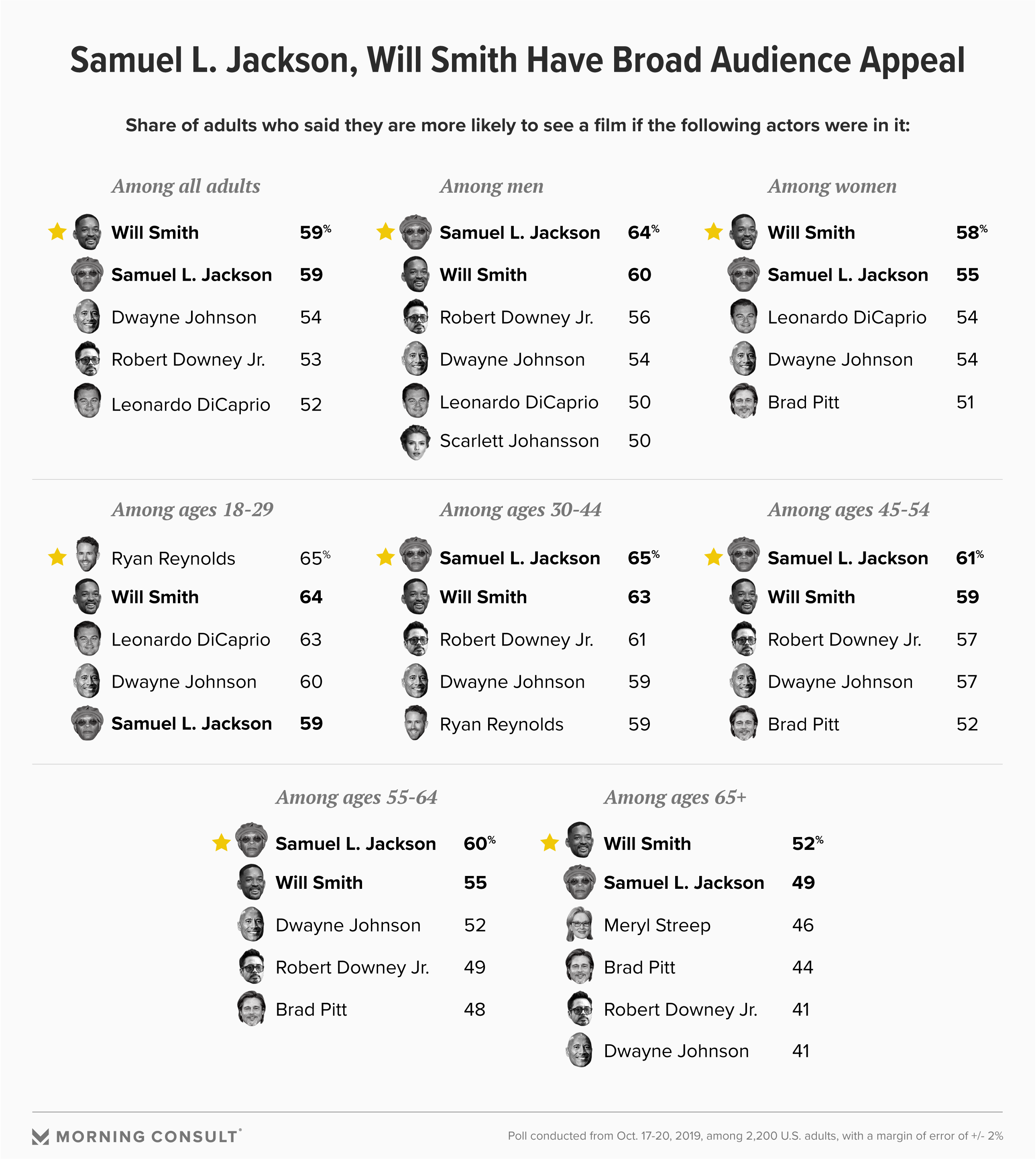 Both Jackson and Smith had immense crossover appeal, each ranking in the top five across gender and age demographics, with their star power reflected in some big films: Smith was in the first three installments of the "Men in Black" franchise and has appeared in blockbusters including "Suicide Squad" and "Independence Day," while Jackson has starred in a number of Quentin Tarantino movies and plays Nick Fury in the Marvel Cinematic Universe.
Per Box Office Mojo, Jackson has appeared in three of 2019's top five highest-grossing films. Smith has hit a high note this year with the live-action remake of "Aladdin," currently the sixth-highest grossing film of 2019 domestically, but striking out with "Gemini Man," which has grossed just over $43 million domestically since its Oct. 11 release.
Only two women placed in the top 10 draws for all adults: Scarlett Johansson and Meryl Streep. Forty-three percent of respondents said they would be more likely to see a film if Johansson were in it, and 41 percent said the same of Streep.
Streep also ranked in the top 10 among female respondents, but was once again one of just two actresses among the demographic's top picks, sharing the list with Jennifer Lopez. Just under half (49 percent) of women said they would be more likely to see a film starring Streep, while 43 percent said the same of Lopez. 
Among men, Johansson was the lone women in the top 10, with half of male respondents saying they would be more likely to see a film if she were in it. Per Forbes, Johansson brought in $56 million between June 2018 and June 2019, the highest paid actress of the year. 
The No. 3 choice for adults overall, Dwayne Johnson, was the highest-paid actor, with Forbes reporting that he earned $89.4 million within the past year as of June. Fifty-four percent of adults said they would be more likely to see a movie if he were in it.