As the holiday season arrives, it's time to get cozy and queue up a beloved holiday film. And new polling finds while most people are likely to watch the same film each year — and likely to do so via a streaming service — some films are more beloved than others. 
A Nov. 14-17 Morning Consult/The Hollywood Reporter poll found that 76 percent of the 2,200 U.S. adults surveyed said they are likely to rewatch a holiday movie they watch every year during the 2019 holiday season. Sixty-seven percent said they are likely to watch a holiday special on television this year, while 59 percent said they are likely to check out a holiday film on a streaming service. 
The poll's margin of error is 2 percentage points.
"Rudolph the Red-Nosed Reindeer" was the most loved holiday film, with 83 percent of adults having a favorable view of the winter classic, while "A Charlie Brown Christmas" and the animated version of "How The Grinch Stole Christmas" were close behind, with 82 percent each viewing the films favorably.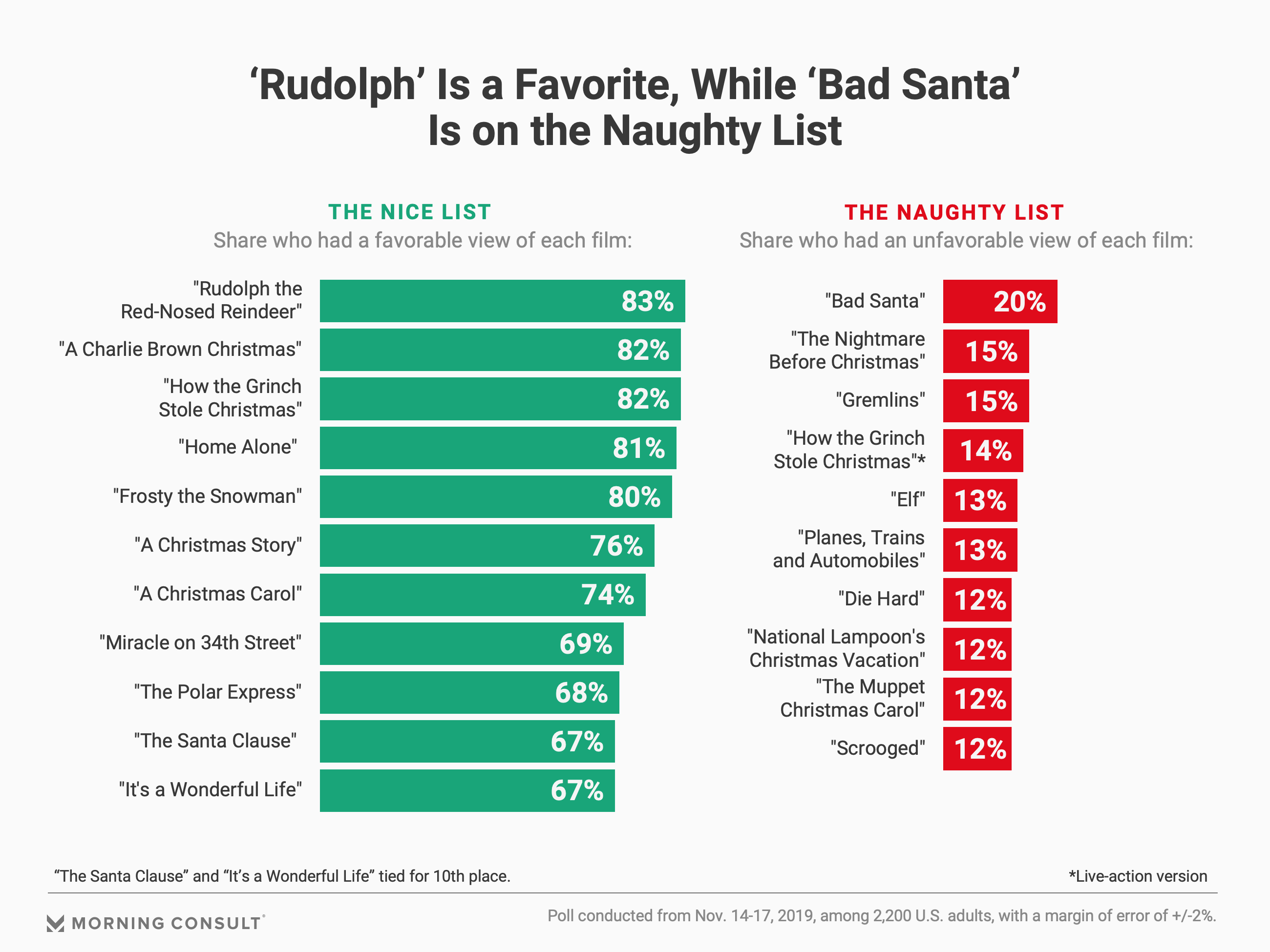 "Bad Santa" topped the naughty list, with one-fifth of those surveyed having an unfavorable view of the film. Films whose connections to the holiday season have been debated, including "Die Hard" and "The Nightmare Before Christmas," also made the unfavorable list. Fifteen percent of respondents viewed "Nightmare" unfavorably, while 12 percent had the same feeling about "Die Hard." However, both "Nightmare" and "Die Hard" were still each favored by 61 percent of respondents, while a 48 percent plurality had a favorable view of "Bad Santa."
Even as the Hallmark Channel, Freeform and Lifetime roll out schedules of new and classic holiday films, streaming services are where many audiences want to tune in this holiday season. Forty-one percent of respondents said they prefer to watch holiday films on a streaming service, while 21 percent each said watching on cable or broadcast channels was their preference. 
The share that preferred streaming climbed to 60 percent among those ages 18-29 and 51 percent among those ages 30-44.