It's that time of year again: Trees are decorated, stockings are hung with care — and people argue whether "Die Hard" constitutes a Christmas movie. But data shows that even those who have seen the film don't consider it as such, and the same applies to viewers of several other hotly debated films in the same category as holiday classics.
A Nov. 14-17 Morning Consult/The Hollywood Reporter survey found that 62 percent of 2,200 U.S. adults did not consider "Die Hard" to be a Christmas movie, a number that remained unchanged from a survey conducted from Nov. 15-18, 2018. Twenty-four percent said they did consider the Bruce Willis action flick to be a Christmas film. 
The margin of error for both polls is 2 percentage points. 
When asking those who have seen "Die Hard," the verdict remained the same: Sixty-three percent of the 1,604 respondents who had seen the film said it didn't belong in the Christmas section, while 30 percent of that group said it did.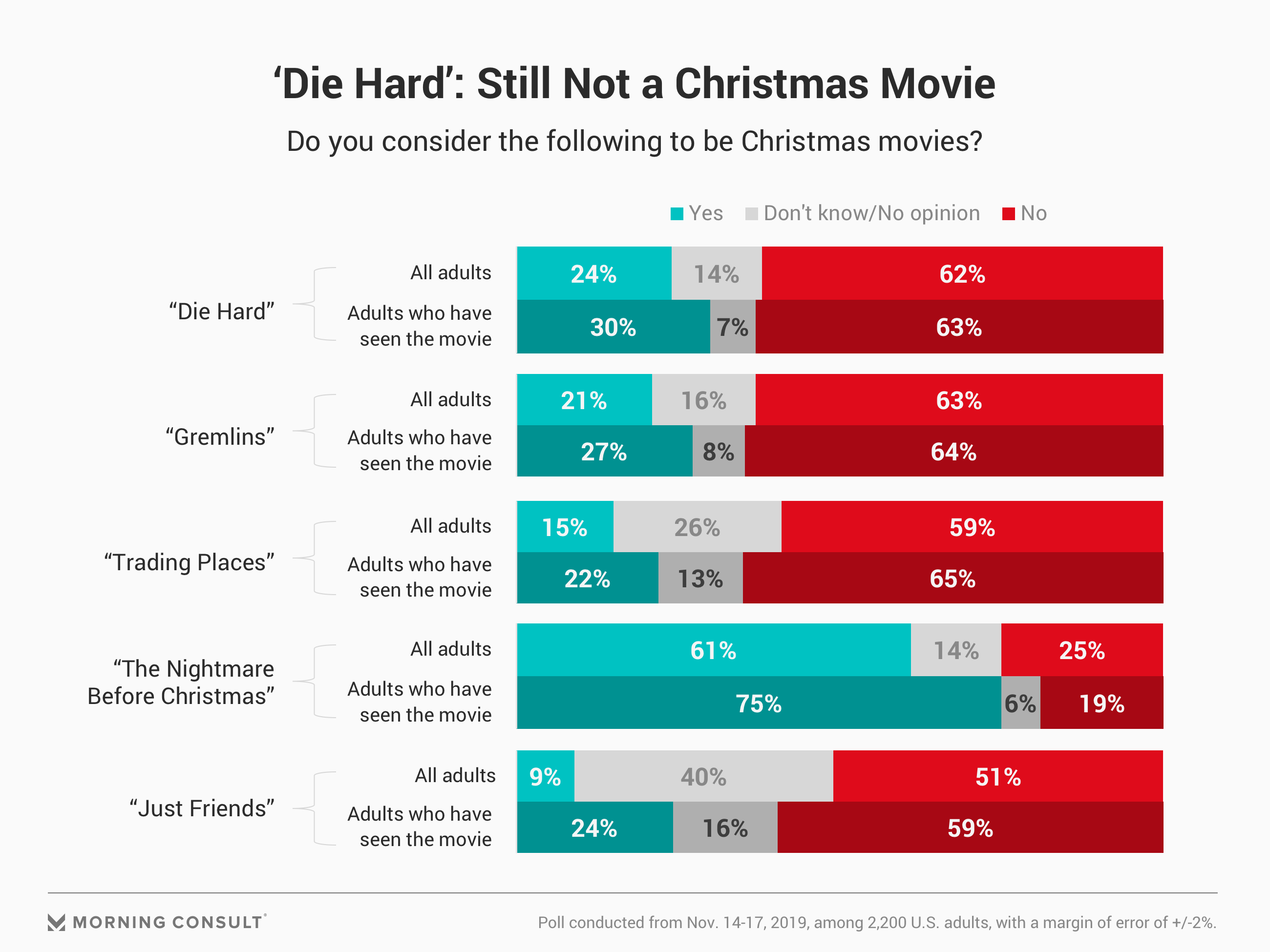 The poll also asked respondents about other films that have entered the "Christmas/Not Christmas movie" debate, including "Gremlins," "Batman Returns" and "The Nightmare Before Christmas." For the most part, those who had seen the films echoed the sentiment of the overall population: 63 percent of adults said that "Gremlins" is not a Christmas movie, as did 64 percent of those who have seen the film
However, when it came to "The Nightmare Before Christmas," 61 percent of all adults said it is a Christmas movie, with that share climbing to 75 percent among those who have seen the film. 
But the film's director doesn't agree.
According to Birth.Movies.Death., Henry Selick, director of "The Nightmare Before Christmas," was asked at a Q&A in 2015 to settle the debate on whether the film belongs to Christmas or Halloween. 
His response? "It's a Halloween movie."