In what feels like a holiday tradition, the lyrics of the classic song "Baby, It's Cold Outside" are once again in the news — this time for a new take on the tune. But new polling finds that most people are comfortable with the song, while many haven't heard much about the new version.
A Dec. 5-9 Morning Consult/The Hollywood Reporter survey presented respondents with the original lyrics of the holiday tune and asked them how appropriate they considered each line. When looking at net appropriateness — the share who said a line was appropriate minus the share who said a line was inappropriate — the lines "This evening has been / Been hoping that you'd drop in" and "So very nice / I'll hold your hands, they're just like ice" were considered most appropriate at 61 percentage points each. 
The lyrics "Say, what's in this drink? / No cab's to be had out there" — lyrics some writers have said allude to date rape or sexual coercion, though others contend they are appropriate for the era in which the song was written — had a net appropriateness of 21 points, the lowest of all lyrics in the song. "My maiden aunt's mind is vicious / Gosh your lips are delicious" also had a net appropriateness of 21 points. The "I ought to say, 'No, no, no, sir' / Mind if I move in closer?" lyrics were also low in terms of net appropriateness at 27 points.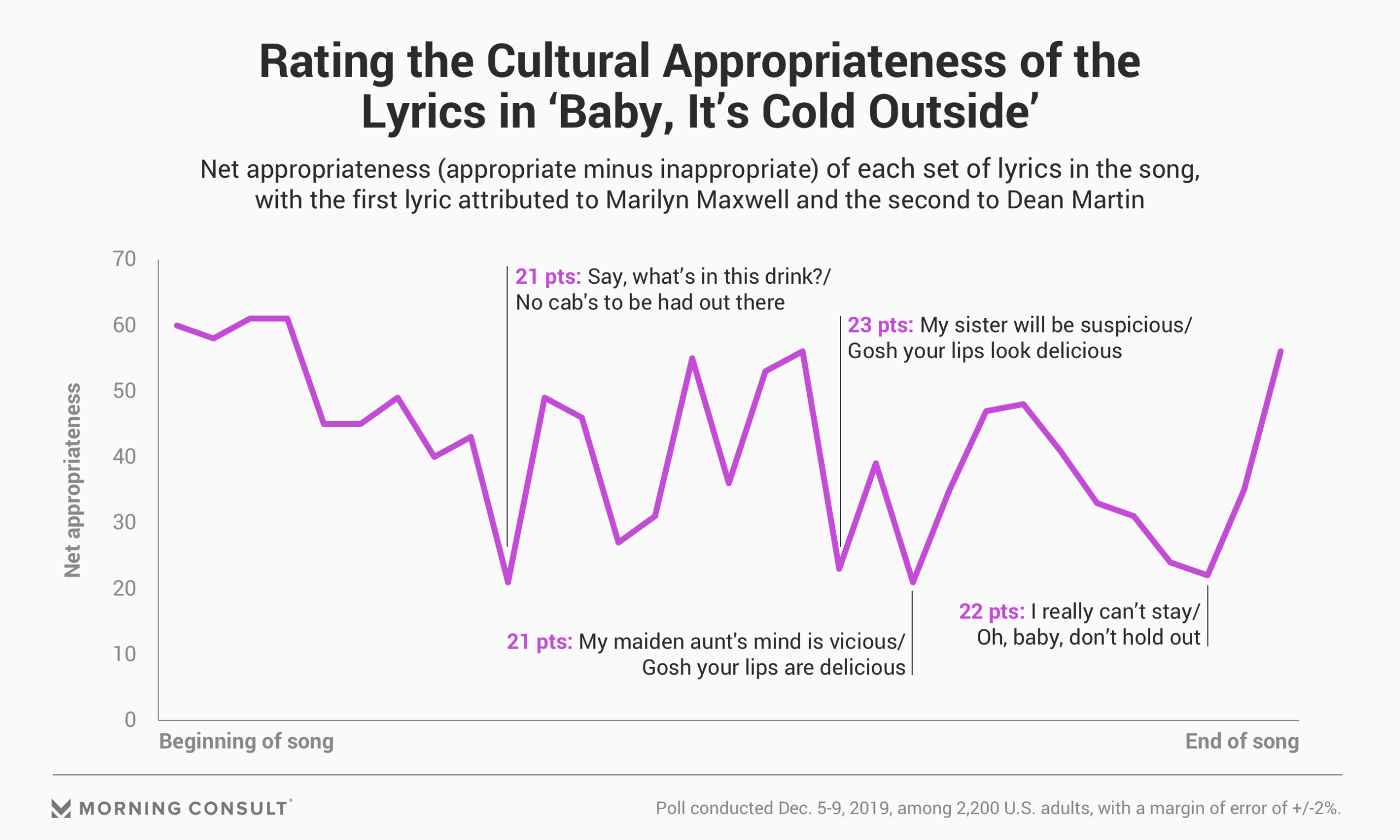 The poll's margin of error is 2 percentage points. 
When compared to other holiday songs in the poll, "Baby, It's Cold Outside" had a net favorability of 54 points, the second lowest of the included songs. 
This year, singer John Legend and comedian Natasha Rothwell rewrote some of the song's lyrics, changing the line "The neighbors might think (Baby it's bad out there)/ Say what's in this drink? (No cab's to be had out there)" to "What will my friends think? (I think they should rejoice)/ If I have one more drink? (It's your body and your choice)." The lines "I simply must go (But baby, it's cold outside) / The answer is no (But baby, it's cold outside)" were updated as "I simply should go (Text me when you get home) / Oh, I'm supposed to say no (Mm, I guess that's respectable)."
Forty-five percent of the 2,200 adults surveyed said they had heard nothing about the new version of the song, which was recorded by Legend and singer Kelly Clarkson, though 35 percent said they supported the updated lyrics. 
But 44 percent said the song lyrics should not have been changed in Legend and Clarkson's version. Legend recently told The Guardian that he "never disparaged the old version" and that the new version "wasn't supposed to be preachy at all." Legend noted that the song's original writer — Frank Loesser — and his family get paid for Legend's updated version. 
Despite the controversy around the song, chances are it will continue to play for future holiday seasons: 67 percent of respondents said they think people are too sensitive about the original lyrics to "Baby, It's Cold Outside."