Political Intelligence | The 2020 U.S. Presidential Election
Biden Leads Trump by 7 Points Nationally, Voters Divided on Trump's Supreme Court Pick
Last Updated: Tuesday, September 29, 2020
With 4,000 daily interviews among likely voters, Morning Consult Political Intelligence offers a granular, real-time look at how the 2020 U.S. election is shaping up. Each week, we will update this page with a high-level look at that data. To get full access to Morning Consult Political Intelligence, contact us below.

Presidential Election National Trends
Respondents are asked "If the November 2020 presidential election were being held today, for whom would you vote?" Each data point reflects a 3-day moving average among around 12,000 likely voters.
Joe Biden
Donald Trump
Someone Else
Don't Know / No Opinion
Latest Insights
Biden Carries Post-DNC Image Boost Into the First Presidential Debate
The national race between President Donald Trump and Democratic nominee Joe Biden has been remarkably stable ahead of the first debate, but Morning Consult data shows the former vice president benefiting from another kind of bump from his party's national convention that could help to insulate him from the Republican attacks yet to come on stage and more broadly in the contest's final month. Read More
Voters Divided on Trump's Supreme Court Pick, Prospect of Pre-Election Confirmation
President Donald Trump's nomination of Judge Amy Coney Barrett to replace the late Justice Ruth Bader Ginsburg on the Supreme Court has divided the American electorate, with voters closely split over whether she should be confirmed by the Senate and under which circumstances that vote should occur. Read More
Supreme Court's Potency as 2020 Voter Issue Surges Among Democrats After Ginsburg's Death
The death of Supreme Court Justice Ruth Bader Ginsburg and the intensifying fight over her replacement has jolted the presidential race and the competitive battle for control of the Senate just six weeks before the election, prompting questions about whether Democratic or Republican voters will be more motivated by the issue. Read More
Request A Demo
Morning Consult Political Intelligence
Morning Consult's newest data intelligence product features daily polling data on on elected officials, critical elections and top issues at the national, state and congressional levels.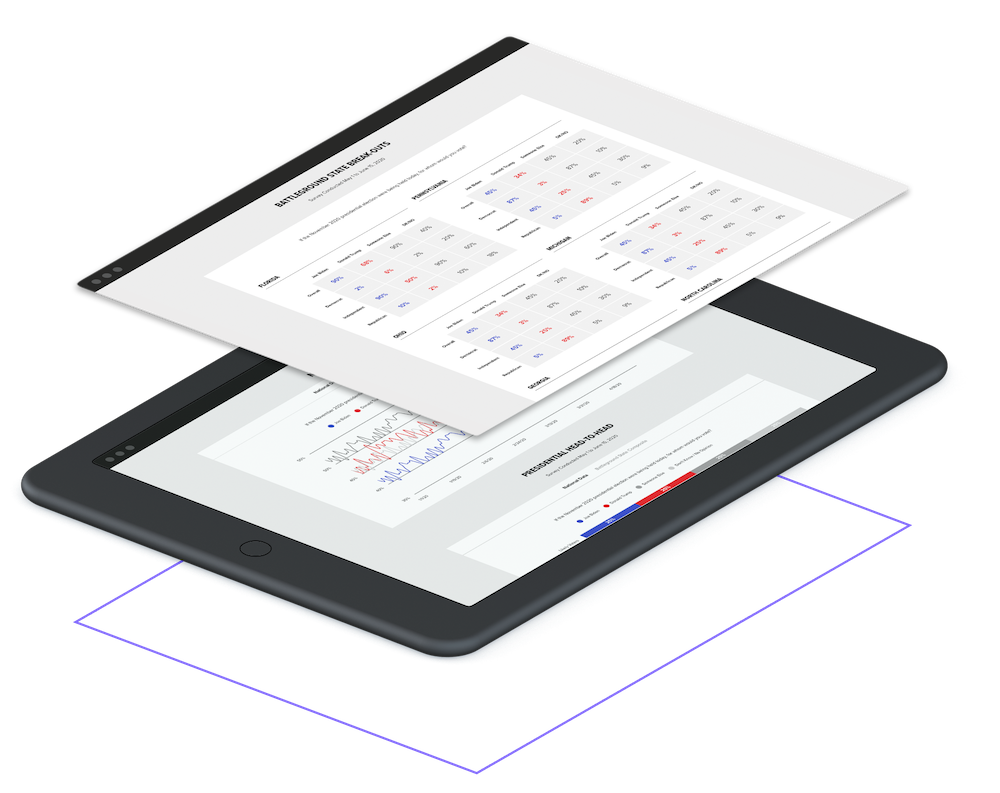 Methodology
Political Intelligence is Morning Consult's proprietary platform that provides real-time polling data on political elections, elected officials and voting issues.
The latest results reflect surveys conducted with 12,965 likely voters from September 25-27, 2020. Morning Consult's reported results reflect data among likely voters based on a 3-day moving average with a margin of error of +/- 1%. Morning Consult conducts daily interviews with a representative sample of around 4,000 likely voters in the United States via stratified sampling based on age, gender, and language (English/Spanish). This daily sample is weighted based on age, education, ethnicity, gender, geographic region, home ownership, marital status and 2016 presidential vote history. 
Learn more about Political Intelligence here.