Most Democratic Voters Think a Woman Would Have a Tough Time Beating Trump
White, male candidates viewed as having easier paths to victory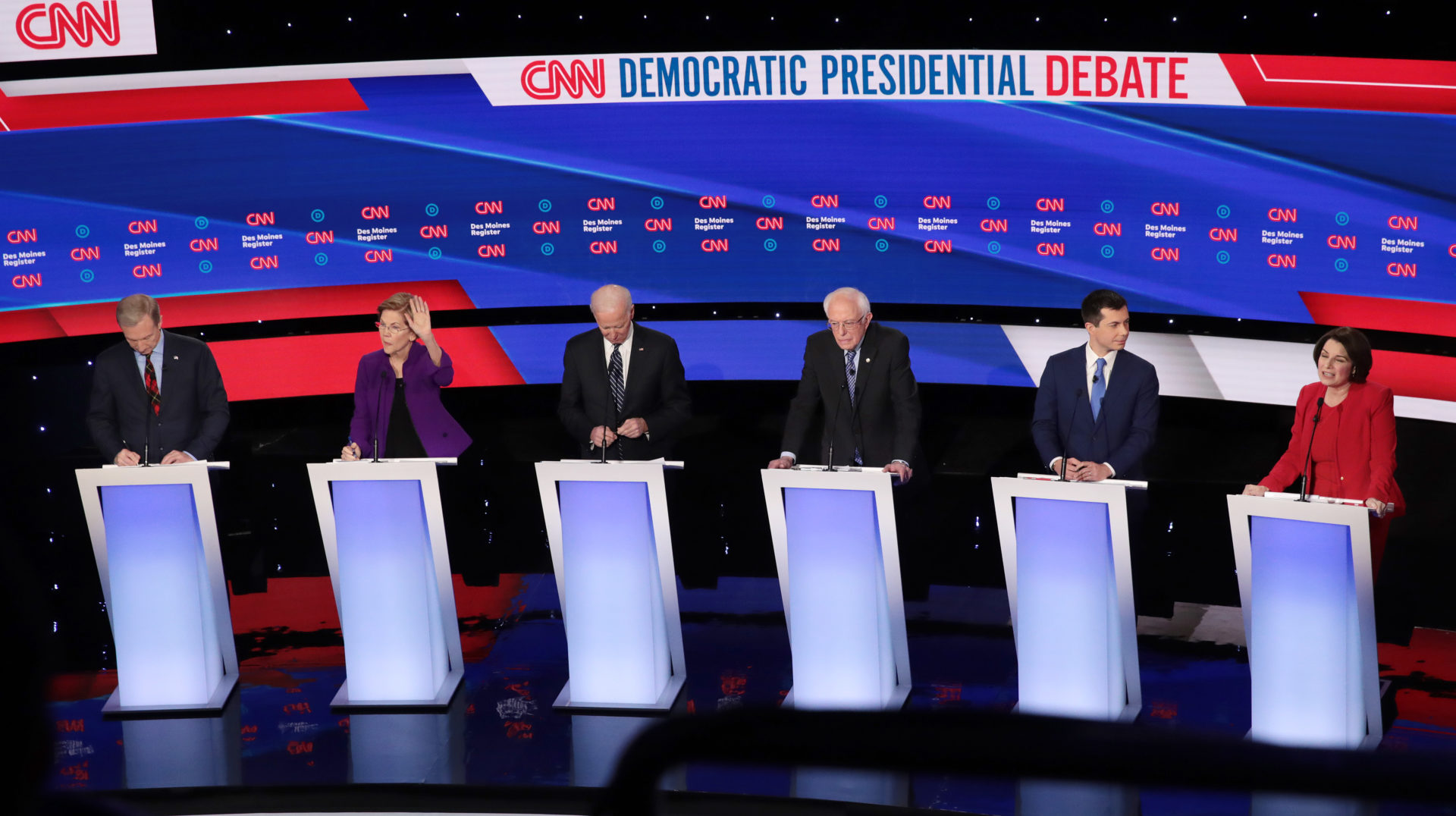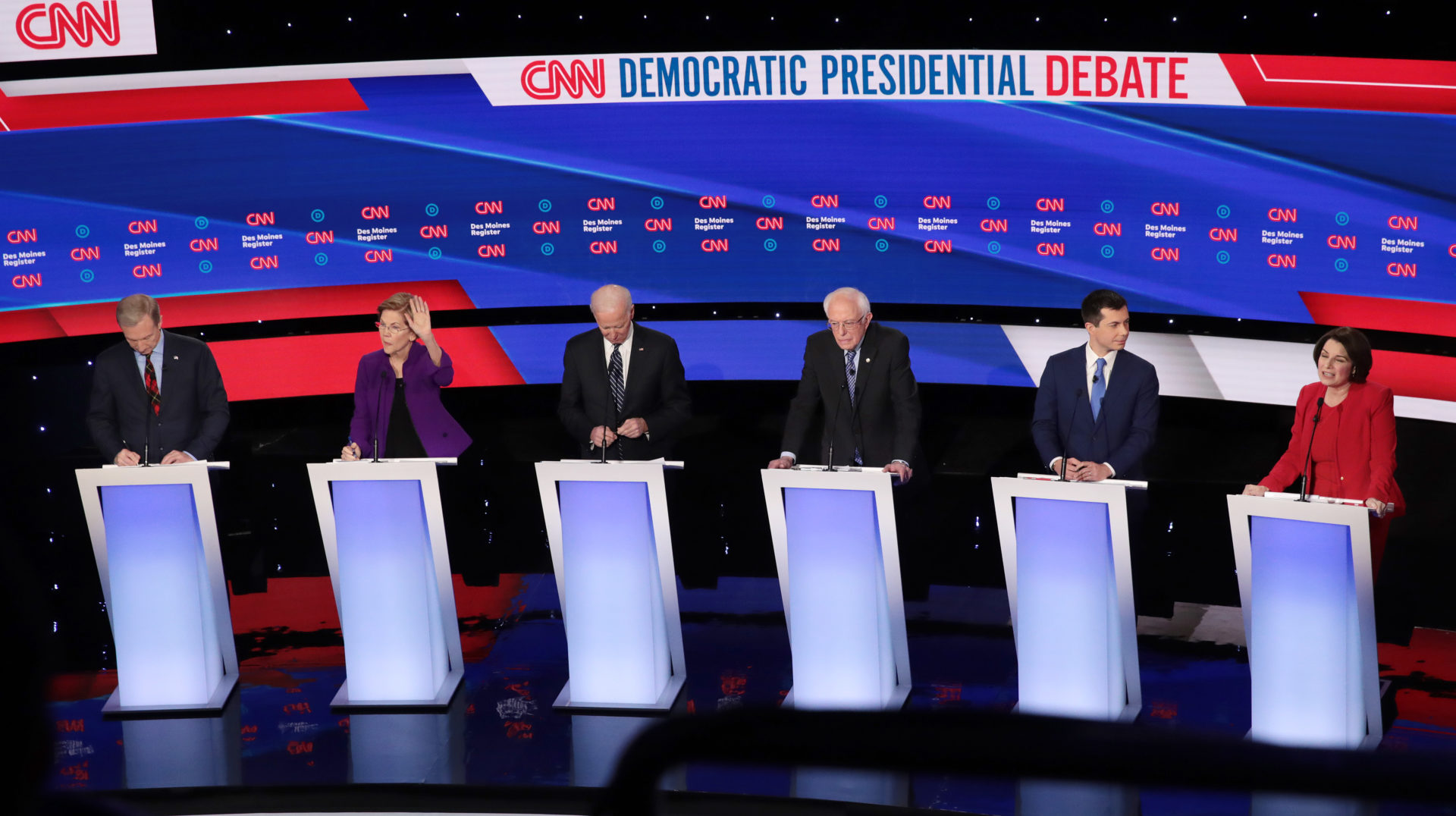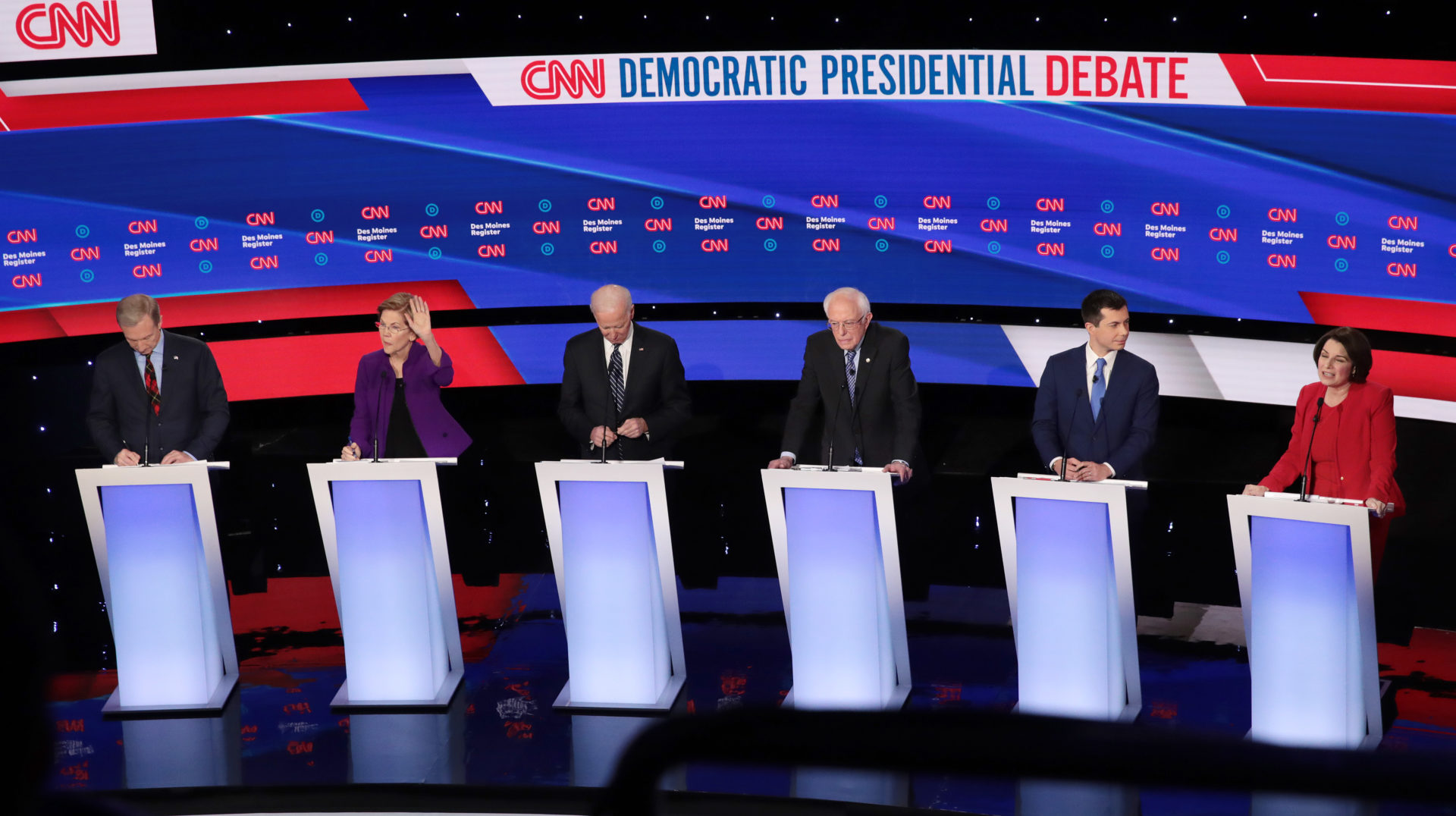 58% of Democrats said it would be difficult for a woman to beat Trump, and 52% said the same of a socialist.

Democrats were most likely to think a gay or lesbian presidential candidate would have difficulty facing off against the current president.

70% said a man would have the easiest road to victory, and 67% said a white candidate would.
Following a public debate over electability that pitted female candidate Elizabeth Warren against self-avowed socialist Bernie Sanders, a new Morning Consult/Politico poll finds that more than half of Democratic voters are skeptical about whether a person holding either of those traits can beat President Donald Trump in November. 
According to the Jan. 17-19 survey, 58 percent of Democratic voters said it would be difficult for a woman to beat Trump, and 52 percent said the same of a socialist. The margin of error for Democratic responses was plus or minus 4 percentage points.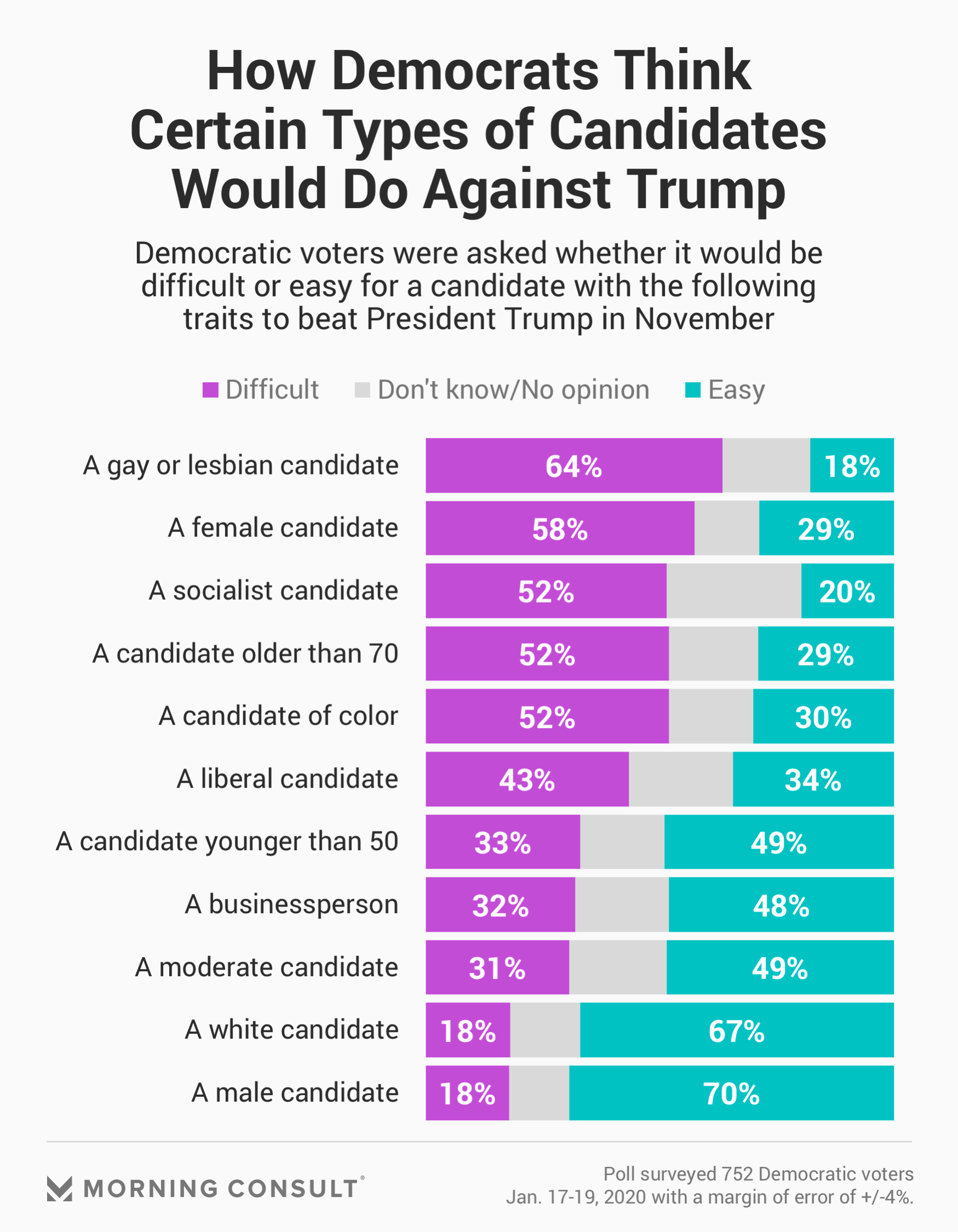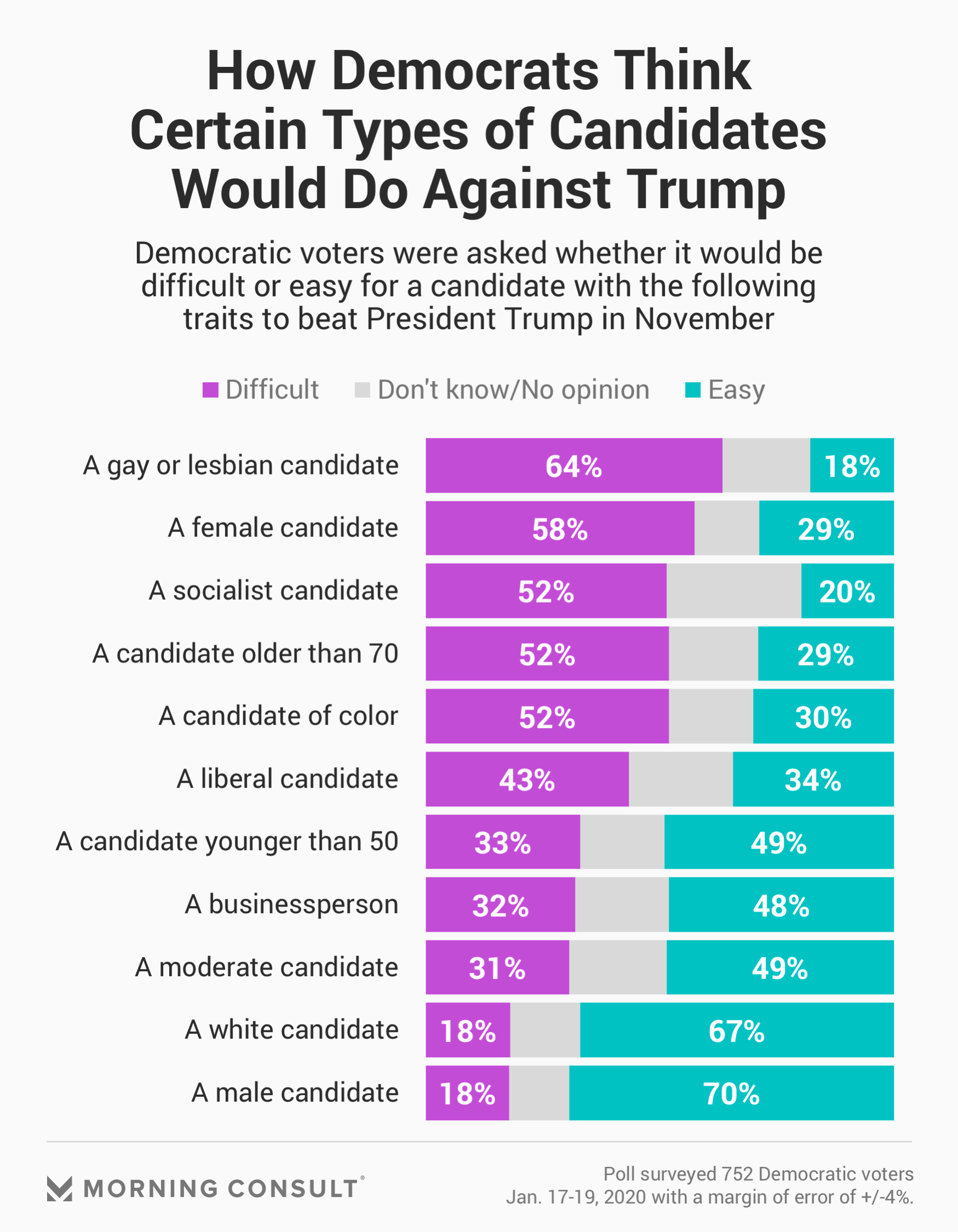 The poll comes after Warren said in a statement that Sanders, a self-described Democratic socialist, told her in 2018 that he did not think a woman could beat Trump. Sanders has denied Warren's account of their meeting, and the rift between the two of them spilled onto the debate stage in Iowa on Jan. 14. 
"Can a woman beat Donald Trump?" Warren asked. "Look at the men on this stage. Collectively, they have lost 10 elections." To applause, she pointed to herself and Sen. Amy Klobuchar (D-Minn.) as the only candidates on the debate stage to "have won every single election that they've been in." 
Still, the skepticism about a woman's chances is not uncommon among the party's voters:  Fifty-five percent of Democratic men and 59 percent of Democratic women said it would be difficult for a female candidate to beat Trump, with Democratic women 13 points more likely than Democratic men to say a man has an easy shot at the White House this year, 75 percent to 62 percent. 
Democrats were most likely to say it would be easy for a man (70 percent) to win in November, followed by 67 percent who said a white candidate. 
Despite three septuagenarians (former Vice President Joe Biden, Sanders and Warren) leading the national polling for the party's nod to face 73-year-old Trump, 52 percent of Democrats said it would be difficult for someone older than 70 to win — the same share who said a victory would be hard for a person of color.
Democrats began the early stages of their party's nominating contest by touting the diversity of its field, but Biden and Sanders — both straight, white men — have set the pace throughout Morning Consult's tracking of the primary race, save for a handful of weeks in which Warren led Sanders.
In the latest 2020 poll conducted Jan. 15-19, 1 in 5 Democratic primary voters were backing a woman, with 15 percent supporting Warren. Six percent backed the three remaining candidates of color (4 percent for businessman Andrew Yang and 2 percent for Rep. Tulsi Gabbard of Hawaii, while less than 1 percent chose former Massachusetts Gov. Deval Patrick).
More than a woman, a socialist or a person of color, Democratic voters — both men and women — are most doubtful of the chances a gay or lesbian candidate would have against Trump, with 64 percent of Democratic voters saying it would be hard for such a person to win in November. 
Former South Bend Mayor Pete Buttgieg of Indiana, who is gay, has 8 percent support after being surpassed by the billionaire former New York City Mayor Michael Bloomberg for fourth place in the race.
Regardless of the nominee's personal traits, Democrats are bracing for a tough fall campaign: Half of Democrats (51 percent) said it will be difficult to beat Trump in November, compared to 37 percent who said it would be easy.