The Oscars are less than a week away, and as a new decade of films await Oscar glory, Americans are ready to name their favorite Oscar winners of the 21st century so far, with some familiar faces and one epic film at the top of the class. 
The Jan. 23-25 Morning Consult/The Hollywood Reporter survey asked respondents to pick their favorite Oscar-winning best picture, as well as their favorite Oscar-winning best actors and actresses from 2000 to 2019.
"The Lord of the Rings: The Return of the King," which won the best picture prize in 2004, was the top pick for 15 percent of respondents — and 18 percent of respondents under the age of 45 — followed by 2001's winner "Gladiator" at 10 percent. "The Artist" was the only film on the list to poll at zero percent.
The poll's margin of error is 2 percentage points.
However, when looking at net favorability (the share who had a favorable opinion minus the share who had an unfavorable opinion), "The Lord of the Rings: The Return of the King" fell to third place at 36 points, behind "A Beautiful Mind" at 38 points and "Gladiator" at 40 points.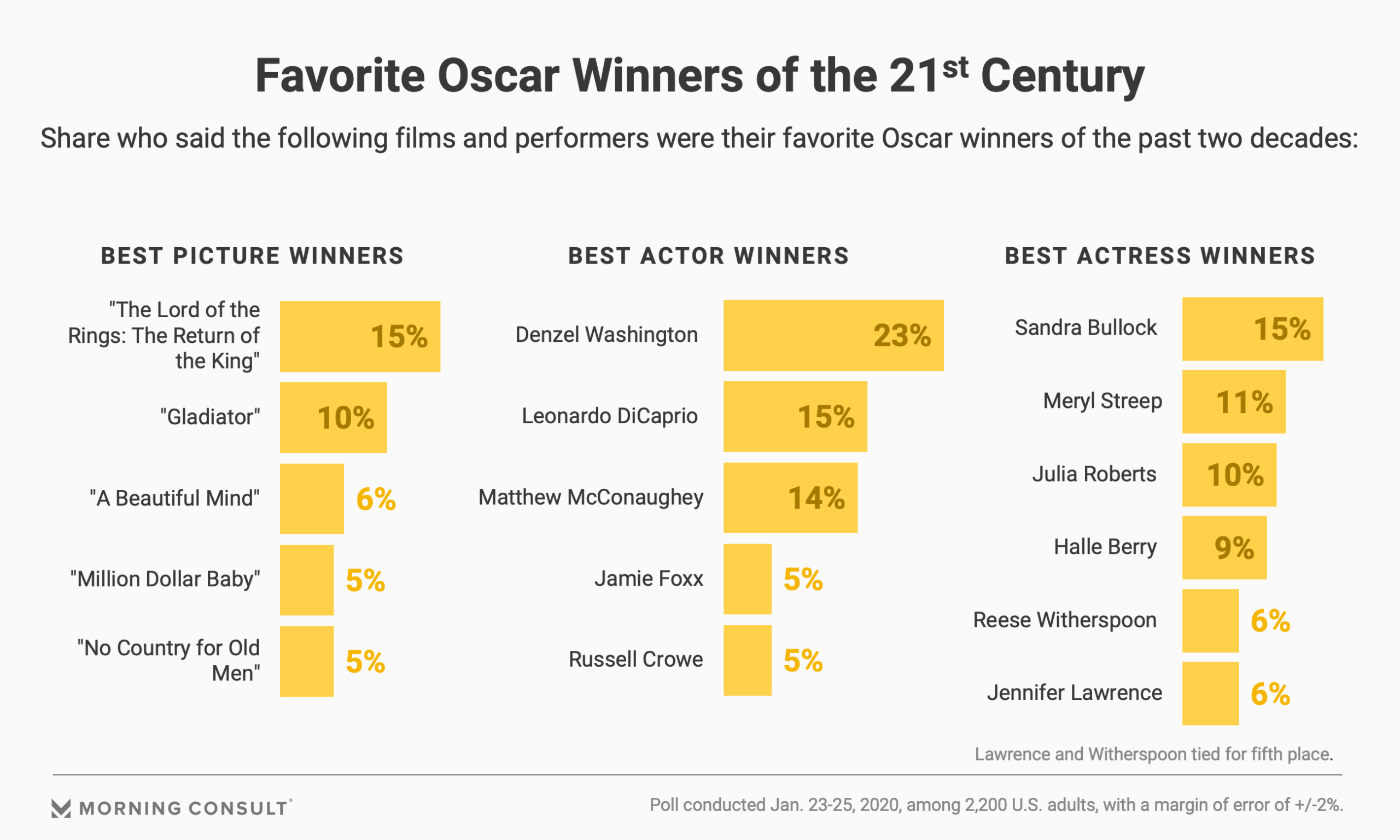 Among Oscar-winning actors from 2000 to 2019, Denzel Washington, who won in 2002 for "Training Day," was the top choice, with 23 percent saying he was their favorite. Leonardo DiCaprio, who won in 2016 for "The Revenant," and Matthew McConaughey, who took home the prize in 2014 for "Dallas Buyers Club," were the second and third choices at 15 percent and 14 percent, respectively. However, nearly a third (31 percent) of those ages 18-29 said DiCaprio was their favorite Oscar winner, while Washington came in second at 21 percent. In terms of overall favorability, Washington led all actors with a net favorability of 73 points.
Among actresses, Sandra Bullock, the 2010 winner for "The Blind Side," was the top choice for  favorite best actress winner at 15 percent. Oscar nominee Meryl Streep, who has 21 nominations under her belt and won her third Oscar in 2012 for "The Iron Lady," came in second at 11 percent, while "Erin Brockovich" winner Julia Roberts took third place at 10 percent. Bullock had the highest net favorability — 72 points — among all actresses in the poll.
The young adults in the 18-29 demographic were also more likely to be fans of Bullock: Fourteen percent said she was their favorite best actress winner, though Halle Berry, Jennifer Lawrence and Emma Stone were close behind, each earning 13 percent.
Heading into this year's Oscars ceremony, "Joker" leads all films with 11 nominations, while "The Irishman," "Once Upon a Time … in Hollywood" and "1917" each earned 10. The 92nd Academy Awards will air Sunday on ABC starting at 8 p.m. EST.