Morning Consult's three consumer confidence indices (ICS, ICE & ICC) last week hit their highest points since early 2018. Morning Consult's Index of Consumer Sentiment (ICS) increased 1.6 points to 115.5 for the week ending Feb. 9, 2020.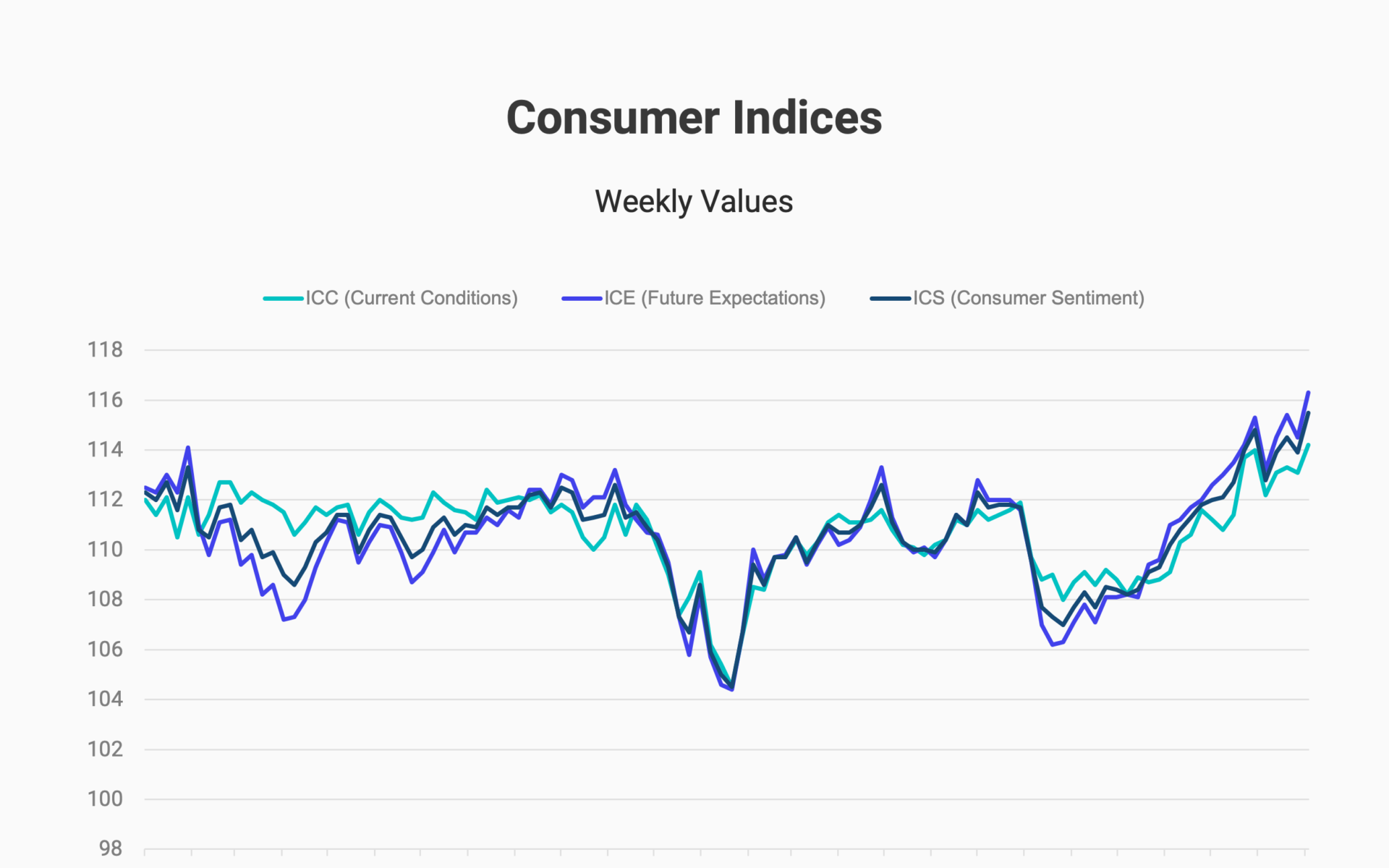 Consumers react more positively to jobs report than investors: Consumer confidence surged Friday after the January jobs report beat expectations, climbing 3 points in a single day. The Morning Consult ICS peaked at 117.2 for the day, which is the highest one-day value over the past two years. Consumers' reaction to the jobs report stands in contrast to that of investors, who grew less bearish Friday.
Coronavirus yet to hit consumer confidence: U.S. consumers remain largely unfazed by the increasing severity of the coronavirus outbreak — even as economists at the Federal Reserve assess the downside risk to the economy.
Consumers' concerns regarding the economic impact of the coronavirus remain primarily focused outside of the United States, even as the number of confirmed cases in the U.S. has increased.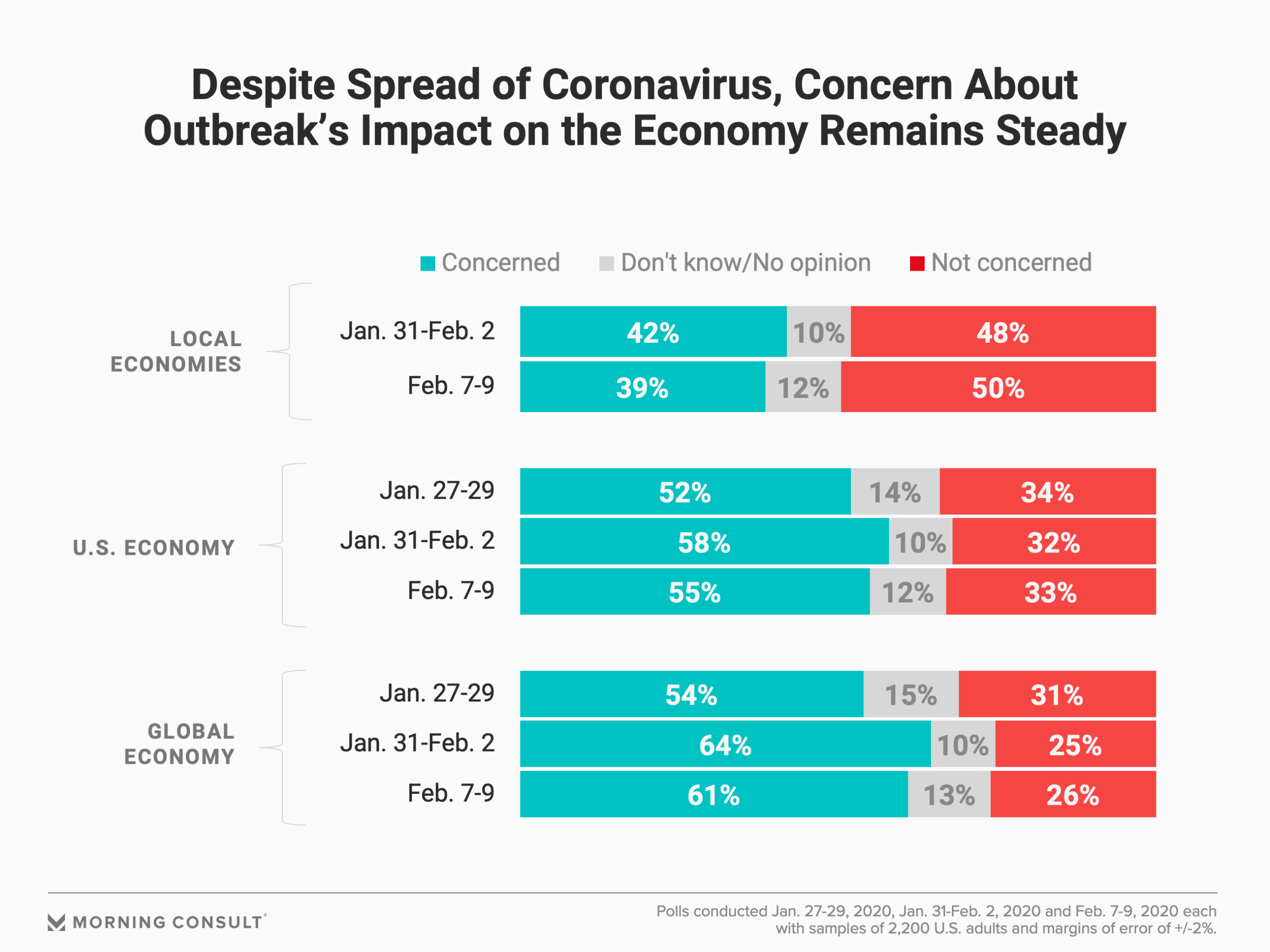 While the coronavirus has yet to have an outsized impact on consumer confidence, frequent fliers are more likely to change their travel plans due to the coronavirus than the general public.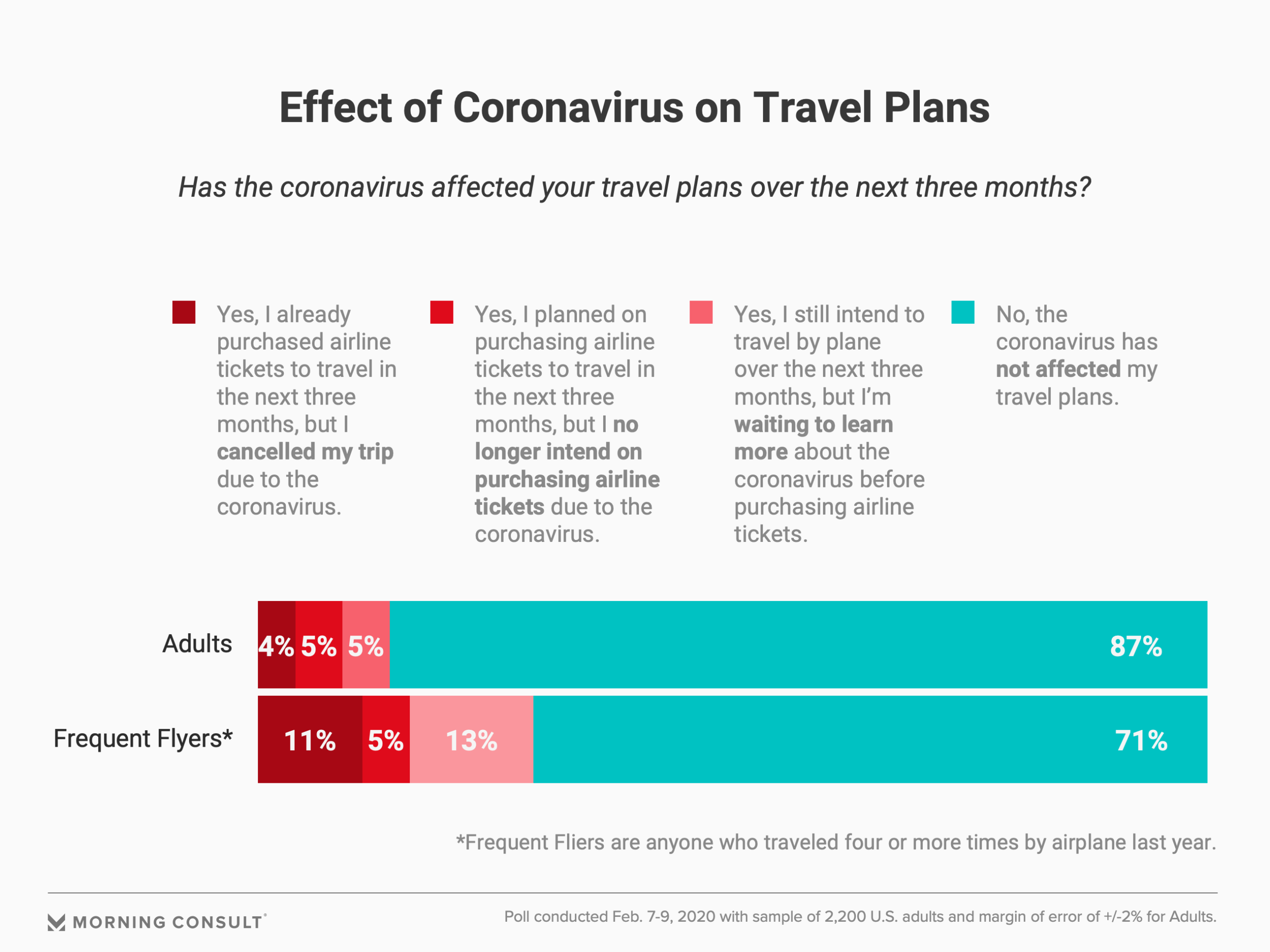 Elevated volatility in the midst of presidential primaries, coronavirus outbreak: While consumers are more optimistic this week than they have been in the past year, daily volatility* is elevated by historic standards. Morning Consult's daily ICS fluctuated more over a rolling seven-day period than it has since the height of the U.S.-Iran conflict in early January. During periods of elevated volatility, it becomes increasingly important to measure daily data so that weekly or monthly values reflect the true state of consumers over a given period of time. 
Elevated consumer volatility is consistent with recent spikes in stock market volatility. The CBOE Volatility Index (VIX) measures future stock market volatility implied by forward options prices. Increases in the VIX indicate that investors expect greater volatility in the S&P 500 Index over the next 30 days. Currently, election uncertainty and elevated asset prices are driving stock volatility higher, and consumer confidence appears to be subject to similar dynamics.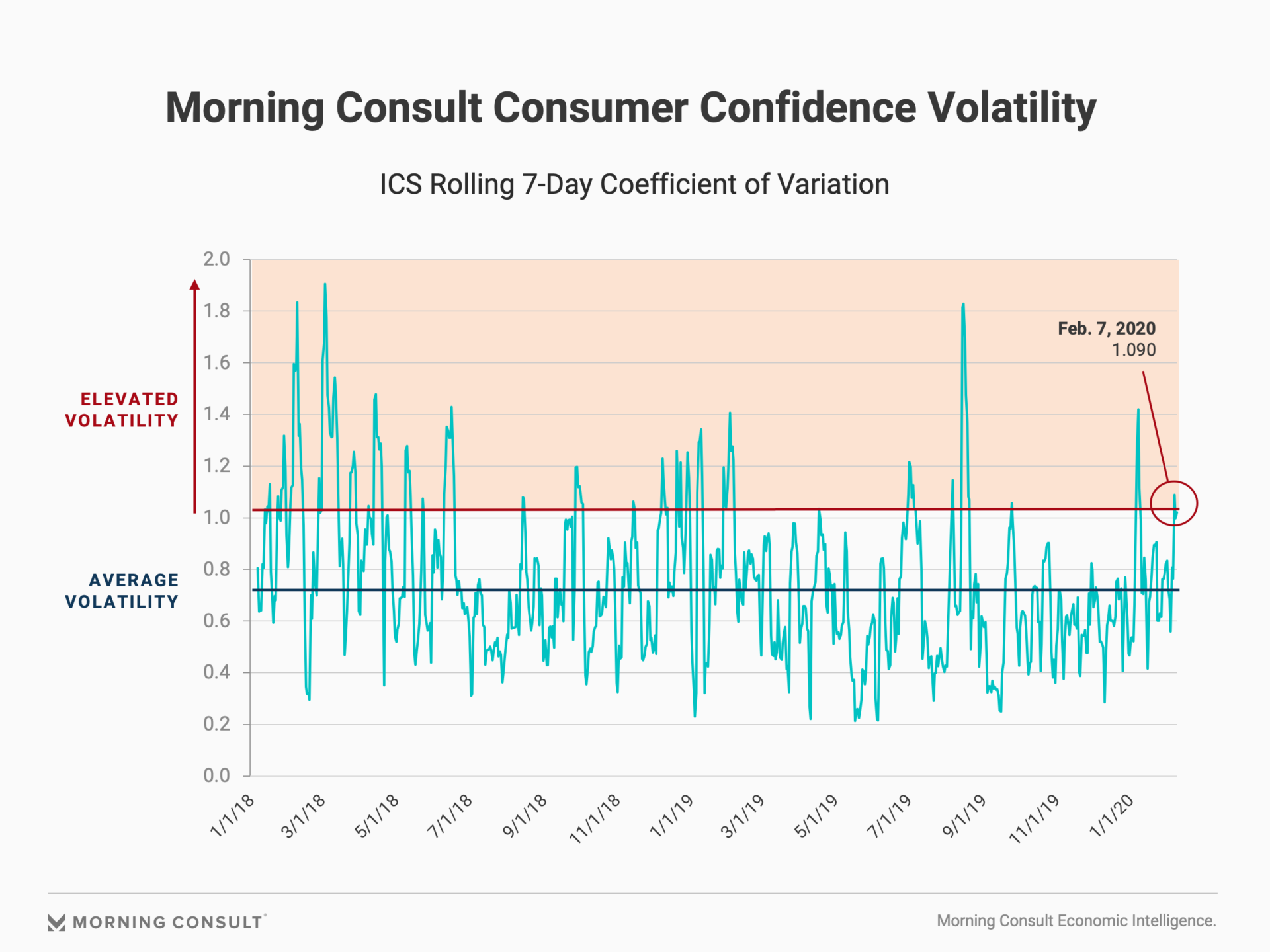 The graph above captures observed volatility in consumers' assessment of current and future economic conditions, while the graph below captures implied volatility in the S&P 500 based on investors' expectations of future stock prices. While the details of the graphs differ, both provide similar interpretations: elevated volatility reflects increased uncertainty regarding the future. Thus, the recent spike in ICS volatility serves as a warning to closely monitor consumers' reactions to upcoming expected and unexpected economic events.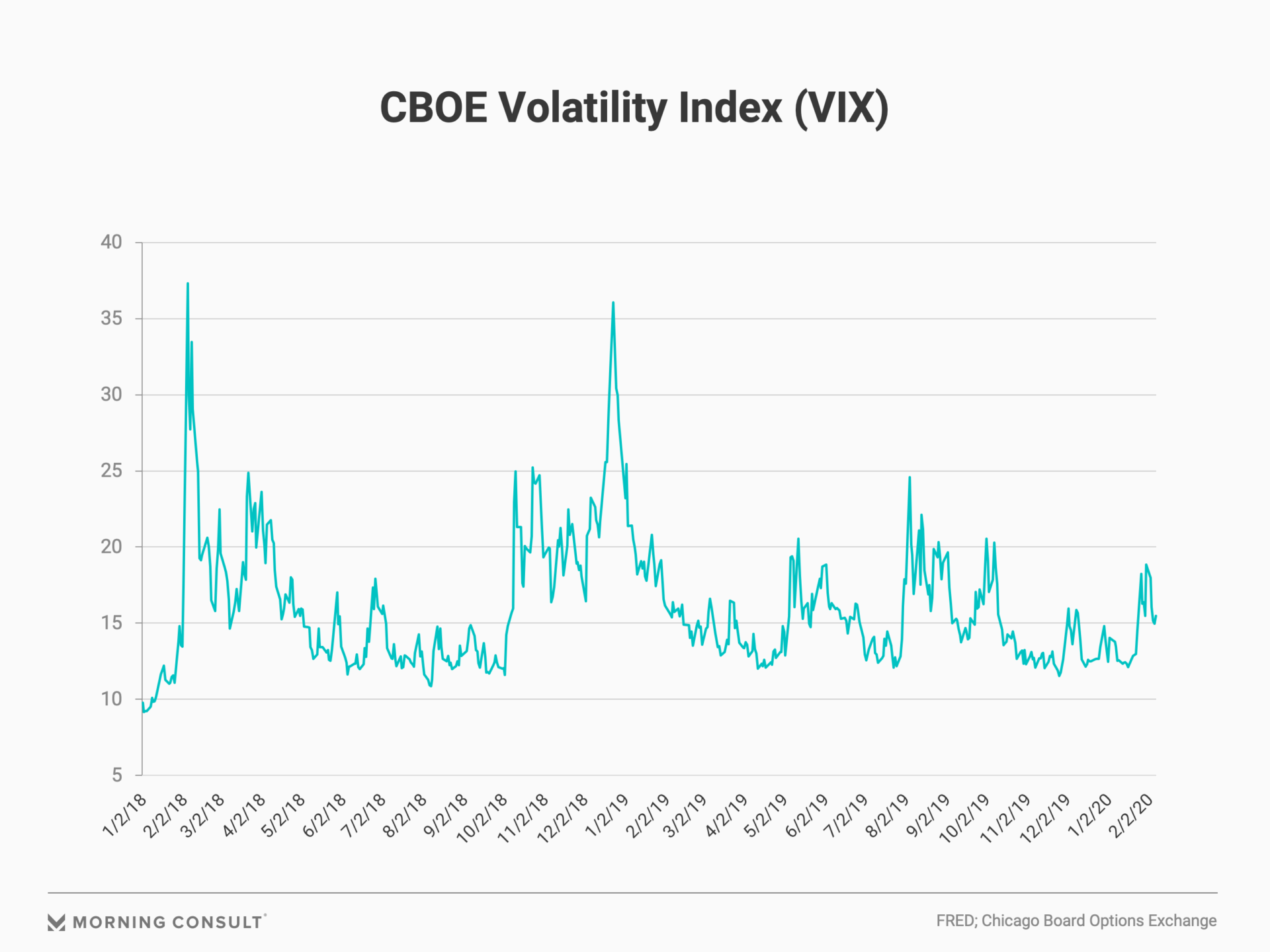 Morning Consult's latest results are based on surveys of 53,204 U.S. adults, conducted Feb. 3-9, 2020.
–John Leer, Morning Consult Economist
About Morning Consult Economic Intelligence
Morning Consult's Economic Intelligence: U.S. Consumer Confidence is an ongoing nationally representative survey based on approximately 7,500 daily and 210,000 monthly online interviews with adults across the entire United States, giving insight into key daily consumer confidence metrics. Sign up here to receive this data in your inbox every week.
*Morning Consult defines values greater than one standard deviation above the mean as being elevated. Currently, that threshold is 1.035.