"My precious." "I'm gonna to make him an offer he can't refuse." "Frankly, my dear, I don't give a damn." While all of these phrases made it onto the American Film Institute's list of the greatest all-time movie quotes, new polling shows that some lines are more memorable than others. 
A Jan. 30-Feb. 1 Morning Consult/The Hollywood Reporter poll presented respondents with selections from the American Film Institute's list of the 100 greatest movie quotes of all time and asked them to identify the quote's film. The most memorable was "Toto, I've got a feeling we're not in Kansas anymore" from 1939's "The Wizard of Oz," which 92 percent of adults were able to correctly match.
"I'll be back" from 1984's "The Terminator" and "I see dead people" from 1999's "The Sixth Sense" came in at No. 2 and No. 3, with a respective 85 percent and 75 percent of the 2,200 U.S. adults surveyed able to correctly pick their film of origin.
The poll's margin of error is 2 percentage points.
"Fasten your seatbelts. It's going to be a bumpy night," from 1950's "All About Eve" was the least memorable quote included in the poll. Seventy percent of respondents said they didn't know what film the quote was from out of the options provided, and just 9 percent of adults overall were able to correctly match it to the 70-year-old classic starring Bette Davis. A nearly even share — 8 percent — said the quote was from 1951's "A Streetcar Named Desire."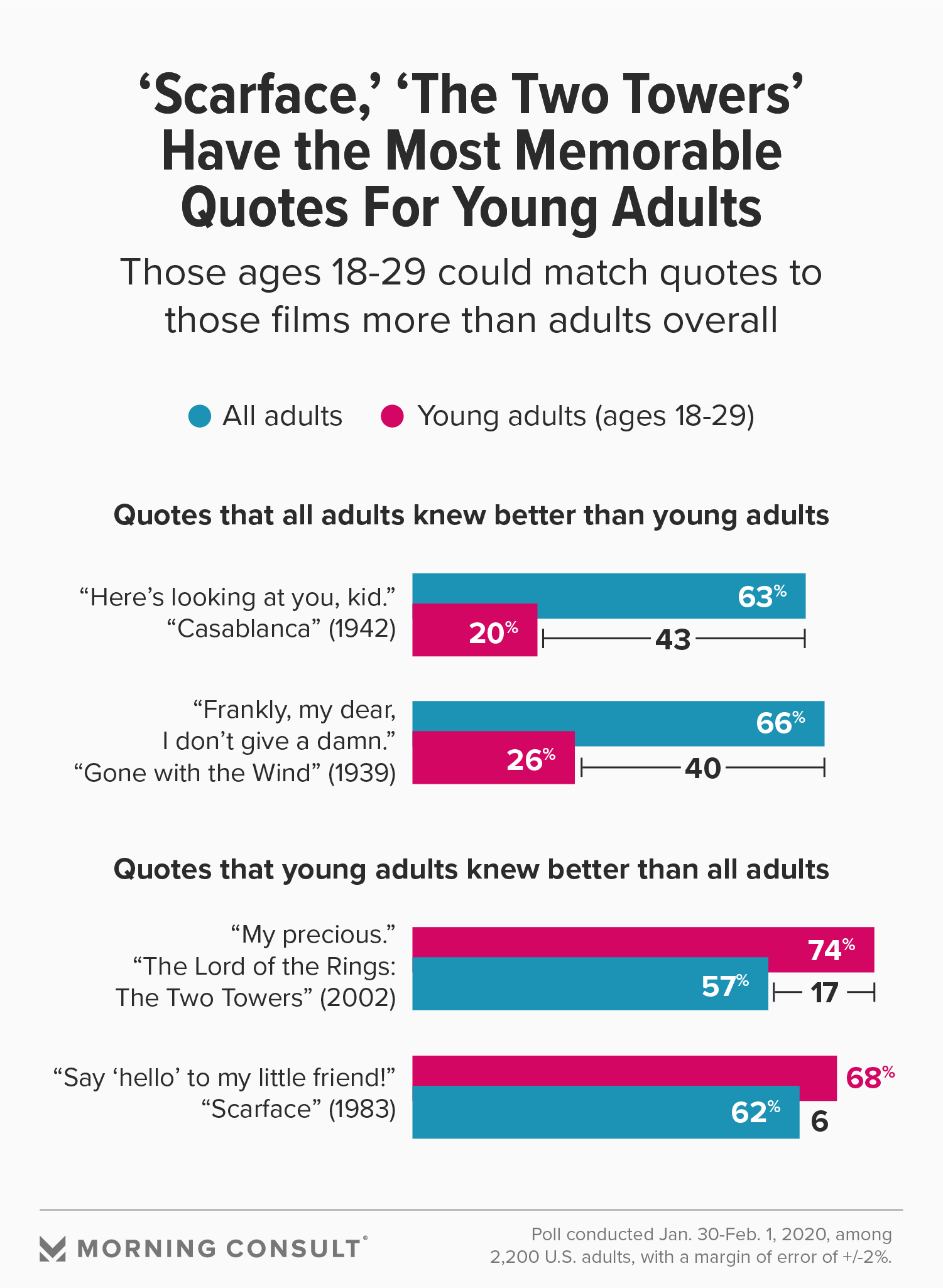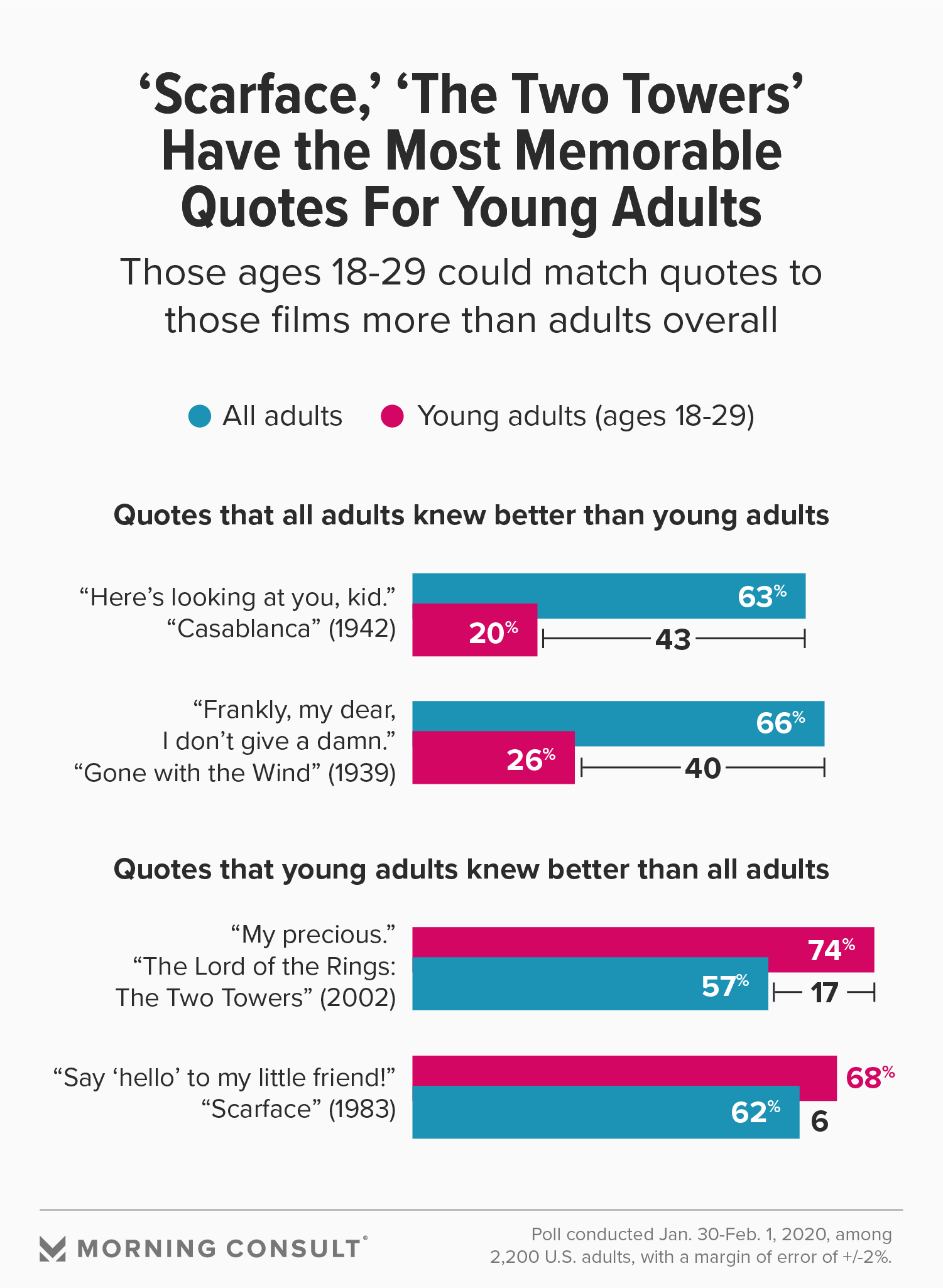 While a majority (83 percent) of those ages 18-29 knew the "Wizard of Oz" line, the group was less likely than adults overall to be able to identify quotes from 14 of the 16 films included in the poll. For example, 63 percent of all adults correctly identified 1942's "Casablanca" as the film with the quote "Here's looking at you, kid." That share dropped to 20 percent among the younger respondents and increased to an average of about 81 percent among adults 45 and older. And while 66 percent of adults — and an average of 86 percent of adults over 45 — matched the iconic "Frankly, my dear, I don't give a damn" to 1939's "Gone with the Wind," 26 percent of those ages 18-29 could do the same.
There were two films that younger respondents were more likely to correctly identify quotes from than adults overall: "The Lord of the Rings: The Two Towers" — the lone film in the poll to be released in the 21st century — and "Scarface." Nearly 7 in 10 adults ages 18-29 (68 percent) matched "Say 'hello' to my little friend!" to Brian De Palma's 1983 drama, while 74 percent of young adults correctly matched "My precious" to Peter Jackson's 2002 blockbuster. Sixty-two percent of adults overall knew the "Scarface" quote, while 57 percent knew the famous "Lord of the Rings" line.
The margin of error for the 18-29 subsample is 5 points.