As consumer confidence hovers near record highs, two fundamental questions remain: First, how much higher can U.S. consumer confidence increase? And second, will future increases translate into greater consumer spending? 
The key to answering both questions is to look at consumer confidence across income cohorts. 
For this analysis, we will use three income cohorts: under $50K, $50-100K and $100K+.
As labor markets tighten, lower-income workers are more likely to benefit with more job opportunities and higher wages. These labor market gains translate into increased consumer confidence.
Consumer confidence among those on the lower end of the income bracket — those making less than $50,000 per year — currently stands near 109.0, which is 3.9 points above its two-year average. The $50-100K and $100K+ income cohorts are 5.0 and 5.9 points above their two-year averages, respectively, demonstrating that there remains room for consumer confidence to grow for low-income consumers.
However, gains in consumer confidence toward the bottom of the income distribution are less likely to translate into increased consumer spending. Changes in consumer confidence correspond to changes in discretionary consumer spending, but low-income consumers have relatively little discretionary income. These dynamics make it especially important to analyze changes in consumer confidence across income cohorts in the near future.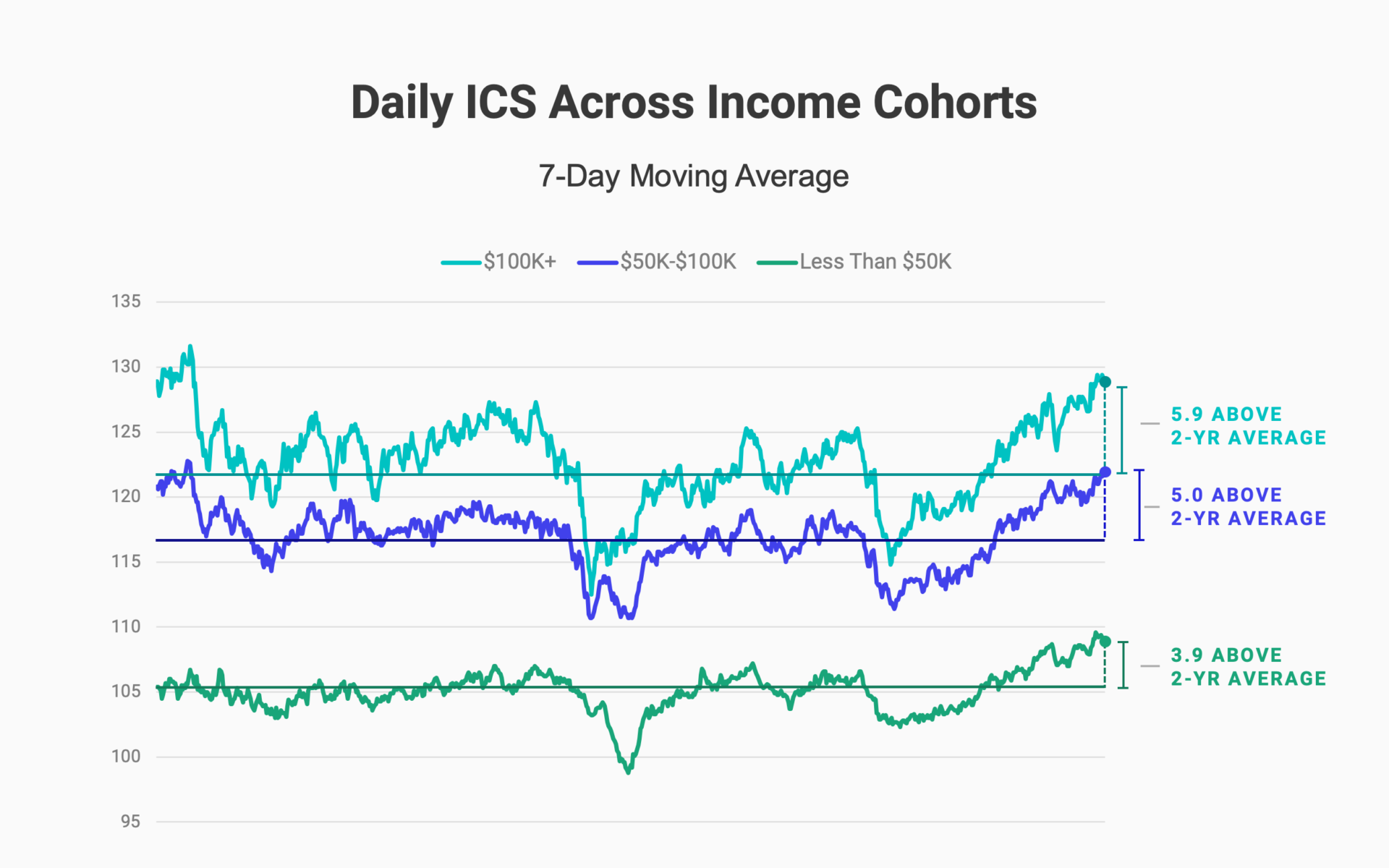 Morning Consult's latest results are based on surveys of 53,207 U.S. adults, conducted Feb. 10-16, 2020.
— John Leer, Economist, Morning Consult Economic Intelligence
About Morning Consult Economic Intelligence
Morning Consult's Economic Intelligence: U.S. Consumer Confidence is an ongoing nationally representative survey based on approximately 7,500 daily and 210,000 monthly online interviews with adults across the entire United States, giving insight into key daily consumer confidence metrics. Sign up here to receive this data in your inbox every week.