Most Democrats Think Obama Has Endorsed a Democrat for President. (He Hasn't.)
Biden, Bloomberg are the most likely recipients of 44's perceived endorsement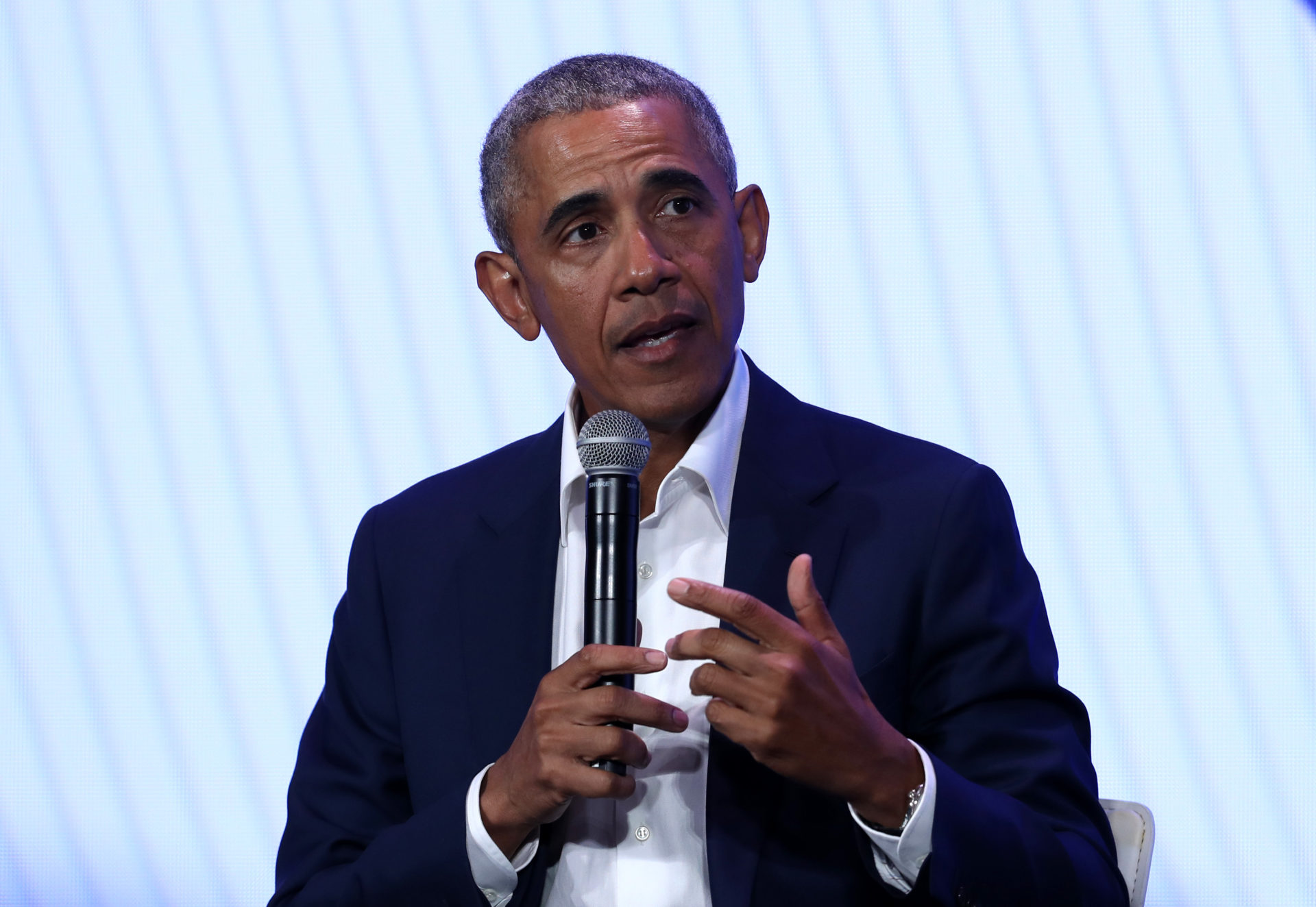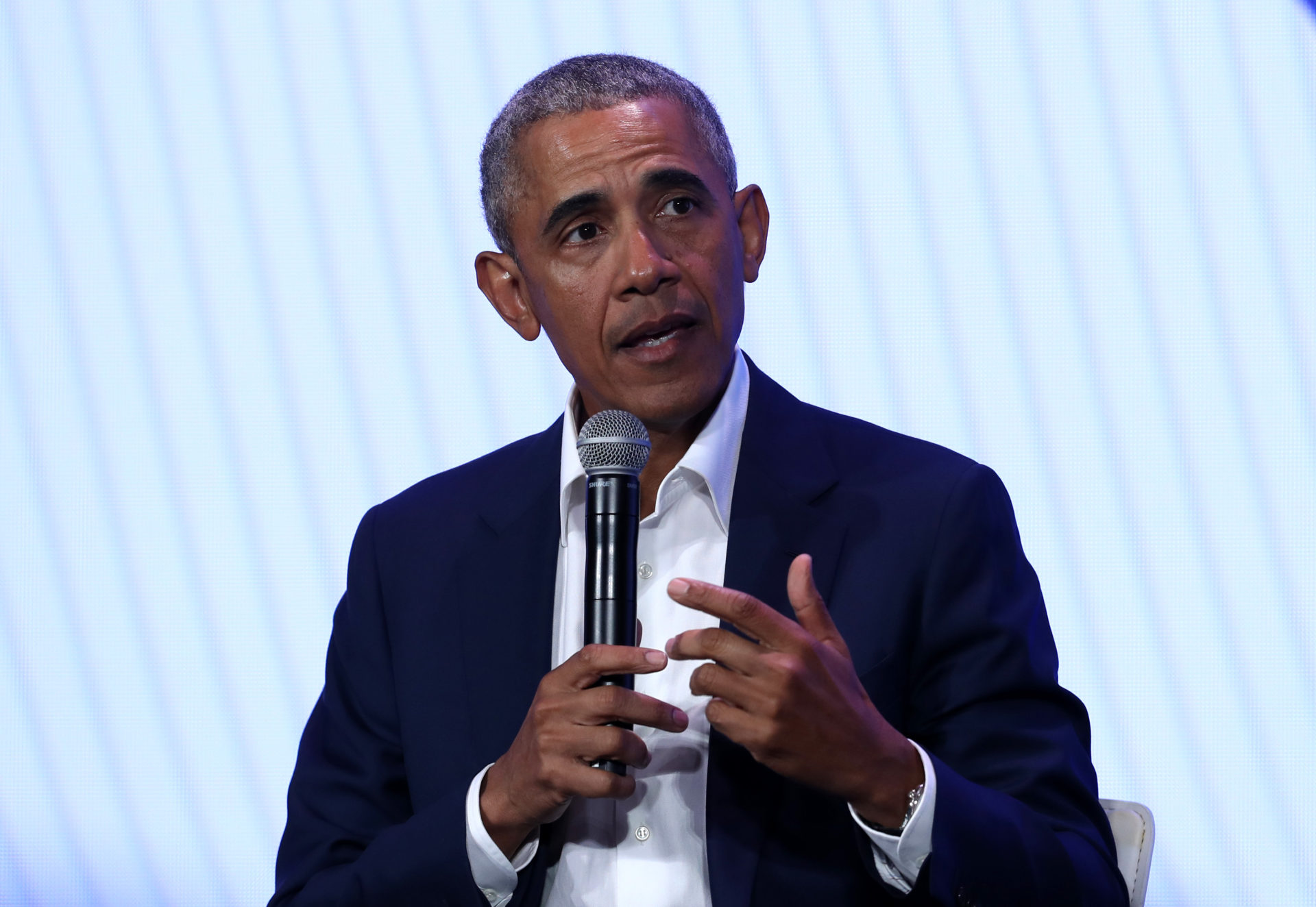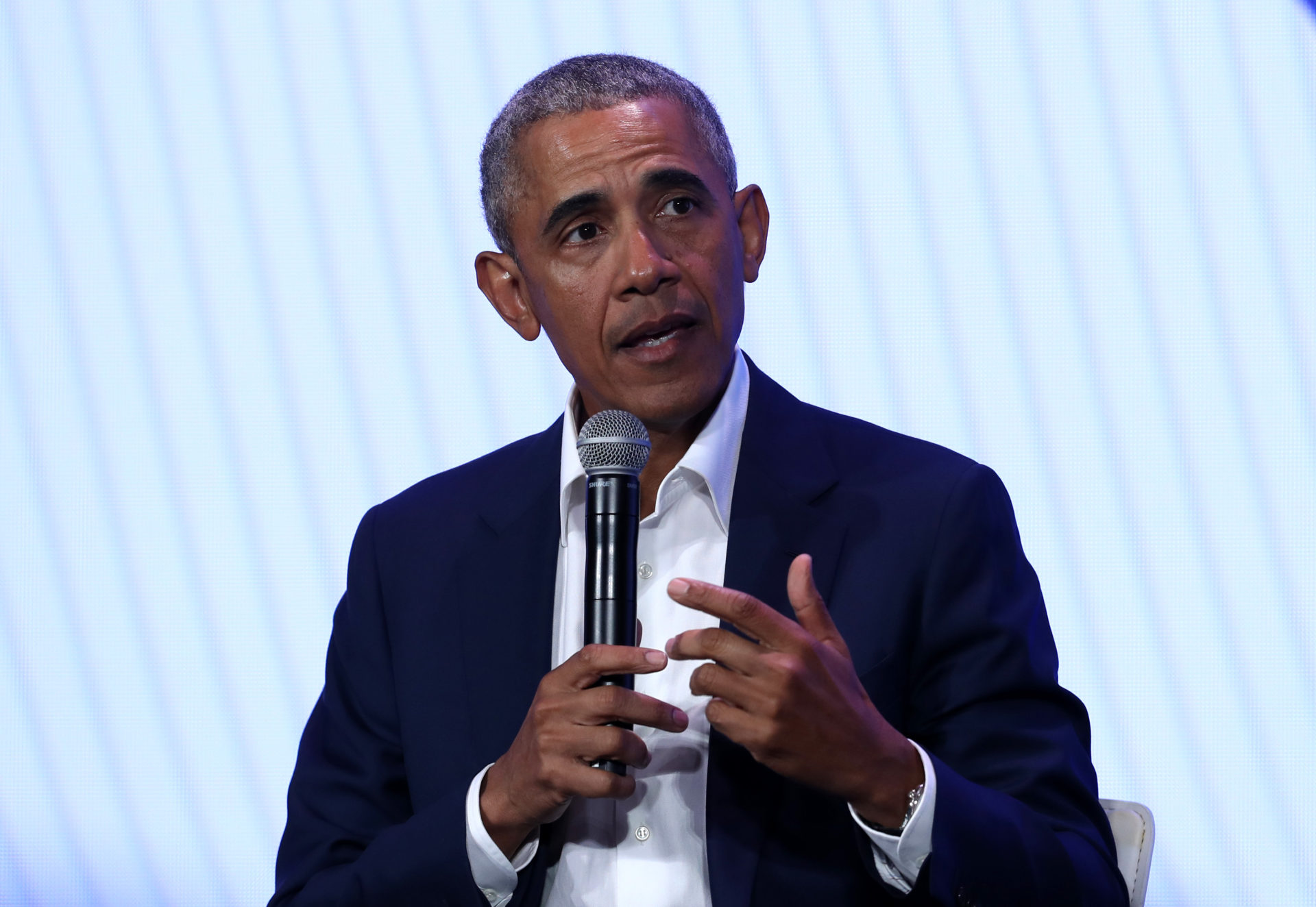 3 in 5 Democratic primary voters think Barack Obama has endorsed a candidate for president.

26 percent say Obama has endorsed Michael Bloomberg; 25 percent say he's endorsed Joe Biden.
Former President Barack Obama has withheld his endorsement in the still-crowded race for the Democratic presidential nomination, but that fact seems to have been lost on most Democratic primary voters, according to a new Morning Consult poll.
The Feb. 20-23 survey found 3 in 5 registered Democrats who indicated they may vote in the primary or caucus in their state believe Obama has endorsed at least one candidate in the eight-way race for the party's nomination.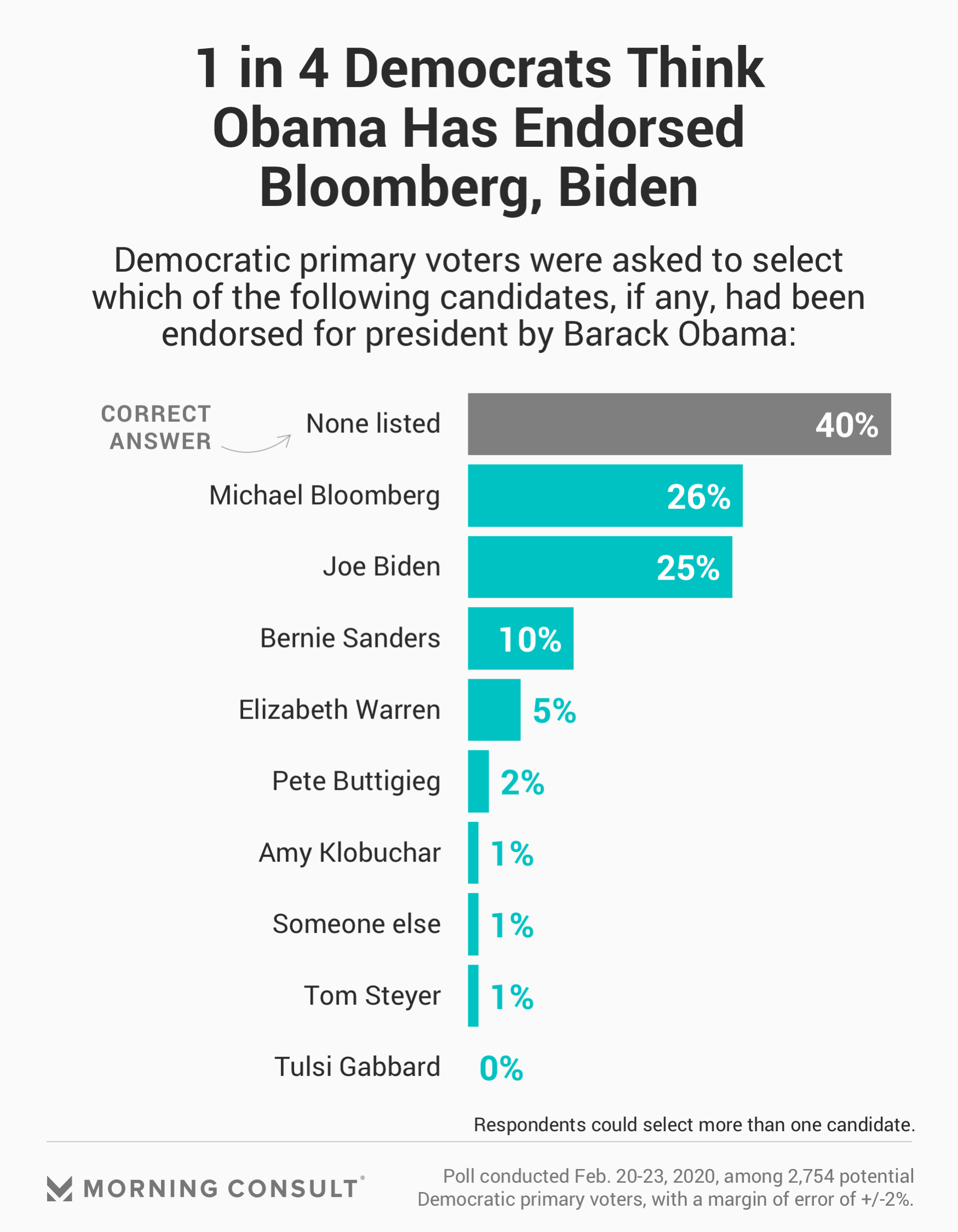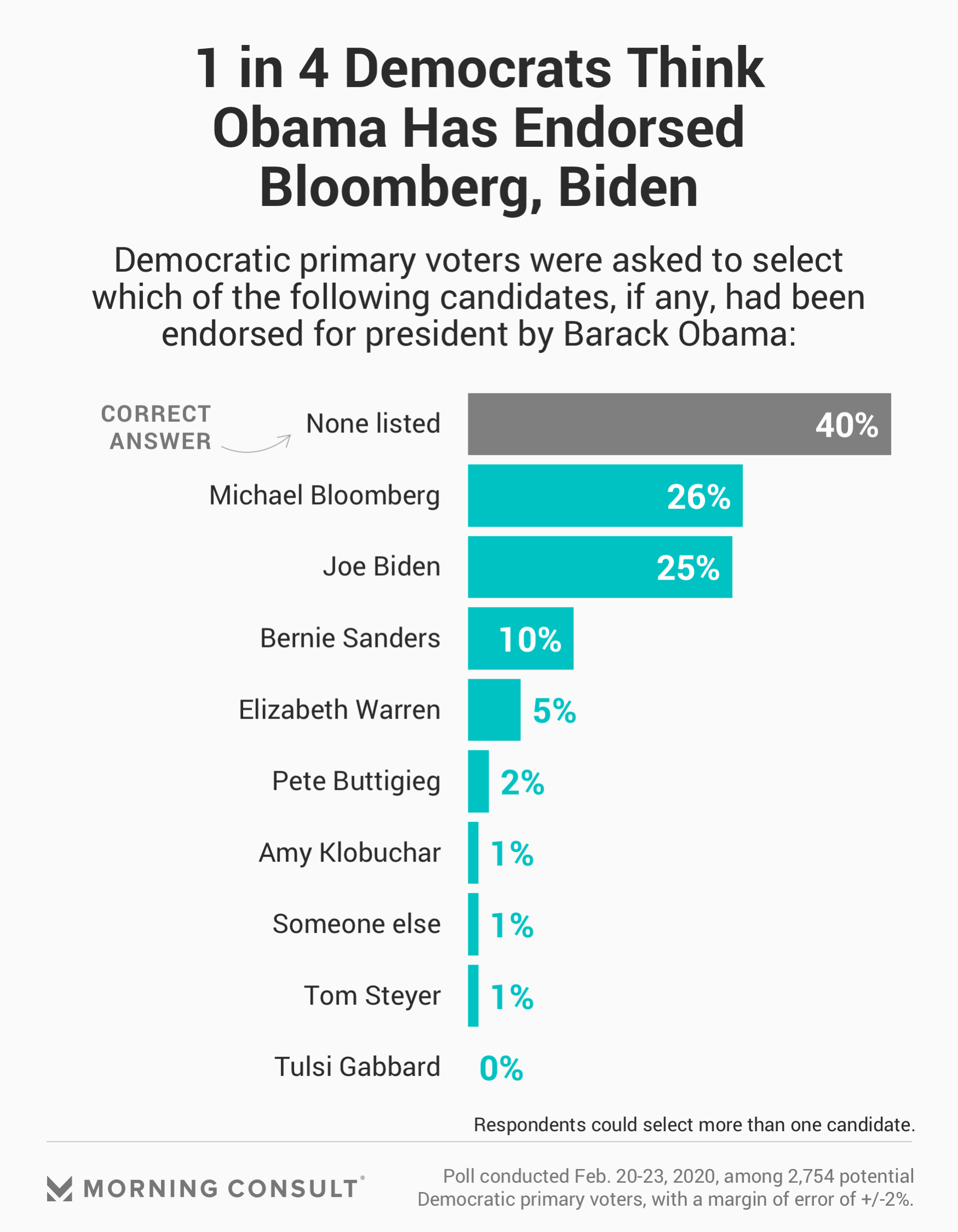 Former New York City Mayor Michael Bloomberg (26 percent) and former Vice President Joe Biden (25 percent) were the most likely beneficiaries of the false perception that Obama had endorsed someone. The effect was mirrored among people who said they voted for Obama in 2012 and heightened among black voters, who were more likely than others to say Obama was backing a candidate.
An endorsement from Obama would likely be a game-changer for any of the candidates, throwing the weight of the party's most popular figure (with a 90 percent favorability rating among Democratic primary voters as recently as December) behind their campaign at a key moment. A Morning Consult poll in October found 73 percent of Democratic voters said they would be more likely to vote for a candidate backed by Obama, more than other figures tested.
According to a source in touch with the former president, Obama is reluctant to put his thumb on the scale, viewing an endorsement as potentially divisive in the current contest and limiting his ability to help unite the Democratic Party around an eventual nominee to defeat President Donald Trump in November.
That hasn't stopped the candidates from peppering their messages with Obama nostalgia, with billionaire Tom Steyer, Sen. Elizabeth Warren (D-Mass.) and Sen. Bernie Sanders (I-Vt.) all nodding to him in their advertising. 
Biden — who is naturally associated with Obama given their shared 8 years in the White House — has been particularly keen to plug his ties to his old boss. 
On the campaign trail, Biden has touted the wins of Obama's two terms as the "Obama-Biden" legacy, particularly on health care and climate. And on television, his campaign and Unite The Country, a super PAC supporting his bid, have recast his Medal of Honor ceremony into commercials.
Bloomberg has also been able to buy into the charm, despite the distance he kept from Obama during his tenure as the mayor of America's largest city. In his hundreds of millions of dollars in campaign ad spending nationwide ahead of Super Tuesday, Bloomberg has put money behind spots tying their records on issues of gun violence prevention and education, and prominently featuring images of the two leaders together. 
Steve Schale, a strategist for the pro-Biden super PAC, said Bloomberg's ability to convincingly sell a kinship with Obama is hardly surprising "given the blunt force instrument that is the Bloomberg ad machine." 
But the upshot of the strategy, Schale said, is most likely to benefit Sanders, the candidate Bloomberg seems most interested in derailing.
"Whether folks believe Obama has endorsed or not, the net impact of all of it is to create a clearer path for Bernie Sanders," he said. 
Bloomberg's campaign didn't respond to a request for comment.