Democratic primary voters appear to be giving former Vice President Joe Biden another look after his victory in the South Carolina presidential primary and ahead of the key Super Tuesday contests.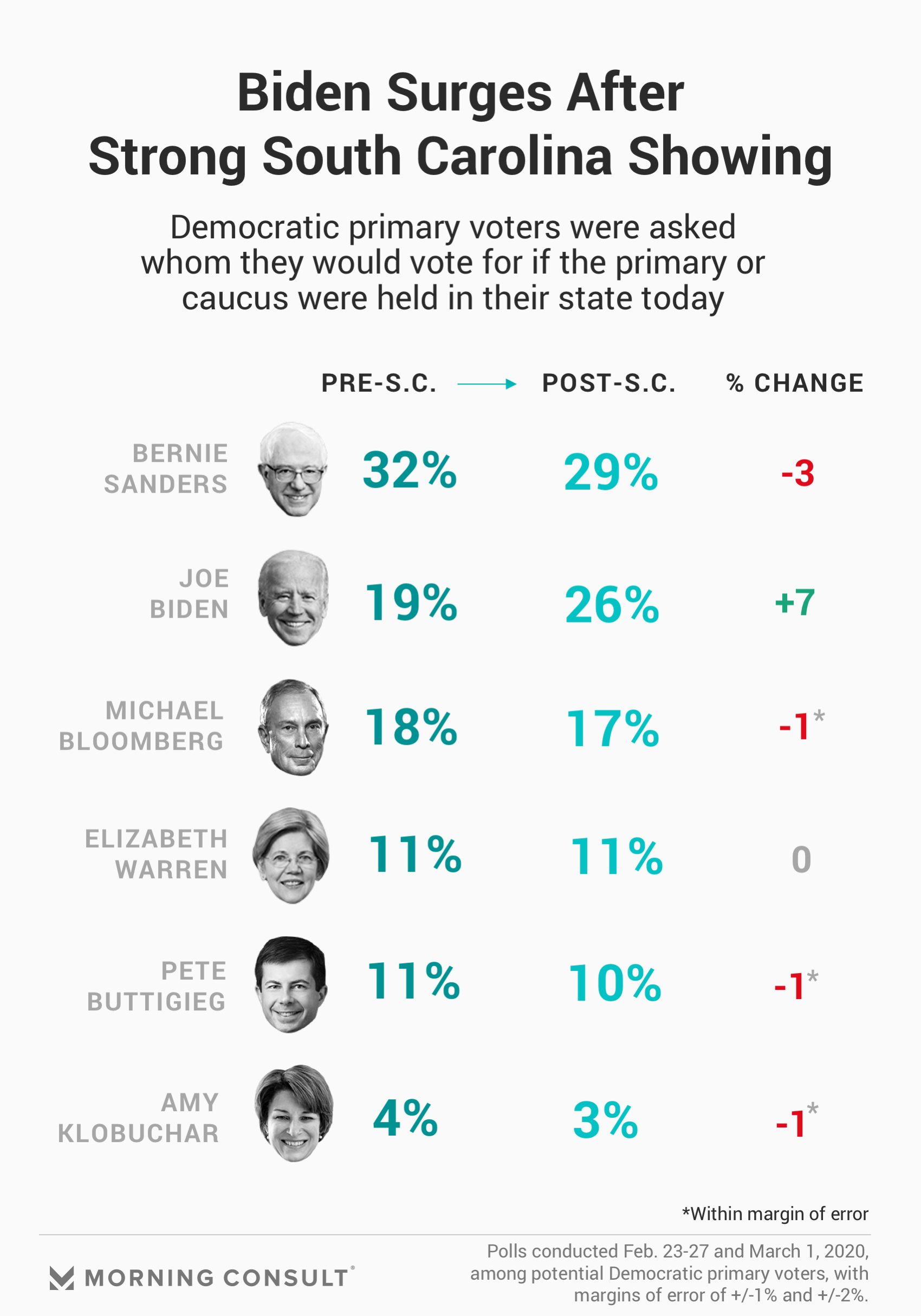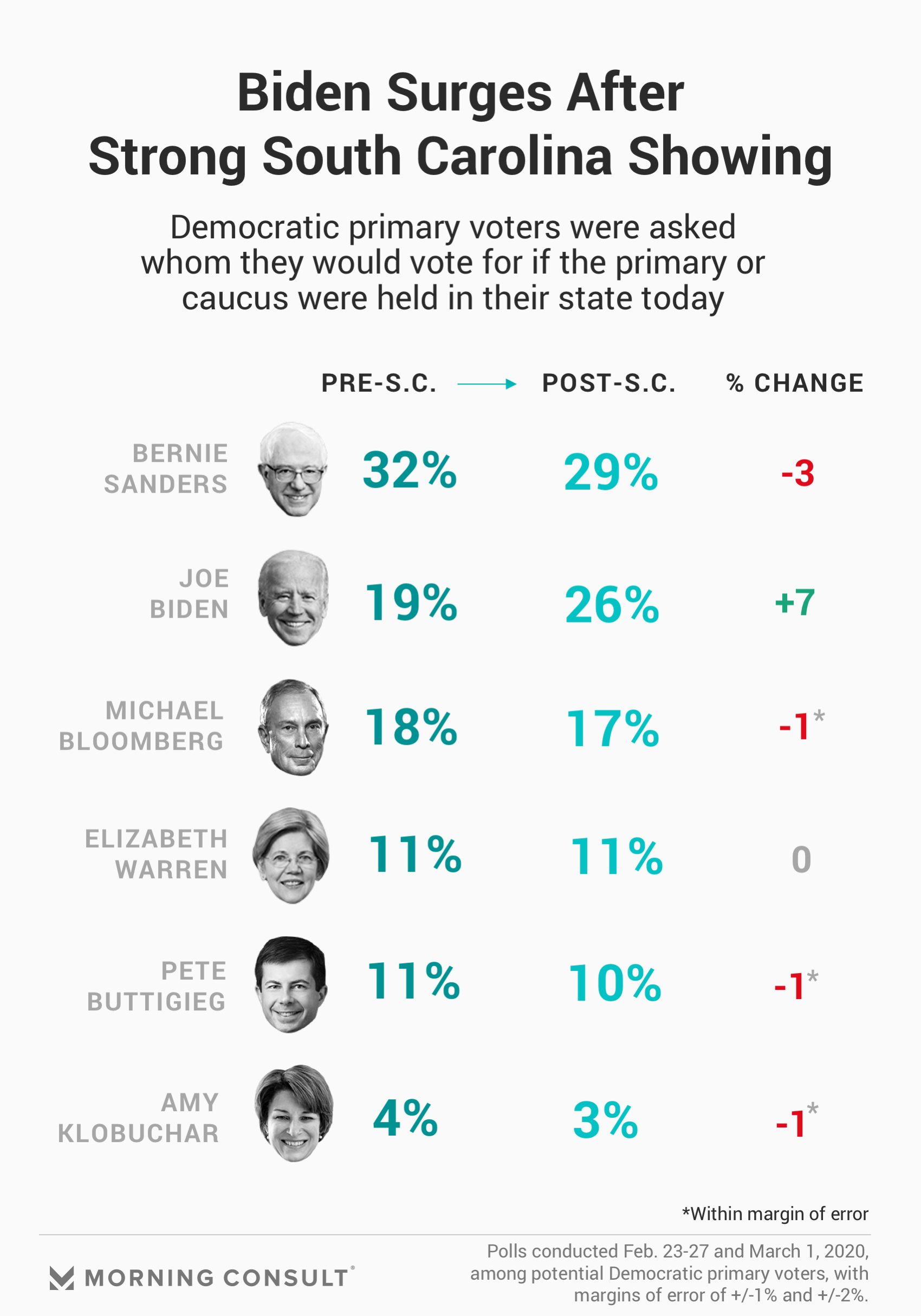 A Morning Consult poll conducted Sunday found 26 percent of Democratic primary voters nationwide said they'd vote for Biden if the Democratic primary or caucus were held in their state today, up 7 percentage points since polling conducted ahead of Saturday's first-in-the-South primary in the Palmetto State. 
National support for Sen. Bernie Sanders (I-Vt.) fell 3 points, to 29 percent, while former New York City Mayor Michael Bloomberg remained in third place, with 17 percent. 
Sanders saw his first-choice support shrink among black voters, leaving him in a tie with Biden, at 31 percent. Among Hispanic voters, who will play a prominent role in Tuesday's contests in Texas and California, Biden's first-choice support increased 9 points, to 21 percent, though he still trailed far behind Sanders, who has more than twice that share of support with the voting bloc. 
With 33 percent, Sanders leads in an average of polling from the 14 Super Tuesday states, while Biden saw a 7-point boost, to 24 percent, following his South Carolina victory. Bloomberg, who's staked his campaign on victories in Tuesday's contests, is backed by 16 percent of Super Tuesday voters, down 4 points from the previous polling.
The latest poll of 2,656 voters who indicated they may vote in the Democratic primary or caucus in their state, which has a 2-point margin of error, was mostly conducted before former South Bend Mayor Pete Buttigieg of Indiana ended his campaign on Sunday night. Billionaire Tom Steyer, who dropped out of the race on Saturday night, was also included in the poll, coming in with 1 percent of the vote.
Polling conducted before the South Carolina contest found his support would be split nearly equally among the top four candidates (Biden, Bloomberg, Sanders and Massachusetts Sen. Elizabeth Warren) if his supporters went with their second choices. But the latest poll found Buttigieg supporters could be shifting toward Biden, with 30 percent now saying he's their second choice, although those figures have a 6-point margin of error.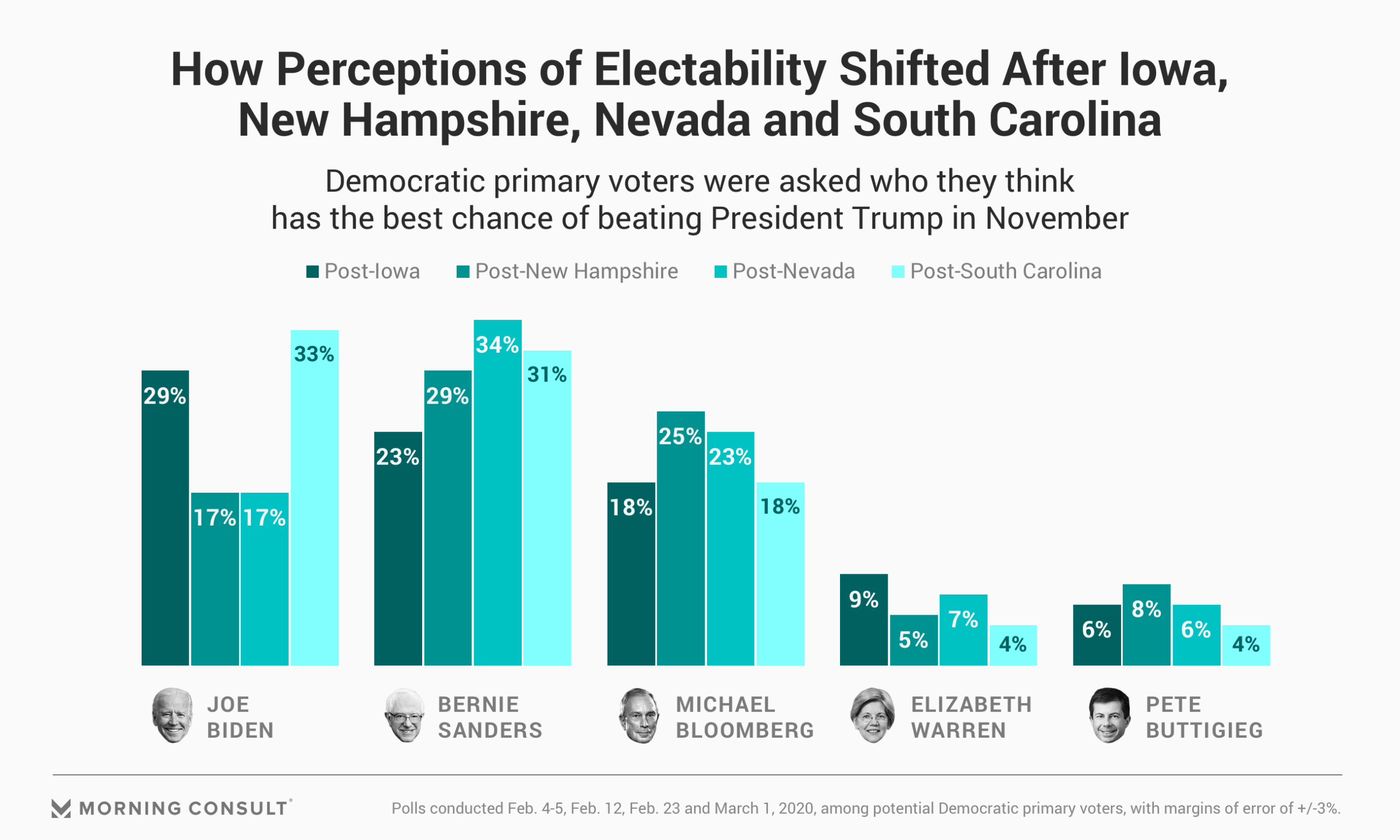 Biden's poor performance in Iowa and New Hampshire cratered perceptions of his electability, but according to another Morning Consult poll conducted Sunday, his big win in South Carolina is helping him reclaim the mantle of the Democrat best-positioned to beat President Donald Trump in November.
A third of Democratic primary voters said they think Biden has the best chance of beating Trump, up 16 points from polling conducted after his losses in the Nevada caucuses and the New Hampshire primary. Thirty-one percent of Democratic primary voters said Sanders is the most electable, down 3 points since his Nevada victory. Each of those surveys of Democratic primary voters had a 3-point margin of error.
Among the 67 percent of Democratic primary voters who knew Biden won South Carolina, former President Barack Obama's No. 2 has an even bigger advantage on the electability question: Forty percent said Biden has the best chance of beating Trump, compared to 26 percent who said the same of Sanders. 
Amid concerns from top Democrats about Sanders' ability to beat Trump, the party's primary voters were slightly more likely to say they were happy with the outcome of the South Carolina primary (51 percent) than they were after the Nevada caucuses (45 percent). But, they were less likely to say the winner will be the Democratic nominee (36 percent to 41 percent), as Sanders appears poised Tuesday to widen his lead in the race for delegates ahead of the Democratic National Convention in Milwaukee.