The coronavirus outbreak has shown its first signs of spreading beyond the stock market and into the broader economy, according to new Morning Consult data. 
The spread of the virus throughout the United States roiled stock markets last week, especially among the transportation sector and supply chains, as Centers for Disease Control and Prevention officials started putting out more dire warnings about the inevitability of community transmission. 
While the outbreak of coronavirus has affected markets, it hasn't yet closed businesses, stymied hiring or prevented consumers from spending. And more broadly, consumer confidence has remained buoyant throughout the outbreak — until last week. 
Leading up to the Federal Reserve's emergency benchmark interest rate cut Tuesday — the first between scheduled policy meetings since the 2008 financial crisis — Morning Consult's Index of Consumer Sentiment tumbled 2.3 points to 112.5 for the week of Feb. 24-March 1. Last week, the Dow Jones Industrial Average fell 12.4 percent and the S&P 500 dropped 11.5 percent, marking their worst weeks since 2008. 
It's the largest weekly decline in Morning Consult's consumer confidence data since the week ending Jan. 12, 2019, during which President Donald Trump threatened to declare a state of emergency over funding for his proposed border wall. 
Historically, last week's drop puts the index in the mid-range territory, slightly above the two-year average since Morning Consult began tracking consumer sentiment in January 2018. The drop began moderating early this week, although it's still trending downward. 
Most of this decline appears to be driven by the stock market rout last week, as consumers read headlines about the market and saw hits to their retirement savings accounts. 
Particularly, the drop in investor sentiment was notable, driving the decline in consumer confidence during the period. The 12-month expectations of business conditions component of the Index of Consumer Sentiment dropped 5 points to 109.9. 
Within that measure, the sharpest decline occurred among those with more than $50,000 invested in the stock market.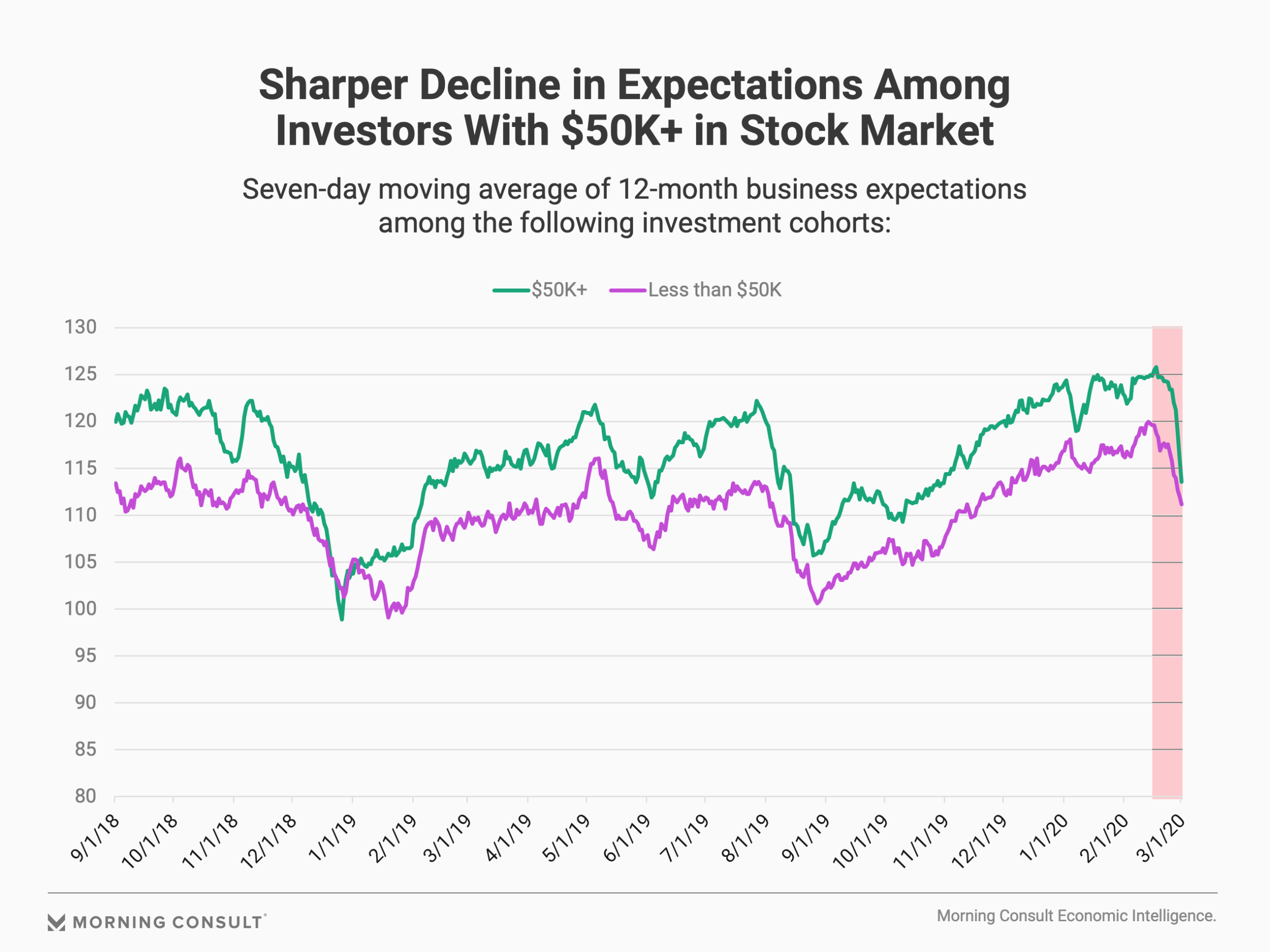 Looking forward, it's not clear if consumer confidence will bounce back with a stock market rebound. 
"Confidence falls rapidly when the stock market declines, but it takes a prolonged period of stability before consumer confidence fully rebounds," said John Leer, senior director for Morning Consult Economic Intelligence. 
"Given the continued uncertainty surrounding the coronavirus, open questions regarding Europe's ability to use monetary policy to address economic weaknesses and political uncertainty in the U.S., it's unlikely that consumers will be able to enjoy prolonged periods of economic and political stability this year."
The Fed's interest rate cut could cushion this blow, and there are a few additional levers that the Fed, bank regulators and others could pull to ease the economic impact of the outbreak. The Trump administration is said to be considering a range of options, including a temporary payroll tax cut, to that end.  
"Given that monetary policy works with a lag, cutting now will help speed up recovery when the coronavirus concerns have passed," S&P Global Ratings Senior Economist Satyam Panday wrote in a note. "If the rout in the financial market continues, more rate cuts are likely to follow in the upcoming March policy meeting, and beyond if required."
Morning Consult's aggregate indices are based on daily surveys of 7,500 U.S. adults. Morning Consult Economic Intelligence data draws upon surveys that ask each respondent the same five questions as the University of Michigan's Surveys of Consumers. (A detailed explanation of the methodology can be found here.)