U.S. consumer confidence took a significant hit this past week. Morning Consult's Index of Consumer Sentiment (ICS) fell over 12% and is at the lowest point it has ever been since Morning Consult began tracking consumer sentiment over two years ago.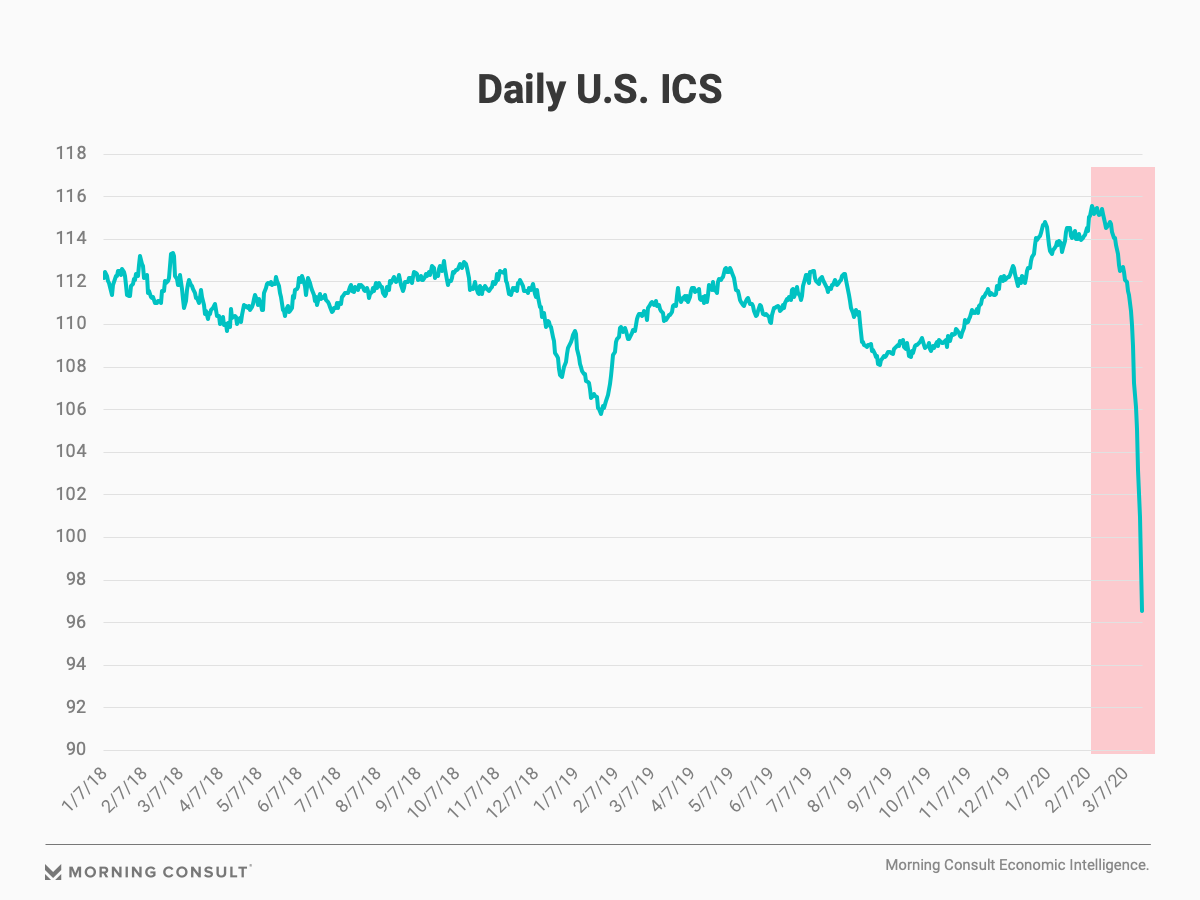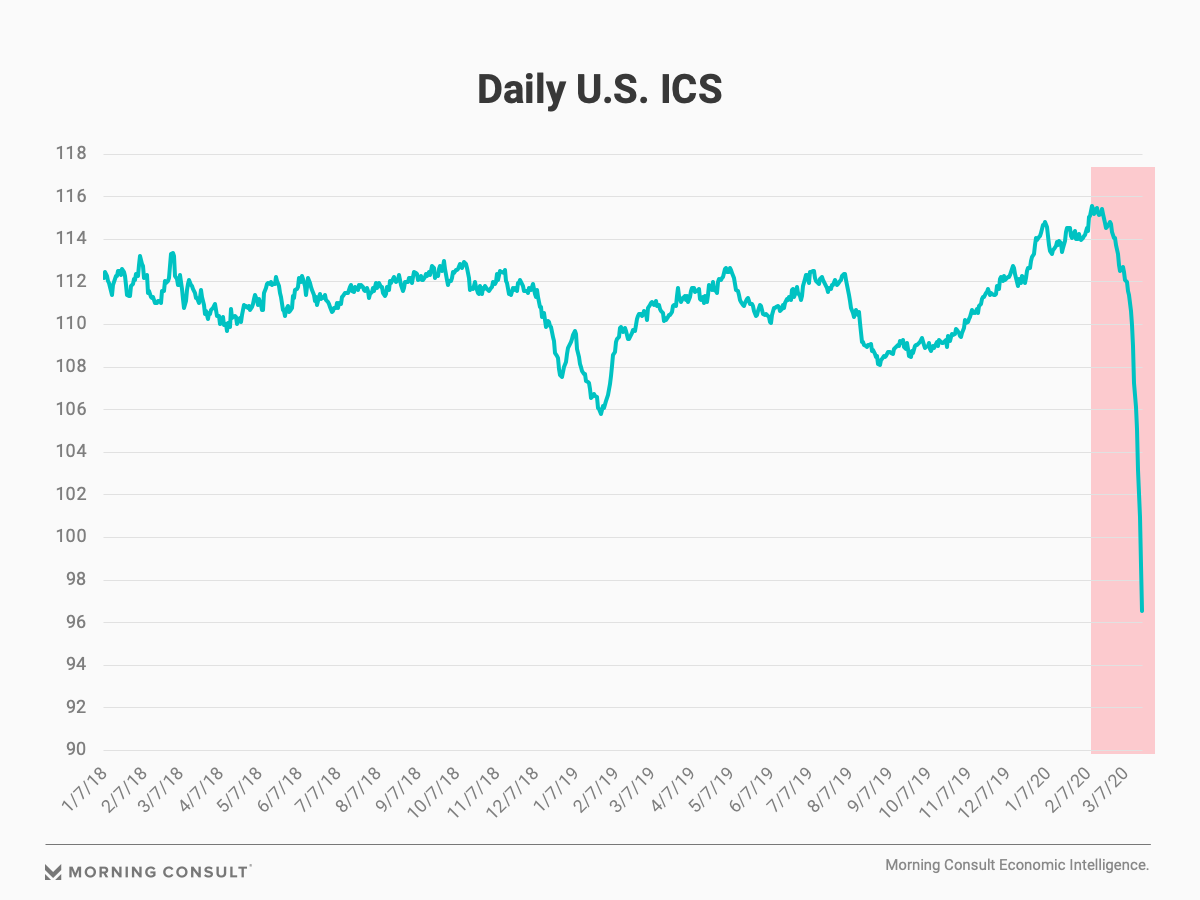 The daily drop in consumer confidence was swift, virtually setting a new record each day this week for the largest single-day decline. The rapid fall in confidence is consistent with recessionary conditions, particularly in light of how much worse things are likely to get from both a health and economic perspective. 
Furthermore, confidence has deteriorated the most among high-income consumers who are responsible for most discretionary spending. Consumers can change their discretionary purchasing habits very quickly, supporting the view that there will be a relatively short lag (less than three months) between the fall in confidence and the onset of a recession. 
Looking back at the worst week in the history of Morning Consult's Index of Consumer Sentiment, there are three trends we are watching:
1) Consumers Are Now Expecting Business Conditions to Be Worse in Near Future
Throughout January and most of February, many consumers believed that future business conditions in the country would remain the same over the next 12 months. A growing fraction of those consumers now believe that business conditions will be worse off in 12 months. Today, 38% of consumers expect business conditions to deteriorate over the course of the year, compared to 26% just a week ago. 
Stated differently, fewer and fewer Americans believe now is a good time to open a business, pursue a new career, or take some other risk with the hope of building a better future. The dynamism of the American economy depends on risk taking. When so many people believe the future will be worse than the present, that sort of risk taking is likely to abate.
2) 19% of Americans Think Their Personal Financial Situation Will Be Worse in Near Future, Up 14% From Last Week:
Roughly a week after consumers' views of business conditions began to deteriorate, they grew less optimistic about their own personal financial conditions. Consumers' future expectations of their financial conditions are primarily shaped by their views on job stability and availability, wage growth and expenses. This week's deterioration indicates consumers are increasingly worried that they will not be able to retain jobs that allow them to cover their expenses. 
While many may try to cut back on their expenses in the face of job instability, it will be particularly difficult for low-wage workers who already spend so much of their income on basic necessities. Similarly, although the savings rate is higher now than heading into the last recession (7.9% as of January 2020 compared to 3.1% in November 2007), many Americans do not have a rainy day fund to cover costs during a downturn. As personal financial conditions deteriorate, it will become increasingly difficult for many Americans to continue paying their student, credit card, and auto loans, thereby exacerbating the current economic crisis.
3) Higher Income Consumers Believe It's a Bad Time to Spend
Increasing concerns regarding business and personal financial conditions have translated into a deterioration in consumers' assessment of current buying conditions, particularly among higher income households. 
Households making more than $100,000 per year account for a disproportionate share of total discretionary consumer spending. These are the households earning a high enough income that allows them to decide if they want to purchase something now or wait for the future. Starting on March 10, these consumers rapidly became less interested in purchasing large household goods, with 28% saying now is a bad time to purchase large household items compared to 14% a week ago.
The percentage change in the ICS is also an increasing function of consumers' annual incomes. Confidence across all three income cohorts peaked on average on Feb. 15. Since then, confidence has fallen 22.77%, 19.93% and 14.58% across high, medium and low-income households, respectively. 
It's not surprising high-income households are declining at a faster rate now considering they are more financially exposed to the ongoing fall in stock prices, making them less wealthy than they were a couple weeks ago. However, looking into the near future, low and medium-income households are more likely to face job instability as firms seek to cut expenses. This trend across income cohorts indicates confidence is likely to continue to fall as low-income consumers begin feeling the effects of a weakening labor market.
From the perspective of consumer spending, the fact that confidence has fallen the most among high-income workers suggests that the U.S. should experience a virtually immediate pull back in consumer spending, as was the case in December 2018. If that is the case, then the U.S. Bureau of Economic Analysis statistics should show a fall in spending in March 2020 and a fall in GDP in the second quarter. Taken together, these developments place the beginning of the recession in March or April of this year.
-John Leer, Economist, Morning Consult
About Morning Consult Economic Intelligence: Global Consumer Confidence
Morning Consult's Economic Intelligence: Global Consumer Confidence is an ongoing nationally representative survey based on approximately 11,000 daily surveys globally, including more than 6,000 in U.S., giving insight into key daily consumer confidence metrics. Learn more here.