Studios are making their new and current theatrical releases available for rent on streaming as movie theaters close their doors in the wake of the coronavirus outbreak. But even as consumers say they are watching more content because of the pandemic, the price point on these rentals is more than three times what consumers would prefer to spend. 
Universal Pictures announced last week that three of its recent releases — "The Invisible Man," "Emma" and "The Hunt" — would be available for at-home rental, for a suggested retail price of $19.99, beginning March 20. Other studios soon followed Universal's lead, with recent titles such as Walt Disney Co.'s "Onward" coming to video on-demand earlier than anticipated.  
And a March 19-21 Morning Consult/The Hollywood Reporter survey found there is an appetite for viewing these new releases on the small screen: Fifty-three percent of adults said they would prefer to watch a newly released film at home via a streaming service. As of March 23, "Onward" is the top movie on the iTunes charts while "The Invisible Man" is No. 5.  
The survey used the van Westendorp model, which finds an optimum price point for a good or service by considering what prices consumers find to be "too expensive" and "too good to be true," to calculate consumers' optimal price point for these at-home rentals.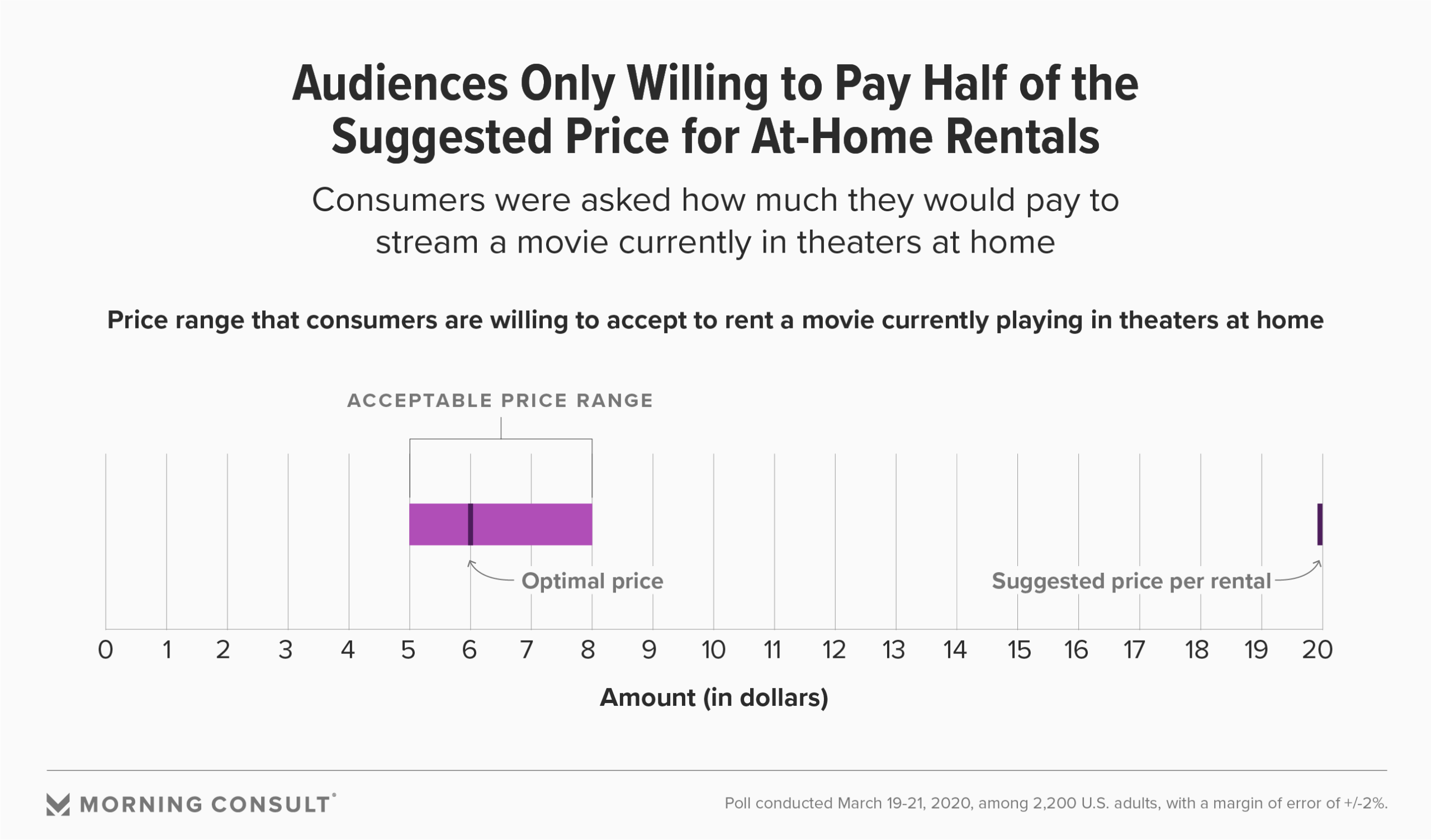 Respondents would be willing to pay between $5 and $8 to rent a current theatrical release at home, with their optimal price point being $6 — less than a third of what Universal is currently charging for an at-home rental. 
Two-thirds of Americans said they were more likely to watch movies via a streaming service due to the coronavirus pandemic, up 23 percentage points from a March 5-7 Morning Consult/The Hollywood Reporter poll. Sixty-three percent of the 2,200 U.S. adults surveyed said they were more likely to watch TV shows on streaming because of the outbreak, up from 41 percent in the earlier poll. 
Both surveys have a margin of error of 2 points. 
Even if theatrical rentals currently cost more than consumers are willing to pay, almost a third anticipate spending more on streaming due to the coronavirus pandemic.
Three in 10 adults said they expect to shell out more money for their movie and TV streaming as a result of the pandemic, according to a March 20-22 Morning Consult survey, compared to 19 percent who said the same in a March 13-16 survey. 
The change was even bigger among the youngest U.S. adults: Thirty-nine percent of Gen Z respondents said they expected to spend more in the recent survey, compared to 24 percent a week ago, while the share of millennials who anticipated spending more on movie and TV streaming climbed 12 points to 38 percent. 
The overall margin of error for the March 13-16 and March 20-22 surveys is 2 points. The margin of error for Gen Z in each survey is 7 points and 8 points, respectively, while the millennial subsample has a margin of error of 4 points.