As movie and TV streaming becomes even more popular during the coronavirus pandemic, a new poll offers a look at what services consumers have been watching most since calls for social distancing began. But the data also shows that streaming services set to launch this spring aren't attracting subscriber interest from most consumers yet. 
A March 27-29 Morning Consult/The Hollywood Reporter survey found that 34 percent of adults said they have subscribed to a streaming service since Jan. 1, up from 29 percent in a March 5-7 poll. Among those respondents, the share who said the coronavirus pandemic was a major or minor reason they subscribed increased 17 percentage points from the earlier survey to 38 percent.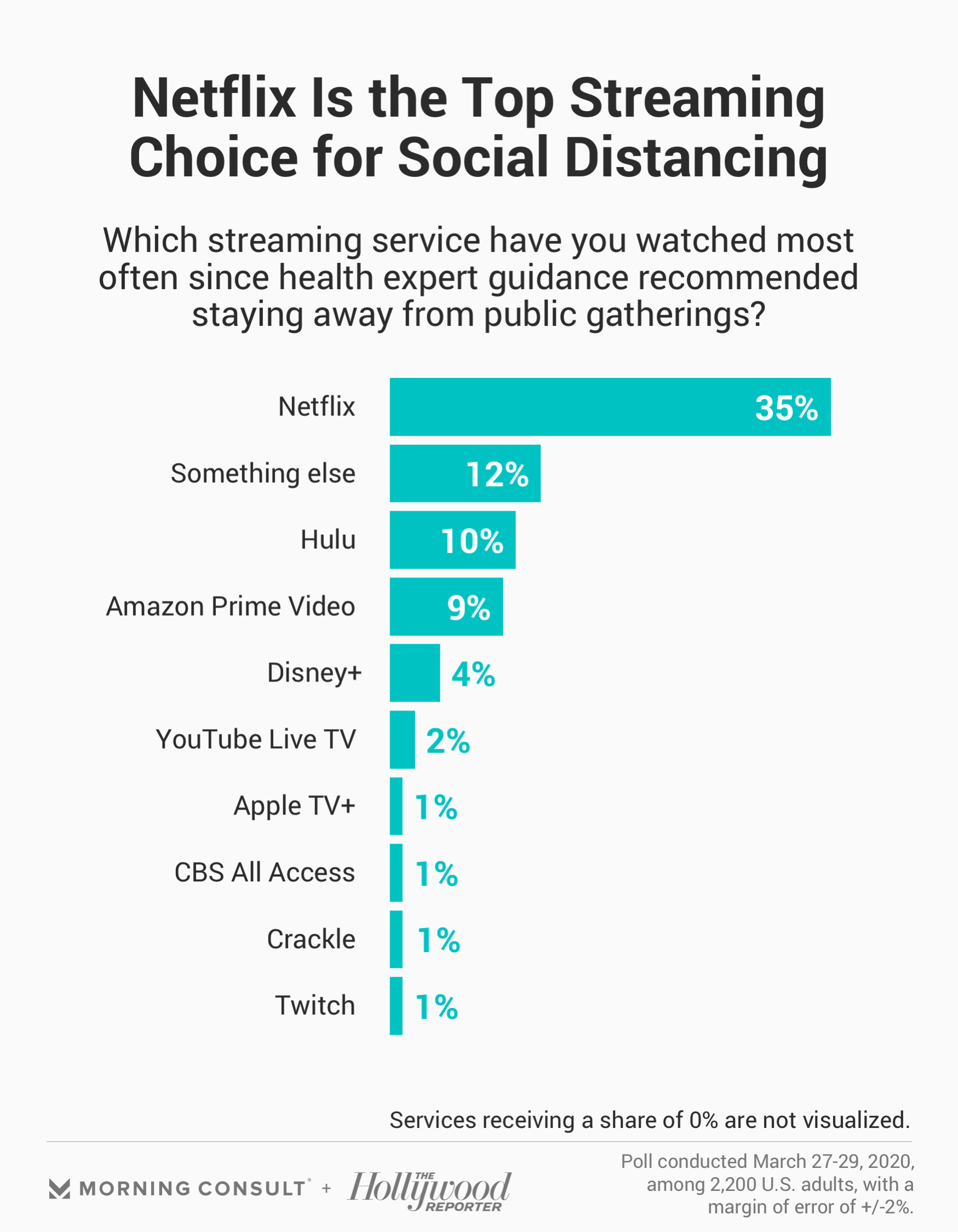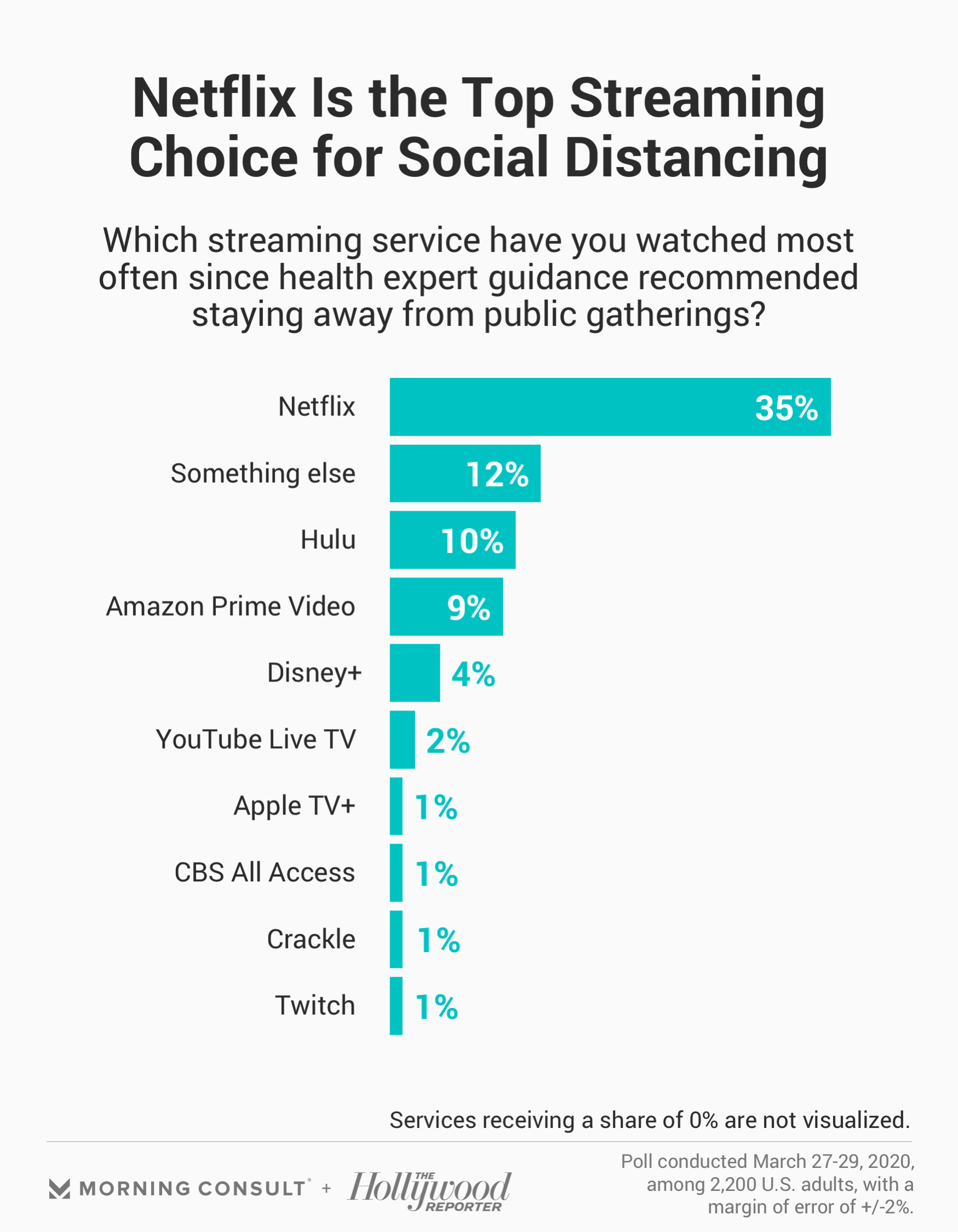 And when it comes to what service Americans are streaming, Netflix Inc. reigns supreme: Thirty-five percent of the 2,200 U.S. adults surveyed said it was the streaming platform they had watched most often since health expert guidance recommended staying away from public gatherings earlier this month. 
Ten percent said the same of Hulu, while 9 percent said they had watched Amazon Prime Video most frequently. 
Even with businesses shutting down amid the pandemic, the share of adults making less than $50,000 who said they subscribed to a streaming service this year rose to 33 percent in the most recent poll from 26 percent earlier this month. 
The survey has an overall margin of error of 2 points, while the subsample of respondents with an income under $50,000 has a margin of error of 3 points. 
Those surveyed were also interested in keeping traditional TV packages during the pandemic: Sixty-six percent said they were less likely to cancel their cable or satellite TV subscription because of the ongoing health crisis. 
Nielsen data reported by Adweek found that from March 16-22, TV usage was up 18 percent from the week prior, with a 14 percent week-over-week increase in watching live TV and a 28 percent week-over-week increase in watching via connected devices. 
With so many people at home due to social distancing guidelines, companies are catering to a captive audience, offering free trials and discounts to attract and retain customers. For instance, ViacomCBS Inc. is offering extended free trials for its CBS All Access and Showtime streaming services, while some television providers are giving their customers free trials of premium cable channels, per Adweek. 
Three major streaming services — Quibi, HBO Max and Peacock — are set to launch in the coming months, but as of right now, data shows consumers aren't clamoring for these new services: Fifty-seven percent said they were unlikely to purchase WarnerMedia's HBO Max, while 60 percent and 59 percent said the same of Comcast Corp.'s Peacock and Quibi, respectively. Sixteen percent said they'd be likely to subscribe to HBO Max, compared to 10 percent who said they were likely to subscribe to Peacock or Quibi. 
One possible reason for this reluctance to subscribe is that news of the services' respective launches doesn't appear to be breaking through: Fifty-one percent of respondents said they'd heard "nothing at all" about HBO Max, while 62 percent said the same of Peacock and 63 percent hadn't heard anything about Quibi.
These streaming services are set to launch at a variety of price points: HBO Max, scheduled to debut in May, is the most expensive at $14.99 a month, while mobile video service Quibi, pegged for an April launch, costs $4.99 a month for an ad-supported version and $7.99 a month for an ad-free version, after a 90-day free trial. 
Comcast Corp.'s Peacock, which will be available for Xfinity customers starting next month, offers consumers multiple tiers, a free option with reduced content offerings, an ad-supported option that costs $4.99 a month and an ad-free option priced at $9.99 a month, with Comcast and Cox Communications Inc. customers getting free access to the ad-supported tier, according to The Wall Street Journal.