As the Trump administration and some governors mull strategies for reopening parts of the country and giving the U.S. economy a shot in the arm, polling shows the voting public continues to worry more about the coronavirus pandemic's impact on public health than its economic effect.
Sixty-four percent of registered voters in an April 10-12 Morning Consult/Politico poll said they were more concerned about the public health impact of COVID-19 than how it is affecting the stock market and unemployment numbers. Three-quarters said they believe it is more important for the government to address the spread of coronavirus than its impact on the economy.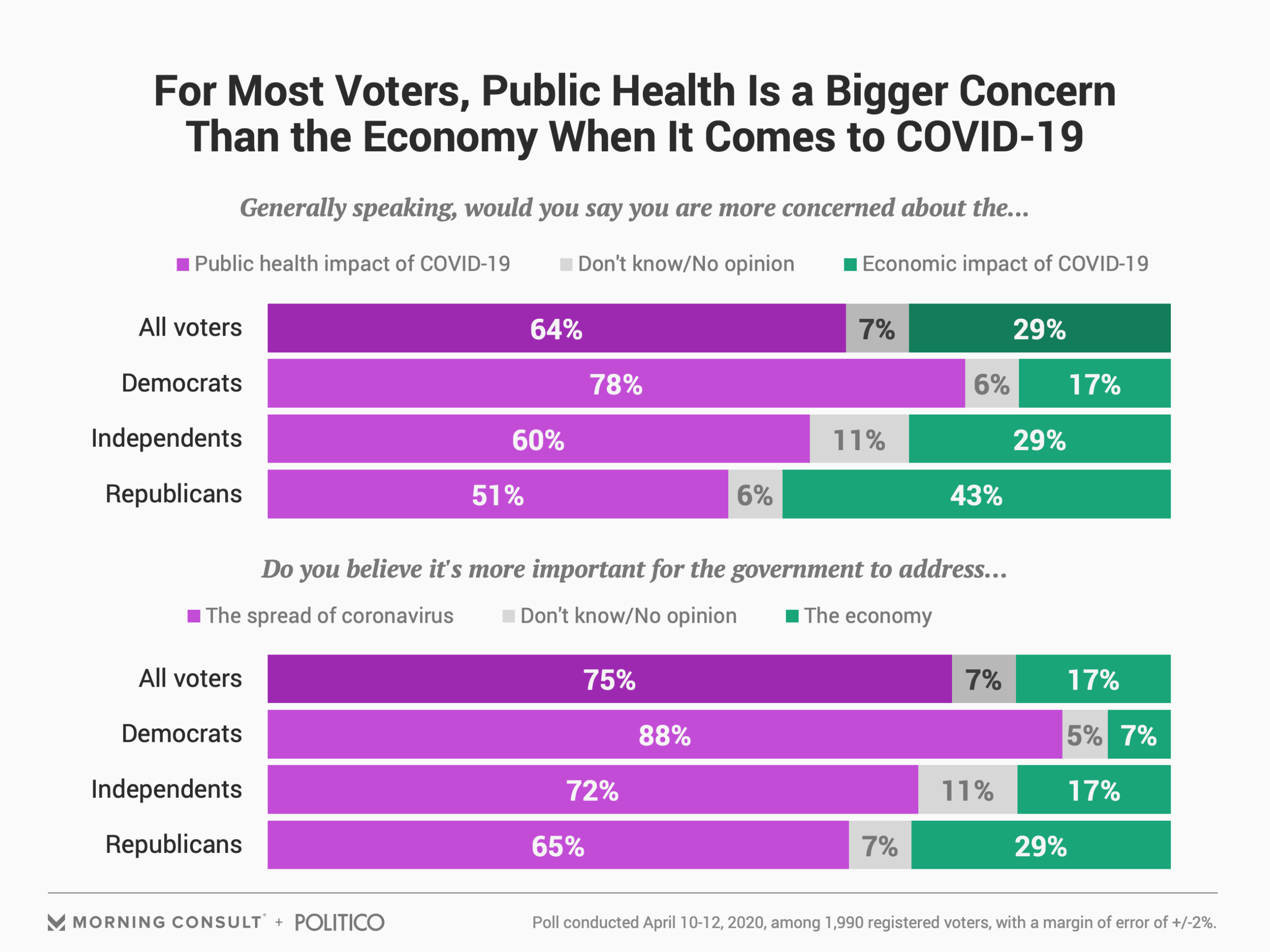 And when asked to choose, 81 percent said Americans should continue social distancing practices for as long as needed to curb the spread of the coronavirus, even if the policy continues to damage the U.S. economy. By comparison, 10 percent said people in the United States should stop social distancing in order to help the economy, even if it means the coronavirus spreads more.
Those figures, which are statistically unchanged from a Morning Consult poll conducted in March after President Donald Trump suggested ending social distancing guidelines by April 12, underscore the tricky political territory facing political leaders who are looking to get the economy back on track by resuming normal business operations. 
Both polls were conducted among roughly 2,000 registered voters, with margins of error of 2 percentage points.
When it comes to how to get people back to work, voters are also inclined to back stringent screening practices: Three-quarters said they'd support requiring Americans to take a coronavirus test before returning to work and requiring workers to wear face masks when interacting with others, while 3 in 5 said they would support requiring Americans to take a blood test to prove that they have built up an immunity to the virus before returning to the workplace.
By contrast, a slim majority (52 percent) were opposed to allowing some Americans to get back to work as COVID-19 cases continued to spread — and even more (58 percent) were against allowing only people under the age of 45 to do so under those circumstances.
That's not to say Americans aren't concerned about the pandemic's economic impact. In another recent Morning Consult survey, 90 percent of voters said they were very or somewhat concerned about how the pandemic will impact the U.S. economy.
The data in the latest poll also indicates that these concerns have hit close to home: Roughly a quarter (24 percent) said someone in their household has been laid off or lost a job since March 1, while 40 percent said the same was true of lost pay or income. Thirty percent said someone in their home had been put on temporary leave, while another quarter said a household member had applied, or tried to apply, for unemployment benefits.