New Pandemic Streamers Are Paying for Netflix and Trying Out Quibi, Apple TV+
But experts disagree on whether free trials will lock in new viewers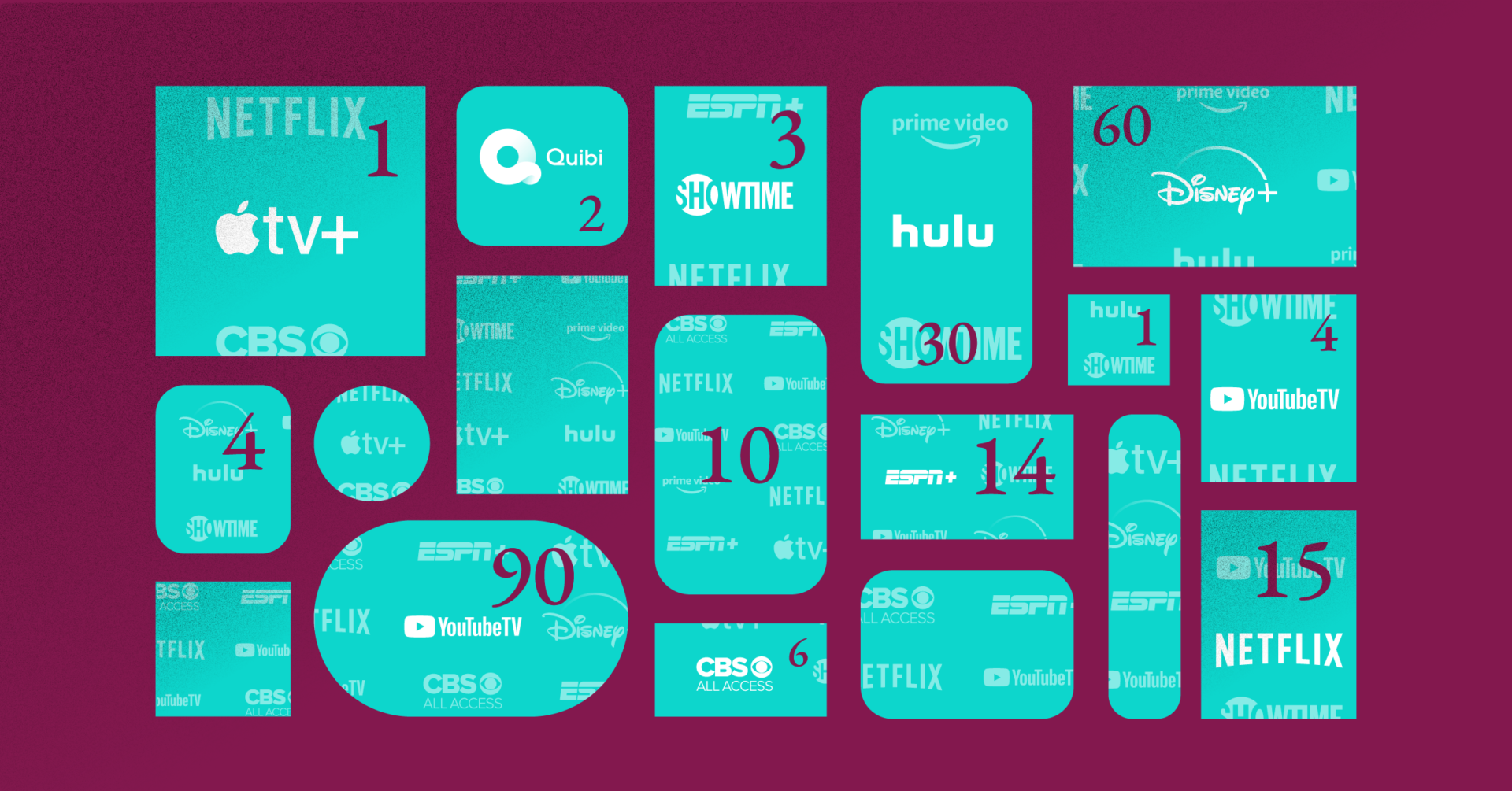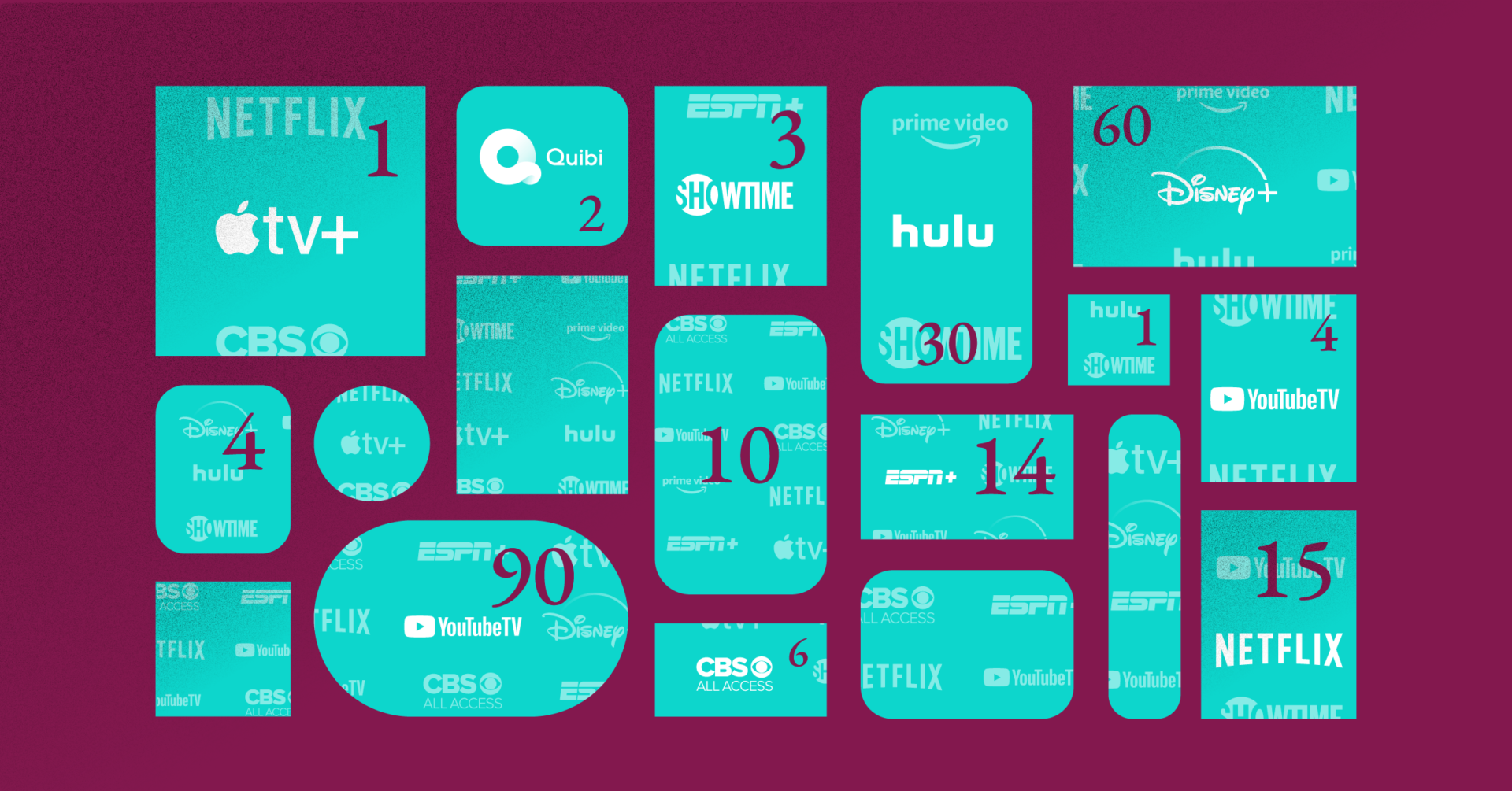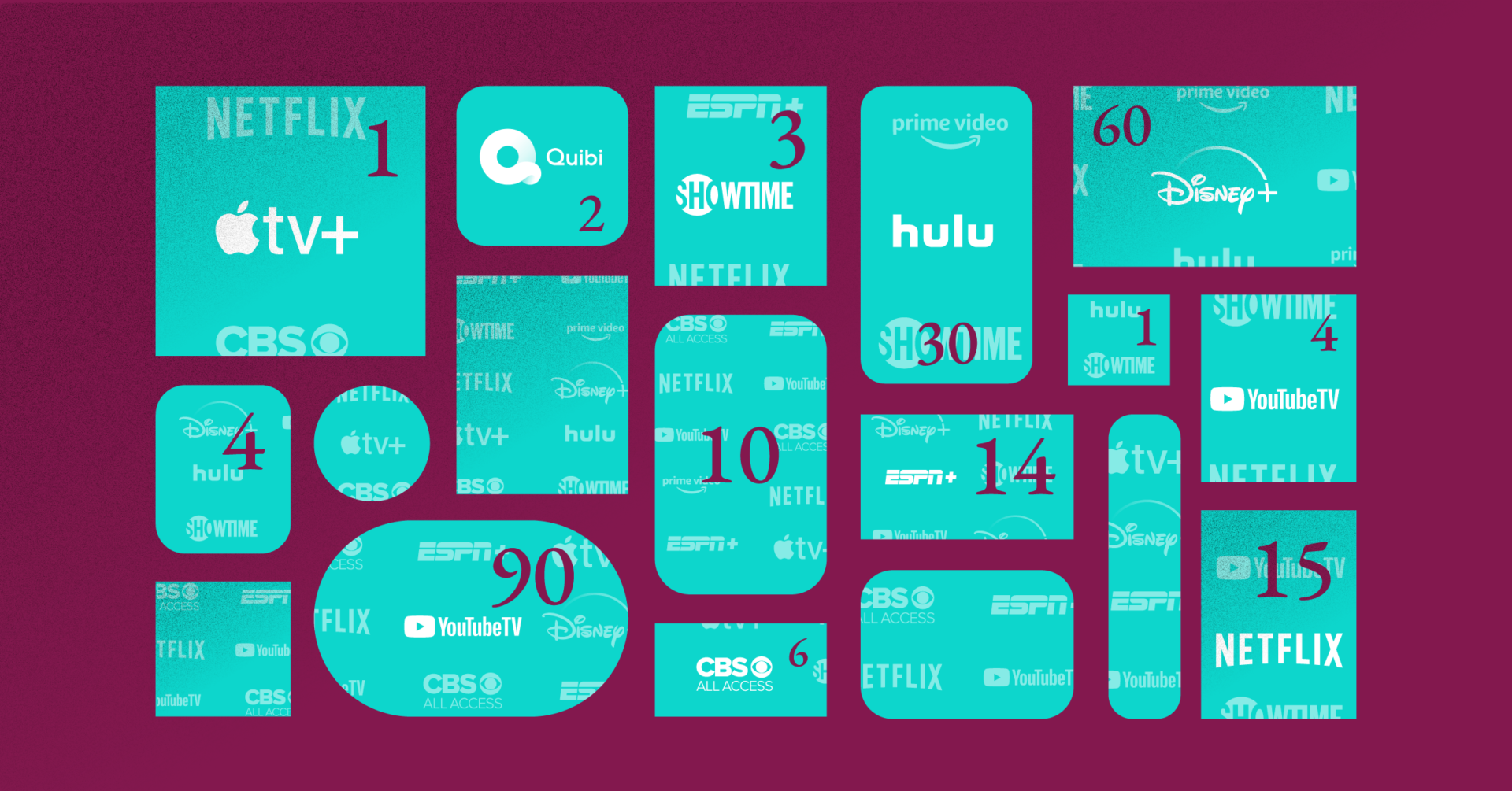 21% of adults overall have subscribed to a streaming service since March.

77% of adults who have subscribed to Netflix since March did so via a paid subscription; 23% used a free trial.

Of the 5% of adults who subscribed to ESPN+, Quibi, YouTube TV, Apple TV+, Showtime Now, CBS All Access or Sundance Now, 59% are on a free trial. 
Morning Consult's "Favorited or Forgotten" series explores if – and how – consumer behavior will change in a post-COVID-19 world and what business leaders can do to prepare for those changes. Sign up here to receive the latest in your inbox each week.
In an increasingly crowded streaming marketplace, platforms such as Quibi, Apple TV+ and Disney+ are enticing stuck-at-home viewers with free trials in hopes of forming viewing habits that will extend beyond the pandemic. A new Morning Consult report finds that for smaller, less-established platforms, consumers are taking advantage of free trial periods, with disagreement among experts on whether this will translate to regular-paying viewers.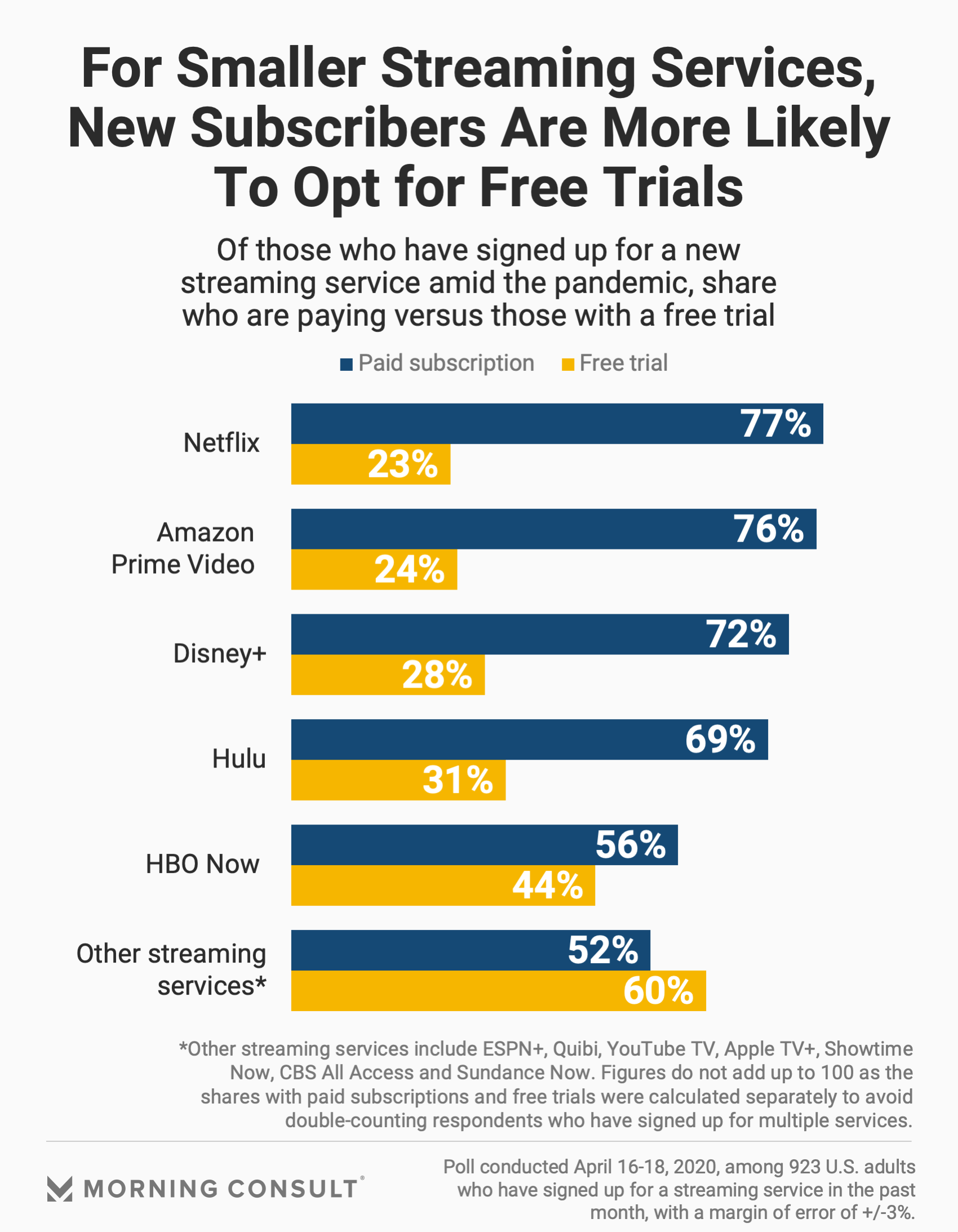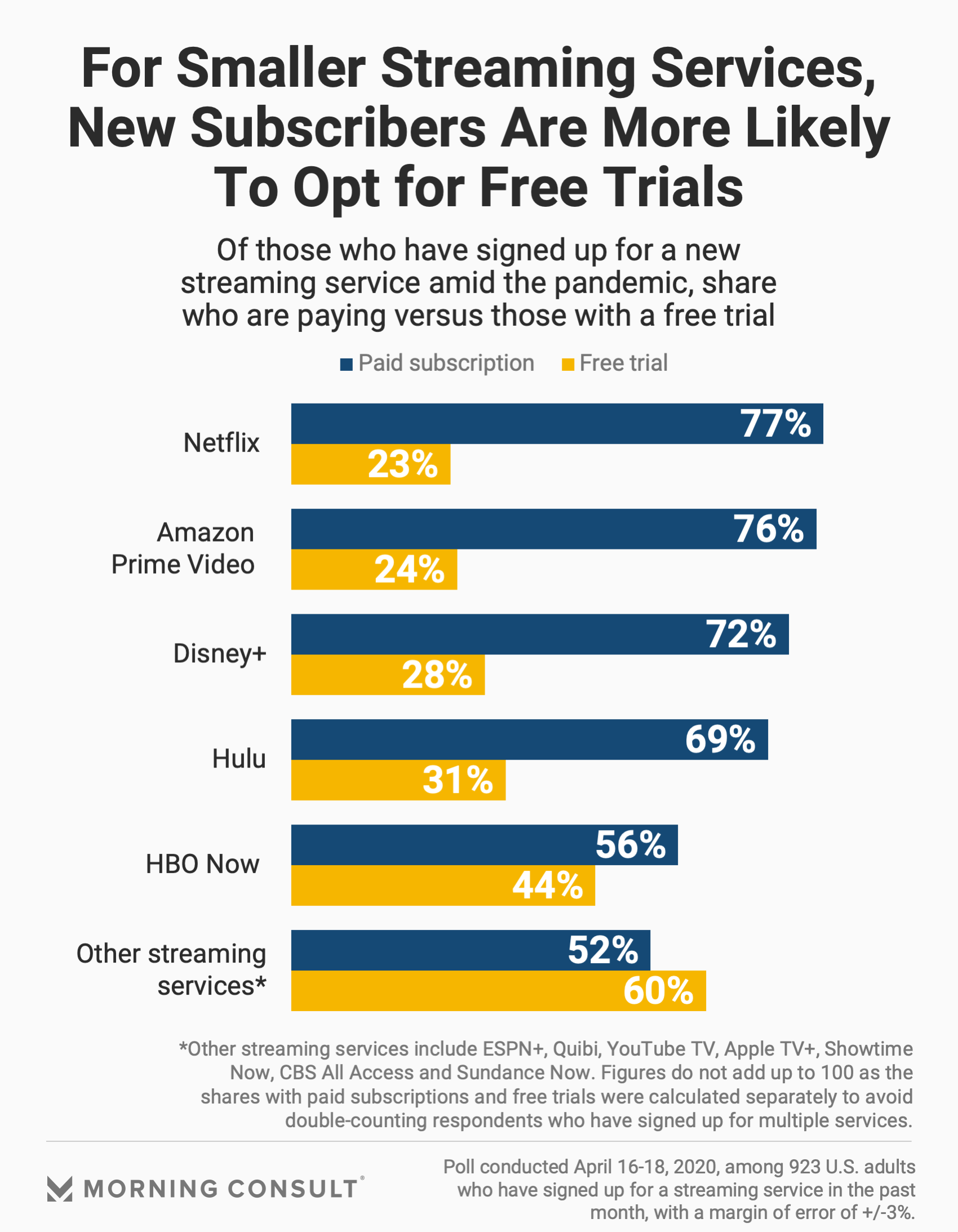 The report, which uses data from an April 16-18 survey, found that 21 percent of adults have subscribed to a TV or movie streaming service since stay-at-home and social distancing measures began in March due to the COVID-19 pandemic.
While at least 7 in 10 new subscribers are paying to watch Netflix (77 percent), Amazon Prime Video (76 percent) and Disney+ (72 percent) entertainment, that figure drops to 52 percent among lesser known platforms such as ESPN+, Quibi, YouTube TV, Apple TV+, Showtime Now, CBS All Access and Sundance Now. For those services, a larger share (59 percent) of the 923 adults who had signed up in the past month were using a free trial. (The share with paid subscriptions and those with free trials do not add up to 100 percent as they were calculated separately to avoid double-counting respondents who have signed up for multiple services.)  
The margin of error for the poll is 1 percentage point, while the subsample of streaming service subscribers has a 3-point margin of error.
Analysts diverge on whether free trials, especially amid an extraordinary circumstance such as a pandemic, will equate to long-term customers. 
Brad Gastwirth, chief technology strategist with the financial services firm Wedbush Securities, said he doesn't anticipate a large number of cancellations when social distancing orders are lifted, due to the reasonable price point of most services. 
However, Bruce Leichtman, the president and principal analyst with Leichtman Research Group said it's reasonable to expect some attrition when normalcy resumes.
"When there's no barrier to entry, there's also no barrier to exit," he said.
Many consumers don't realize when they transition from free trial user to paying subscriber. Thirty-five percent of adults have signed up for a service with automatic payments, such as a streaming service, without realizing it, according to a CreditCards.com survey. Roughly 2 in 5 respondents (42 percent) said it was difficult to stop these charges. Market research and consulting firm Parks Associates found that 32 percent of free streaming trials result in a paid subscription. 
Quibi is offering new users a 90-day free trial, while Apple Inc. is offering a free year of Apple TV+ to consumers who purchase certain new Apple products. And amid the coronavirus pandemic, some services, including CBS All Access and Showtime Now, have extended their free trials to 30 days. According to Variety, since Showtime Now extended its free trial period to 30 days on March 20, the company has seen sign-ups increase by 148 percent on average. 
Showtime Now and CBS All Access, which are both owned by ViacomCBS Inc., are on track to have 16 million subscribers combined by the end of the year.
Netflix added more than 15 million subscribers during the first quarter, and now has 182.86 million subscribers globally, but expects both growth and viewership to fall when governments ease stay-at-home orders.