After pausing traditional TV production due to the COVID-19 pandemic, many networks and studios have resumed their regularly scheduled news, talk and variety programming via remote filming, even pitching new shows that will be completed during the pandemic. And new polling finds that while audiences have embraced — and even enjoyed — this temporary measure, most want their favorite shows to wait until traditional production methods are available before debuting new episodes.  
A May 7-9 Morning Consult/The Hollywood Reporter survey of 2,200 adults found that nearly half (49 percent) have watched at least one remotely filmed, unscripted TV show since stay-at-home orders began, with one in four respondents saying they have watched many of these shows. Among those who have watched, 76 percent said they enjoyed the format. 
The survey has an overall margin of error of 2 percentage points, while the sample of adults who have watched remote content has a 3-point margin of error.
Remote productions have given viewers a glimpse into the lives of various TV personalities: Seth Meyers has invited viewers of his late-night program into his attic, while fellow late-night talker Jimmy Kimmel and "Today" host Savannah Guthrie have featured their children on air. Contestants on "The Voice" and "American Idol" have been singing from their living rooms in prime time, while the judges offer commentary from their respective homes.
Among the share who have seen a remotely filmed show,, 73 percent said they enjoyed seeing the home of the actor, host or participant, while 69 percent said the same of seeing the family of those on camera.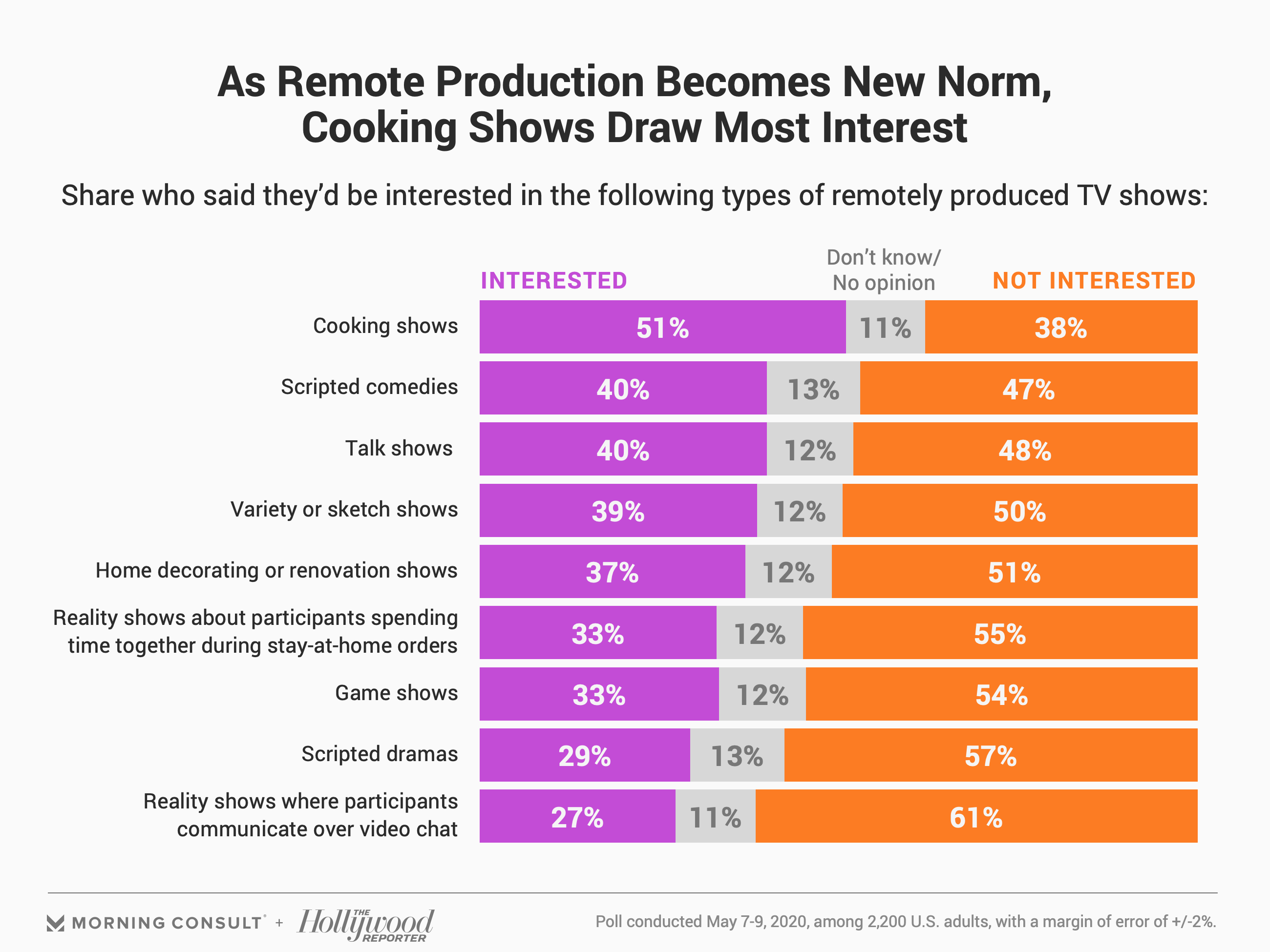 Interest in remote productions extends beyond the talk and variety genres. Just over half of all adults said they would be interested in watching a cooking show filmed by the host at home. And while 40 percent said they would be interested in watching a scripted comedy where the actors filmed themselves separately, there was less enthusiasm (29 percent) for scripted dramas. 
With uncertainty around when traditional production can resume, some networks and streaming services have been greenlighting shows to air in the coming months that will be filmed and produced remotely. 
Discovery Inc. debuted "Amy Schumer Learns to Cook," a remotely filmed cooking show, on May 11, hosted by the comedian and her husband, chef Chris Fischer. And Deadline reports that "Orange Is The New Black creator Jenji Kohan" is working on "Social Distance," a remote anthology series for Netflix Inc., while Freeform has ordered a remotely filmed romantic comedy, "Love in the Time of Corona," which is set to premiere in August. 
While this innovative means of producing content may give networks and streaming services a temporary way to fill their release schedules, the poll indicates they may want to hold off on initiating remote production of current series: Fifty-two percent of those surveyed said they would rather hold out until their favorite show can produce traditionally filmed new episodes than watch a remote-filmed episode. And 68 percent said that while remote-filmed TV shows work for now, they want things to go back to normal after stay-at-home orders end.