As the coronavirus pandemic shifts from the Northeast and Midwest to pockets of the South and West, with daily increases of reported cases in states such as Florida, Texas, Arizona and California, the debate about how to handle the spikes has gained new momentum.
While many states continue to ease restrictions, new polling from Morning Consult indicates that most people would be supportive of instituting pandemic-related measures in their own state in the event of rising cases of COVID-19 within the next month.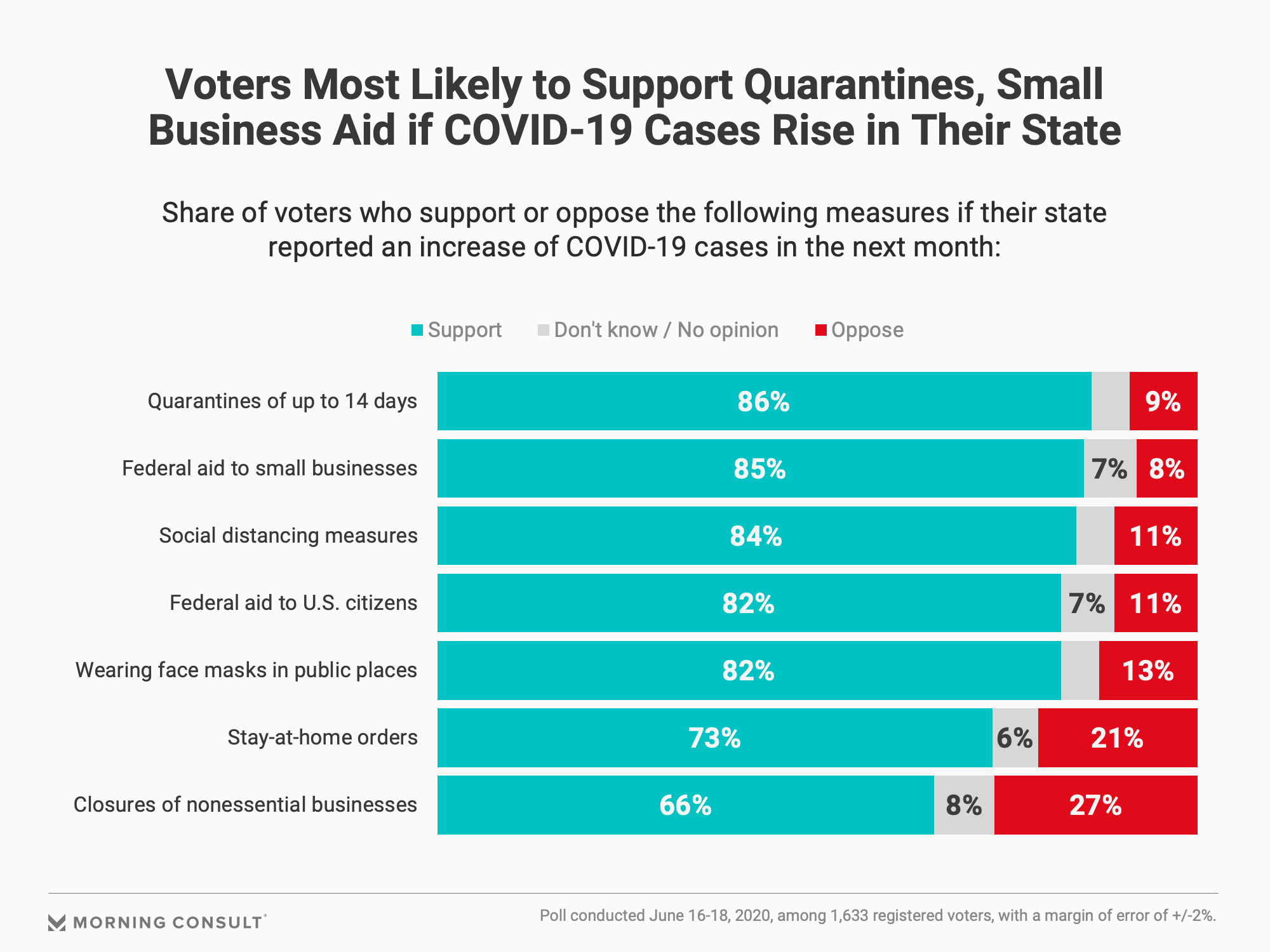 In the survey conducted June 16-18, 1,633 registered voters were asked whether they support or oppose a list of options implemented this year — such as stay-at-home orders, quarantines and social distancing — if their state reports an increase in confirmed coronavirus cases in the next month. Each measure had majority support among voters, with quarantines of up to 14 days for those who show symptoms having the largest backing at 86 percent compared to 9 percent who opposed them. Wearing face masks in public places also had high support at 82 percent versus 13 percent who opposed. 
Stay-at-home orders and closures of nonessential businesses, which have been the subject of public debate and protests in recent weeks, were somewhat less popular than the other measures. Seventy-three percent of voters support stay-at-home orders, while 21 percent said they oppose them. Democrats (86 percent) and independents (70 percent) back the shelter orders more than Republicans, though 3 in 5 GOP voters also supported them. 
Out of all the measures, closures of nonessential businesses had the lowest support at 66 percent, with 27 percent of voters opposing them. Once again, Democrats (82 percent) and independents (63 percent) backed the restriction over Republican voters, with just under half (49 percent) supporting it.
The survey has a margin of error of 2 percentage points. 
The recent spikes of COVID-19 cases in Southern and Western states despite a decline in hospitalizations and deaths in former hot spots in the Northeast and Midwest have prompted some to label the new outbreaks as a "second wave" of the coronavirus. But in a Washington Post interview published last week, Anthony Fauci, the director of the National Institute of Allergy and Infectious Diseases, said the United States is still in the first wave of COVID-19.
The idea of a second wave of COVID-19 has been in the public discussion for weeks, with public health experts such as Centers for Disease Control and Prevention Director Robert Redfield and Fauci warning of one being likely in the fall and winter of this year if certain mitigation measures aren't taken.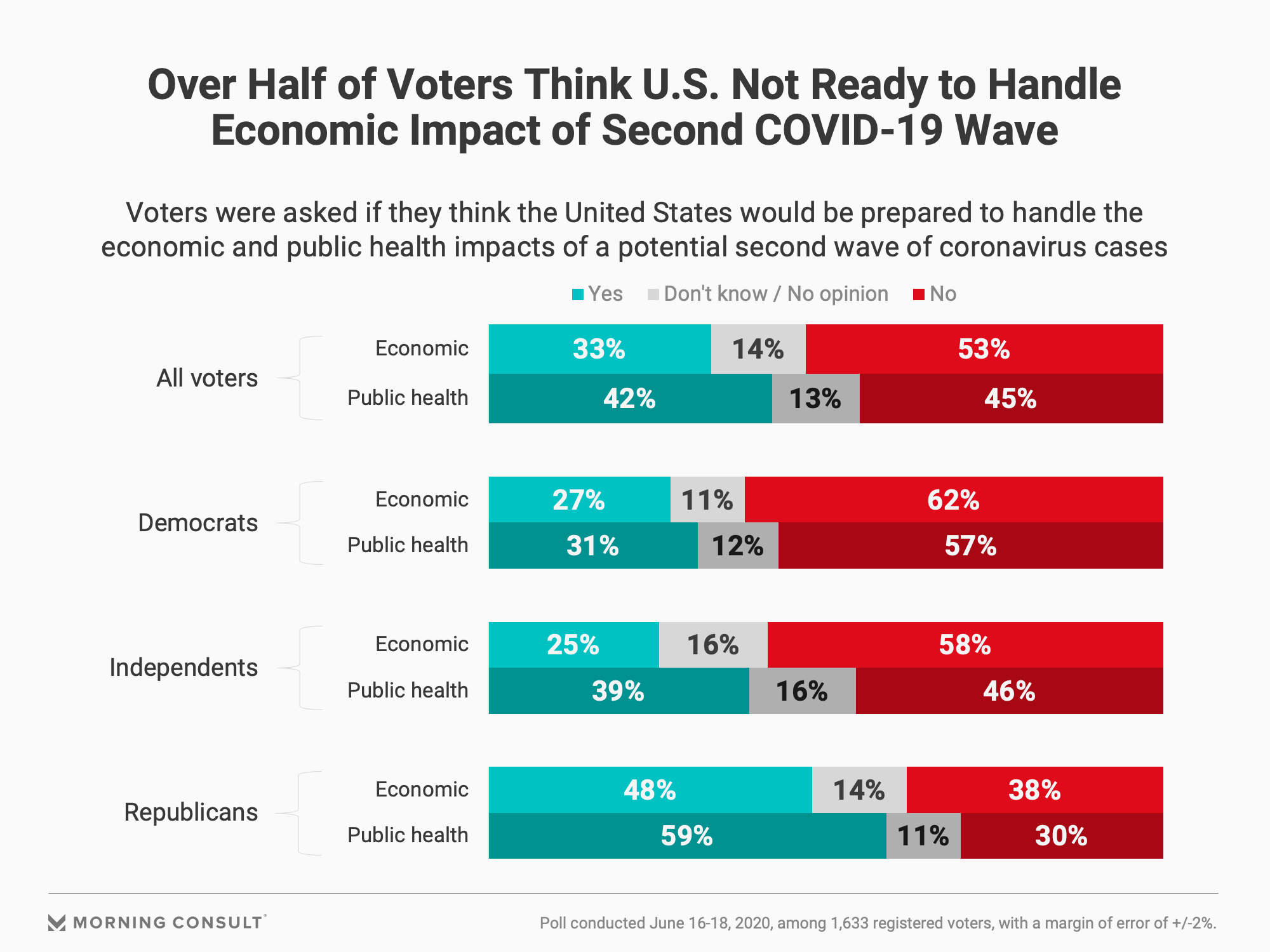 In the new poll, 45 percent of voters said the United States is not prepared for the public health impact of a second wave of coronavirus cases, while 42 percent said it is equipped. Roughly 3 in 5 Republicans said the United States would be prepared, but 57 percent of Democrats disagreed. In a poll conducted May 12-15 on the same topic, 41 percent of voters said the United States would not be prepared for the public health impact of a second wave of COVID-19, compared to 39 percent who said it would.
Voters are more pessimistic about the country's economic resilience in the face of a second wave, with over half (53 percent) saying the country would be unable to handle the economic impact of a second wave, an increase of 6 points from mid-May, versus 33 percent in June who said the United States would be prepared. In the latest poll, majorities of Democrats and independents, at 62 percent and 58 percent, respectively, said the United States would be unprepared for the economic impact, while 48 percent of Republicans said the country would be ready and 38 percent said the opposite, a 7-point jump from last month.