Voters Believe CARES Funding Has Helped Small Businesses as Intended
66% said CARES Act funds helped small businesses and middle-income Americans, respectively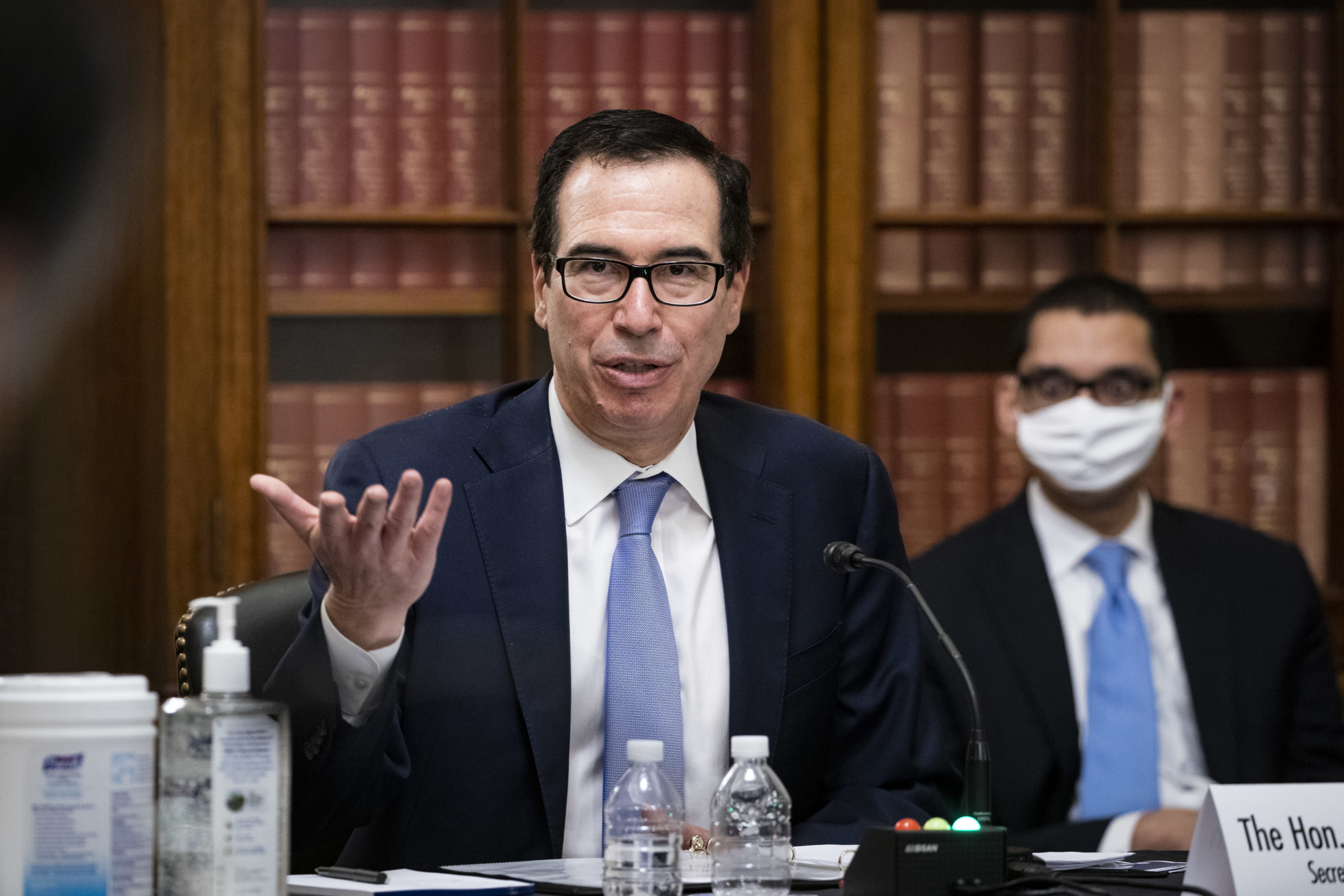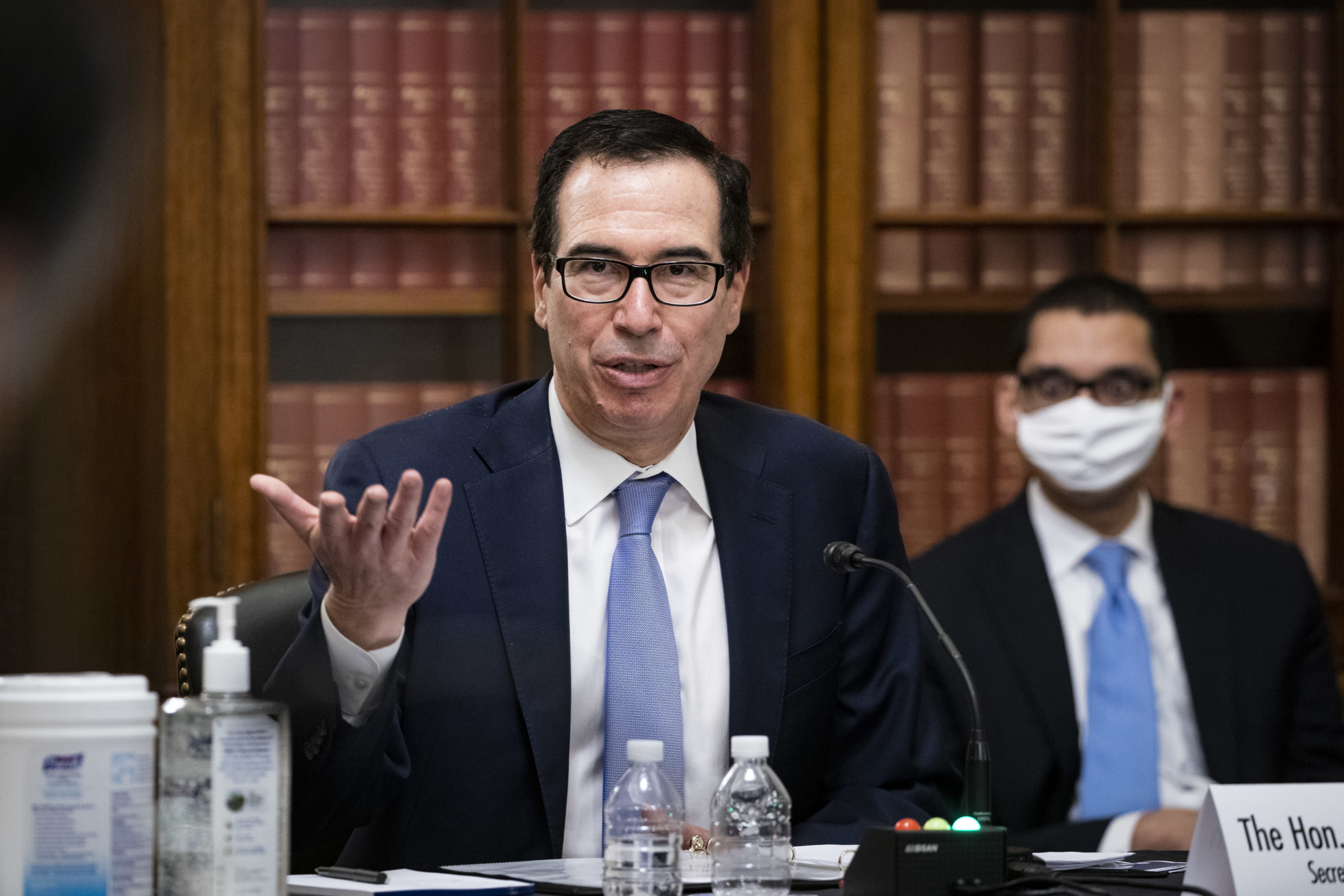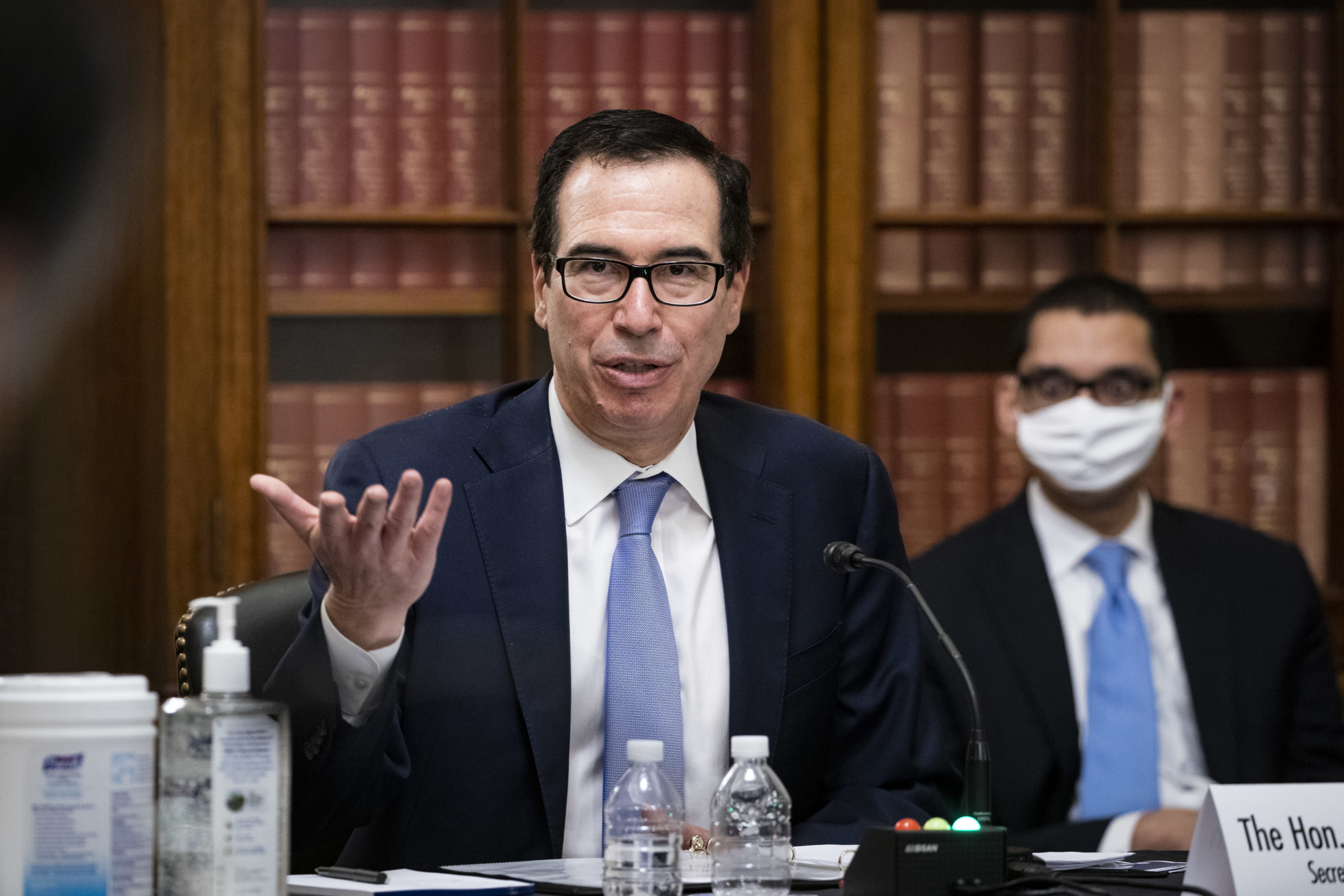 Voters were least likely to say funds helped the wealthy (45%) and banks (52%).

More voters trusted Democrats in Congress (47%) than President Trump (37%) or Republicans in Congress (38%) to oversee proper distribution of funds.
As Washington debates how to best oversee the funds distributed to help offset the economic damage of the coronavirus pandemic, voters mostly believe the aid has helped small businesses and middle-income workers, according to new polling by Morning Consult and Politico. 
Congress and oversight committees have been grappling with how to best monitor the funds that the federal government authorized in the $2 trillion CARES Act, with Democratic lawmakers calling for Treasury Secretary Steven Mnuchin and the Small Business Administration to provide more transparency on Paycheck Protection Program funds, which are intended for small businesses. One bipartisan oversight committee said in a report that there's more evidence that funds distributed via the Federal Reserve and Treasury Department have primarily benefited large businesses rather than smaller entities or state and local governments. 
But voters largely believe the funds went where lawmakers intended them to go.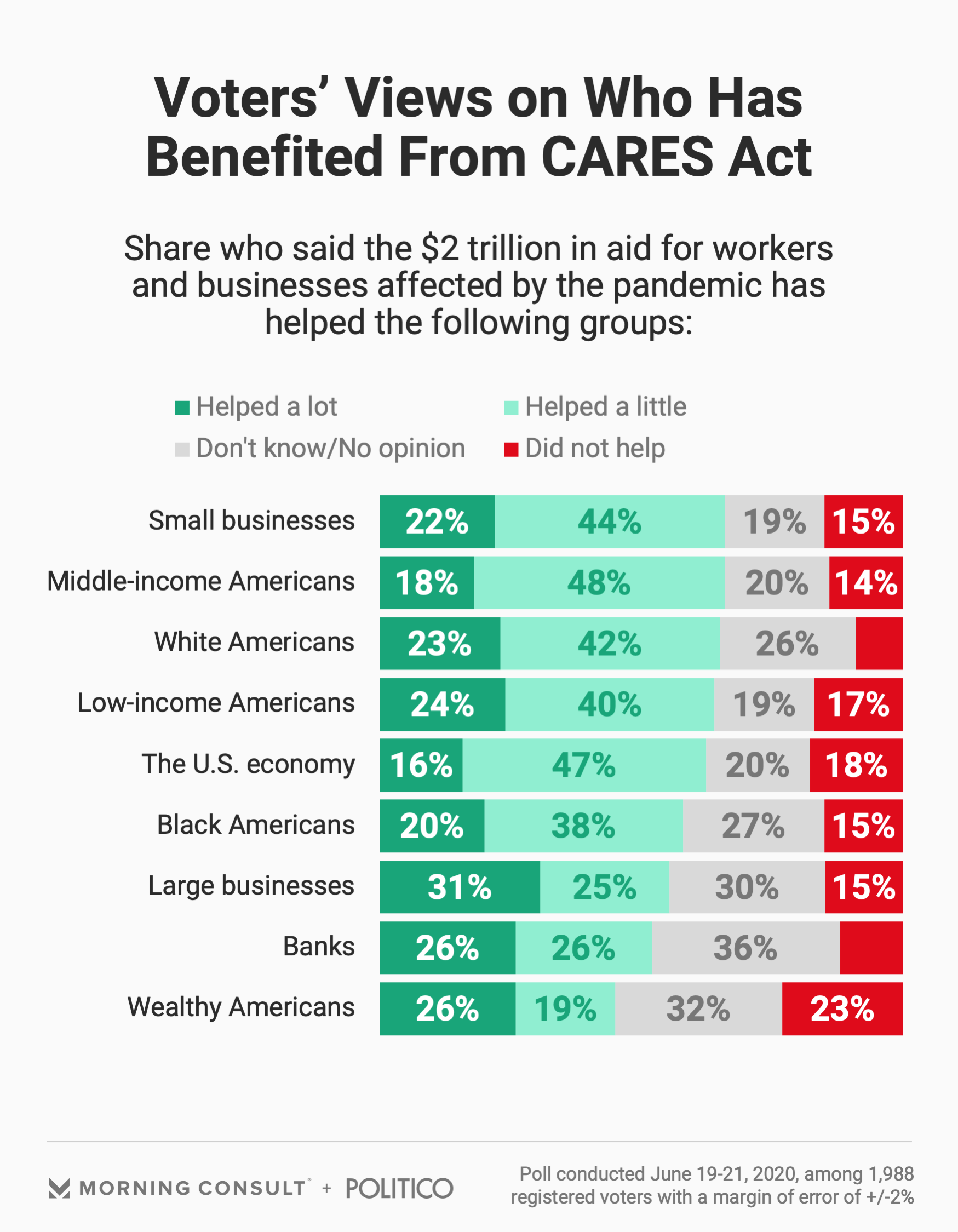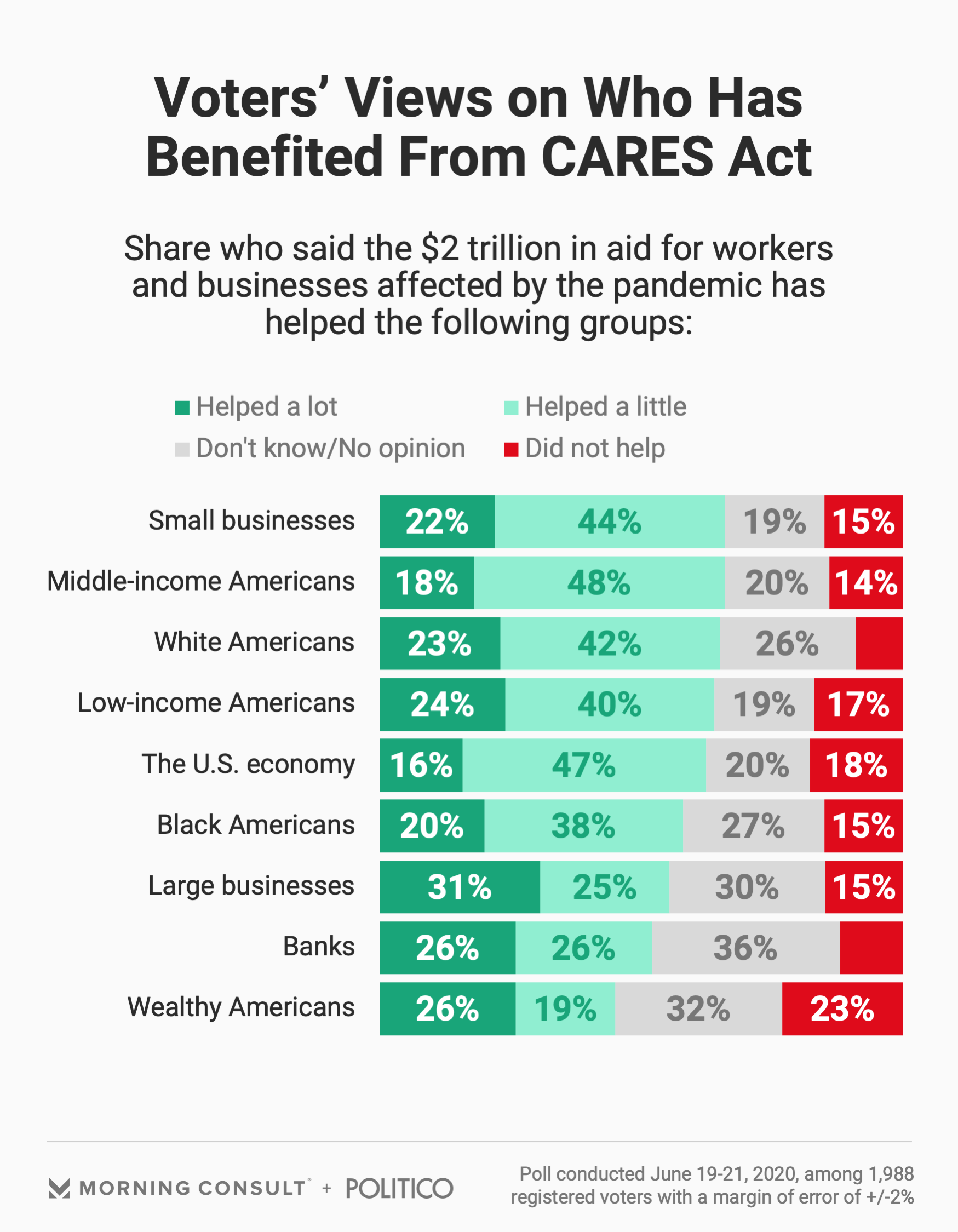 Sixty-six percent of registered voters said that CARES Act funds helped small businesses and middle-income Americans, respectively. A similar share (64 percent) said it aided low-income Americans. 
The poll surveyed 1,988 registered voters from June 19-21 and has a margin of error of 2 percentage points. 
Overall, voters were least likely to say that the CARES Act is beneficial for the wealthy and banks, with 52 percent saying it helped banks, compared to 45 percent of those who said it helped wealthy Americans. 
Voters, however, thought white Americans were slightly more likely to benefit than Black Americans: 65 percent said the funds helped the former, while 58 percent said they helped the latter. 
Overall, voters trust Democrats more to monitor the proper distribution of the funds: Forty-seven percent said they had "a lot" or "some" trust in congressional Democrats to oversee the funds, while 39 percent said they trust them "not much" or "not at all." 
Comparatively, 37 percent said they trust Trump to oversee the proper distribution of the funds a lot or some, compared to 52 percent who said not much or not at all. Thirty-eight percent said they have trust in congressional Republicans, compared to 48 percent who said they had little or no trust.