July 6, 2020 at 5:52 pm ET
UPDATED: July 6, 2020
After months of lockdowns, officials in all 50 states have given businesses the green light to reopen under certain restrictions. But as more of the public is permitted to re-engage with activities once considered normal, not everyone is comfortable venturing out just yet. 
Morning Consult is tracking consumers' comfort level with returning to the public sphere for pastimes, such as going to the movies or to the gym, amid the ongoing threat of COVID-19. Comfort levels had slowly ticked up over the course of the pandemic, but dropped for the first time in late June and remained low in early July, with less than a quarter (23 percent) of U.S. adults on average now saying they feel safe engaging in a range of leisure activities.
We'll be updating this page every week with new data, including the share of people who are comfortable doing activities right now and self-predictions on when they will feel safe.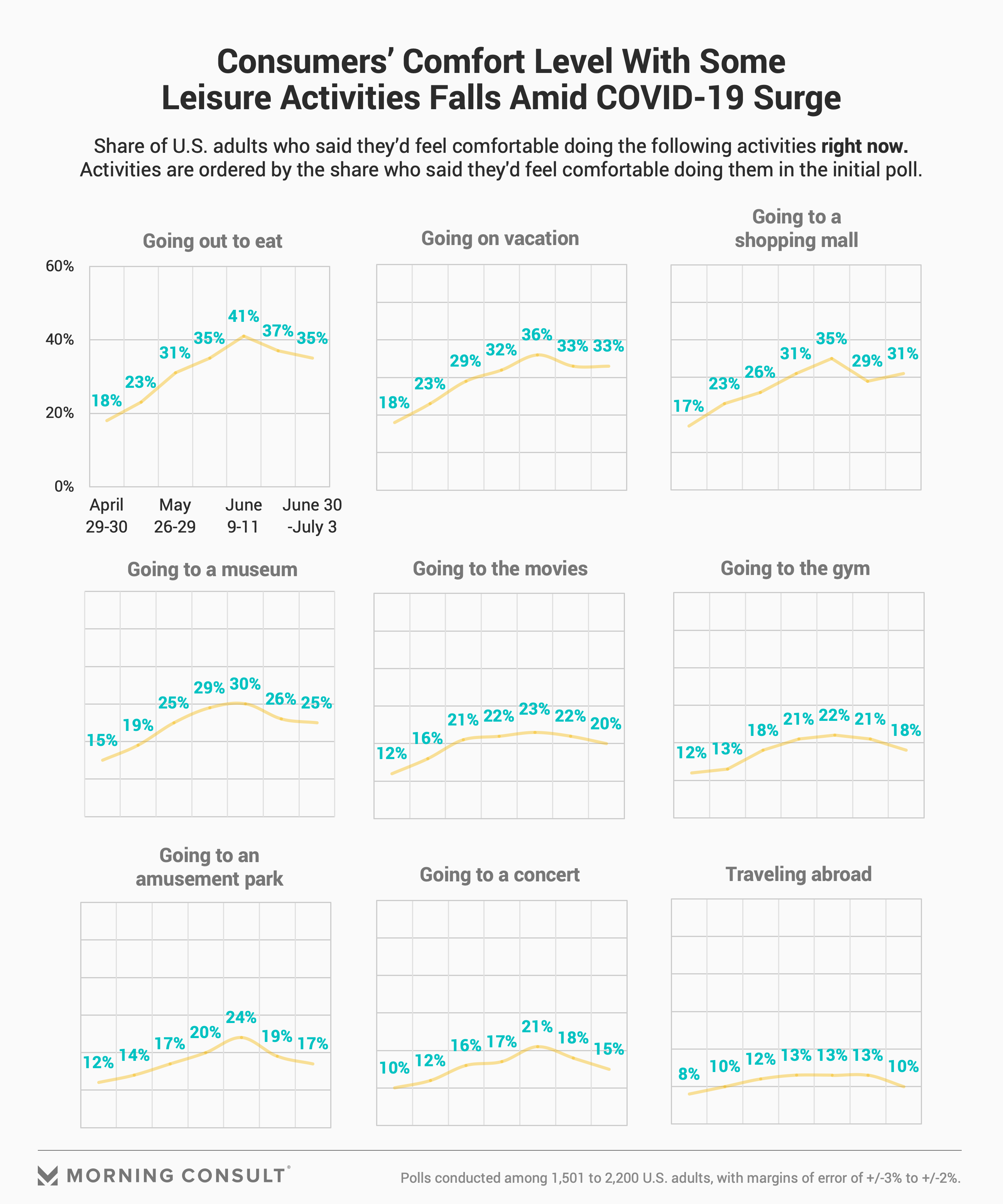 People are still most comfortable going out to eat, going shopping or going on a vacation, with 33 percent of respondents on average saying they would feel safe doing each of those activities now — the same share that said they felt comfortable with those three activities in late June. 
As more restaurants open at limited capacity, relatively few consumers feel safe returning to dining rooms: 35 percent of the public is currently comfortable going out to eat, down from 37 percent in late June and 41 percent in mid-June.
While the shares of Republicans and independents who said they feel safe dining outside of their homes are now 49 percent and 33 percent, respectively, even fewer Democrats (24 percent) said they felt comfortable eating at a restaurant. 
When it comes to shopping malls, Republicans are also more likely than independents and Democrats to feel comfortable returning. Forty-one percent of Republicans said they would currently be comfortable shopping at a mall, compared with 28 percent of independents and 23 percent of Democrats.
The entertainment industry was hailing Christopher Nolan's July 17 release of "Tenet" as the unofficial start of the summer 2020 movie season, with many theaters planning to reopen for the film. But the film's release date delay to Aug. 12 appears to align with consumer comfort: The share of consumers who say they currently feel comfortable at theaters has barely budged since late May and it is considerably below the share of consumers who are currently OK with going out to eat or to a shopping mall. 
Twenty percent of all adults said they would go see a movie right now, down from 22 percent in late June and 23 percent in mid-June.
Generation Z adults' comfort with going to the movies dropped significantly from late June to early July, down to 20 percent from 36 percent, while Baby Boomers (16 percent) reported no change from mid-June.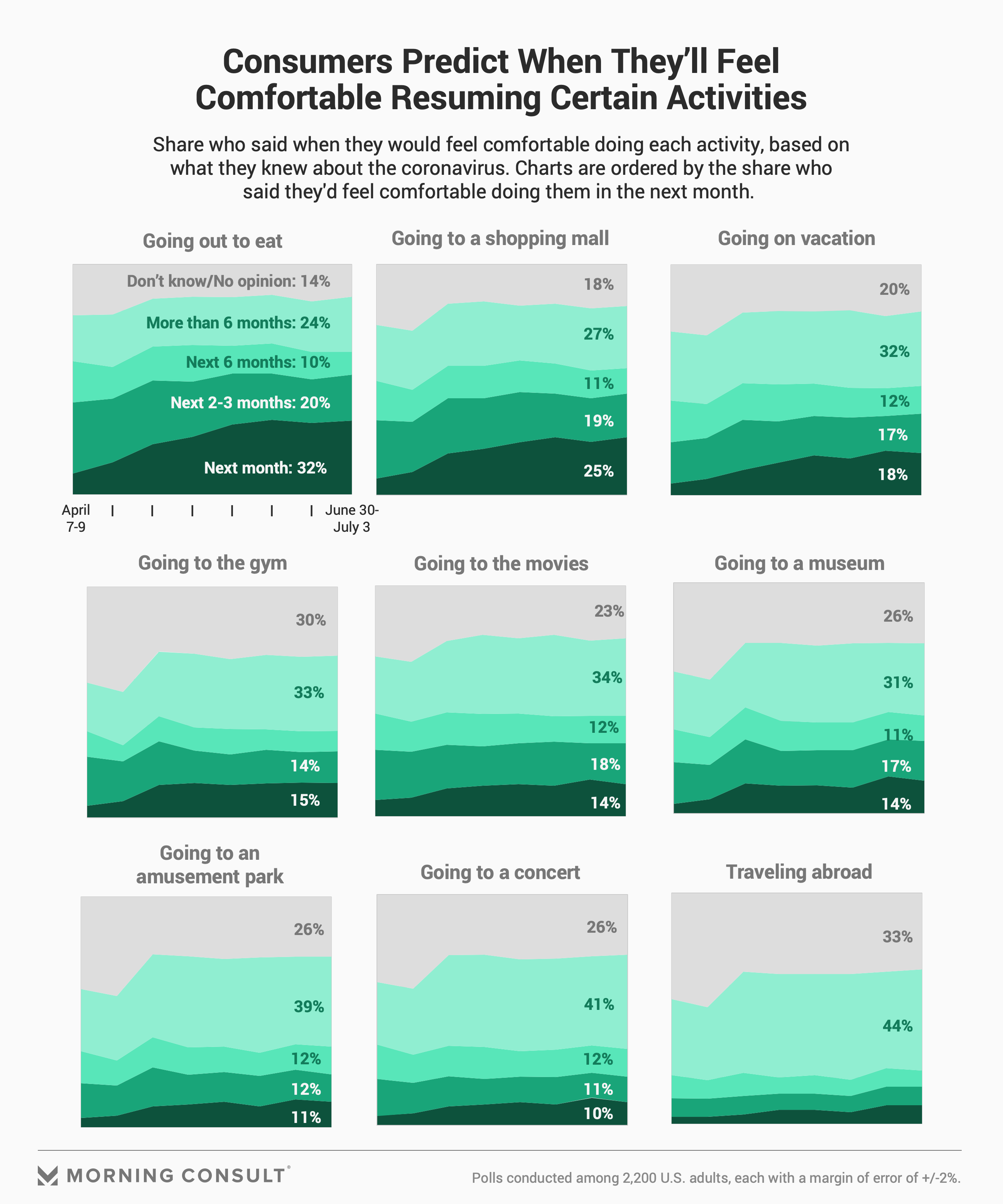 Though Morning Consult measured a gradual increase in easement toward doing most leisure activities through mid-June, when consumers are asked to predict when they will feel safe returning to those activities, the latest figures show little change from data collected in May and June.
Even views on dining out, which had been an outlier to this trend, have started to level off: 32 percent of respondents in the June 30-July 3 survey said they would be comfortable eating out within the next month, compared with 31 percent in late June, 32 percent in mid-June and 30 percent in early June. An additional 20 percent of people said they could see themselves going to a restaurant within the next three months.
Comfort with traveling has also shown signs of flattening recently. Eighteen percent of respondents said they would feel comfortable taking a vacation within the next month, compared with 19 percent who said the same late last month, 16 percent in mid-June and 17 percent in early June.
Traveling abroad remains an activity that consumers predict they'll avoid in the near future. Nearly half (44 percent) said they won't feel safe traveling internationally until at least the end of the year.