July 13, 2020 at 1:45 pm ET
UPDATED: July 13, 2020
After months of lockdowns, officials in all 50 states have given businesses the green light to reopen under certain restrictions. But as more of the public is permitted to re-engage with activities once considered normal, not everyone is comfortable venturing out just yet. 
Morning Consult is tracking consumers' comfort level with returning to the public sphere for pastimes, such as going to the movies or to the gym, amid the ongoing threat of COVID-19. Comfort levels had slowly ticked up over the course of the pandemic, but dropped for the first time in late June and remained low thus far in July.
Less than a quarter (23 percent) of U.S. adults on average now say they feel safe engaging in a range of leisure activities, the same share who said so June 30-July 3.
We'll be updating this page every week with new data, including the share of people who are comfortable doing activities right now and self-predictions on when they will feel safe.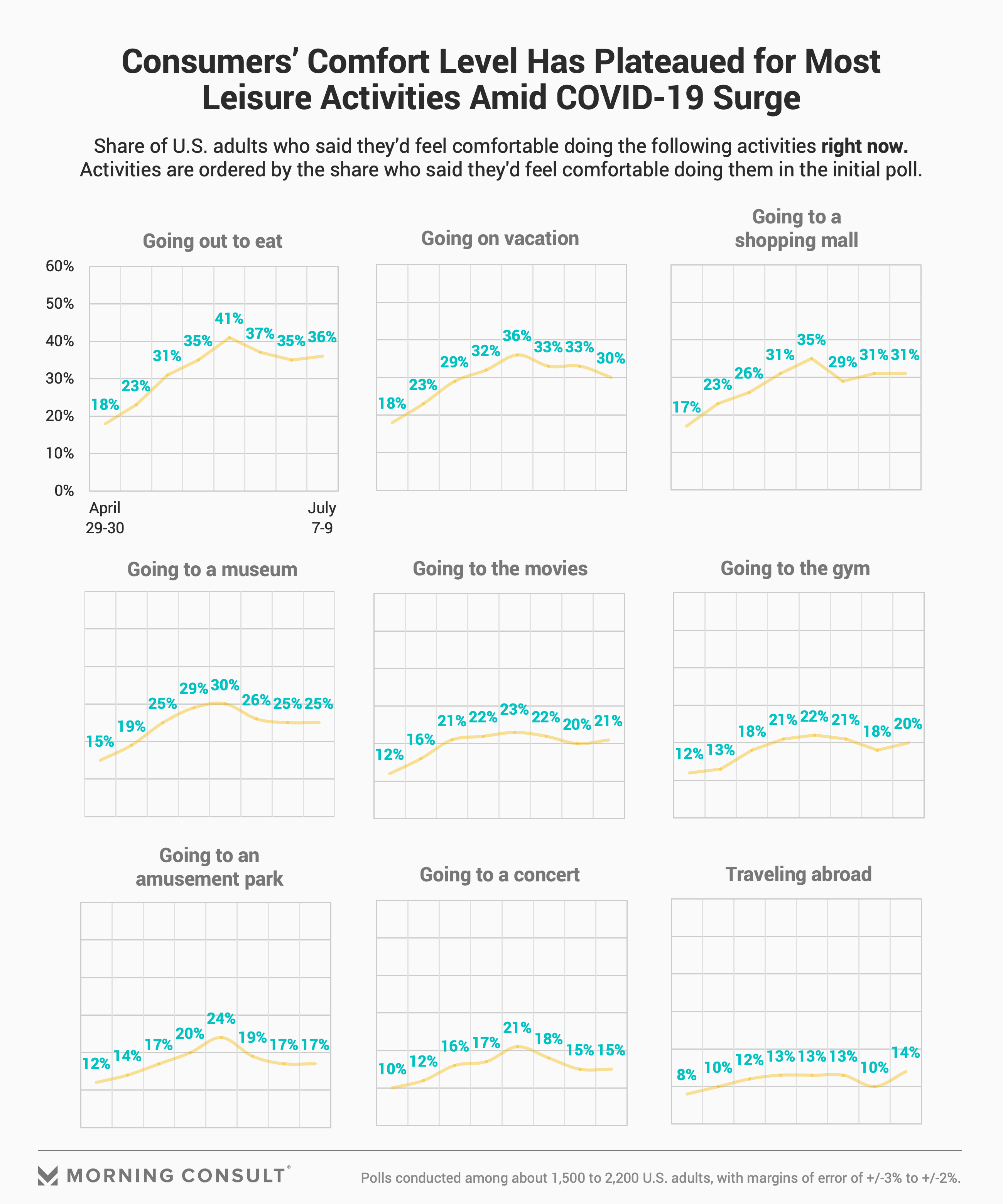 People are still most comfortable going out to eat, shopping or taking a vacation, with 32 percent of respondents on average saying they would feel safe doing each of those activities now — roughly the same share who said they felt comfortable with those three activities earlier this month. 
As more restaurants open at limited capacity, relatively few consumers feel safe returning to dining rooms: 36 percent of the public is currently comfortable going out to eat, a share that has stayed relatively steady over the past two weeks since dropping from a high of 41 percent in mid-June.
Despite summer being well underway, the public is still hesitant to engage in traditional summer travel plans.
Walt Disney World reopened July 11, even as Florida officials reported a new record number of daily coronavirus cases. New polling shows 17 percent of the public currently feels comfortable going to an amusement park. Another 30 percent said they feel safe going on vacation, down 6 points from mid-June.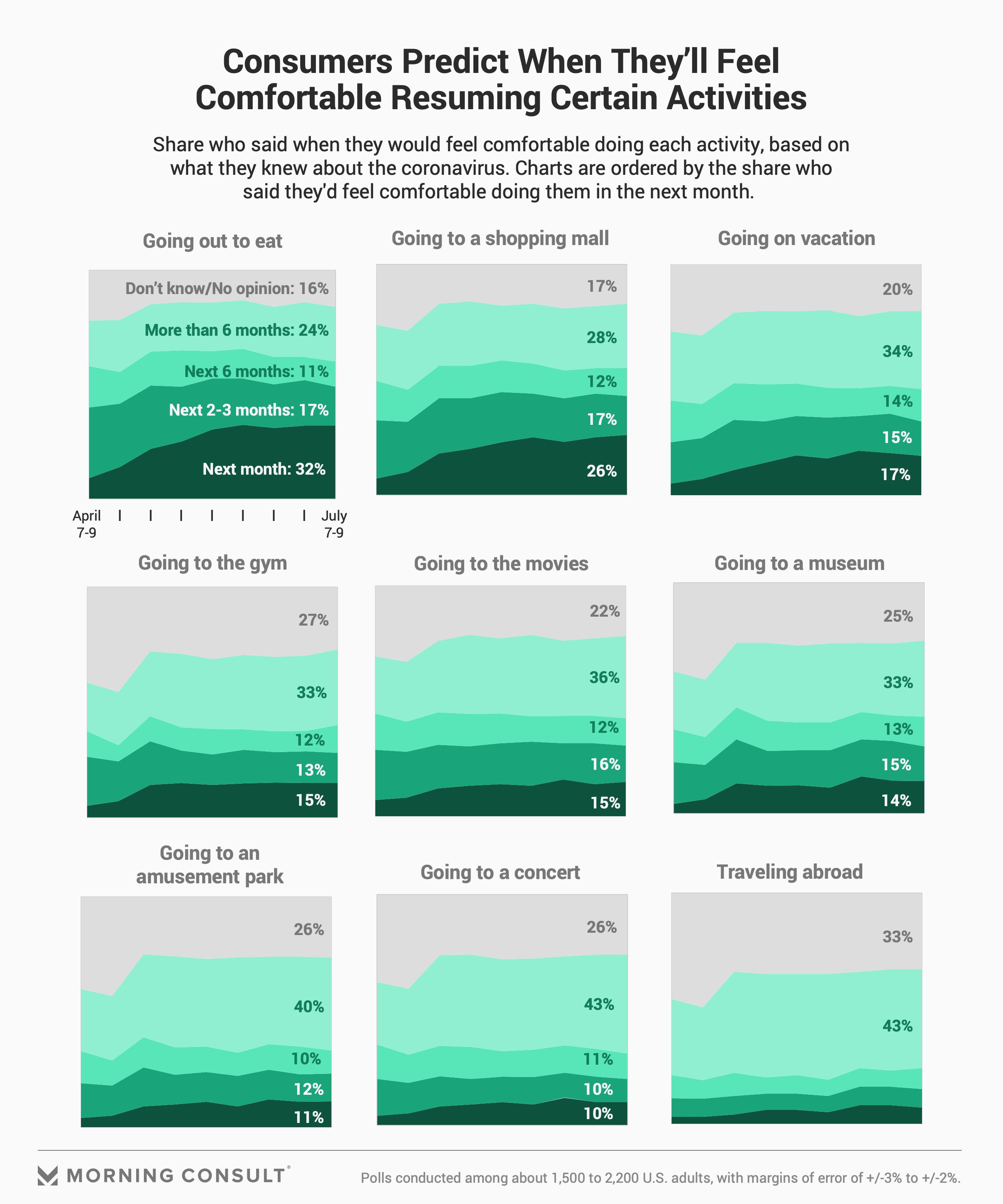 Though Morning Consult measured a gradual increase in easement toward doing most leisure activities through mid-June, when consumers were asked to predict when they will feel safe returning to those activities, the latest figures show little change from data collected in May and June.
Even views on dining out, which had been an outlier to this trend, have started to level off: 32 percent of respondents in the July 7-9 survey said they would be comfortable eating out within the next month, the same share who said so June 30-July 3, compared with 31 percent in late June, 32 percent in mid-June and 30 percent in early June. 
An additional 17 percent of people said they could see themselves going to a restaurant within the next three months, down from 20 percent earlier in July.
Comfort with traveling has also shown signs of flattening recently. Seventeen percent of respondents said they would feel comfortable taking a vacation within the next month, compared with 18 percent who said the same June 30-July 3, 19 percent late last month, 16 percent in mid-June and 17 percent in early June.
Traveling abroad remains an activity that consumers predict they'll avoid in the near future. Nearly half (43 percent) said they won't feel safe traveling internationally until at least the end of the year.