Roughly one month after NBCUniversal's Peacock streaming service launched nationwide, new data from Reelgood shared exclusively with Morning Consult finds that Peacock's free tier generated more activity in its first two weeks of its national debut compared to its competitors' subscription launches, but streaming on its Premium plan trailed behind its free version and other competitors in the streaming world.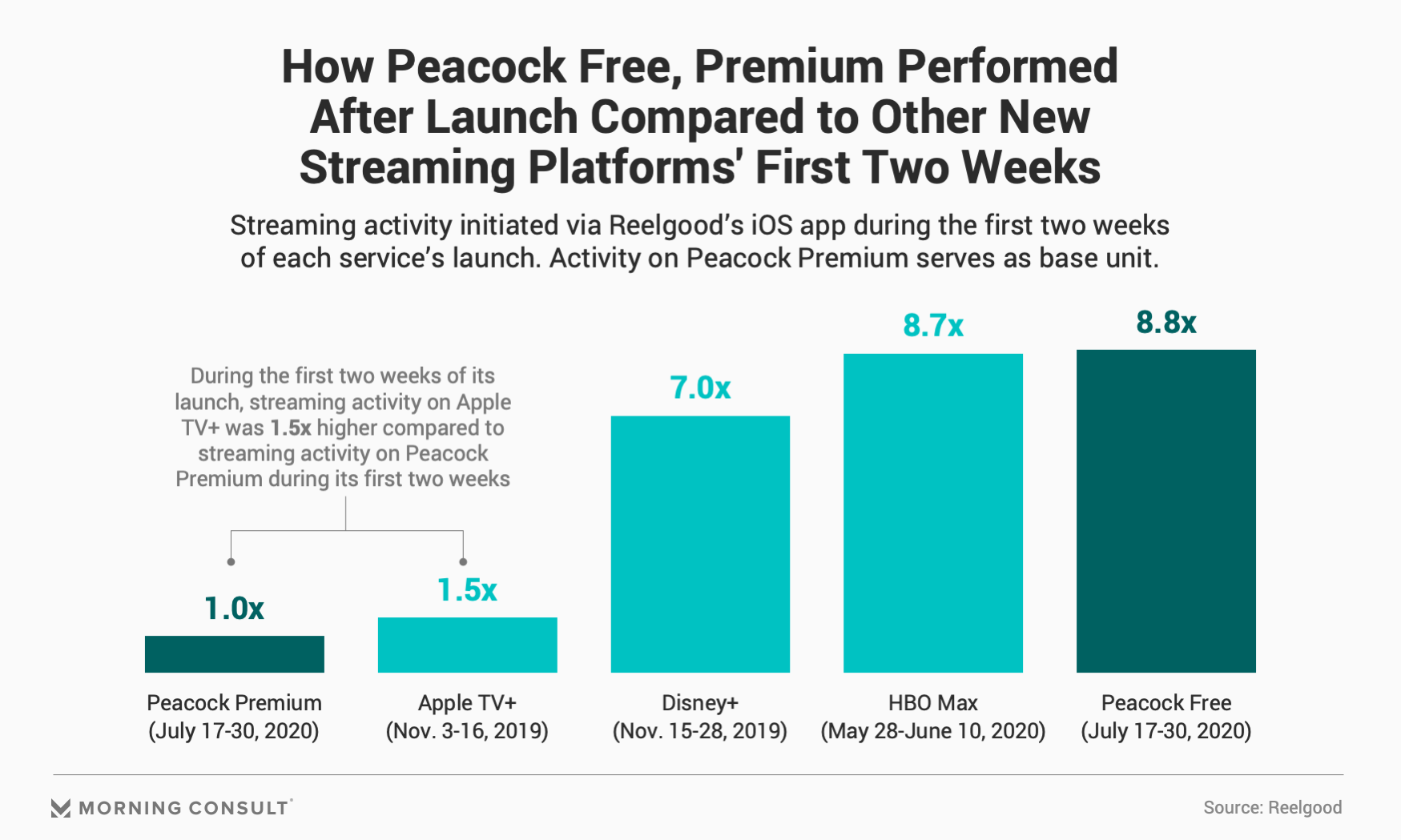 When looking at streaming activity among Reelgood users, Peacock Free generated 8.8 times more activity than Peacock Premium from July 17-30. By comparison, activity on Disney+ during the first two weeks of its launch in November 2019 was 7 times that of Peacock Premium, while activity on Apple TV+ was 1.5 times higher in its first two weeks in November. 
Streaming activity on HBO Max in the two weeks after its launch in May roughly equaled the activity on Peacock Free. All of the paid services offer a free seven-day trial period.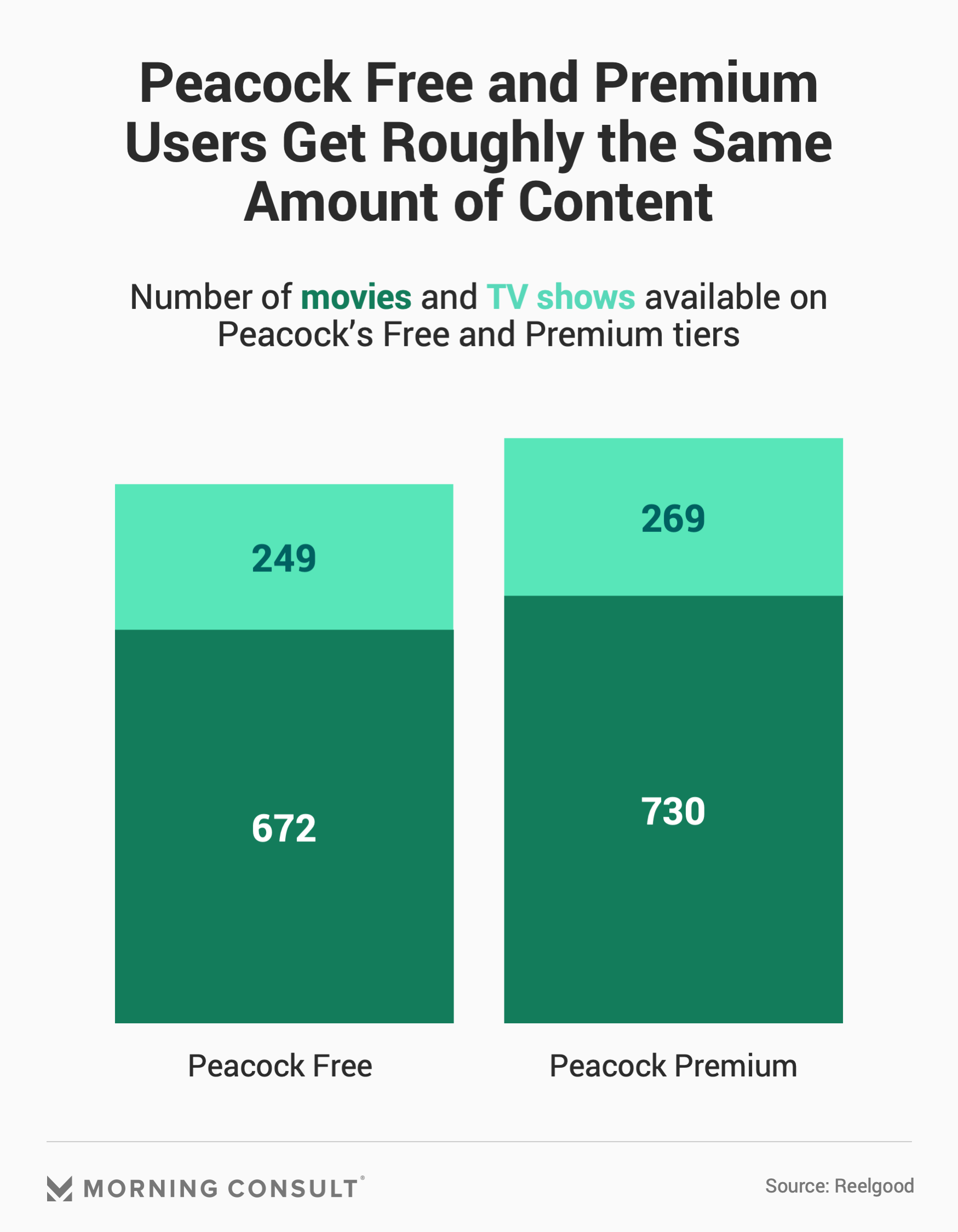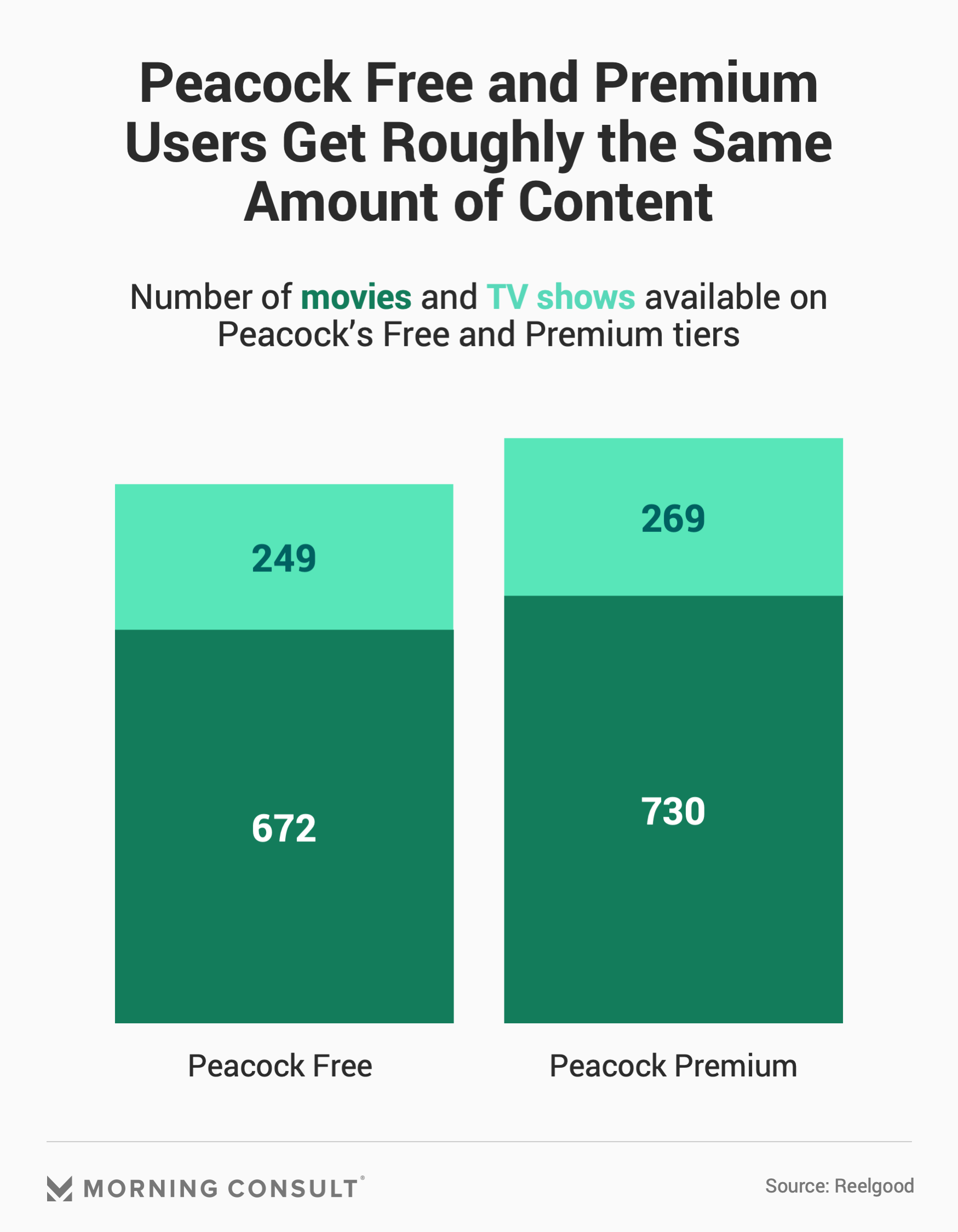 About 90 percent of streaming on Peacock from July 17-30, took place on the service's free tier. 
Peacock offers consumers three plans to choose from: Free, which offers users 93 percent of the TV shows and 92 percent of the movies available on Premium with ads, at no cost; a $4.99-a-month Premium plan, which includes the service's entire content library with ads; and the $9.99-a-month Premium Plus plan, which features all content ad-free.  
The Free tier offers users 672 movies and 249 TV shows, while Premium subscribers have access to 730 movies and 269 TV shows. 
Peacock's launch marks one of the first network entries into the OTT space with a tiered subscription model. CBS All Access, which offers an ad-supported and ad-free option, launched October 2014 and has grown to include Viacom properties after the 2019 merger between Viacom Inc. and CBS Corp. Peacock is also one of three streaming services to debut amid the coronavirus pandemic, following Quibi and HBO Max's launch, capturing bored consumers isolated at home.
Last month, when Comcast Corp. reported second-quarter earnings, Comcast Chief Executive Brian L. Roberts said Peacock, which was made available to Comcast cable subscribers in April before its national launch, has "10 million sign-ups to date."