Movie theaters around the country are beginning to reopen after months of lockdown, dangling unconventional promotions to draw in hesitant patrons. New Morning Consult polling finds that most of the offers theaters are promoting won't bring back crowds of moviegoers, but analysts suggest word of mouth and popular titles will likely help. 
An Aug. 21-23 Morning Consult survey found that just 18 percent of consumers said they were likely to go to the movies in September. Twenty-three percent said they were likely to go sometime this year.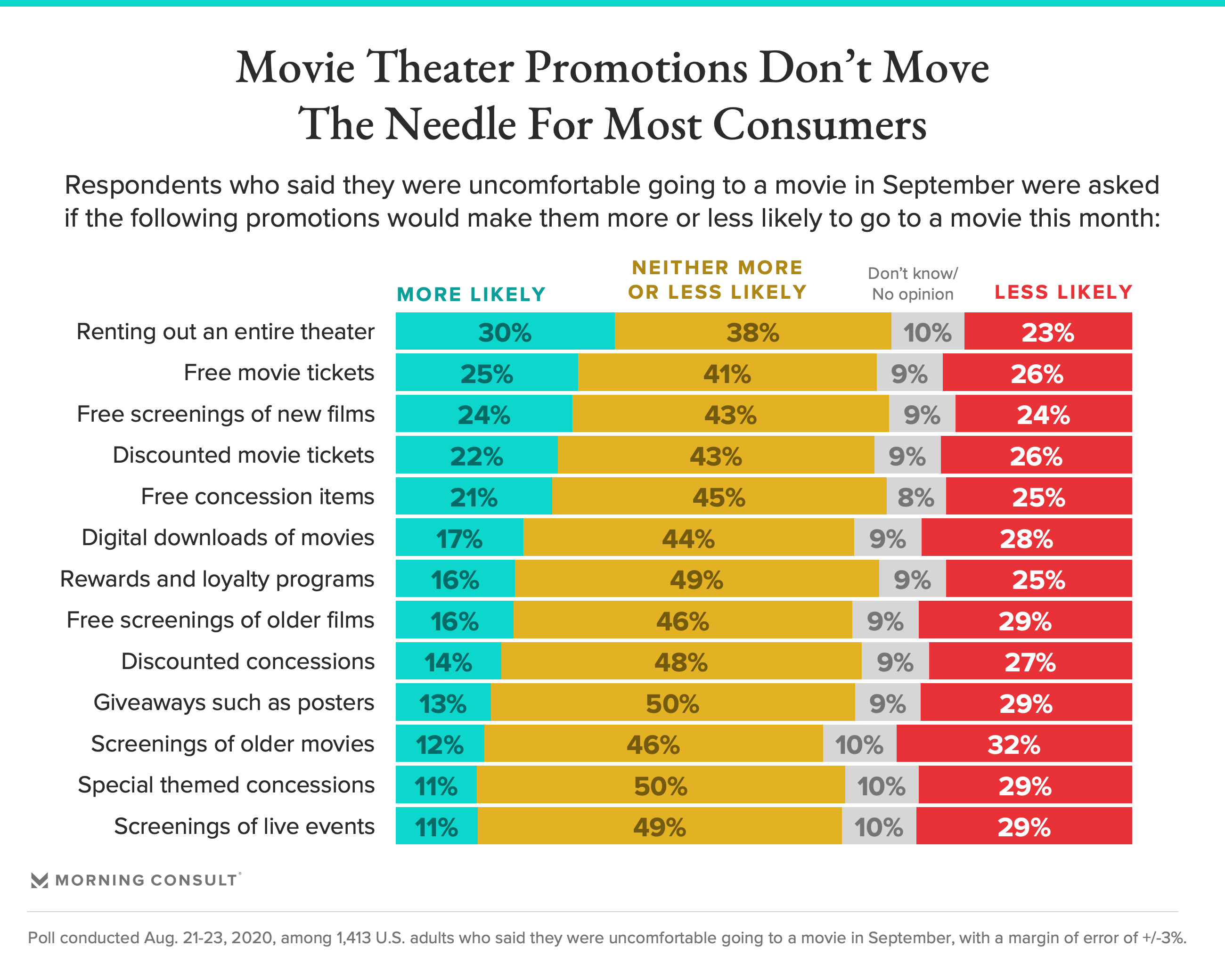 Exhibitors are now looking to entice those who are still uncomfortable back to theaters with a wide array of promotions. On the first day of its reopening, AMC Entertainment Holdings Inc. charged 15 cents for films, while Alamo Drafthouse gave moviegoers the chance to see "Bill & Ted Face the Music" for free. Alamo Drafthouse is also allowing customers to rent out theaters for private use.
But the Morning Consult poll found that promotions won't move the needle for most consumers. 
Among the 1,413 U.S. adults who said they were uncomfortable going to a movie in September — or 64 percent of the 2,200-person survey — 30 percent said the ability to rent out a theater for themselves and their family would make them more likely to return. Twenty-five percent said the same of offers for free movie tickets, while 24 percent said they would likely head back for free screenings of new movies.
To be sure, on average, 46 percent of the demographic said no promotion would make them more or less likely to go to the movies. 
The survey has an overall margin of error of 2 percentage points, and the subsample of those who feel uncomfortable going to the movies has a 3-point margin of error. 
Paul Dergarabedian, senior media analyst at Comscore Inc., said these ongoing promotions appeal to two things consumers are concerned with most at the moment: health and price. 
"The No. 1 concern right now of potential moviegoers, as with any communal brick-and-mortar establishment, is health and safety," he said. "I think the idea of renting out your own theater is sort of like having your own party at your house with people that you know, where you are, in a sense, vetting your guests." 
He added that discounts for tickets or concessions may also appeal to the price-conscious consumer, given the economic hardships of the pandemic.
But promotions may not be the most influential force for moviegoers. 
Bruce Nash, founder and owner of The Numbers, a movie industry data website, said that bringing consumers back to theaters is "going to be about word of mouth."
"One person tells her friends, 'I went to the theater. It was fun, it was fine. They did a good job of keeping us safe and I felt as though it was worth doing.'" he said. "That leads to more and more people going back over time."
But, as always, content is king. Theaters began screening older films, such as "Inception" or the "Harry Potter" series, until new releases slowly entered the fray.
For the weekend of Aug. 28, nine films, including "The New Mutants" and "Unhinged," brought in $12.5 million domestically, up 96 percent week over week, according to Box Office Mojo.     
But this weekend introduces a blockbuster designed to bring in the money: Christopher Nolan's "Tenet," which earned $53 million in its opening weekend abroad.   
"'Tenet' has had one of the longest, most protracted rollouts of any movie I've ever seen," Dergarabedian said. "It's been top of mind for people for months. And if 'Unhinged' set the stage, then 'Tenet' is this main attraction where people are really going to be intrigued by this film. And for those who may be on the fence about going to a movie theater, as long as those theaters are presenting a safe and secure environment, people are going to want to see 'Tenet.'"