As wildfires rage on the West Coast and forecasters run out of names for major storms this hurricane season, a new Morning Consult poll shows that nearly three-quarters of U.S. adults say that climate change has contributed "a lot" or "some" to recent natural disasters.
Perhaps unsurprisingly, respondents in the West were more likely than those in other regions to say climate change has contributed "a lot" to recent natural disasters, at 49 percent. A third of adults in the South said the same, despite weathering what one meteorologist called a "hyperactive" hurricane season. This breakdown could reflect the partisan makeup of the regions: 58 percent of Democrats and 20 percent of Republicans said climate change had a large part to play in the catastrophes.  
And roughly half of Black and Hispanic respondents said climate change contributed substantially to events like the ongoing wildfires, while 36 percent of white respondents said the same.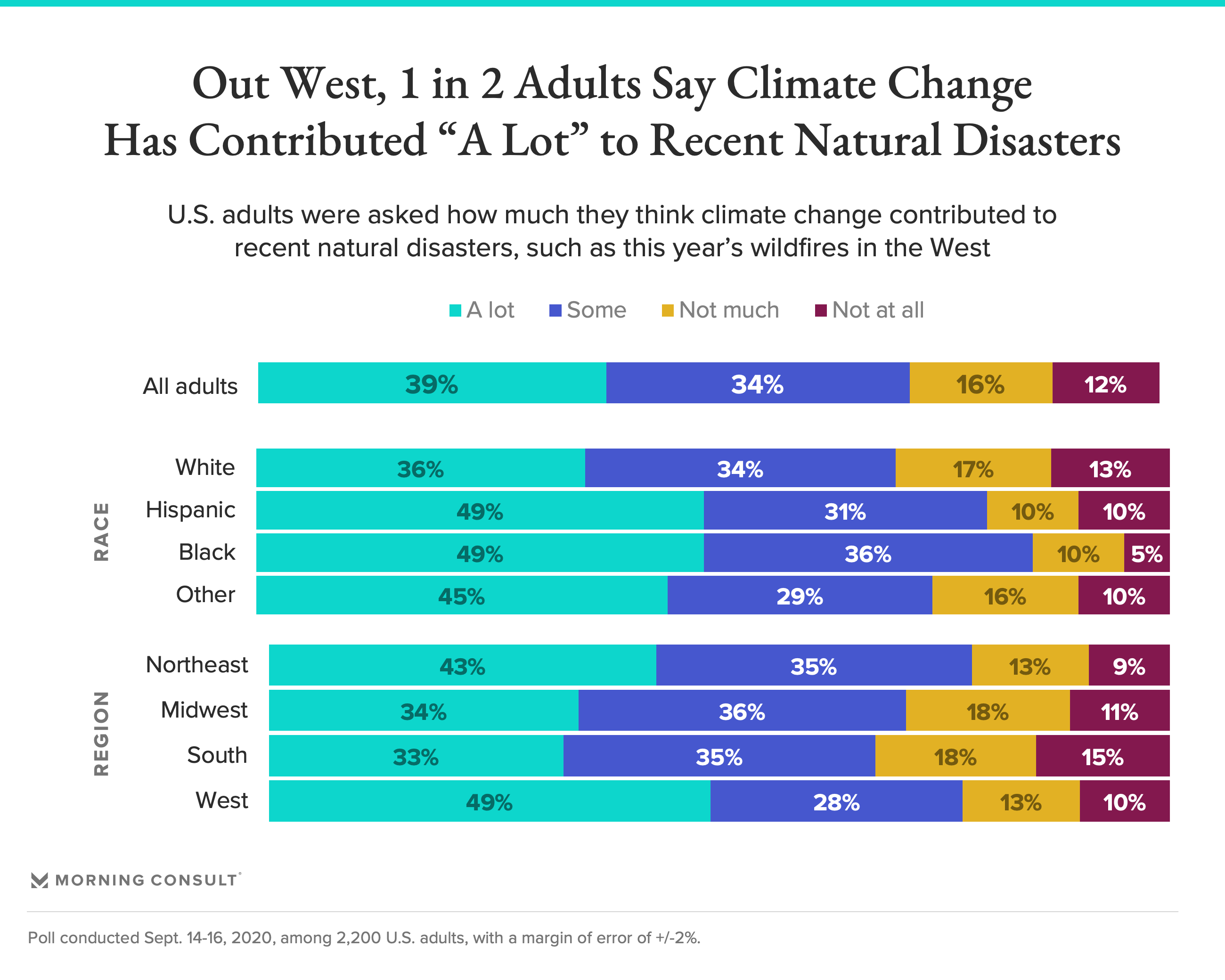 A similar racial gap persisted when respondents were asked specifically about the impact of natural disasters on their own community, with a smaller share of whites (38 percent) saying they are "very concerned" than the share of Black (53 percent) and Hispanic (50 percent) adults. 
The latest survey indicates that wildfires, hurricanes and other disasters are prompting some to reconsider where they live. One in 5 adults report that they are considering moving now or in the future due to the impacts of natural disasters in their region. Those in the West (27 percent) were most likely to consider a move and those in the Midwest (16 percent) were least likely, despite the destructive derecho damaging parts of the region earlier this year.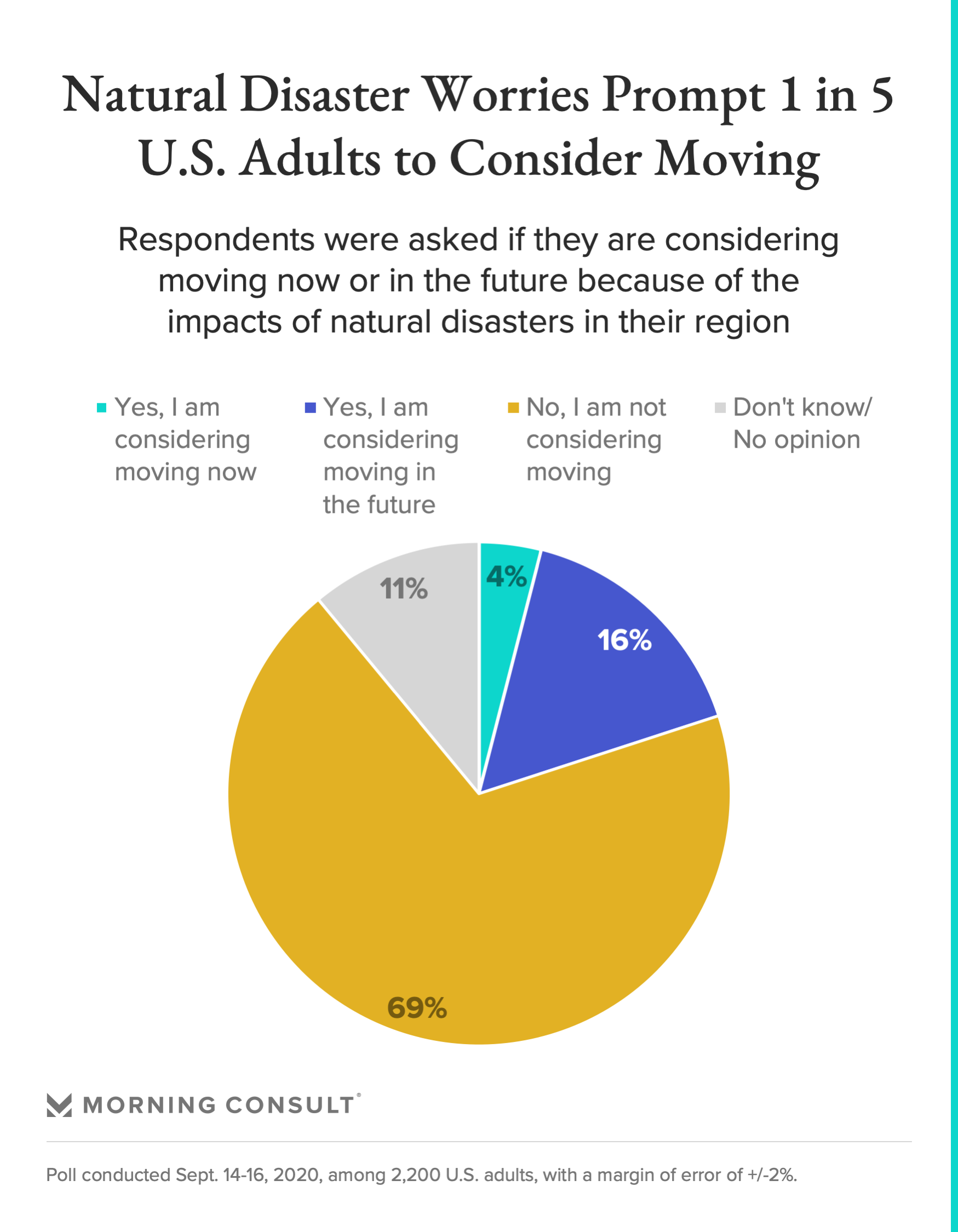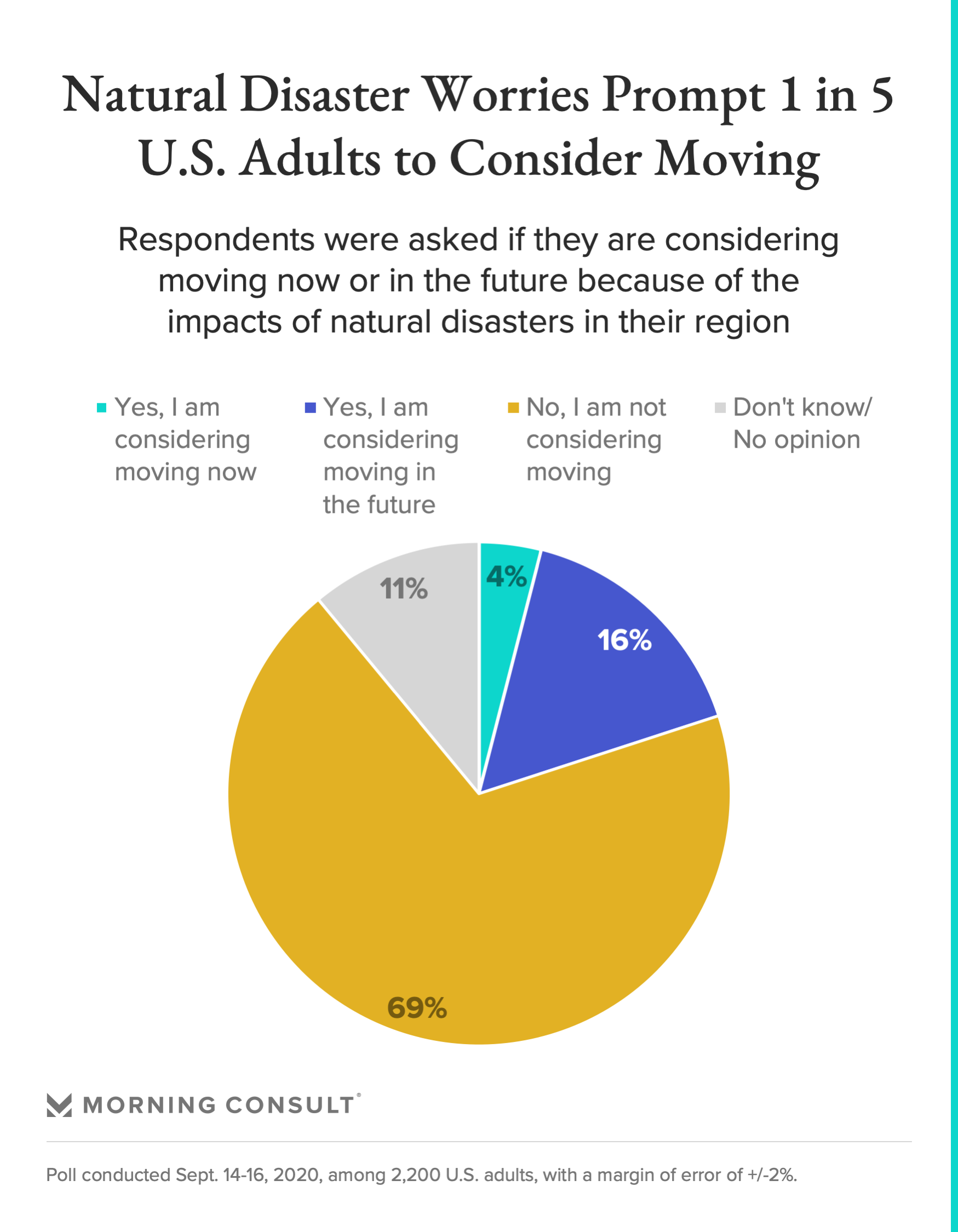 The Sept. 14-16 poll surveyed 2,200 U.S. adults and has a margin of error of 2 percentage points. The subsamples of Black and Hispanic adults have 6- and 5-point margins of error, respectively. The Midwest and Northeast regions have 5-point margins of error, while the West's margin of error is 4 points and the South's is 3 points. 
The survey results suggest a small uptick in general concern about the impact of climate change on the U.S. environment, in light of this month's combination of record-breaking wildfires in the West and a ceaseless parade of hurricanes and tropical storms. 
Forty-eight percent of adults say they are "very concerned," which is roughly 7 points greater than the 41 percent average of four polls between April and July 2020 but just 3 points above the results of a June 2019 poll similarly focused on natural disasters. The share of adults who say they are "not concerned at all" has dropped slightly, from an average of just above 11 percent to 8 percent in the new survey. 
And 39 percent of adults say they are very concerned about the impact of climate change on the U.S. economy, an issue that has come into sharper focus recently as banks lament the impact of the phenomenon on the financial system and a recent Commodity Futures Trading Commission report warned that climate change poses "serious emerging risks to the U.S. financial system."