From the way consumers will celebrate and travel to how they'll shop and spend, Morning Consult has been closely monitoring how consumer spending, channel preferences and shopping needs, preferences and habits are changing this holiday season, and what brands can do to navigate this landscape as it evolves.
Driven by a dwindling economy, an unfolding pandemic, significant social unrest around racial injustice and an imminent election, 2020 has been defined by a quickly changing consumer environment, which in turn means a moving target for marketers aiming to strike the right tone and message in brand communications.
The holiday season is rapidly approaching, starting earlier than ever this year. What does this mean for brands seeking to promote their products and services — indeed needing to, as a troublesome year for many categories and companies has left many desperate for a strong holiday season?
Here, we supplement Morning Consult's ongoing tracking of how consumers prefer brands to communicate with and advertise to them during this unique time by highlighting key themes in brand messaging and activism relevant to this holiday season.
Do actions really speak louder than words — and if so, which actions?
With the holiday season — and a second wave of coronavirus — descending upon America, this moment is an ideal pause point to reflect on lessons learned since the pandemic shut down the country in March and since corporate activism has increased around the Black Lives Matter movement. Critical lessons around changes in consumer attitudes and preferences related to the pandemic and this moment more broadly inform the optimal approach for advertising this holiday season, and serve as guideposts for brands navigating the many forces conspiring to make this season unlike any other.
It's by now no secret that many Americans believe that companies play an important role in our country, and that they should use their influence to drive positive change around important political and cultural issues.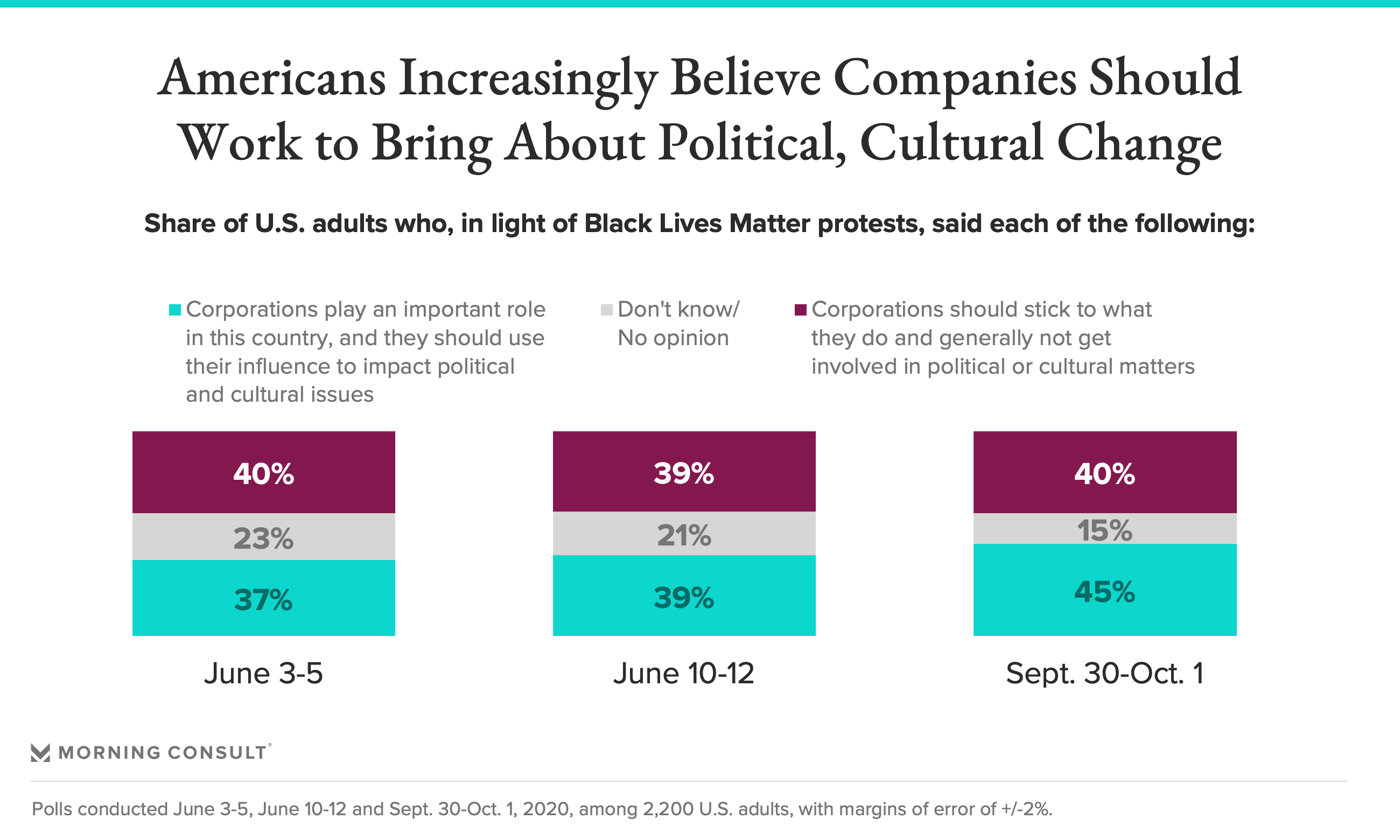 Indeed, 75 percent of Americans feel that companies have a responsibility to play a role in addressing racial inequality in the United States. Interestingly, Americans with postgraduate degrees are most likely to agree with this (85 percent agree), suggesting that expectations are higher among this audience. 
Still, Americans are increasingly skeptical of companies' motivations for making public statements around social issues such as Black Lives Matter, with a growing share feeling these efforts are primarily PR stunts.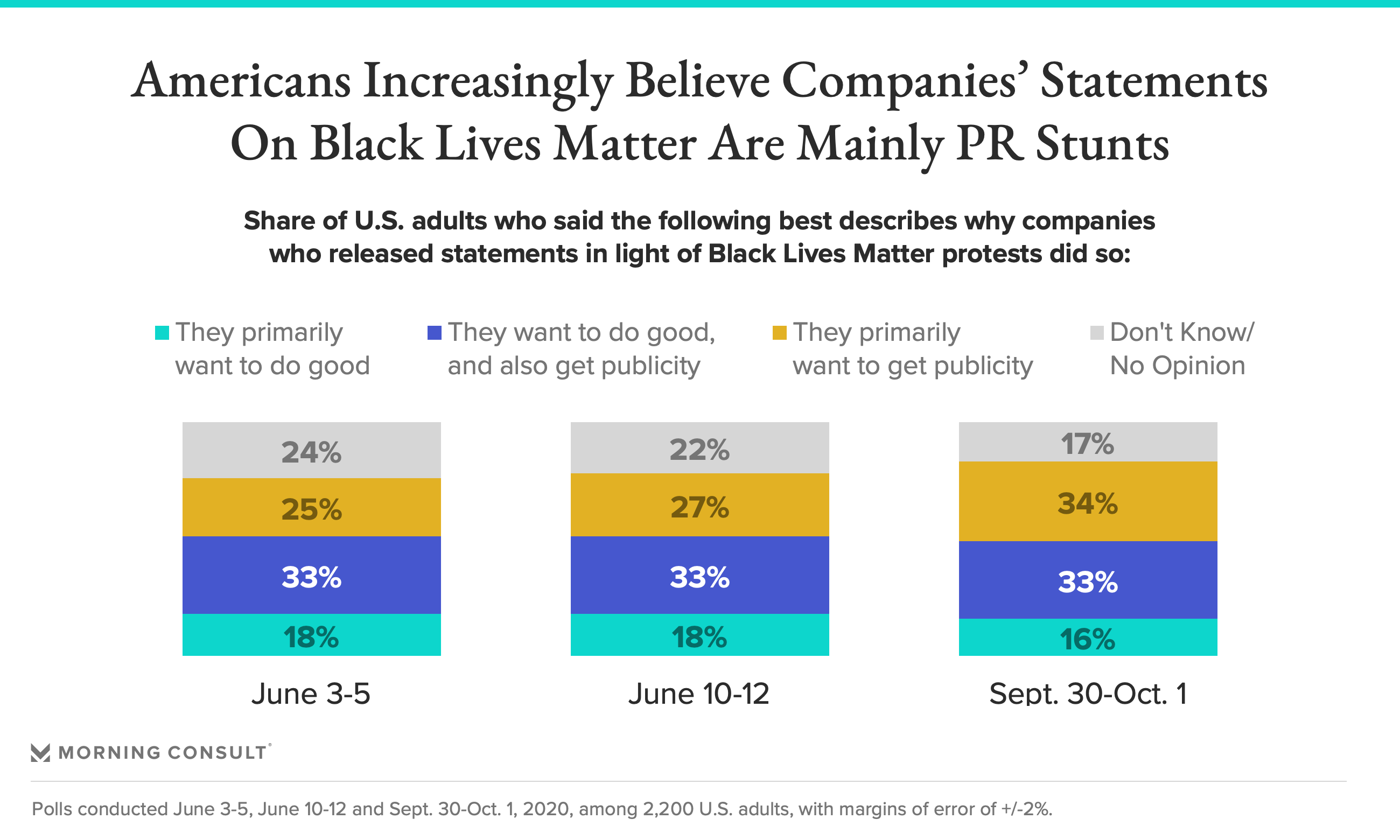 Unsurprising, then, that Americans increasingly believe that companies' actions speak louder than their words when it comes to important social issues: The share of U.S. adults who feel this way has risen to 60 percent from 53 percent in early June.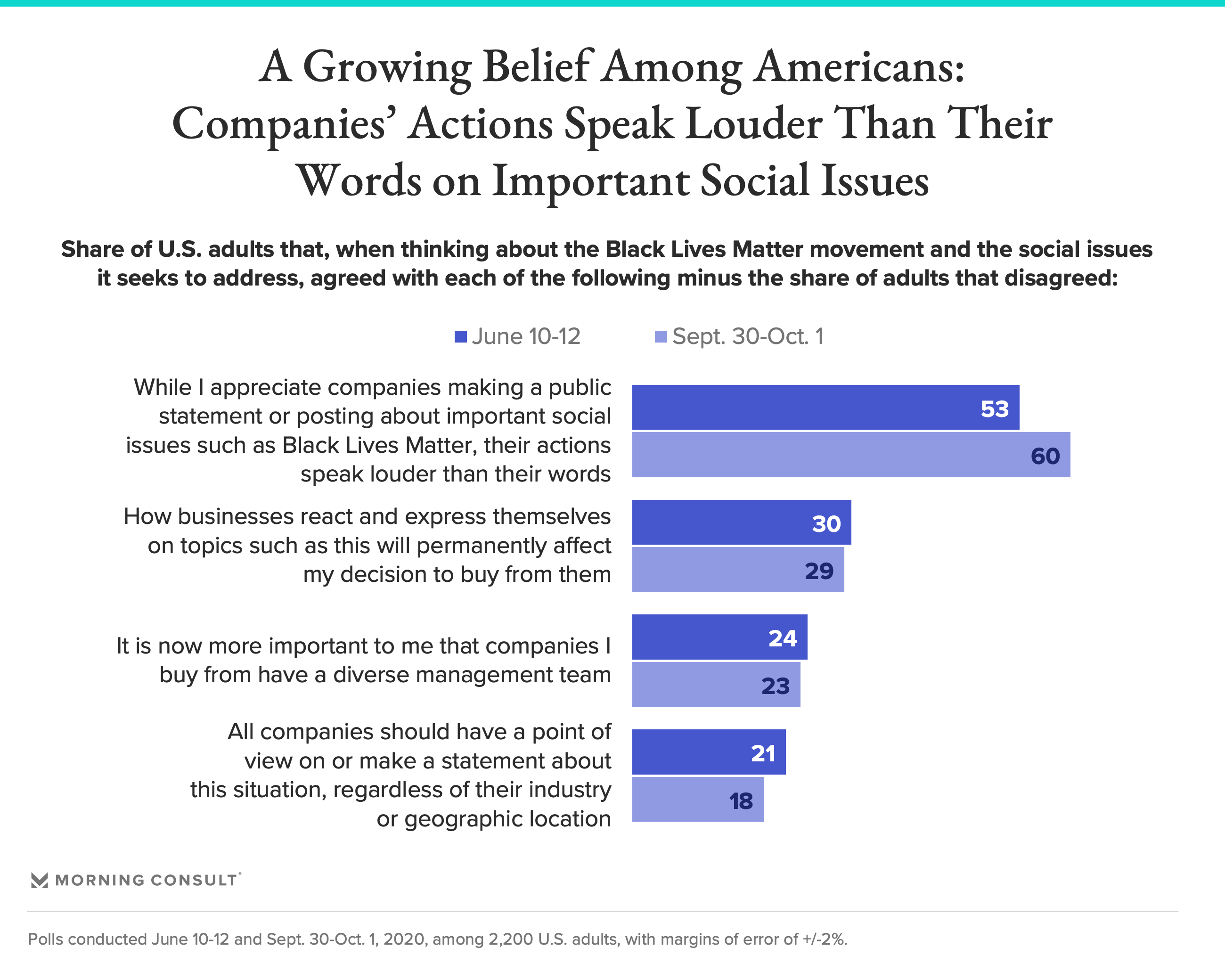 But when it comes to which actions Americans want from companies related to Black Lives Matter and the social issues this movement addresses, it appears that the popularity of many actions recommended in early June is waning. Giving employees time off for their mental health is the only action that has remained relatively steady as an initiative that would drive up the net favorability of a given company. Even commitments to increase diversity among leadership teams have declined in importance, dropping 6 points since early June.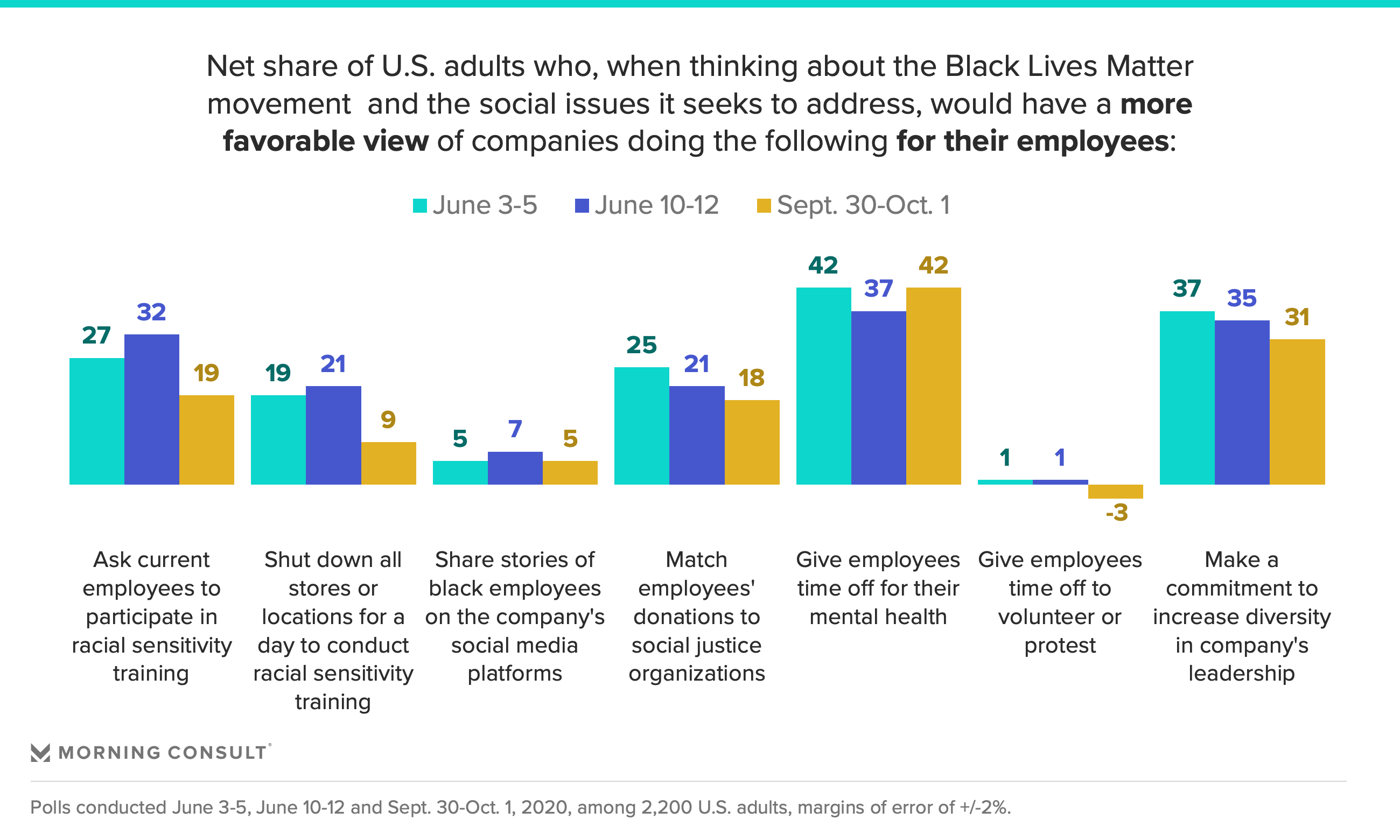 While there's been a slight decline in the importance of corporate activism around Black Lives Matter in driving purchasing decisions since June, this remains important for 64 percent of Americans. Perhaps more telling, a rising share of Americans say that the statements companies make in response to this movement will play a role in future employment decisions: 63 percent say this will be important in future employment decisions — especially younger generations. 
Corporate actions, statements, and follow-through as relates to Black Lives Matter are significantly more important to younger generations (Gen Z in particular), Democrats, minorities (Black Americans in particular), highly educated Americans and urbanites.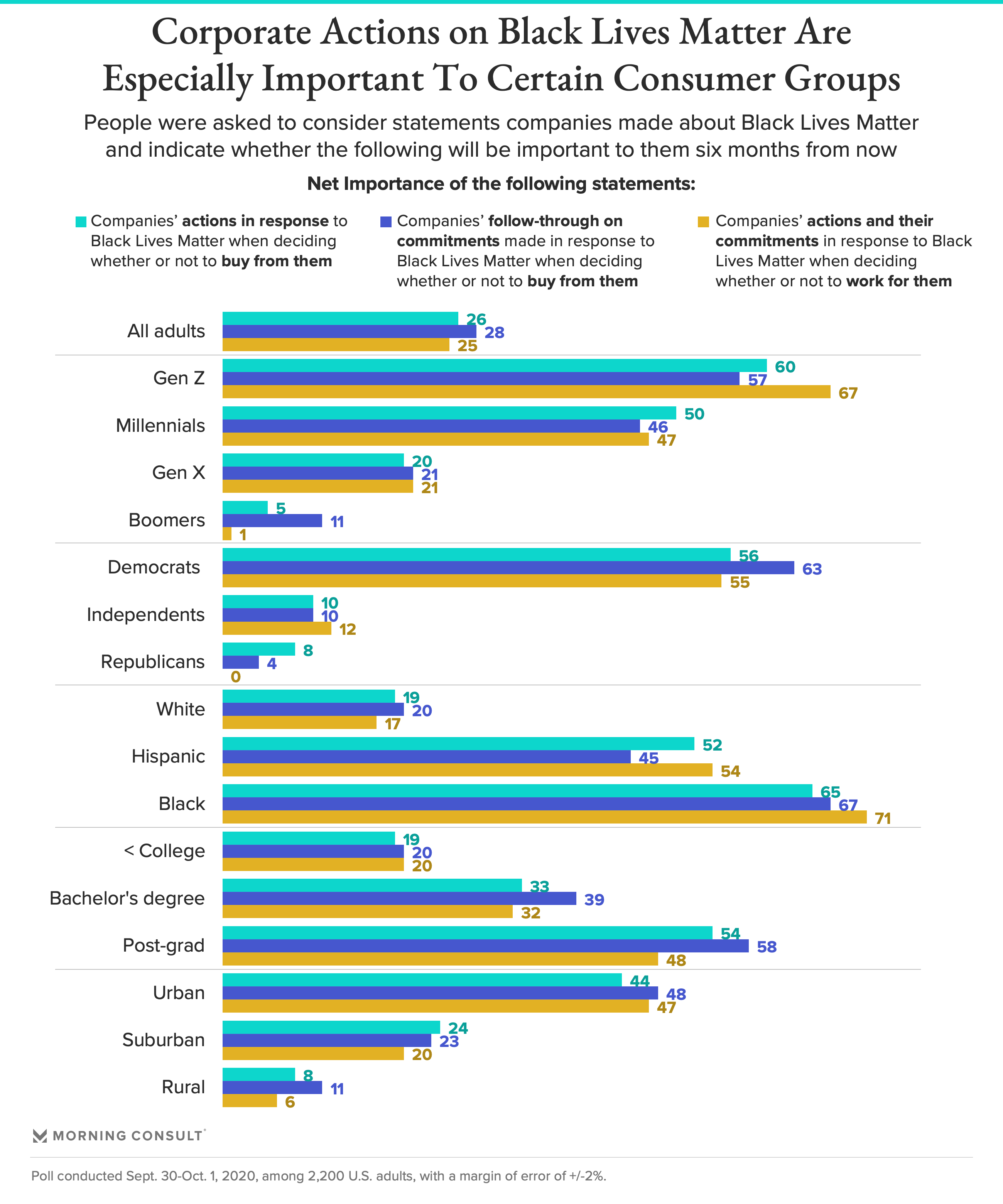 Communicating with confidence amid a crippling pandemic
In addition to evolving expectations around corporate activism, 2020 has left marketers and PR teams struggling to construct — and pivot — effective messaging, advertising and communications plans amid the unpredictability of a pandemic.
As Progressive's CMO recently outlined, marketers have been navigating distinct phases of the pandemic, each with its own balance between normalcy and sensitivity. Reflecting the shift from initial relief and subsequent release to early stages of recovery, Americans have become increasingly open to ads with people less than 6 feet apart since March. Though still not likely to drive purchase, Americans are also slowly warming to imagery of people hugging, kissing or shaking hands.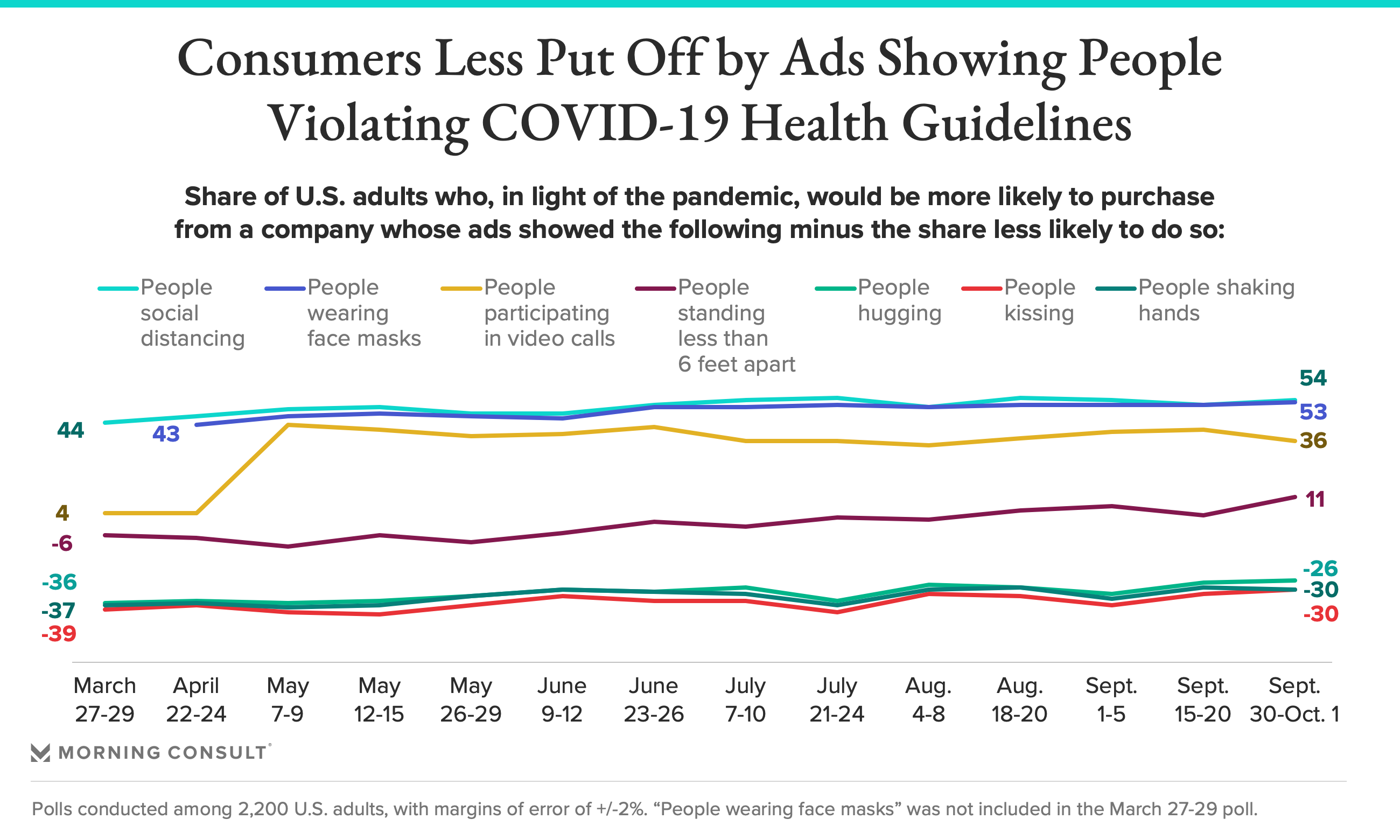 By May, Morning Consult data found more than a quarter of adults interested in ads about products and services – an 11 percentage-point uptick since late March, suggesting that consumers were increasingly craving a return to normalcy. This trend has continued: today, net likelihood to purchase from a company with ads showing its products or services has grown more than any other ad type. Funny and entertaining ads as well as those about company values have also continued to grow in appeal since the pandemic's onset.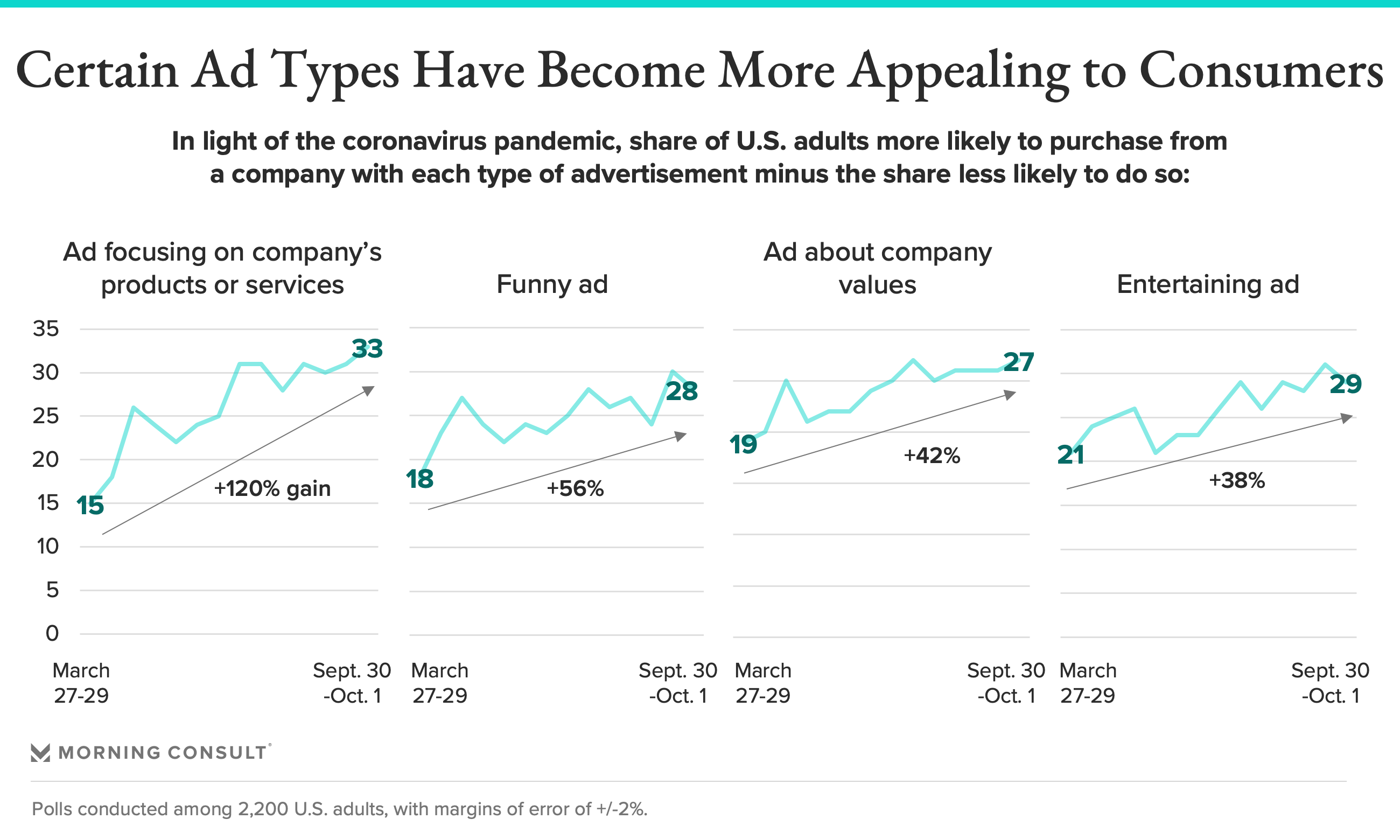 Though these light-hearted ad types have gained appeal since March, useful, informative and customer-centric ads remain the most likely to drive purchases. Optimistic and comforting ads are also likely to do so, with 34 percent and 32 percent of Americans net likely to buy more from companies with these types of ads. Sentimental ads and those focusing on COVID-19's impact on the company, however, are least likely to drive interest among U.S. shoppers.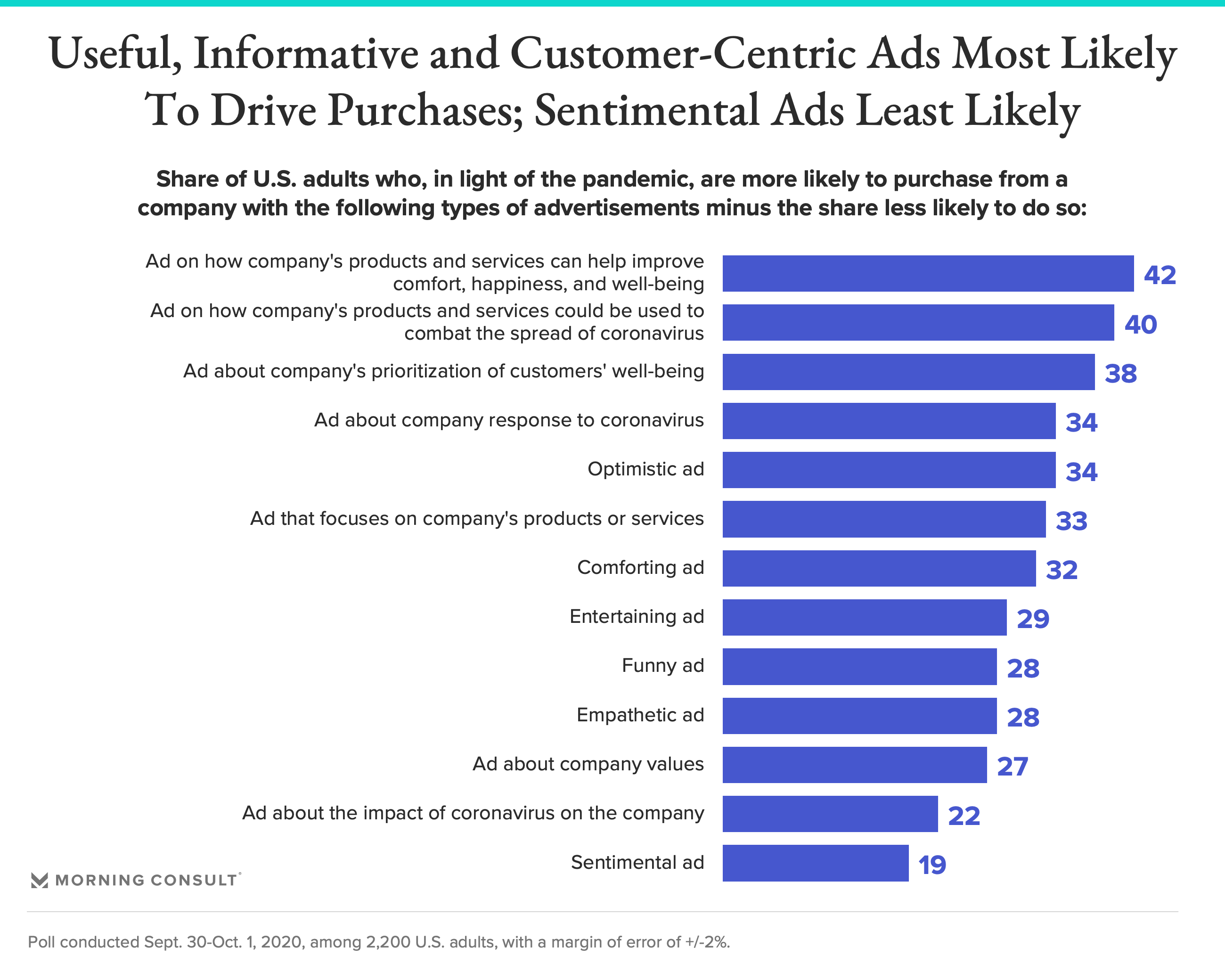 Spreading holiday cheer, without any backlash or jeers
Q4 is many brands' and retailers' last hope for mitigating some of the pain and losses experienced in early 2020. Winning consumers' hearts, minds and wallets — not to mention attention — this holiday season will be especially critical, but can only be achieved by bearing in mind what consumers want and need from today's brands given the realities of 2020.
Indeed, given everything happening this year, more than a quarter of Americans, 27 percent, think companies shouldn't advertise this holiday season, with no notable demographic differences.
In terms of the type of advertising U.S. shoppers most want to see, general advertising preferences given the context of COVID-19 outlined above also apply to the 2020 holiday season: Serious, somber, empathetic and sentimental ads as well as ads about company values are of least interest to consumers, while useful and entertaining ads are likely to drive purchases.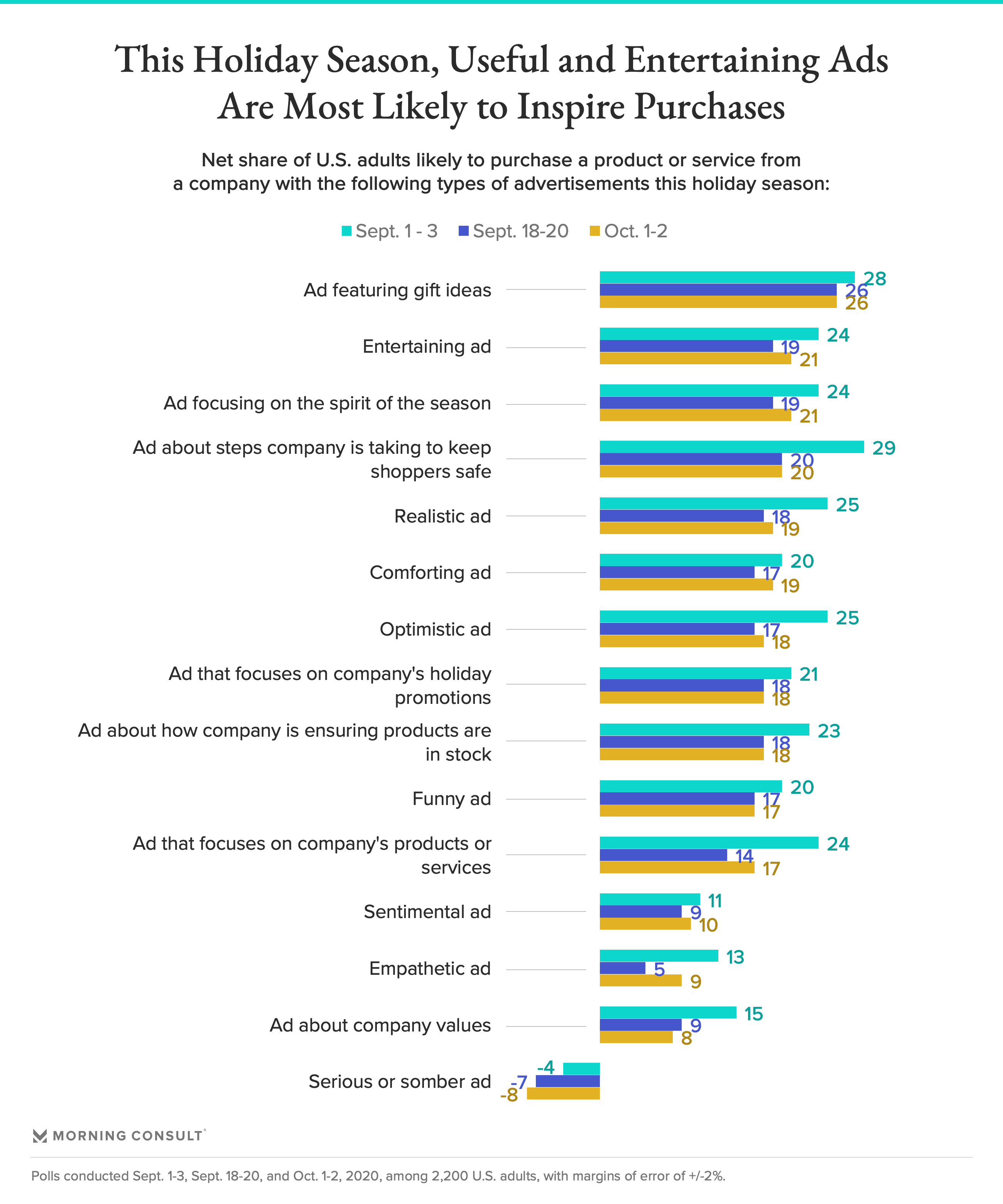 While the right tone is a key component of successful advertising, so too is the message itself. Though some demographic nuances exist and some drivers of product and brand choice will necessarily vary by category, functional needs are top of mind for most Americans this holiday season. Experiential elements like convenience, discounts and customer service will play a role for most, but the vast majority of Americans indicate that value, availability and quality will be important to their gift purchasing decisions this year.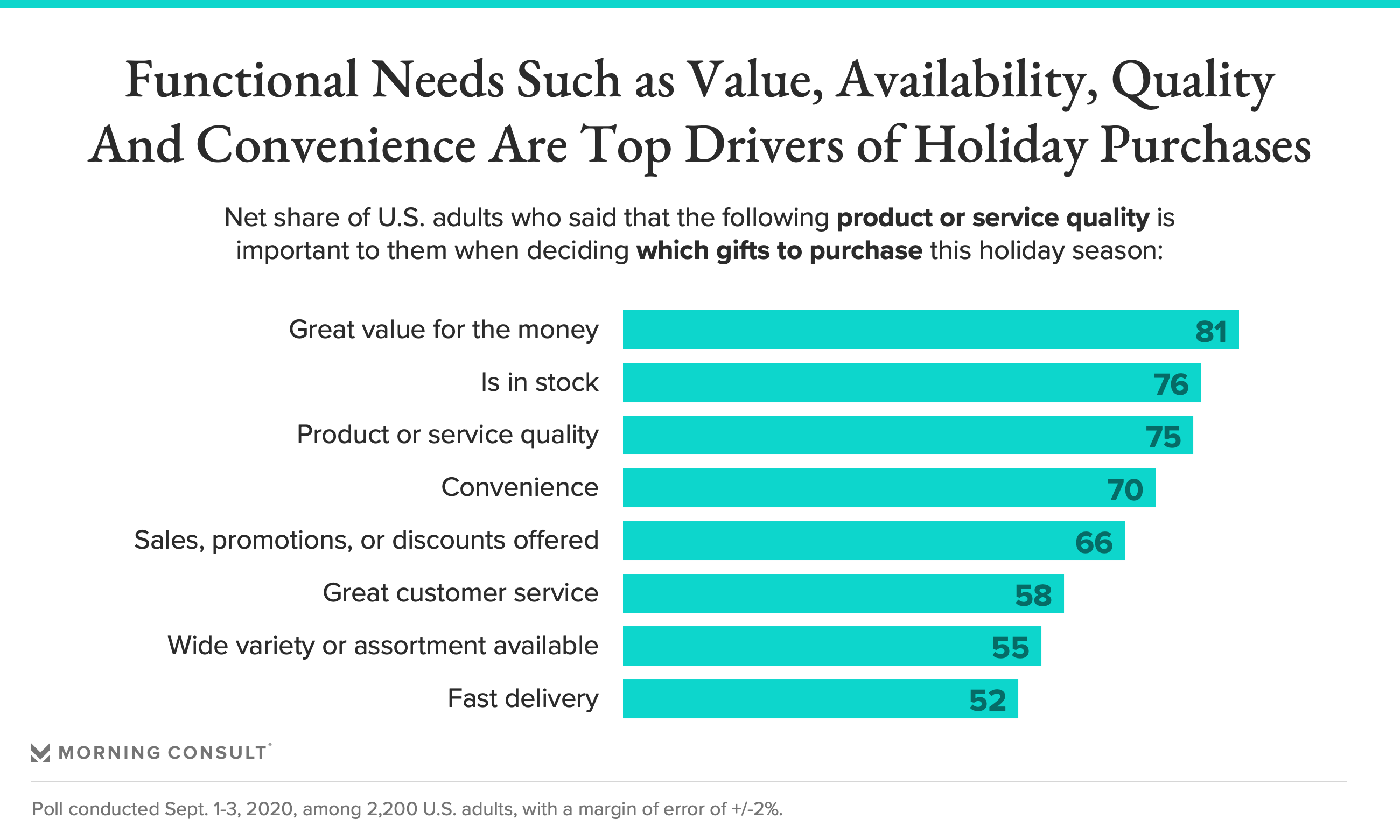 In addition to products themselves, the 2020 holiday shopper is also looking for certain qualities in the brands and companies they buy from this holiday season. Reputation, customer security protections and a seamless shopping experience are top priorities; being well-known or around for a long time are notably less important (respectively, a net of 29 and 27 consumers say these are important).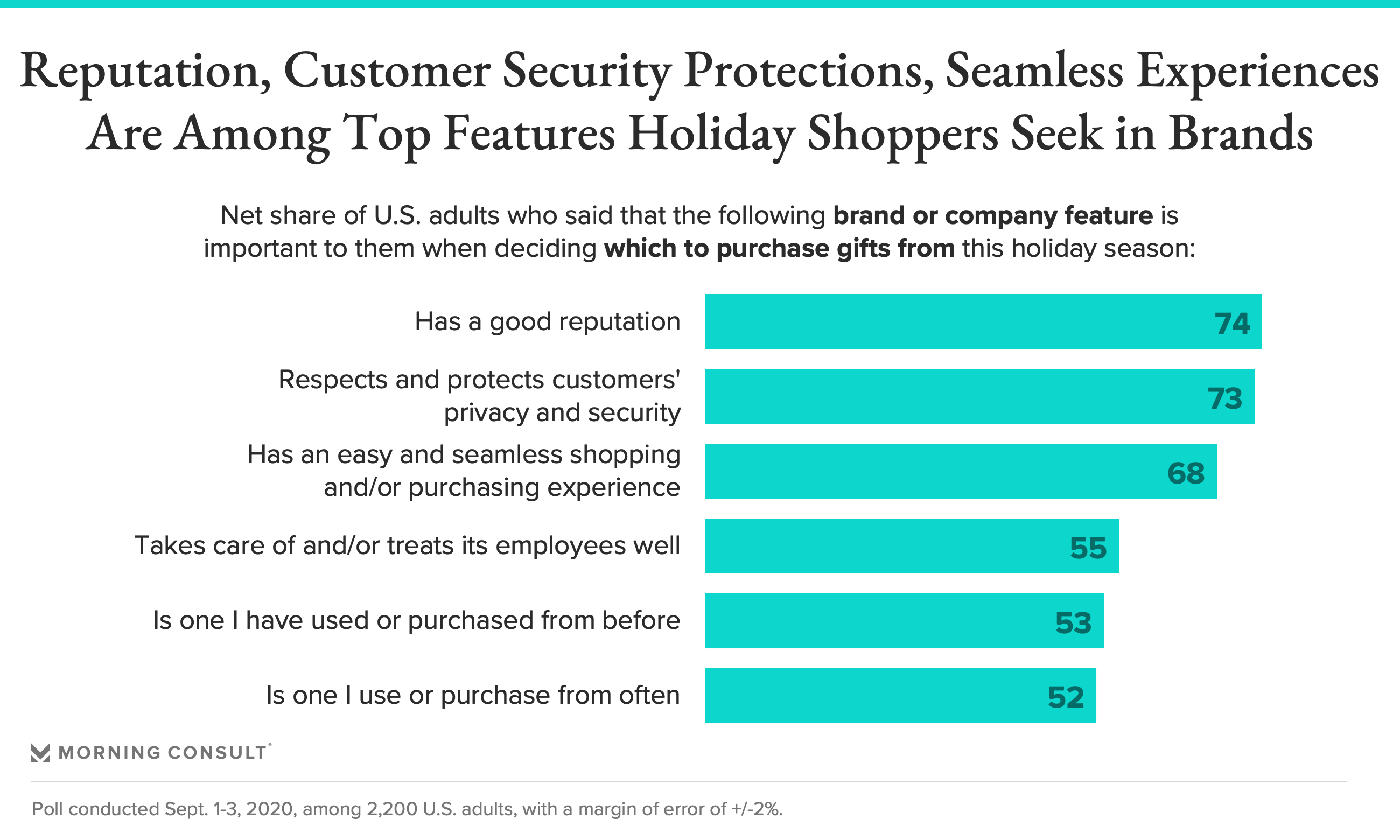 It's worth noting that, given these other considerations, a company carrying itself or responding well to the Black Lives Matter movement is relatively less important: 53 percent of adults say this is important to them when deciding which gifts to purchase this holiday season, but 46 percent say it is not.
Summing it up
2020 has challenged marketers in more ways than one. From pivoting advertising to be appropriate in a pandemic to surprising and delighting consumers increasingly wary of sympathetic tones, from acknowledging racial injustice and other important social issues facing America to taking meaningful action to drive real solutions and, now, from looking forward to the holiday season as a conclusion to the year to relying on it to offset the pains of a difficult year, the final few months of 2020 will prove just as critical as the prior few for brands racing to stay relevant in today's ever-evolving consumer landscape.
Inaction remains a non-option

, with 75 percent and 45 percent of Americans respectively believing that companies have a responsibility to help address racial inequality in the United States, and that companies play an important role in our country and as such should use their influence to drive positive change around important issues. Though the holidays may not seem appropriate for overt corporate activism, the season is also no excuse to neglect promises made and initiatives enacted. Doing so is likely to offset the reputational or loyalty boosts brands taking a stand in 2020 may have gained: Consumers are still assessing the authenticity of brand actions, evaluating brand reputations, and considering how company employees are being treated as they do their holiday shopping.

Keep it real

: Ads featuring products or services gained the greatest appeal since March, while sentimental and empathetic ads remain relatively less likely to drive purchases. This, along with the continually increasing interest in funny and entertaining ads, confirms that consumers quickly became wary – and skeptical – of the pandemic-induced reality seeping into brand messaging. With useful, informative and customer-centric ads remaining the most likely to drive purchases, marketers would be wise to stay focused on the consumer, include the information they need, and provide the emotional break they so clearly crave during this trying time.

The basics and beyond:

Functional needs including value, availability and quality will be important to the vast majority of Americans' gift purchasing decisions this holiday season, but a mix of table stake emotional needs such as a good reputation and customer security protections will also be critical for getting shoppers in the door (whether physical or virtual). Once that foundation is set, delivering on key experiential needs including convenience, customer service and a seamless shopping experience will be essential for driving purchases, and building customer relationships that last longer than the season.
Consumer expectations of brands and businesses will also be affected by this year's election season. In the coming weeks, Morning Consult will be releasing an extended report deep-diving on American consumers' sentiment toward brands' engagement with politics and the 2020 election season. Sign up here for the latest insights.