COVID-19 is not a punchline — unless you're a late-night show in need of material. 
After news of COVID-19 cases in the White House broke, programs such as "Jimmy Kimmel Live!" to "Saturday Night Live" were faced with the challenge of mining a public health crisis for jokes. New polling finds Republicans' distaste for coronavirus humor is more emboldened than Democrats' delight in it.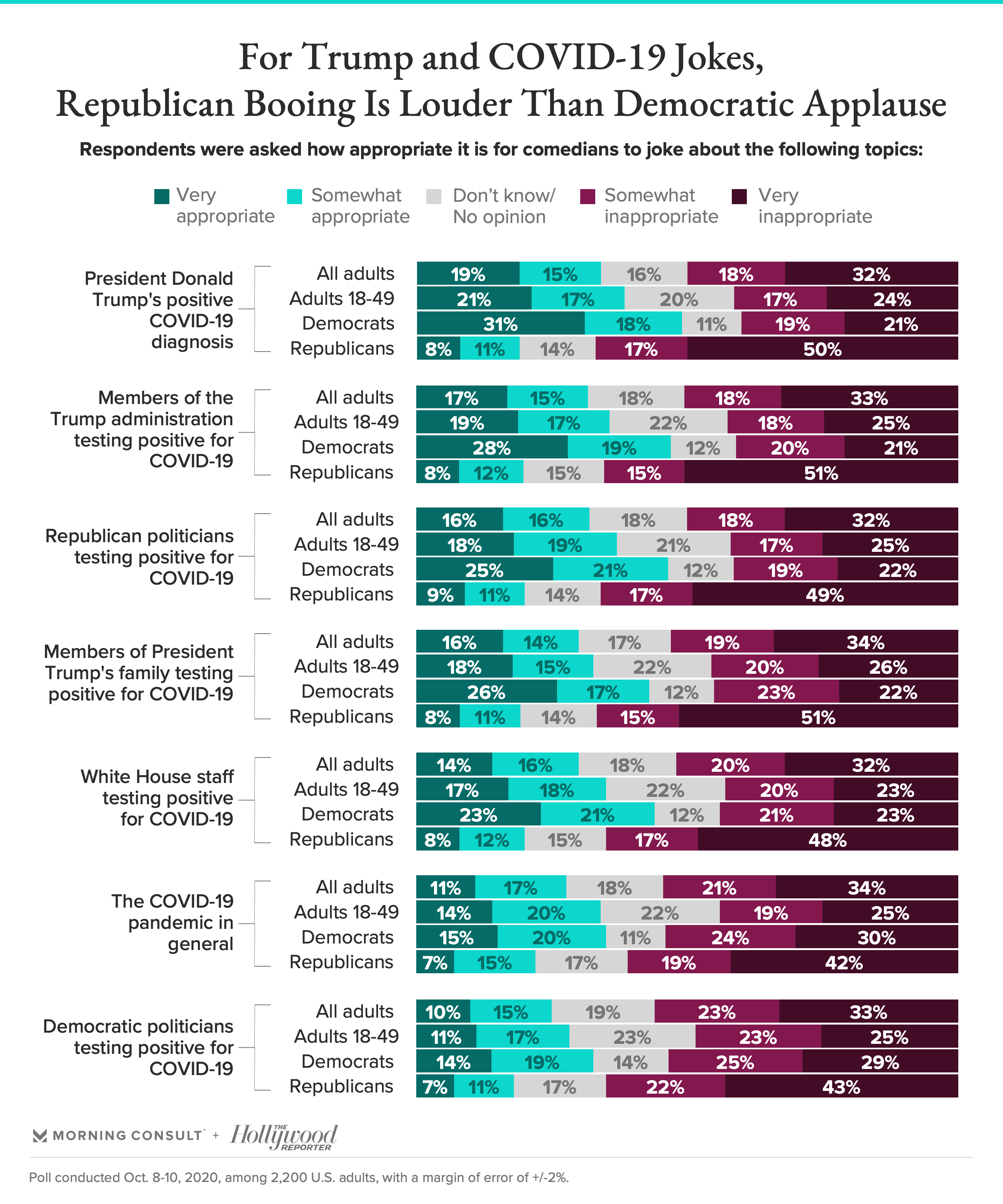 An Oct. 8-10 Morning Consult/The Hollywood Reporter poll found that roughly one-third of the 2,200 U.S. adults surveyed said it was appropriate for late-night shows to make jokes about President Donald Trump's recent COVID-19 diagnosis, representing a combination of near polar opposite views: 49 percent of Democrats and 19 percent of Republicans said such humor was OK.
Two-thirds of Republicans said it was inappropriate to joke about Trump's positive test, and 52 percent said they would have a less favorable view of a comedian who made jokes about that subject. Forty percent of Democrats said they would hold a more favorable view of a comedian if they joked about Trump's diagnosis. 
Adults ages 18-49, an important group for TV advertisers, were split: Thirty-eight percent said it was appropriate for comedians to make jokes about Trump's diagnosis, while 41 percent felt it was inappropriate.
The survey has an overall margin of error of 2 percentage points. The margin of error for the Democratic subsample is 3 points, while the Republican subsample has a 4-point margin of error. The 18-49 demographic also has a 3-point margin of error. 
The Oct. 3 premiere of "Saturday Night Live," which aired roughly 24 hours after the president and First Lady Melania Trump's positive diagnoses were made public, did not shy away from the subject. 
"President Trump's in the hospital from COVID," said host Chris Rock. "And I just want to say, my heart goes out to COVID." The show's Weekend Update segment also tackled this issue, with co-anchor Michael Che saying people who didn't find humor in Trump being hospitalized were "obviously wrong." And in the Oct. 10 episode, Che compared Trump's recovery from the virus to a car crash where the "only survivor is the drunk driver."
The most recent episode also featured Kenan Thompson playing Herman Cain reincarnated as a fly on Vice President Mike Pence's head during the vice presidential debate. Some social media users deemed the portrayal disrespectful, while others questioned why the late Supreme Court Justice Ruth Bader Ginsburg was given a more serious tribute.    
Alec Baldwin, who has been playing Trump on the sketch show since 2016, took to Instagram after the premiere to defend his decision to play the president in light of his diagnosis. Baldwin said that if Trump was "really in trouble" the show would not tackle the subject.