October 19, 2020 at 5:45 pm ET
41% of adults are now comfortable dining out, tying an all-time high for the activity first set in June.

The shares of consumers predicting they'll be comfortable heading back to public spaces within the next month also reached all-time highs with regard to all activities.
Updated: Oct. 19, 2020
When Morning Consult first began tracking consumer comfort levels during the spring lockdowns, people became steadily more confident that they would be able to safely return to public spaces in the near future.
Following a brief downturn in comfort levels, the public's attitudes did not budge significantly for 12 weeks during the summer. At the beginning of fall, comfort levels for some activities started to creep up before falling or stagnating again earlier in October. But by the middle of the month, comfort with several activities tracked by Morning Consult grew to reach all-time highs.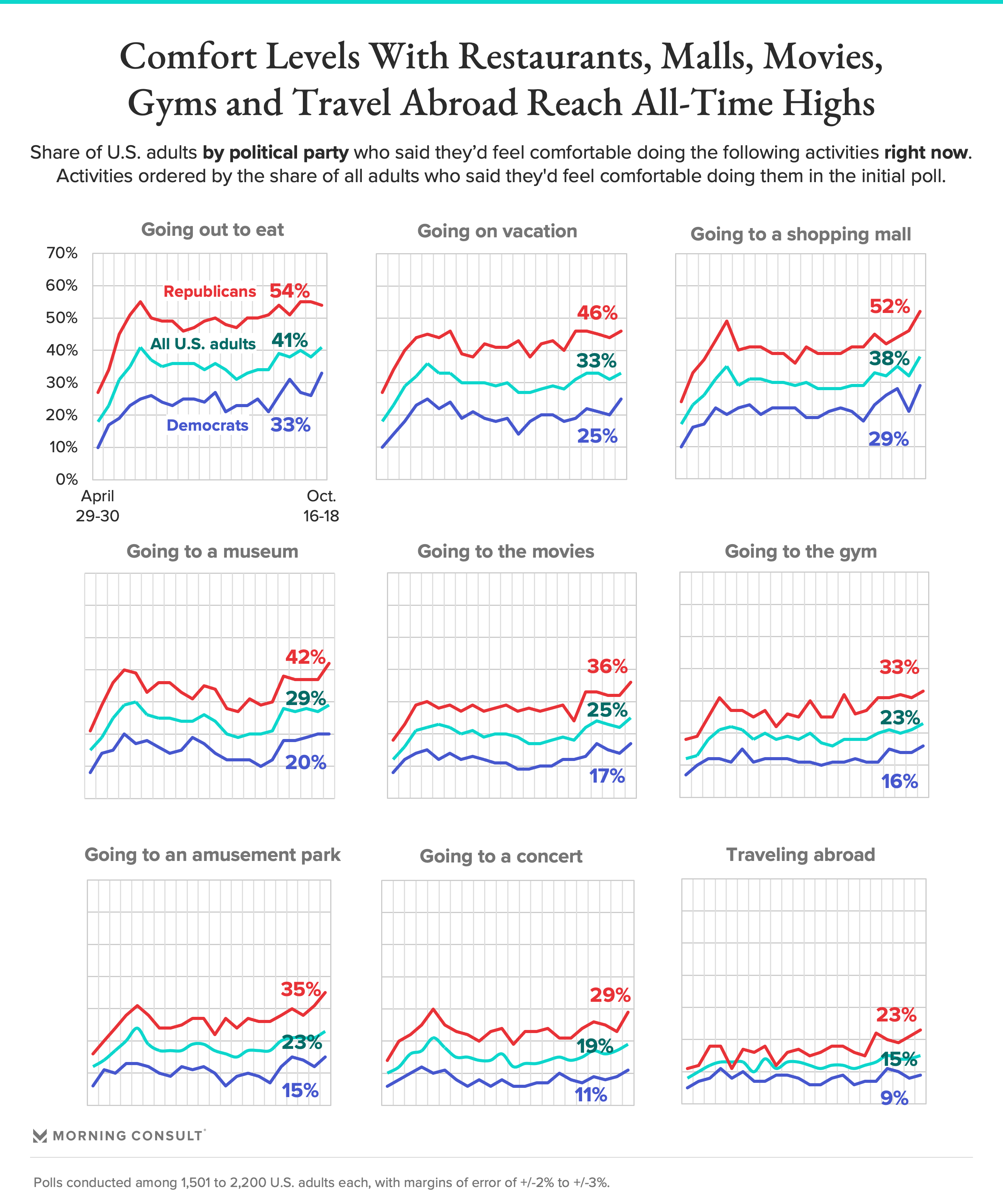 Comfort levels among all adults with regard to going to restaurants, shopping malls, movie theaters and gyms, as well as travel abroad, reached their highest levels since Morning Consult began tracking. 
Forty-one percent of consumers said they currently feel comfortable dining out, up from 38 percent from the week prior. Thirty-eight percent of consumers said they would feel safe at a mall, up from 32 percent last week. And one-quarter said they're ready to head back to movie theaters, up from 22 percent on the last survey.
While comfort levels with regard to going to gyms and traveling abroad peaked in mid-October, those increases remained within the margin or error when compared to the week prior. 
Republicans are roughly twice as likely as Democrats to say they feel safe doing the activities listed in the chart above, a gap that showed signs of closing in mid-August before fluctuating slightly week to week into the fall.
In late September, Democrats for the first time reported comfort increases with regard to more categories than Republicans, followed by a couple of weeks with little to no significant change among either group.
But as of mid-October, both groups reported increases in comfort levels with a variety of activities when compared to the week prior. Democrats grew more comfortable dining out, going on vacation and going to the mall. Republicans' comfort increased with regard to going to malls, museums, amusement parks and concerts.
The persistent partisan gap could spell trouble for businesses located in Democratic-leaning areas, such as along the coasts or in major cities, with Democrats less comfortable with venturing out.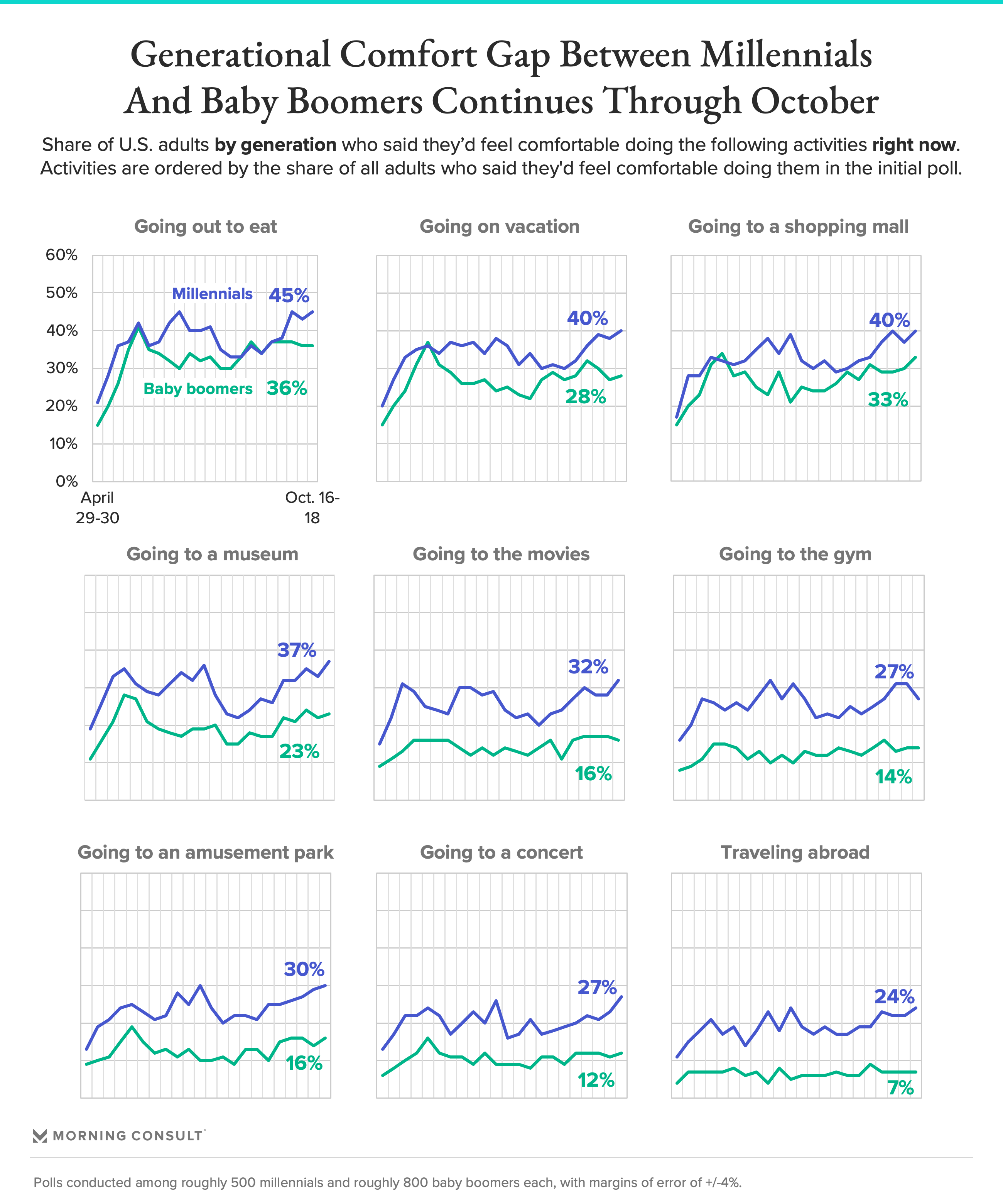 In early August, statistically significant differences between generations started to emerge for the first time, with millennials more likely than older adults to be comfortable with nearly every activity listed in the poll. In late August and early September, that gap began to shrink on many activities before re-emerging again in early October and growing by the middle of the month.
While comfort levels among millennials and baby boomers, respectively, have not changed dramatically week to week, changes over time have resulted in the re-emergence of a gap in opinion between the two generations for nearly all categories, with the exception of going to malls as of the most recent figures.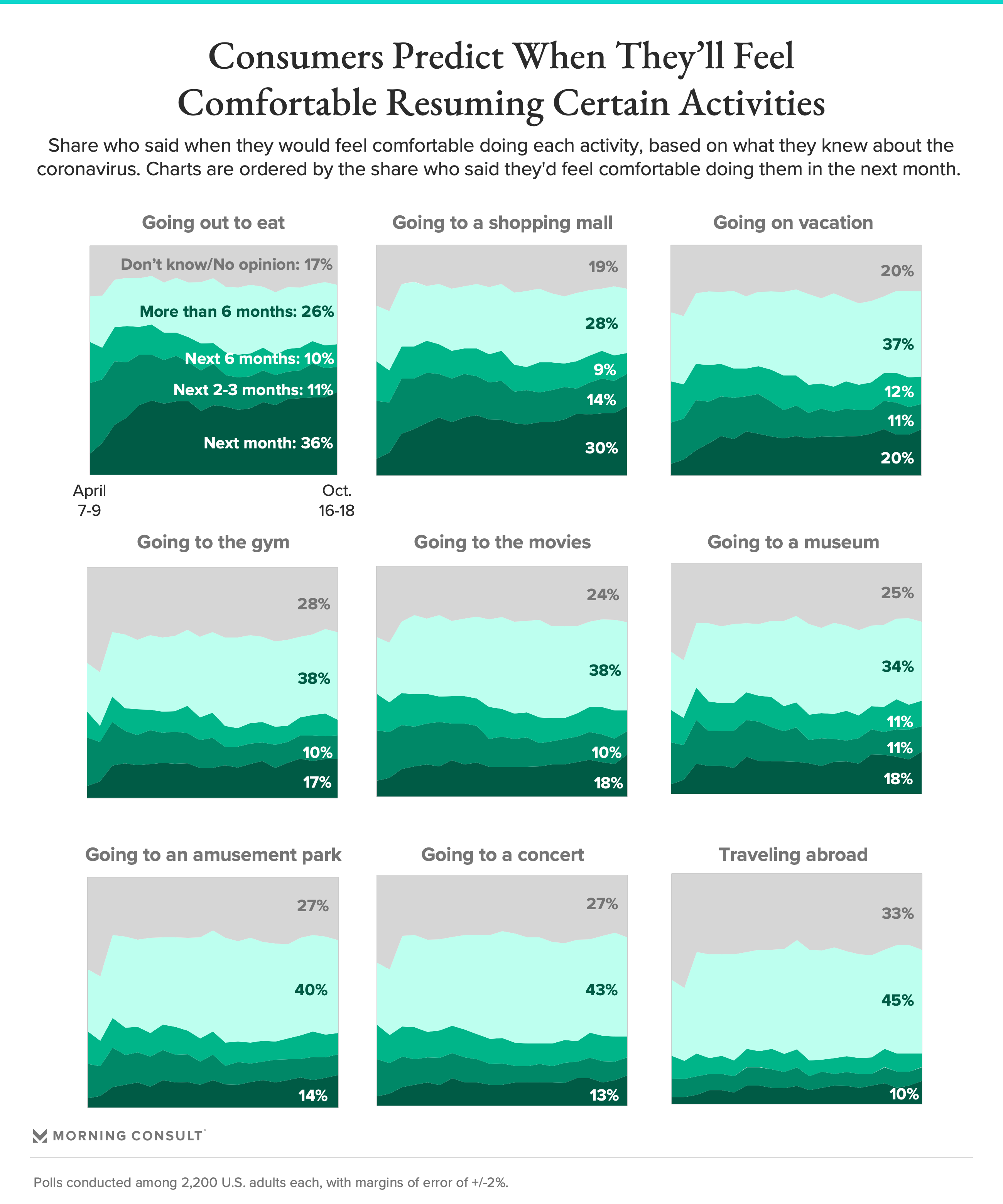 In asking consumers to predict when they will feel safe returning to leisure activities, Morning Consult measured a steady increase in consumer comfort with doing most activities through mid-June, followed by a plateau or drop. But by mid-October, with Thanksgiving on the horizon, some consumers indicated that they could be ready to resume many activities by the end of November.
The share of adults who predicted that they'll be comfortable at movie theaters within the next month increased this week to 18 percent from 14 percent compared with last, while the share who said they'd return to museums in the next month increased to 18 percent from 15 percent. 
The shares who said they think they'll be comfortable with the rest of the activities within a month also reached all-time highs, although the change compared with last week was not outside the margin of error.
Still, these trend results could be read as bad news for some already struggling industries, including amusement parks, concert venues and international travel: At least 2 in 5 U.S. adults said they won't feel safe going to an amusement park, a concert or traveling abroad until at least spring of 2021.
Morning Consult's week-to-week data on consumer comfort levels: April 7-9; April 29-30; May 5-8; May 12-15; May 21-25; May 26-29; June 2-5; June 5-7; June 9-11; June 12-14; June 23-26; June 30-July 3; July 7-9; July 14-16; July 20-22; July 29-Aug. 2; Aug. 4-7; Aug. 14-17; Aug. 21-23; Aug 28-31; Sept. 2-6; Sept. 10-13; Sept. 18-20; Sept. 25-27; Oct. 1-4; Oct. 8-10; and Oct. 16-18.